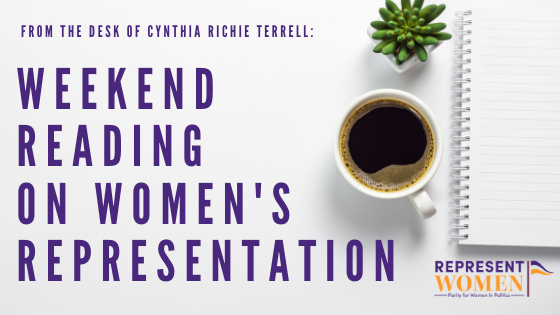 Weekend Reading on Women's Representation is a compilation of stories about women's representation in politics, on boards, in sports and entertainment, in judicial offices and in the private sector in the U.S. and around the world—with a little gardening and goodwill mixed in for refreshment!
---
Mother's Day is around the corner! This week, RepresentWomen features stories of women and mothers who are amazing changemakers in their fields. 
Denver Mayoral Race: Kelly Brough on the Importance of Women in Office
Kelly Brough, the former president and CEO of the Denver Metro Chamber of Commerce, will face challenger Mike Johnston in the mayor's runoff election on June 6.
Brough and Gomez speak to a vital part of our mission at RepresentWomen: women serving. Our current voting system makes it difficult for women to run and win. But even once elected, women face unique barriers such as childcare costs.
Brough hosted a forum last week focused on breaking the glass ceiling. One of the primary points of the discussion was the importance of representation in public office.

"When women see women in action, then they're more apt to think, 'I could do that,'" Joan Fitz-Gerald, the first woman president of the Colorado Senate, said at the event.

[However,] women are facing increasingly high barriers, including rising child care costs, that could prevent them from turning out for Brough at the polls. "Civic engagement often just falls to the backburner for hard-working, everyday families — and women traditionally take on the care, health care, and household responsibilities," [Maggie Gomez, a community organizer, said].
---
Hot Off the Press: Vote Mama's New Report Shedding Light on Moms in Politics
RepresentWomen calls on the city, state, and national legislators to reform their internal practices and culture so that women legislators can serve and lead effectively. Erratic work schedules, low pay rates, geographic distance, and unfair leadership selection processes make serving a challenge for many women — especially those caring for children and managing households. We are excited to partner with Vote Mama Foundation on advancing structural solutions that remove barriers for women, especially moms, to serve in US politics.
This week, Vote Mama released a groundbreaking report—Politics of Parenthood: Representation in the 118th Congress—unveiling first-of-its-kind data on the representation of parents serving in Congress. Here are some key findings:
*Only 6.8% of the 118th Congress are moms with minor children.

*There is a baby boom in Congress, but not for women. 11 congressmen welcomed newborns in the last year alone, but only 11 women have given birth while serving in Congress.

*27 states have no mamas of minor children representing them in Congress.

*59 mamas are needed to reach proportional representation.

The realities of caring for ourselves and for others are integral to the human experience. Caregiver status significantly impacts our attitudes and behaviors, how we approach problems, and how we approach policy. Parents of minor children are the largest population of caregivers in the United States, but few parents are in positions of power to craft legislation that truly supports working families.

Our legislators are charged with solving challenges most have never personally faced. Most members of Congress have never lived paycheck to paycheck. Most do not have student loan debt. Most do not understand what it is like to be unable to afford childcare. Not having enough parents in office means a less diverse Congress, and a legislative body that is disconnected from the policies that impact working families.

Caregiving is a major determinant in our lives, and must be analyzed as a key identity when evaluating the diversity of a lawmaking body. In the extensive research on the role of gender in politics, however, motherhood is rarely considered a distinct identity.
---
Restricted Abortion Access Leads to Feminist Groups Helping Women Worldwide
Since the overturning of Roe v. Wade, Mexican feminist groups like Colectiva Bloodys y Projects have seen an increased demand for their services. Colectiva Bloodys y Projects connects women experiencing restricted abortion access to reputable providers and even abortion pills.
The overturning of Roe v. Wade is a reminder of what can happen when we don't have a representative democracy. Abortion bans are unpopular. Representative democracy would have likely supported protecting abortion access.
According to abortion assistants at organizations like Colectiva Bloodys, this uptick coincides with the U.S. Supreme Court's overturning of Roe v. Wade last June, which had ended previous protections on abortion rights at the federal level. In 2021, Mexico's Supreme Court ruled that it was unconstitutional to punish abortion as a crime. Verónica Cruz, director of abortion assistance organization Las Libres, told Rest of World her group was now dealing with 200 to 300 calls from the U.S. every day.

Women-led organizations like Colectiva Bloodys, Las Libres, Marea Verde, Matamoros Decide, and Red Necesito Abortar, among others, have provided free abortion assistance to thousands all over the country. Some of these groups also provide remote assistance to people as far afield as Russia or Saudi Arabia. "We still do everything through social media — from sending information to asking for [their] addresses to sending the abortion pills," said Lira.
---
Calls for Gender Quotas and Other Intentional Policies to Boost Women's Representation in West Africa
There are significant regional differences in women's participation in government in Africa. Rwanda, in east-central Africa, is currently ranked number one in the world for its proportion of women in parliament, according to the Inter-Parliamentary Union. By comparison, West Africa lags behind other regions of the continent.
At a recent meeting of the Female Parliamentarians Association of the Economic Community of West African States (ECOWAS), participants encouraged member states to consider gender quotas and other measures to boost women's participation at all levels of government.
The Executive Director of the Goodluck Jonathan Foundation, Ms. Ann Iyonu, has called on members of the Economic Community of West African States (ECOWAS) to prioritize women and youth participation in governance as a way of balancing the alarming percentage of this category of persons in the sub-region. …

Positing that democracy cannot thrive if it is not inclusive of women and youth, she called for conscious and deliberate effort in changing the status quo of women and youth through education programmes that will boost their knowledge and skills through civic engagements, politics, leadership and public speaking through mentorship and networking opportunities. …

"Women and youth representatives, especially in the West African Parliaments of the West Africa region, are very low compared to other regions in Africa where the gap has increasingly and progressively narrowed.

Only 15.7 per cent of the average proportion of seats held by women in the national Parliaments, which means the region is lacking behind other Parliaments in Africa like East Africa with 30.8 per cent, Central Africa 21.7 per cent, North Africa with 20.3 per cent," she noted.

Iyonu, who said the adoption of technologies in politics will attract women and youths to participate in politics, further called for special seats to be dedicated to women and youth to increase the numbers, "this might not be something we like to hear, our various governments will not like to hear it but one of the measures which we can use to increase the participation of women is to dedicate special seats to increase the representation of women and youths in political positions especially in parliament to inspire and encourage more women and young people in politics."
---
Investing in Black Women Leaders
Our president @AshantiGholar is absolutely right. We have to support systems that value and invest in Black women leaders. https://t.co/aMIaXVu2pb

— Emerge (@EmergeAmerica) May 9, 2023
RepresentWomen has identified that a lack of funding is a critical barrier for women when running for office. We have also identified steps that political parties and PACs can take to begin remedying this issue. A'shanti Gholar, Executive Director of our terrific partner, Emerge America, wrote a powerful piece in Ms. magazine on the importance of equitably funding black women candidates:
As it stands, Black women candidates only raise one-third of the money as white women. According to the Center for Responsive Politics, data shows that the 113 Black women running at every level raised only $81 million in the first three quarters of 2020, compared to the nearly $811 million pulled in by their 379 white women counterparts across party lines.

An Open Secrets study from the same period confirmed, "Black women tend to have the lowest totals in every category—particularly in overall fundraising and in the amount raised from large individual donors."
This data mirrors candidates' lived experiences…

Oftentimes the evidence is more opaque than fundraising totals. For example, when U.S. Rep. Emilia Sykes (D) was Ohio's House Minority Leader, she was constantly stopped by security asking her what she was doing there, even while wearing her legislator's pin. They just couldn't believe that a young Black woman could be an elected representative…

While having to do more with less is a feature of existing systems, not a bug, we cannot sit by and let rising generations of Black women inherit these challenges. Society must not only elevate Black women leaders, it must level up the investment in our leadership…

Even with the significant headwinds Black women face, people are choosing us to lead during one of the most tumultuous periods in recent history. That's not an accident. Americans know we have the solutions these times require.
---
Honoring Mothers
This weekend I will be thinking about my mother, Carolyn Nicholson Terrell (1921-2007), who was a treasured nursery school teacher, a thoughtful Quaker, an avid gardener, an ideal grandmother, an exceptional conversationalist, with a passion for sponge cake, children's literature, small mammals and vertebrates, and an unwavering faith in the equality of all people.
Happy early Mother's Day to all the moms out there! I hope you enjoy your weekend.
Up next:
U.S. democracy is at a dangerous inflection point—from the demise of abortion rights, to a lack of pay equity and parental leave, to skyrocketing maternal mortality, and attacks on trans health. Left unchecked, these crises will lead to wider gaps in political participation and representation. For 50 years, Ms. has been forging feminist journalism—reporting, rebelling and truth-telling from the front-lines, championing the Equal Rights Amendment, and centering the stories of those most impacted. With all that's at stake for equality, we are redoubling our commitment for the next 50 years. In turn, we need your help, Support Ms. today with a donation—any amount that is meaningful to you. For as little as $5 each month, you'll receive the print magazine along with our e-newsletters, action alerts, and invitations to Ms. Studios events and podcasts. We are grateful for your loyalty and ferocity.