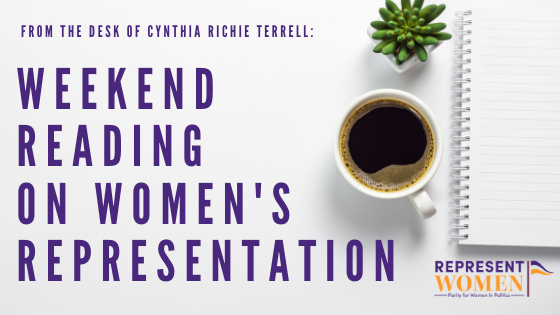 Weekend Reading on Women's Representation is a compilation of stories about women's representation in politics, on boards, in sports and entertainment, in judicial offices and in the private sector in the U.S. and around the world—with a little gardening and goodwill mixed in for refreshment!
---
Recently, Frontline featured the World Economic Forum's 17th annual Global Gender Gap report, which highlighted the significant progress needed to achieve global gender parity. The report analyzes 146 countries and finds that it will take 131 years for the world to close the gender gap at the current rate of progress.
More women are becoming parliamentarians globally, with an average 22.9 percent increase. Iceland and Costa Rica have over 33 percent of women in parliament. However, other countries like Japan and Canada fell behind, with less than one-third of their elected office being women. Despite some progress toward gender equality, there is still a notable lack of women in leadership roles.
By removing the barriers women face when running for office, we can achieve gender equality far sooner. When women are in elected office, issues that affect women garner more attention. Our Impact Analysis of NYC's Woman Majority Council brief finds that legislation regarding childcare, reproductive health, pay equity, and more were introduced in a woman-majority city council. To learn more, check out this piece by our Research Associate, Steph Scaglia for Democracy SOS that summarizes the brief.
The Underrepresentation of Black Women in American Politics
Our amazing allies at Higher Heights and the Center for American Women in Politics (CAWP) recently released the latest version of their report on Black Women in American Politics, which seeks to identify and analyze the underrepresentation of Black women in elected office. A few of the key takeaways include:
A record number of Black women ran for the U.S. House, U.S. Senate, and statewide elective executive offices – including [the] governor – in 2022, and a record number of Black women were nominees for the U.S. Senate, statewide executive offices, and governor. These candidacies translated into record-level officeholding at multiple levels, but no Black women serve in the U.S. Senate today and no Black woman has ever served as governor.

Between 2022 and 2023, Black women's state legislative representation remained nearly equal, though a record number of Black women currently lead state legislative chambers.

Black women won big-city mayoral elections in Los Angeles, California, and North Las Vegas, Nevada in 2022, and a Black woman is poised to be elected mayor of Philadelphia, Pennsylvania in November 2023.
---
2023 Elections: Virginia's State Legislature
Virginia will hold House of Delegates and state Senate elections this November. According to the Center for American Women and Politics, Virginia currently ranks 24th regarding women's representation in the state legislature. However, this does not factor in the party or chamber.
Our 2023 Gender Parity Index comes out on Monday. Stay tuned to see how Virginia ranks!
Redistricting in 2023 brought a wave of retirements across both parties and chambers and with them opportunities to fundamentally recast the membership of the Virginia General Assembly.

1. (Democratic) Women – particularly Black women candidates – won a majority of their party's primaries in both chambers.

2. Abortion remains a salient issue for primary voters, especially Democrats.

3. The party gap in women's representation will expand in the 2024 Virginia General Assembly.
---
Funding Women's Political Representation 
Melinda French Gates recently went on NPR to discuss ways to increase women's political representation. Despite comprising over half of the population, only a quarter of federal lawmakers are female. Women are underrepresented in virtually every form of elected office. 
Like RepresentWomen, Melinda French Gates believes that when the government reflects the population, it can better represent the people's beliefs and needs. Her company, Pivotal Ventures, is funding efforts to increase women's representation in the United States. 
"When our government looks like we look like as a populace, they represent us and they make then laws and policies that we all believe in. And we're just not there yet," she told NPR's Michel Martin. …

Women earned the federally-protected right to vote more than a century ago, in 1920, and yet in today's House of Representatives, there are more men named Mike than there are women chairing committees.

"There are barriers to women running for office," says Gates, a co-chair of the Bill & Melinda Gates Foundation, an NPR sponsor. "We need to stop sending women to a broken system and we need to change the system."
---
Sen. Duckworth Took Her Daughters to See Barbie. Because She Uses a Wheelchair, She Had to Wait Outside
Caregiving reporter Sara Luterman recently published a piece for The 19th, highlighting how much of our society remains inaccessible.
The Americans with Disabilities Act was passed 33 years ago. However, inaccessibility issues still impact Americans from all walks of life—even our elected officials. Greta Gerwig's Barbie has taken the world by storm. U.S. Sen. Tammy Duckworth (D-Ill.) was excited to watch the Margot Robbie-produced movie with her daughters during its opening weekend. Unfortunately, the retired Army National Guard lieutenant colonel could not access the theater. Duckworth uses a wheelchair, and the theater's only elevator was broken.
Check out RepresentWomen's most recent report about disabled women in politics here.
Less than 1 percent of housing in America is wheelchair accessible, according to the most recent data available, and many stores, restaurants, movie theaters, and other sites of public accommodation are not accessible to people in wheelchairs or with other disabilities.

Unfortunately, there are no legislative or regulatory fixes on the horizon. Congress continues to introduce bills that would further weaken ADA enforcement, which makes it difficult to introduce potentially successful legislation to strengthen protections. Duckworth highlighted the ADA Education and Reform Act of 2017, which ultimately failed, but received bipartisan support.

"The problem is, we're always playing defense. We spend more time defending the ADA than we do expanding access," Duckworth said. "There's not much we can do about this other than highlight this for folks. I would love to be able to pass additional support for the ADA. In 33 years, you shouldn't be hanging your hat on the building being grandfathered in when you could have put in a fix in that amount of time."
---
Deputy Prime Minister Sigrid Kaag of the Netherlands Steps Down
Looking internationally, this week our terrific ally Akshi Chawla shared July's updates on women worldwide in her #WomenLead blog. Despite the Netherlands ranking 12th amongst OECD countries for women's representation, women continue to face barriers—particularly once they are in office. In this month's edition, Chawla highlights that Sigrid Kaag has resigned as deputy prime minister of the Netherlands for the well-being of her family.
Kaag's decision comes ahead of fresh elections due in November following the incumbent Prime Minister Mark Rutte's resignation. Kaag said that she was taking this decision due to the death threats she had received, El Pais reported. These threats were taking a toll on her family.

"My work has been a heavy burden for my husband and my children. … I'm not quitting because my security is an issue for me. But it is for them. I would like it for them if things would quieten down," Reuters reported citing what Kaag told a Dutch daily Trouw.

2023 has been an exceptional year seeing women leaders at the very top in different parts of the world not just stepping down from their roles but often quitting politics altogether. Earlier this year, former New Zealand PM Jacinda Ardern and Scotland's former First Minister Nicola Sturgeon also announced their decisions to resign from politics.

Following Kaag's announcement, two more prominent Dutch women leaders announced their decision to quit politics – first, Liane den Haan, an independent MP, said she wanted to quit politics over the ugly atmosphere. Later, Carola Schouten, also a Deputy Prime Minister and caretaker Minister for Poverty Policy, also announced her decision to step down. 
---
Measuring Women's Representation
Kelly Dittmar published an article in Forbes describing the importance of using intersectional measures to assess women's political representation. This article conveys the grim reality that women's representation in all levels of political office is deficient, especially for Black, Latina and Native American women.
To accurately assess the complex barriers women in politics face, the measures assessing women's representation must account for diversity and the apparent differences between states. 
By comparing the proportion of women by racial/ethnic group in each state's legislature with the proportion of women of that race/ethnicity in the population, it shows that the dominant reality for women across racial/ethnic groups is underrepresentation. However, there is important variance in where and to what degree women of different groups face representational disparities in state government. … 

State-level and race-specific data provide more clarity in identifying gaps in representation and better guidance for targeted interventions. They also reveal where the gaps between political and population representation are largest for each community of women. …

Together, these data shed light on alternative, and arguably more accurate, ways to assess how well diverse communities of women are represented—at least via shared identities—in state legislatures and remind us that legislative representation is not a guarantee of legislative power. Continuing to complicate both measures and understanding of representativeness in government is important in creating political institutions that are truly representative, in both presence and power, of all constituencies they serve. Because that matters.
---
Coming Soon: The Gender Parity Index
RepresentWomen recognizes the value of measuring women's political representation from various perspectives, including state-by-state.
On Monday, our team is launching our 10th annual Gender Parity Index, which assesses the status of gender parity for each of the 50 states and the U.S. Our report indicates the need for systems-level solutions that have been proven to increase women's representation, such as ranked-choice voting. With the reforms we have identified, it is possible to not only achieve gender parity but also ensure that our political representatives reflect the nation's diversity. Mark your calendars for Monday, Aug. 7, for the latest edition of our longest-running research report.
Based on last year's data, vote for what you think the highest-ranking state will be with this ranked-choice voting poll!
---
Democracy Nerd
The 2024 election is fast approaching. For valuable insight on women's roles in the next election cycle, check out the Democracy Nerd podcast, which featured our ally All in Together's co-founder and CEO, Lauren Leader. 
Up next:
U.S. democracy is at a dangerous inflection point—from the demise of abortion rights, to a lack of pay equity and parental leave, to skyrocketing maternal mortality, and attacks on trans health. Left unchecked, these crises will lead to wider gaps in political participation and representation. For 50 years, Ms. has been forging feminist journalism—reporting, rebelling and truth-telling from the front-lines, championing the Equal Rights Amendment, and centering the stories of those most impacted. With all that's at stake for equality, we are redoubling our commitment for the next 50 years. In turn, we need your help, Support Ms. today with a donation—any amount that is meaningful to you. For as little as $5 each month, you'll receive the print magazine along with our e-newsletters, action alerts, and invitations to Ms. Studios events and podcasts. We are grateful for your loyalty and ferocity.