January 24, 2021
We are at a transformational shift to a new era of gender equality in the United States, with feminist women holding some of the most consequential levers of power.
Kamala Harris, a Black woman of South Asian descent, is the first woman vice president; for the first time in U.S. history, President Joe Biden has appointed equal numbers of women (now at 48%) to the Cabinet; the House of Representatives is led by a feminist woman, Speaker Nancy Pelosi; and feminists chair some of the most powerful committees including Rep. Maxine Waters of the House Financial Services Committee, Rep. Rosa DeLauro of the Appropriations Committee and Rep. Carolyn Maloney of the Oversight and Reform Committee.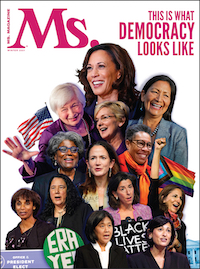 The Winter '21 cover of Ms. celebrates the first-ever gender-balanced U.S. presidential cabinet, proclaiming: "This is what democracy looks like." Read the full article, "A Cabinet That Looks Like America," here.
"This is a moment that feminists—including Ms. editors and our long-time readers, who have been at the forefront of the feminist movement for decades—have been working for," says Kathy Spillar, Ms. executive editor. "There's no denying that 2021 is going to be an exciting, impactful and critically important year in the long struggle for gender equality."
In their feature article, "A Cabinet That Looks Like America," Ms. writers Tiffany D. Barnes and Diana Z. O'Brien explore why and how gender parity in the new administration will make a difference in what government does and the impact on all our lives.
"It's clear that a more diverse Cabinet has a positive effect on policy outcomes," says Barnes. She and O'Brien conclude, "Cabinet appointees don't just enact the president's wishes; they also shape policy and guide the administration's priorities. And researchers find that women's presence in cabinets can lead to more gender-equitable outcomes. More women in cabinets is associated with more government spending on public health and family benefits, as well as female-friendly labor policy."
When confirmed by the Senate, half (48%) of President Biden's Cabinet will be women, including eight women of color—allowing the U.S. to be, for once, a global leader on women's representation in public office. Previously, women have never represented more than eight of the 24 or 25 Cabinet or Cabinet-rank positions at one time, and people of color are even less likely to occupy these posts.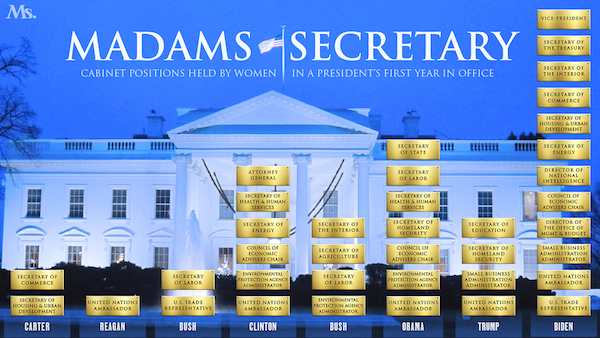 Graphic free to reuse with proper accreditation: Richard Bronshvag / Ms. magazine
###
Kathy Spillar is the Executive Editor of Ms. magazine, a leading source for feminist news and information. Co-founded by Gloria Steinem in 1972 and first published as a one-time insert in New York magazine, Ms. has been published by the Feminist Majority Foundation since 2001. Under Spillar's oversight, Ms. has increased its investigative reporting and feminist political analysis. Spillar is also the Executive Director of the Feminist Majority Foundation. One of the founders, Spillar has been a driving force in executing the organization's diverse programs since 1987, including its work to secure gender balance in elective office and appointments to government boards and commissions.
Tiffany D. Barnes is an Associate Professor of Political Science at the University of Kentucky. She is an expert on women's political representation and the author of two books: Gendering Legislative Behavior: Institutional Constraints and Collaboration (Cambridge University Press, 2016) and Women, Politics, and Power: A Global Perspective (Rowman & Littlefield Press, 2020). Her newest research program, Women as Leaders, Policy-Makers, and Symbols, is funded by the National Science Foundation. In this research she examines the causes and consequences of women's access to the most powerful cabinet appointments in governments across the globe.
####