Twenty-seven percent of private sector workers don't have paid sick days and will go without pay if they can't show up at work.
And while 93 percent of the highest paid workers have access to paid sick days, only 30 percent of the lowest-paid workers have this critical protection.
In response to the coronavirus pandemic and staggering statistics like these, Democratic Congress members are preparing to introduce new emergency legislation to provide relief to workers and others affected by the spread of the disease.
Speaker Nancy Pelosi (D-Calif.) said the legislation could be drafted and voted on by the end of the week.
Features of the potential bill include:
free testing for those showing symptoms of the coronavirus, such as fever, cough and shortness of breath;
expanded unemployment insurance for those laid off by the economic effects of the virus;
paid sick leave for quarantined workers or parents of kids whose schools are shuttered as a result of the epidemic; and
an expansion of food stamps to ensure that kids don't go hungry due to school closures.
The Healthy Families Act of 2004—But Make It Bigger
The bill—introduced by Senator Patty Murray (D-WA), Ranking Member of the Senate Health, Education, Labor and Pensions Committee, and Representative Rosa DeLauro (CT-03), Chair of the House Appropriations Subcommittee—builds off the Healthy Families Act (HFA), a national paid sick days standard that would provide all working people with time to recover and care for their loved ones without risking a job or paycheck.
DeLauro and Murray first introduced HFA in 2004 and have reintroduced the bill every Congress since—but the bill has taken on new meaning and priority in light of the pandemic.
While the original HFA would allow workers in businesses with 15 or more employees to earn up to seven job-protected paid sick days each year, the new emergency paid sick days legislation provides workers with an additional 14 days available immediately in the event of any public health emergency—including the current coronavirus crisis.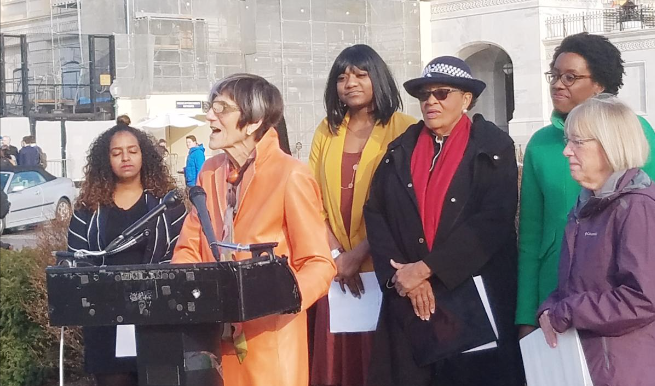 "The coronavirus is highly contagious and the problem isn't going away anytime soon," said Sen. Murray, co-sponsor of the bill. "Workers want to do the right thing for themselves, their families, and their communities—so especially in the middle of public health crises like this, staying home sick shouldn't have to mean losing a paycheck or a job. This bill would immediately give workers the ability to care for themselves, their families and help keep their communities safe. We need to pass it without delay."
"The lack of paid sick days could make coronavirus harder to contain in the United States compared with other countries that have universal sick leave policies in place," said Rep. DeLauro, another of the bill's co-sponsors. "No one should face the impossible choice of caring for their health or keeping their paycheck or job, especially when a sudden public health crisis occurs. But millions of hard-working people must make this decision every time they get sick or a family member needs care. Low-income workers and their families could be hit even harder by the virus, as low wage jobs are at the forefront of not providing sick leave benefits."
The potential legislation has been endorsed by family-, health- and women-focused organizations.
"The coronavirus is shining a spotlight on an issue that has hurt working people and families for far too long," wrote Debra L. Ness, president of the National Partnership for Women and Families. "In a moment of crisis, Congress should not be scrambling to compensate for a lack of basic protections. This is a matter of equity, decency and public health."
Women Disproportionately Need Workplace Protections and Paid Sick Leave
Currently, no federal law guarantees workers the right to earn paid sick days—jeopardizing millions of workers' job security when they become sick or need to care for a sick child or loved one.
For women, the lack of paid sick days can have particularly devastating consequences.
And workers in low-wage jobs—the majority of whom are women—are even less likely to be able to earn paid sick days. In fact, 82 percent of workers making minimum wage don't have access to paid sick days.
The National Partnership for Women and Families estimates that for the typical family without paid sick days, just 3.5 sick days without pay is equivalent to losing an entire month of groceries. And for single-parent families, which are typically headed by women, the consequences are even more dire.
'This nation will only be as healthy as our most vulnerable and least cared-for residents," wrote Family Values at Work, a network of 27 state coalitions working for policies that value families at work, in a statement. "We need action now to ensure that millions of people in the U.S. aren't exposed to the virus by co-workers or others coming to work sick, as 7 million were during the H1N1 outbreak."
An Alternative to Trump Administration's Payroll Tax Cuts
President Trump's economic proposals to combat the virus feature a national payroll tax cut for America's workers.
But Speaker Pelosi and Senate Minority Leader Chuck Schumer argue that the Democratic emergency relief package they and their colleagues are proposing will be more effective and aggressive than the Trump administration alternative because it targets those affected most directly by the coronavirus.
In contrast, they argue, Trump's tax are too generally focused on the economy—rather than on the coronavirus specifically.
"They're all more worried about Dow Jones than the Jones family," Pelosi said. "We are about the families."
This legislation is technically the second round of virus relief: Last week, the White House authorized $8.3 billion in emergency spending to halt the spread of the virus—allocated toward vaccine development, hospitals and community health centers, and international efforts to stop the disease spread.
---
The coronavirus pandemic and the response by federal, state and local authorities is fast-moving.
During this time, Ms. is keeping a focus on aspects of the crisis—especially as it impacts women and their families—often not reported by mainstream media.
If you found this article helpful, please consider supporting our independent reporting and truth-telling for as little as $5 per month.