A staggering majority of nurses, flight attendants, teachers, domestic workers and service industry workers are women, dealing with the front lines of the outbreak.
Additionally, in the majority of homes around the world, women bear the most care-taking responsibilities, creating for many a "second shift" of providing care for children, the elderly and other family members who may be sick or simply in need of additional attention.
"The challenge of the emergency really puts additional strain on existing inequalities," said Laura Addati, a policy specialist in women and economic empowerment for the International Labor Organization. "If there's not already an egalitarian sharing of child care or housework, it will be women who are responsible for remote school, for ensuring there's food and supplies, for coping with this crisis."
Airline Attendants Respond to the Coronavirus Outbreak and Proposed Policies
Almost 76 percent of flight attendants are women.
On Twitter, Sara Nelson, president of the Association of Flight Attendants—the union representing flight attendants at 20 airlines—critiqued the Trump administration's response to curb the spread of the coronavirus through payroll tax cuts—which, she argued, do not get to the heart of the issue for a large portion of American workers.
Nelson also said that the airline industry was "pretty blindsided" by Trump's decision to ban travel from many European countries.
"It created total pandemonium," Nelson said. "Airline employees had no idea what this meant, and for some it was completely disrupting their lives. They weren't even sure if they were going to have a job in the next 24 hours or get home."
Among flight attendants, Nelson says there is extensive fear about job losses.
"The trajectory that this is on right now is beyond job loss—it's about whether or not the industry can actually operate," she said. "You can't operate a flight when no one wants to be on it."
During an Outbreak, Domestic Workers Likely to be Particularly Hard Hit
Women make up almost 90 percent of domestic workers, including in-home childcare providers—and it's essential their livelihood is considered in the midst of a pandemic outbreak.
In a March 9 op-ed for the New York Times, Ai-Jen Poo, the director of the National Domestic Workers Alliance, wrote:
"Overworked, underpaid and ignored, domestic workers and caregivers are too often asked to put the needs of the families who employ them over their own and those of their families. Without access to health care, paid time off or job security, they must navigate crisis and disaster time and again, without a safety net.

"Domestic workers and caregivers do not have the same legal protections provided to almost all other workers in the United States. Most domestic workers in the United States today are black women and other women of color, and this was also true in the 1930s when Southern congressmen agreed to pass the National Labor Relations Act and the Fair Labor Standards Act only after domestic and agricultural workers were excluded. The Occupational Safety and Health Act that mandates basic protections also excludes domestic workers."
Teachers and Students Facing COVID-19 School Closures
Teaching is a profession overwhelmingly dominated by women: Women make up 98 percent of preschool and kindergarten teachers, 94 percent of childcare workers, 85 percent of special education teachers, 79 percent of elementary and middle school teachers, and 61 percent of secondary school educators.
Between active and looming school closures and the disproportionate role women play in childcare generally, women teachers and educators are deeply feeling the effects of COVID-19.
The American Federation of Teachers, the second largest teacher's labor union in America, has been speaking out heavily—both in response to schools' and the federal government's response to the virus, and generally to provide guidance in such a confusing time for the nation.
"If schools close, students' learning and academic needs won't be met, and their social, emotional and developmental needs won't be either," wrote AFT President Randi Weingarten in a March 5 letter to Education Secretary Betsy DeVos.
"We hope school closures that last for days or weeks don't happen, but if a decision is made by the appropriate health agencies to close schools for the health and safety of those who learn and work there, then we need plans in place that look out for kids, teachers and their families. We need coordination between Cabinet secretaries because we cannot allow the nutritional, emotional and social needs of students to go unmet due to a COVID-19 school closure."
Weingarten pleaded that DeVos and other governmental organizations keep students with special needs top of mind, as well as non-educational personnel like cleaning crews; coordinate and communicate rigorous decontamination procedures; and generally provide "collaborative information sharing."
That same day, AFT and UNITE HERE—which together represent educators, healthcare professionals, public employees, hotel, food service, airport, warehouse and casino workers across the country—also called on the federal government to take decisive policy action to halt the spread of the disease.
In a March 5 statement, Weingarten argued the need for decisive action and an effective national paid sick leave policy to protect "the majority of people in America who live paycheck to paycheck":
"We have been bombarded with questions from across our divisions: Nurses, hospital techs, teachers, custodial staff and others are asking for guidance on what equipment to use, how best to prevent the virus's spread, when to close their facilities, and how best to support workers whose livelihoods may be affected.

"In the absence of a coordinated national response, too many states and localities are being forced to develop their own.

"In times of crisis, people look to their government for protection and for answers—right now, the federal government is woefully unprepared, and unions and other public institutions are being forced to fill in the gaps. Fighting a public health emergency cannot be a political issue."
Nurses on the Frontlines Need Protection
Ninety percent of registered and licensed nurses are women.
Jean Ross, president of National Nurses United (NNU)—the largest organization of registered nurses in the United States—explained that the Centers for Disease Control (CDC) put nurses and other healthcare workers significantly at risk by weakening its guidelines on responding to the pandemic: rolling back requirements for protective gear, not requiring infected patients to be in negative pressure isolation rooms at all times and decreasing healthcare worker protections.
"We're calling for protections for registered nurses and other healthcare workers, who are the people that are going to be caring for the COVID-19-affected patients," Ross said.
According to Ross, in a survey at the end of February, the NNU found that only 29 percent of nurses surveyed said that there was a plan in place to deal with coronavirus patients, and an additional 22 percent said they didn't even know if there was a plan.
Furthermore, only 63 percent that said they had enough N95 respirators—one of the most common face respirators. Twenty-three percent said they had what we call PAPRs, powered air purifying respirators. Only 30 percent said they could come up with enough personal protective equipment, should there be a surge in COVID-19 patients.
"We have been calling for this protection for healthcare workers, not just for many months now, but also, if you recall, since the Ebola crisis hit our shores," Ross said, "and sad to say, we are still very lacking."
Some nurses have reported having to re-use masks, concerns of understaffing and a lack of communication from management.
In response to inaction and concern, nurses with the NNU held a national day of action on March 11 to demand better protections for healthcare workers and the public.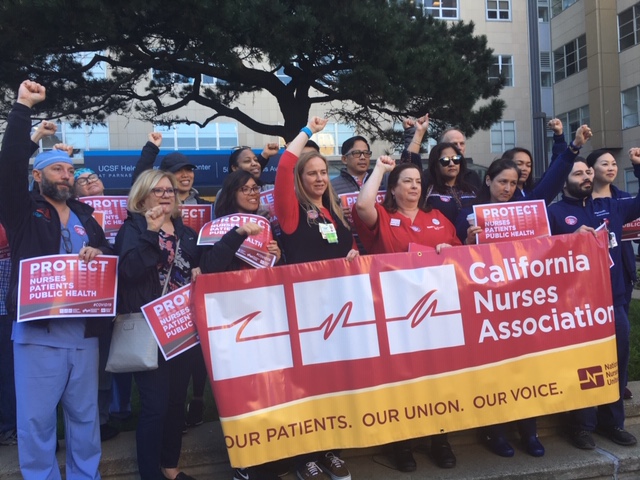 ---
The coronavirus pandemic and the response by federal, state and local authorities is fast-moving.
During this time, Ms. is keeping a focus on aspects of the crisis—especially as it impacts women and their families—often not reported by mainstream media.
If you found this article helpful, please consider supporting our independent reporting and truth-telling for as little as $5 per month.