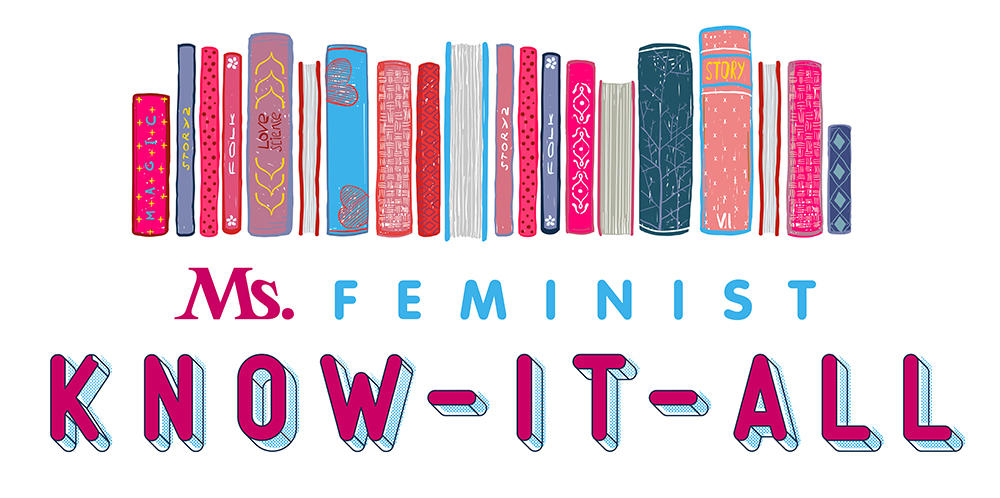 The Feminist Know-It-All: You know her. You can't stand her. Good thing she's not here! Instead, this column by gender and women's studies librarian Karla Strand will amplify stories of the creation, access, use and preservation of knowledge by women and girls around the world; share innovative projects and initiatives that focus on information, literacies, libraries and more; and, of course, talk about all of the books.
---
Each month, I provide Ms. readers with a list of new books being published by writers from historically underrepresented groups.
The aims of these lists are threefold:
I want to do my part in the disruption of what has been the acceptable "norm" in the book world for far too long—white, cis, heterosexual, male;
I want to amplify amazing works by writers who are women, Black, Indigenous, Latinx, APIA/AAPI, international, LGBIA+, TGNC, queer, disabled, fat, immigrant, Muslim, neurodivergent, sex-positive or of other historically marginalized identities—you know, the rest of us;
and I want to challenge and encourage you all to buy, borrow and read them! 
So, here we are in the midst of a pandemic: What better way to spend time social distancing than reading? I've got you covered on that front!
April is usually a big month in publishing, and 2020 is no exception.
There are some big titles being released which you may have already heard about, including: Karin Tanabe's A Hundred Suns, Jordan Ifueko's Raybearer, Rishi Reddi's Passage West and C. Pam Zhang's How Much of These Hills Is Gold: A Novel.
I've included 39 titles on this list. Which will you read?
And watch for my round-up for National Poetry Month, coming soon!
By Julia Alvarez (@writerjalvarez). Algonquin. 272 pages. Out April 7.
After almost 15 years, the irresistible Julia Alvarez is back with this remarkable and nuanced novel exploring immigration, humanity and compassion in a bitter and fractured world.
By Tanya Selvaratnam (@TanyaAuthor). Henry Holt and Co. 272 pages. Out April 7.
This is Tanya Selvaratnam's painful memoir of the abuse she suffered at the hands of New York Attorney General Eric Schneiderman; a situation she now uses to educate others about intimate partner violence.
By Sahar Mustafah (@saharmustafah). W. W. Norton & Company. 312 pages. Out April 7.
With grace, empathy and wisdom, this robustly written debut examines an American Muslim immigrant experience against the backdrop of a school shooting.
Edited by Felicia Rose Chavez, José Olivarez (@_joseolivarez) and Willie Perdomo (@willieperdomo). Haymarket Books. 225 pages. Out April 7.
New to poetry and don't know where to start? Looking to broaden your poetry perspectives? Either way, you should be reading the exceptional Breakbeats Poets series from Haymarket; the latest features the work of Latinx masters and up-and-comers alike. Seriously, just read them all.
By Mieko Kawakami. Europa Editions. 448 pages. Out April 7.
Described as Japan's most important contemporary writer, Mieko Kawakami delivers her first novel published in English, which is bound to cause a stir. Following three women on their journeys to self-acceptance, the book challenges conceptions of family, motherhood and womanhood.
By Afia Atakora (@AfiaAtakora). Random House. 416 pages. Out April 7.
This impeccably researched debut historical novel takes you right into the Civil War South in which an enslaved mother and daughter share friendships and secrets with the slave owner's daughter that threaten to tear them apart.
By Aija Mayrock (@aijamayrock). Andrews McMeel Publishing. 128 pages. Out April 7.
This debut poetry collection, by spoken word artist extraordinaire Aija Mayrock, is a testament to the beauty, hardships and power of womanhood.
By Marilyn Chase. Chronicle Books. 224 pages. Out April 7.
This is a beautiful volume centering the life and work of artist Japanese American sculptor Ruth Asawa. Meticulously researched and filled with photos, this is the first—and bound to be the definitive—volume on this indomitable and prolific artist.
By Sasha Geffen (@sashageffen). University of Texas Press. 264 pages. Out April 7.
This is a unique examination of gender fluidity and queerness across genres of popular music; a must-read for music lovers.
By John Elizabeth Stintzi (@stintzi). House of Anansi Press. 120 pages. Out April 7.
In a powerful debut collection of poetry, the multitalented John Elizabeth Stintzi candidly details the fear, depression and isolation of examining one's gender identity.
By Samira Ahmed (@sam_aye_ahm). Soho Teen. 312 pages. Out April 7.
Samira Ahmed follows last year's hit, Internment, with this engrossing YA historical romance featuring young Khayyam trying to piece together the life of Leila, who lived 200 years prior, and uncovering telling similarities in the process.
By Sylvia A Harvey (@Ms_SAH). Bold Type Books. 288 pages. Out April 7.
Journalist Sylvia A. Harvey presents this urgent and compassionate call for change in the oppressive system of mass incarceration in the US.
By Rowan Hisayo Buchanan (@RowanHLB). Overlook Press. 304 pages. Out April 7.
Buchanan's second novel tenderly explores mental illness, bisexuality, connection, love and loss. This is an original, poetic and striking literary triumph.
By Vivek Shraya (@vivekshraya). ECW Press. 220 pages. Out April 7.
The luminous Vivek Shraya's latest is a timely and compelling look at internet fame and how fickle it really is. Written in Shraya's distinct voice, you'll likely devour it in one sitting.
By Deirdre Mask. St. Martin's Press. 336 pages. Out April 14.
This is a fascinating volume revealing the racism and classism behind the street names and house numbers of the places in which we live. Deirdre Mask's impeccable research and memorable stories make for a compelling history.
by Mab Segrest (@mabsegrest). The New Press. 384 pages. Out April 14.
From the author of the groundbreaking Memoir of a Race Traitor comes this compelling examination of racism in psychiatry through a case study of Milledgeville Asylum in Georgia. Segrest expertly ties the historical legacies of slavery, Reconstruction, and Jim Crow to persistant racism in contemporary mental health fields, but also shines a light on the threads of practice focused on justice and wellbeing.
By Bishakh Som (@biche_bash). The Feminist Press. 250 pages. Out April 14.
This richly illustrated graphic novel began as several mini-comics that Som weaved together under connecting strands of women protagonists, the South Asian diasporic experience, and elements of science fiction.
Written by Carmen Boullosa (@carmenboullosa). Translated by Samantha Schnee (@samanthaschnee). Coffee House Press. 200 pages. Out April 14.
This translated tale offers a new twist to Anna Karenina that centers her children on the eve of the Russian Revolution. Born in Mexico City, writer and artist Carmen Boullosa offers an original perspective on this Russian classic that may light the subversive spark lying dormant within.
By Ruby McConnell (@RubyGoneWild). Overcup Press. 212 pages. Out April 14.
Captivatingly written, the latest work by geologist and adventurer Ruby McConnell is part geological history, part memoir, part ode to the Pacific Northwest and part ecofeminist call to action. Against the backdrop of the devastating eruption of Mt. St. Helens in 1980, McConnell examines notions of self and our relationships to the natural world in this significant new book.
By Emerson Whitney (@emersonwhitney_). McSweeney's Publishing. 200 pages. Out April 14.
Emerson Whitney's first prose book is a frank and absorbing examination of transness, brokenness, mothering, femininity, embodiment and truth.
Written by Cho Nam-joo. Translated by Jamie Chang. Liveright. 144 pages. Out April 14.
Now available for the first time in English, this novel is said to have sparked a new feminist movement in Korea. In sparse, effortless prose, Cho Nam-joo centers Kim Jiyoung as she navigates societal expectations of career, marriage and motherhood against her own dreams and desires.
Written by Ho Sok Fong. Translated by Natascha Bruce (@natascha_bruce). Two Lines Press. 240 pages. Out April 14.
Called "The most accomplished Malaysian writer," and winner of the Pen Translates Award, Ho Sok Fong presents her second collection of short stories. This volume centers women navigating oppressive patriarchal structures in radiant and unflinching prose.
By Dalia Sofer. Farrar, Straus and Giroux. 384 pages. Out April 14.
The compelling second novel from bestselling author Dalia Sofer tells the story of an Iranian man's alienation from himself and the world around him. When faced with his estranged family, he is forced to confront notions of memory, captivity, loss and self.
By Carter Sickels. (@CarterSickels). Hub City Press. 288 pages. Out April 14.
Carter Sickles has written an unforgettable novel detailing a man with AIDS who goes home to Appalachia to die and touches the heart of love, sex, home and understanding.
By Gina Fattore (@ginafattore). Prospect Park Books. 216 pages. Out April 14.
TV writer Gina Fattore has penned this "semi-autobiographical unromantic comedy" to shine a hilarious light on chick lit, the TV business and spinsterhood. If you need a laugh and want to support indie publishing during this time of uncertainty, this is the book for you.
By Kristen Millares Young (@kristenmillares). Red Hen Press. 272 pages. Out April 14.
In this utterly unique and important first novel, Young examines themes of love, intrusion, loss, community and trust against a backdrop of a Makah reservation in the Pacific Northwest.
Written by Hao Jingfang. Translated by Ken Liu (@kyliu99). Gallery / Saga Press. 640 pages. Out April 14.
This is the sci-fi giant to read in 2020, and I mean that figuratively (it's challenging but lyrically written) and literally (it's 640 pages). It's also an engrossing wonder of worldbuilding from the first Chinese woman to ever win a Hugo Award.
By Deborah Paredez (@debparedez). BOA Editions Ltd. 128 pages. Out April 14.
Candid and chilling, Deborah Paredez's second collection of poems relates her stories and memories of being a Latinx daughter during the Việt Nam conflict.
by Leila Chatti (@laypay). Copper Canyon Press. Out April 21.
Tunisian American poet Leila Chatti's powerful collection of poems centers her faith, health, embodiment, shame and womanhood.
By Jennifer Finney Boylan (@JennyBoylan). Celadon Books. 272 pages. Out April 21.
The latest memoir from Boylan is one we can all use right now: one about the unconditional love and companionship of dogs and what they can teach us about change, compassion and humanity.
By Jeni McFarland (@jeni_mcfarland). G.P. Putnam's Sons. 352 pages. Out April 21.
Jeni McFarland writes nuanced, layered relationships in her absorbing debut about three women who return to the small town of their childhoods and grapple with family, race, class and the expectations of womanhood.
By Souvankham Thammavongsa. Little, Brown and Company. 192 pages. Out April 21.
Thammavongsa's radiant debut collection of short stories is full of precarity, strength, uncertainty, messiness and life.
By Frances Cha (@frances_h_cha). Ballantine Books. 288 pages. Out April 21.
In her effervescent debut, Frances Cha writes the quintessential contemporary friendship story about four women challenging the traditions of beauty, gender roles, work and more in modern Seoul, Korea.
Lonely Planet. 288 pages. Out April 21.
One of the strengths of this book is the variety of women and sites included; you can trace the paths of your favorite activists, artists, pathbreakers and icons throughout the world. From Kamala Das in Thrissur, India, to Queen Lili'uokalani in Honolulu, Hawaii, to the Mothers of the Disappeared in Buenos Aires, Argentina, there is something in this volume for every traveler.
Edited by Jos Twist, Ben Vincent (@GenderBen), Meg-John Barker (@megjohnbarker) and Kat Gupta (@mixosaurus). Jessica Kingsley Publishers. 256 pages. Out April 21.

This is a candid and intimate collection of personal essays from a diverse group of people who are non-binary. These stories show the breadth, depth, challenges and emotions that make up the spectrum of experiences of non-binary individuals.
By Jo Ivester (@JoIvester). She Writes Press. 352 pages. Out April 21.
This candid family memoir shares the touching story of a transgender man and his family on their journey of self-discovery, acceptance and unconditional love. Told from multiple perspectives, this is a powerful, tender and important book.
By Laila Lalami (@LailaLalami). Pantheon. 208 pages. Out April 28.
Personal and searing, Laila Lalami's latest book is focused on immigration, white supremacy and what it means to be "American".
Written by Seema Yasmin (@DoctorYasmin). Illustrated by Fahmida Azim (@Fahmida_Azim). Harper Design. 192 pages. Out April 28.
In this beautiful volume, Dr. Seema Yasmin spotlights Muslim women in all their variety, difference, strength and individuality. It features women in burqa and bikini, women driving and reading, trans women, disabled women and more, in phenomenal full-color illustrations by Fahmida Azim.
By Rani Shah. Dey Street. 144 pages. Out April 28.
Last but certainly not least, is this charming little guidebook that each of us will surely need while isolating ourselves from the world. Nature is the inspiration for the self-care lessons Rani Shah shares, from porcupines to oysters, from spiders to sunflowers.
---
The coronavirus pandemic and the response by federal, state and local authorities is fast-moving.
During this time, Ms. is keeping a focus on aspects of the crisis—especially as it impacts women and their families—often not reported by mainstream media.
If you found this article helpful, please consider supporting our independent reporting and truth-telling for as little as $5 per month.