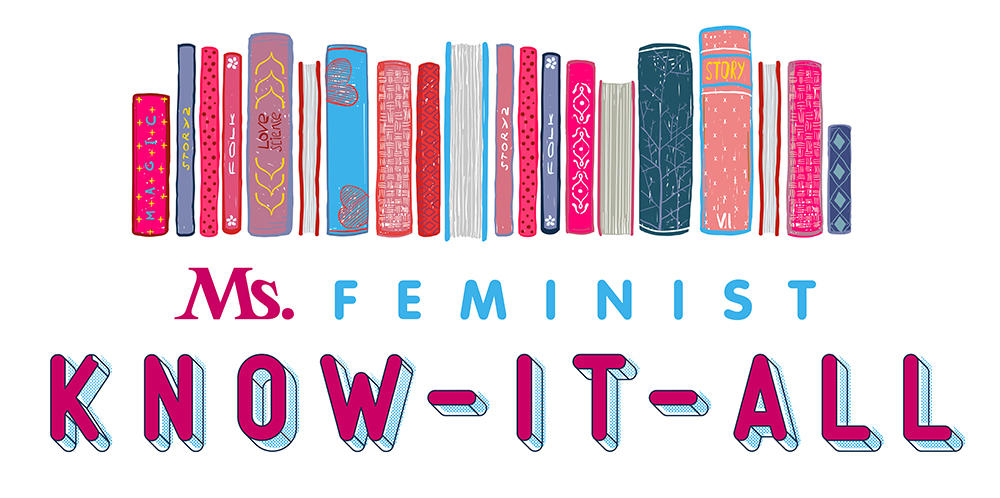 The Feminist Know-It-All: You know her. You can't stand her. Good thing she's not here! Instead, this column by gender and women's studies librarian Karla Strand will amplify stories of the creation, access, use and preservation of knowledge by women and girls around the world; share innovative projects and initiatives that focus on information, literacies, libraries and more; and, of course, talk about all of the books.
---
Each month, I provide Ms. readers with a list of new books being published by writers from historically underrepresented groups.
The aims of these lists are threefold:
I want to do my part in the disruption of what has been the acceptable "norm" in the book world for far too long—white, cis, heterosexual, male;
I want to amplify amazing works by writers who are women, Black, Indigenous, Latinx, APIA/AAPI, international, LGBIA+, TGNC, queer, disabled, fat, immigrant, Muslim, neurodivergent, sex-positive or of other historically marginalized identities—you know, the rest of us; and
I want to challenge and encourage you all to buy, borrow and read them! 
As I write this, much of the country is burning. Thousands across the U.S. are protesting police brutality and the murders of George Floyd, Breonna Taylor and other Black people needlessly killed by police. Against the already heightened tension caused by COVID-19 and Black people dying from it at higher rates than whites, it's no surprise that people have reached a tipping point.
As a queer white person who works hard to be an anti-racist accomplice, I sometimes find it challenging to know what to do to best support Black people and to collect and educate white people. I think the answer of what to do will be different for each of us—but one thing I feel strongly about is this column. The whole goal of these lists is to help boost the signal of books by writers from underrepresented backgrounds. I believe this is important work and a way in which I can use my expertise and platform in a positive way. If you are unable to march or make donations, you can always continue to educate yourself by reading books from these lists, The Zora Canon, or from one of the many other anti-racist reading lists out there.
This month, I've included 33 titles on the list. I'm sure there's something here that can offer you guidance, distraction or solace at this time.
By Sejal Shah (@fictionalsejal). University of Georgia Press. 200 pages. Out June 1.
A memoir of linked essays, Shah's debut collection examines identity, race, culture, loss and belonging. It's been called "bold and brave," "nuanced, wise, and tender" and "a collection for a new century."
By Rosayra Pablo Cruz with Julie Schwietert Collazo (@collazoprojects). HarperOne. 256 pages. Out June 2.
With the assistance of Julie Schwietert Collazo, founder of Immigrant Families Together, Rosy Pablo Cruz shares her story of her desperate departure from Guatemala and her subsequent separation from her two children at the U.S. border. Illustrative of the human costs of inhumane immigration policies.
By Megha Majumdar (@MeghaMaj). Knopf. 304 pages. Out June 2.
Three very different lives intertwine in this dramatic debut set in contemporary India. This fast-paced thriller centers themes of extremism, class, independence and humanity.
By Ann Dávila Cardinal (@anndcardinal). Tor Teen. 240 pages. Out June 2.
Part supernatural horror, part disaster capitalism commentary, the latest YA novel in the Five Midnights series is set in post-Maria Puerto Rico. On Vieques off the main island, three teens investigate murders and mayhem— and a monster they never saw coming.
By Vivian Chong and Georgia Webber (@gee_webber). Fantagraphics. 128 pages. Out June 2.
This utterly unique graphic biography centers dancer, singer and artist, Vivian Chong, after a rare skin disease, Toxic Epidermal Necrolysis (TEN), caused her to go blind. As she was losing her sight, she drew as much as she could and those drawings are part of this beautiful volume detailing her life now.
By Wayétu Moore (@wayetu). Graywolf. 272 pages. Out June 2.
The author of the captivating novel She Would Be King has penned an exceptional memoir of her life in and exodus from war-torn Liberia and her adjustment to living as an African immigrant in the U.S.
By Mia Birdsong (@miabirdsong). Hachette Go. 272 pages. Out June 2.
Activist and facilitator Mia Birdsong has written an extraordinary book about connection and the feelings of isolation we often feel despite our successes. Brittney Cooper said it left her feeling hopeful, so that's enough for me.
Written by Pauline Delabroy-Allard and translated by Adriana Hunter. Other Press. 176 pages. Out June 2.
This slim, intense volume centers two women's obsessive desire for one another after meeting at a New Year's Eve party, neither having ever been with another woman before. Their tender yet dark affair leaves them—and readers—breathless.
By Brit Bennett (@britrbennett). Riverhead Books. 352 pages. Out June 2.
Starred reviews abound for this highly-anticipated sophomore novel by New York Times bestselling author Brit Bennett. Spanning miles and decades, this intricately woven story centering twin sisters explores race and passing, family and the past, love and relationships.
Written by Laurie Halse Anderson (@halseanderson) and illustrated by Leila Del Duca (@leiladelduca). DC Comics. 208 pages. Out June 2.
In her latest, award-winning author Laurie Halse Anderson gives us her original take on Diana of Themyscira as a teen. Even before fully becoming Wonder Woman, Diana is a fierce fighter of injustice. This is a beautiful graphic novel illustrated by the amazing Leila del Duca.
By Lauren Ho (@hellolaurenho). G.P. Putnam's Sons. 416 pages. Out June 9.
If you're looking for a super-fun romantic comedy with robust characters and witty repartee, Lauren Ho's debut will be the summer read for you. Set against the vibrant backdrop of Singapore, Andrea Tang weighs adulting and her own aspirations against the traditions and expectations of her family.
By Margalit Cutler (@margalitties). Microcosm Publishing. 160 pages. Out June 9.
I included this one in my recent poetry roundup and couldn't resist including it here as well, because it is just that fun. This coloring book is everything. Get one for yourself and then one for each of your best pals.
By Jennifer Worley. Harper Perennial. 272 pages. Out June 9.
In San Francisco in the '90s, Jennifer Worley led a group of fellow strippers to form the first union of sex workers in the world. This is her fascinating story of struggle, solidarity, feminism and activism.
By Ameera Patel. Catalyst Press. 208 pages. Out June 9.
There's been an encouraging increase of diverse voices in South African literature of late, and Ameera Patel's debut contributes to this exciting new movement. In her dramatic, drug-addled thriller, Patel explores criminality, excess, humanity and hope.
By Jean Kyoung Frazier (@gojeanfraziergo). Doubleday. 208 pages. Out June 9.
The 18-year-old pregnant protagonist of this debut novel is working at a pizza place when she sees and becomes obsessed with a middle-aged stay-at-home mom. Wonderfully surprising, the book is, at turns, both hilarious and heartbreaking.
By Weng Pixin (@pixmadeobjects). Drawn & Quarterly. 160 pages. Out June 9.
This lovely semi-autobiographical graphic novel by Singaporean cartoonist Weng Pixin reflects her endless curiosity, vivid imagination and sense of wonder. Sad yet hopeful, this volume explores themes of love, loss, connection and compassion.
By Donna Hemans (@donna_hemans). Red Hen Press. 256 pages. Out June 9.
When Plum sets out to find the daughter taken from her at birth, she couldn't imagine what lay in store for her 17 years later. This haunting debut deftly explores secrets, lies, betrayal and redemption.
By Zaina Arafat (@zainaarafat). Catapult. 263 pages. Out June 9.
In her uniquely written debut novel, Zaina Arafat tackles the challenges of being a queer Palestinian American attempting to disentagle identities to locate and celebrate the true self.
By Anahi Russo Garrido. Rutgers University Press. 204 pages. Out June 12.
This "is the first ethnography in English to focus primarily on women's sexual and intimate cultures in Mexico." An in-depth exploration into the changes in women's sexualities in Latinx cultures, the volume examines marriage, polyamory, queerness, gender, love and friendship.
---
If you found this article helpful, please consider supporting our independent reporting and truth-telling for as little as $5 per month.
---
By Lisa Braxton (@LisaReidBraxton). Inanna Publications. 350 pages. Out June 15.
This debut takes on the topic of gentrification of African American and immigrant neighborhoods. Beyond that, it is about the neighbors themselves: their hopes and dreams, their sacrifices and challenges. Themes of race, class and culture are skilfully woven throughout.
By Daven McQueen (@daventhequeen). Wattpad Books. 312 pages. Out June 16.
This is a powerful YA story of friendship, respect and compassion. When biracial Ethan meets Juniper Jones while staying with relatives in Alabama in 1955, he's thankful to have a friend who stands by him while he contends with his Blackness for the first time.
By Catherine Adel West (@cawest329). Park Row. 320 pages. Out June 16.
This debut centers Ruby King, who is stuck with an abusive father after her mother is killed. Only her friend, Layla, truly knows what Ruby's going through. Incorporating compelling perspectives, this is a powerful story of family, faith and friendship.
By Marisel Vera (@MVeraWriter). Liveright. 384 pages. Out June 16.
Set in Puerto Rico on the eve of the Spanish American War, this remarkable historical novel is one of home, family bonds and the broken promises of the American Dream. This is grand, impassioned storytelling.
By Rae Linda Brown. University of Illinois Press. 336 pages. Out June 22.
In this first-ever biography of a groundbreaking composer, Rae Linda Brown offers an in-depth and meticulously researched portrait of Florence B. Price. Brown expertly weaves the details of Price's life with examinations of race, poverty and sexism in the musical and social history of her time.
By Kim E. Nielsen. University of Illinois Press. 168 pages. Out June 22.
Part of the Disability Histories series from University of Illinois Press, this volume details the life of Anna Ott, a privileged doctor's wife and, for some time, the only woman doctor in Madison, Wisconsin. How did this affluent woman come to spend two decades in an institution and what does her experience tell us about power, culture, sexism and ableism in the 19th century?
By Kimiko Guthrie (@GuthrieKimiko). Blackstone Publishing. 288 pages. Out June 23.
This timely debut centers Akiko, whose mother spent time in the Japanese internment camps in California during World War II. Striking and beautiful, Block Seventeen includes reflections of family, legacy, secrets and trauma that will shake readers to the core.
By Teresa Milbrodt (@teresa_milbrodt). Shade Mountain Press. 195 pages. Out June 23.
Spectacularly unique, this collection of stories by Teresa Milbrodt combines the mundane and the extraordinary to center disability, domestic life, embodiment and poverty in new and thought-provoking ways. Did I mention there are unicorns and sphinxes?
By Talia Hibbert (@taliahibbert). Avon. 400 pages. Out June 23.
The second installment of Talia Hibbert's The Brown Sisters series features Dani Brown, a bisexual go-getter HBIC who knows what she wants—and love is not on that list. A funny, sexy and sweet romcom, this one is sure to heat up your summer.
By Emma Dabiri (@EmmaDabiri). Harper Perennial. 272 pages. Out June 23.
BBC and Guardian contributor Emma Dabiri has written the definitive new volume on Black hair, hair texture and hairstyling culture as representative of broader discussions of racism, oppression and liberation. This collection is well-researched, critical and engaging.
Edited by Alice Wong (@SFdirewolf). Vintage. 336 pages. Out June 30.
This is an exemplary collection of contemporary essays by people with disabilities. Contributors include Keah Brown, Ellen Samuels, s.e. smith, Leah Lakshmi Piepzna-Samarasinha, Wanda Díaz-Merced, Sky Cubacub, and many more. This month's #RequiredReading.
By Silvia Moreno-Garcia (@silviamg). Del Rey. 320 pages. Out June 30.
Magical realism meets gothic suspense in this imaginative historical novel by the author of the outstanding Gods of Jade and Shadow. Silvia Moreno-Garcia has another book, Untamed Shore, scheduled for release in February from Agora Books, so be sure to check out both.
Written by Aisha Redux (@stupidblackgirl) and illustrated by Brianna McCarthy (@macabrii). Street Noise Books. 160 pages. Out June 30.
Aisha Redux is a powerful new voice in contemporary literature from a fresh new publisher, Street Noise Books. Taking on themes of identity, mental health, race, spirituality and sexuality, these essays are complemented by stunning illustrations by Brianna McCarthy.
By Shayla Lawson (@blueifiwasnt). Harper Perennial. 336 pages. Out June 30.
With this collection, Shayla Lawson delivers the goods on patriarchy, white supremacy and contemporary culture with wit, candor and clarity. Part memoir, part criticism, part history, this volume is brave, fresh and reflective.
---