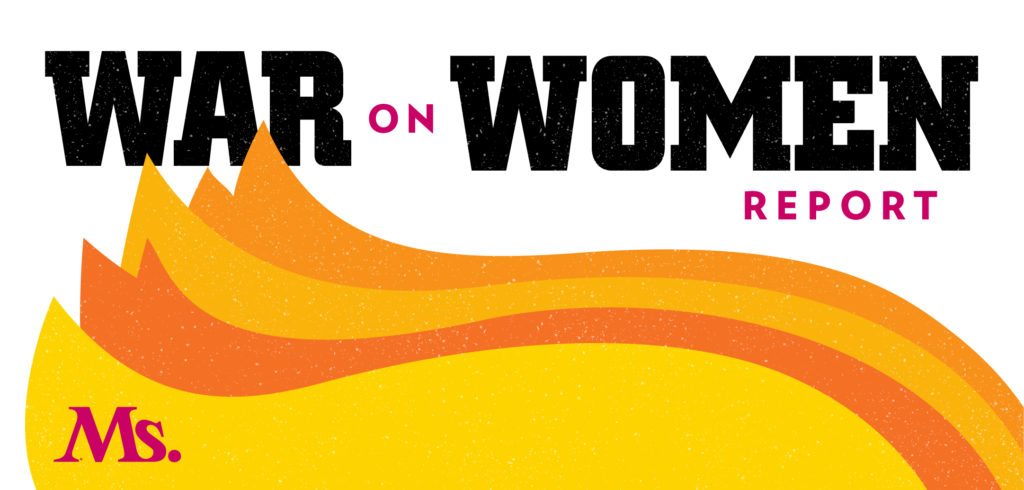 The War on Women is in full force under the Trump administration. We refuse to go back, and we refuse to let the administration quietly dismantle the progress we've made. We are watching.
This is the War on Women Report.
---
Sunday, June 28
+ Trump retweeted a video featuring a supporter yelling "white power," his latest blatant message of support for white supremacy. He deleted it hours later but still has not commented on or denounced the video.
Amanda Carpenter, a prominent Trump critic and former aide to Sen. Ted Cruz (R.-Texas) called the tweet amplifying racist sentiments inexcusable.
"What President Trump and every member of his campaign and the White House need to do is come out and say, 'We do not want votes from people who shout "white power" or hold up white supremacist ideology, in any way, shape or form,'" Carpenter said. "Until they do that, they're stoking this."
Lily Adams, senior adviser to a super PAC supporting Joe Biden, similarly condemned Trump: "The fact that Donald Trump and the White House won't even clear the bar of condemning white supremacy just shows how devoid of any morals things really have become."
Trump's raising of hateful commentary inflames racial divisions at a time of clear social upheaval. As many engage in protests surrounding police brutality and systematic discrimination against Black people, Trump utilizes his vast Twitter platform to stoke racist sentiment and dog-whistle to his base.
Monday, June 29
+ Supreme Court Justices Brett Kavanaugh and Neil M. Gorsuch dissented in the ruling striking down a Louisiana law that would have significantly limited safe abortion access.
At-risk Senate Republicans—like Susan Collins, who decisively voted to confirm Kavanaugh—face a difficult campaign season with this ruling at the forefront. Another of Collins's vulnerabilities is her confirmation vote for Kavanaugh. Trump appointees Kavanaugh and Gorsuch, in dissenting to the majority opinion banning Louisiana's anti-abortion law, gained the attention of advocacy groups. NARAL Pro-Choice America President Ilyse Hogue called out Susan Collins, Senator Cory Gardner or Colorado, Senator Joni Ernst of Iowa, Senator Thom Tillis of North Carolina and Senator Lindsey Graham of South Carolina saying "everyone who voted wrong, we're coming for you"—refers to the Senators' 2018 decisions to confirm Kavanaugh.
Executive director of Planned Parenthood Votes Jenny Lawson stated: "Abortion access is not further decimated in Louisiana—for now—but that's only because Donald Trump's two Supreme Court appointees, Brett Kavanaugh and Neil Gorsuch, didn't get their way."
While the decision in June Medical Services LLC v. Russo struck down a medically unnecessary clinic shutdown law in Louisiana as unconstitutional, it remains evident that the right for reproductive justice is far from won.
---
If you found this article helpful, please consider supporting our independent reporting and truth-telling for as little as $5 per month.
---
Tuesday, June 30
+ Trump announced he will veto the annual National Defense Authorization Act if it contains amendments to rename military bases originally named after Confederate leaders. Sen. Elizabeth Warren has sponsored the amendment to the defense bill, which, if passed, would change the names of 10 bases currently named after Confederate military leaders. The amendment would also remove Confederate symbols, images and paraphernalia nationwide from military bases and defense facilities.
Later Tuesday evening, Trump reaffirmed his position on Twitter. In his tweet, Trump referred to Warren as "Pochahontas," a racist nickname he has repeatedly used to mock and demean Warren. Trump has a history of using political nicknames to attack and criticize his political opponents, particularly women, with examples including 'Nervous Nancy,' 'Crooked Hillary' and 'Crazy Maxine Waters.' His repeated use of insulting nicknames is not only childish, but can also be dangerously manipulative.
Wednesday, July 1
+ Trump has repeatedly criticized the Black Lives Matter movement, belittling all that the movement is doing to push for justice and racial equality. In a string of tweets on Wednesday, he spoke out specifically about actions taken in New York to support the movement, criticizing Mayor Bill de Blasio's decision to paint Black Lives Matter on Fifth Avenue. Trump wrote on Twitter that New York is "denigrating this luxury avenue," and antagonizing "New York's Finest." He continued on to call the Black Lives Matter painting a "symbol of hate."
Trump's tweets seem to suggest that supporting racial justice somehow conflicts with the wealthy and prosperous atmosphere of Fifth Avenue. What Trump fails to recognize, however, is the inherent connection between U.S. economic prosperity and our country's racist history which has privileged white Americans, primarily men. His tweets demonstrate once again an ignorance and disregard for people of color.
+ The Trump administration's Department of Housing and Urban Development proposed an updated rule to dismantle protections for transgender homeless. The rule allows taxpayer-funded homeless shelters to deny access to transgender individuals based on factors including the shelter provider's religious affiliation.
LaLa Zannell, trans justice campaign manager for the American Civil Liberties Union responded to the rule: "Trump is proposing a rule that would allow federally funded homeless shelters to turn people away based on sex. This new rule would be particularly dangerous for the Black and Brown transgender women who face extraordinarily high rates of unemployment and homelessness at any time, and particularly in this economic crisis."
Zannell explained that shelters that receive public funding should be open to every individual in need. She continued, "We should all tell the Trump administration that this proposed rule is not only wrong but deadly.
---