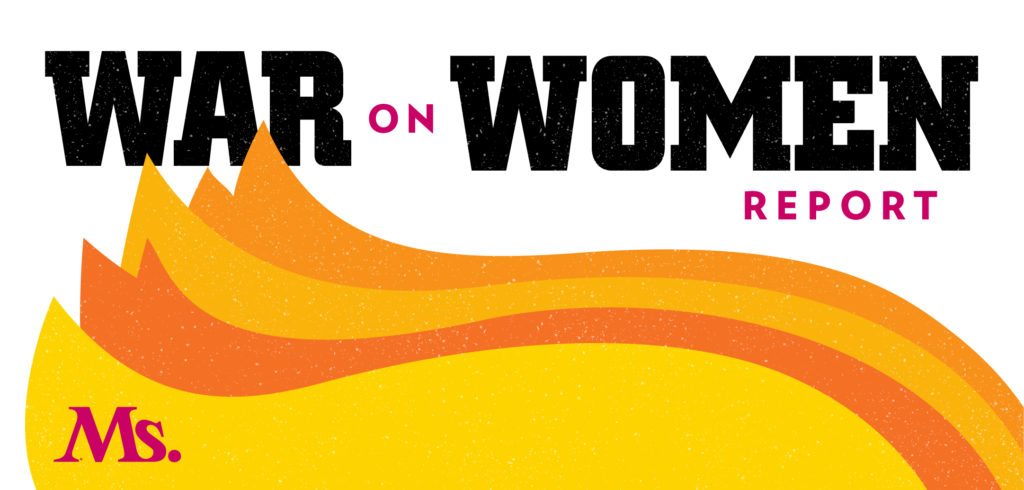 The War on Women is in full force under the Trump administration. We refuse to go back, and we refuse to let the administration quietly dismantle the progress we've made. We are watching.
This is the War on Women Report.
---
Monday, July 27
+ Arkansas Sen. Tom Cotton (R) said slavery was a "necessary evil upon which the union was built" and rejects the notion that the U.S. was built from systematic racism. Rather than apologize for the comments that justify the enslavement of Black people, Cotton introduced the Saving American History Act which would prohibit federal funds from being made available to teach "The 1619 Project" curriculum in schools. "1619" is an initiative by New York Times journalist Nicole Hannah-Jones to begin teaching U.S. history starting around the first arrivals of slave ships. Cotton and other conservatives have criticized the initiative as an attempt to diminish the importance of American independence—calling the Pulitzer-Prize-winning project "left-wing propaganda" that rejects the idea that "America is a great and noble country founded on the proposition that all mankind is created equal."
Hannah-Jones responded to Cotton's legislation:
+ Attorney General Bill Barr testified before the House Judiciary Committee facing questions about the Justice Department's recent actions, including:
discrediting the Russia investigation;
manipulating criminal cases of Trump allies and overall turning the department into a Trump political extension;
responding to protests against police brutality with federal violence, and
claiming vote-by-mail options create voter fraud.
Barr accused Democrats of attempting "to discredit me by conjuring up a narrative that I am simply the President's factotum who disposes of criminal cases according to his instructions," and said "violent rioters and anarchists have hijacked legitimate protests to wreak senseless havoc and destruction on innocent victims."
---
If you found this article helpful, please consider supporting our independent reporting and truth-telling for as little as $5 per month.
---
Tuesday, July 28
+ After the Supreme Court struck down Trump's attempts to end DACA in June, Trump is taking another approach to restrict the Obama-era immigration program. The Trump administration announced the DACA program will accept no new applicants—leaving thousands of eligible immigrants in limbo. It also decreased the period of deferral from two years to one year, leaving many immigrants with uncertainty about their security in the country.
These restrictions seem to be a way for the Trump administration to buy more time as they figure out their next move in their fight against DACA—part of an ongoing attempt by the Trump administration to restrict immigration and push out immigrants who have lived in the U.S. for most of their lives.
+ New York City police officers dressed in plain clothes pulled a transgender woman protestor, Nikki Stone, into an unmarked van. The protestor was engaging in a demonstration against aggressive police tactics. After video of the incident surfaced, many took to social media drawing similarities to similar tactics used by federal agents in Portland, Ore. In a statement, NYPD claimed Stone was arrested because she was involved in "damaging police cameras during five separate criminal incidents in and around City Hall Park." City councilwoman Carlina Rivera called the arrest a "massive overstep" and Gov. Andrew Cuomo labeled the video "disturbing."
+ Trump falsely claimed "large portions of our country" are "corona-free" after a federal report surfaced showing 21 states had severe outbreaks and only one state, Vermont, was in the "green zone."
He also defended sharing a video promoting the drug hydroxychloroquine for coronavirus treatment. (The video was later removed from Facebook, YouTube and Twitter for violating policies on amplifying misinformation.) Federal health officials and multiple clinical trials have indicated the drug is not an effective treatment. Trump called Dr. Stella Immanuel, featured in the video, "impressive" after she praised the use of hydroxychloroquine and claimed people do not need to wear masks to prevent the spread of the virus. Immanuel previously posted a series of religious sermons on YouTube in which she made references to alien DNA and attributed medical conditions to sex with demons and witches. Trump responded to CNN reporter Kaitlan Collins's question on Immanuel with, "I know nothing about her," then abruptly ended his press conference.
+ Forty percent of households—the hardest to reach and disproportionately made up of poor people, people of color and young people—have yet to be counted in the 2020 census. Yet Trump asked the Senate Appropriations Committee to allocate funding in the next coronavirus aid package for a "timely" census execution. Census officials worry Trump and Senate Republicans are rushing the census in order to create a favorable image of the administration, and claim a hasty count to meet Trump's deadline will result in inaccurate results. The Trump administration is attempting to deliver key data for political reapportionment to Trump while he is still in office—which are then used to reapportion thousands of state and local districts and hundreds of House seats. This is the latest action by Trump in a long series of attempts to skew the census for his own political advantage.
Wednesday July 29
+ In a tweet on Wednesday, Trump once again voiced opposition to fair housing policies introduced by the Obama administration aimed at preventing housing discrimination. After rolling back the Obama-era Affirmatively Furthering Fair Housing Rule, Trump has introduced his own rule, called "Preserving Community and Neighborhood Choice" which will push low-income households out of suburban communities. In a dog whistle to his racist base, Trump wrote the "Suburban Lifestyle Dream" will be protected from "low income housing." He added "crime will go down" as a result of the changes he plans to implement.
This tweet has undeniably racist implications, as fair housing rules and anti-discrimination laws are essential in protecting people of color from housing discrimination. The suggestion that affordable housing will destroy the suburbs seems to suggest that only wealthy white families belong in suburban communities.
The Trump family unsurprisingly has a history of involvement in housing discrimination, and in 1973, Donald Trump and his father Fred Trump were sued in a civil rights case for violating the Fair Housing Act of 1968. It is only fitting that Trump would continue to disregard fair housing practices more than 50 years later.
Thursday July 30
+ After weeks of violent clashes with federal law enforcement officers in Portland, Ore., protesters and state and local officials are calling for the removal of these officers. On Wednesday, it appeared an agreement had been made between Gov. Kate Brown and the federal government, and Brown announced that the federal government would begin withdrawing troops. Trump, however, went back on this promise in a tweet attacking Brown. In the tweet, Trump accused Brown of not "doing her job." His attacks come as Brown has repeatedly tried to work with protesters and encourage dialogue. Moreover, federal presence in Portland has only worsened conditions in the city, making it clear that Trump needs to pull officers out of the city.
---