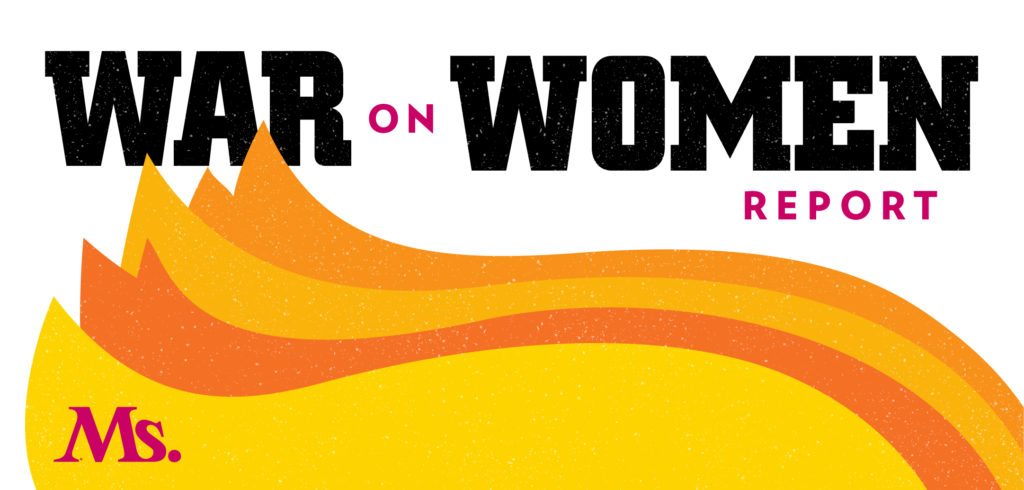 The War on Women is in full force under the Trump administration. We refuse to go back, and we refuse to let the administration quietly dismantle the progress we've made. We are watching.
This is the War on Women Report.
---
+ Senator Ted Cruz is leading a group of 20 Senate Republicans in an effort to ban the abortion pill mifepristone from U.S. markets. On Monday, the senators sent a letter to the Food and Drug Administration (FDA) calling mifepristone an "imminent hazard to public health" and demanding the pill—which has been approved by the FDA since 2000—be banned.
Although it is unlikely that Cruz and the other GOP senators will be successful, denying access to this pill would greatly threaten reproductive rights. To date, nearly 40 percent of U.S. abortions use mifepristone, and demand for abortion-inducing pills has increased during the coronavirus pandemic, according to the organization Aid Access. Particularly in states with high coronavirus rates, the use of abortion pills creates fewer risks of exposure in comparison to abortions performed in medical facilities.
Cruz's actions also come in the wake of months of conflict over access to mifepristone during the pandemic. Regulations prior to coronavirus required patients visit a provider in-person to pick up the pill; however, in July, a federal judge in Maryland said this mandate creates an unconstitutional barrier to abortion access. Trump has fought back against this ruling, asking the Supreme Court to reinstate restrictions.
Although access to mifepristone appears safely protected for now, the Trump administration and a sizable portion of U.S. senators seem bent on continuing to threaten women's rights to reproductive health.
Tuesday, September 1
+ The Trump administration has announced that it will not partake in a collective effort by the World Health Organization to develop and distribute a coronavirus vaccine. With over 6 million cases in the U.S. and over 186,000 deaths, the virus remains out of U.S. control. Despite these high numbers, however, Trump has chosen to distance the U.S. from global relief efforts which over 170 countries are participating in. This latest decision follows the administration's announcement in July that it plans to withdraw the U.S. from the WHO which has drawn bipartisan criticism. With this decision to isolate the U.S. from the coronavirus vaccine initiative, it will likely be months before any vaccine is authorized for distribution in the U.S.
Wednesday, September 2
+ In North Carolina, Trump seems to have actively advocated for his supporters to attempt voter fraud. In a baffling video clip which has since been widely circulated, Trump suggests that his supporters should vote twice: first by mail, then in person at polling booths. (Goes without saying, but attempting to vote twice is a felony in most states.)
Trump's suggestion plays into his repeated attempts to undermine the authenticity of the 2020 election, this time by proposing that mail-in voting will be unreliable. North Carolina officials have since issued a response discouraging voters from following Trump's advice, as it will crowd polling booths and lead to increased exposure to the virus.
---
If you found this article helpful, please consider supporting our independent reporting and truth-telling for as little as $5 per month.
---
+ Within a single CNN interview, Attorney General William Barr made a series of concerning claims regarding racial justice, the shooting of Jacob Blake, and the validity of the 2020 election. After claiming Blake was armed the night of his shooting—despite no evidence supporting this claim—Barr went on to discredit the notion of systemic racism.
Barr also falsely claimed race does not factor into police actions. In reality, studies, including an extensive database set up by the Washington Post, show that unarmed Black Americans are almost three times than white people more likely to be die at the hands of police.
Barr also suggested there will be high levels of voter fraud in the 2020 election—once again with no factual evidence. Moreover, he did not challenge Trump's encouragement for voters to cast two ballots, even when interviewer Wolf Blitzer pointed out that such an action is clearly not legal.
Thursday, September 3
+ Trump's attempts to withhold federal funding for family planning from organizations like Planned Parenthood and others was blocked by a federal court. Although this ruling only applies to Maryland clinics for the time being, it reversed a previous 9th Circuit ruling allowing the Trump administration's funding restrictions—so it is likely this issue will move to the Supreme Court for a decision. The ruling comes after the Trump administration restricted Title X funding last year, limiting abortion access for low-income individuals in need of family-planning help.
Although the court's ruling is a momentary win for reproductive health rights, the fight to protect access to clinics must continue to be fought in the face of Trump's many attempts to restrict abortion access.
+ When all else fails, Donald Trump can always rely on his childlike use of name-calling insults to critique his political opponents. This week, House Speaker Nancy Pelosi was the target of his disrespectful attacks. In a series of tweets, Trump repeatedly referred to the congresswoman as "Crazy Nancy" in reference to a hair salon incident on Monday, in which Pelosi was set up.
Friday, September 4
+ The highly anticipated live action "Mulan" movie was released by Disney on Friday. It has already gained recognition for its portrayal of a strong and empowered young woman who challenges societal and cultural norms, courageously fighting a war in her father's place. What's not to love?
Well, according to a 1999 op-ed written by Mike Pence, such a story is merely liberal propaganda, as women can't possibly participate in the armed forces. The piece written by Pence is full of overt sexism, ultimately arguing that the presence of women in the armed forces would create extreme and uncontrollable sexual tension with their male counterparts.
Pence's close minded and sexist views are offensive, particularly considering the service American women have performed to date for the country's armed forces. Now, more than 20 years after Pence's op-ed was published, we hope Mulan will continue to serve as an inspiration and sign of empowerment for women and girls.
---