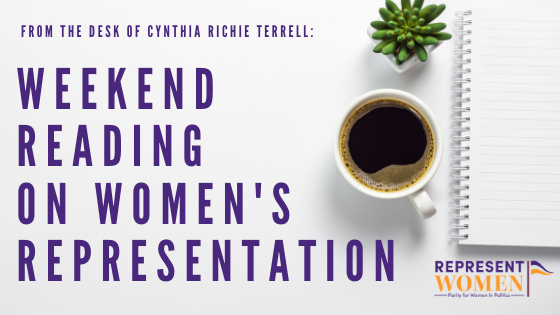 Weekend Reading on Women's Representation is a compilation of stories about women's representation in politics, on boards, in sports and entertainment, in judicial offices and in the private sector in the U.S. and around the world—with a little gardening and goodwill mixed in for refreshment!
---
This week marks a significant milestone for women in politics in the United States: More women have filed to run for office than ever before. According to this story on The 19th by Amanda Becker, Lisa Blunt Rochester's win in Delaware this week—the last primary of the election season—brings the tally of women candidates for the House of Representatives to 298:
Delaware was the last state to hold its regular congressional primary elections on Tuesday and Rep. Lisa Blunt Rochester, the first and only woman to represent the state in the U.S. Congress, is expected to hold on to her House seat in November.

There are now record-breaking 298 women nominees — 204 Democrats and 94 Republicans — who will be competing in House races and 20 women nominees — 12 Democrats and 8 Republicans — who will be competing in Senate races, according to the Center for American Women and Politics at Rutgers University. 

The previous record was set in 2018 when there were 234 women nominees who competed in House races.

FairVote has been tracking the competitiveness of House districts and predicting outcomes based on the partisanship of districts for over 20 years. FairVote's formula, developed by Rob Richie and used by the Cook Political Report, has correctly predicted the winner of House seats in over 99 percent of the races—read more here about which districts are competitive this year and find the data here.
---
RepresentWomen's summer legal fellow Claire Halffield wrote a great piece for Gender on the Ballot about the gender balance rules used by the Republican and Democratic parties to select precinct chairs, state party committees and convention delegates. 
The use of these rules by both major parties—and a number of minor parties—is a terrific reminder that the parties care about equity and have adopted systems strategies like gender-balance rules to ensure that women's voices are heard at all levels.
These rules also serve as a launch pad for future conversations with the parties about additional measures they could take to advance women's representation like setting targets for the number of women they recruit to run for office or normalizing the practice of naming a woman to fill the seat when a woman steps down from office:
With the dust settling on the Democratic and Republican National Conventions, it's important to remember that women are underrepresented at all levels of the political process, including party leadership. For years, the Democratic and Republican National parties have tried to remedy this issue. Today, rules by national parties aim to achieve equal division amongst state delegations to increase the percentage of women in a state party's national convention delegation.

The Democratic National Party requires all state delegations to the national convention be equally divided between men and women. The Republican National Party, meanwhile, mandates that state parties endeavor to have equal representation. It may seem at first read that these rules are similar; however, the small difference between them has a profound impact on the official delegations.

A new brief on party rules and gender parity from RepresentWomen explores in depth the rules that are used at state and national party levels, and the 2017 research accompanying this brief  reveals the effects these rules have on the delegation actually sent: Based on the data of women's representation at both the Democratic and Republican 2016 national conventions, 47 states sent delegations to the DNC composed of at least 40% women, while 15 states sent delegations to the RNC with the same makeup.

There are also party differences in each state party's committee makeup— 34 Democratic state parties and 16 Republican state parties have rules that encourage equal representation at state party meetings. Many state parties encouraging equal representation do so by requiring each precinct in their state to send an equal number of male and female representatives to state meetings.

Opponents of the equal division rule have argued that such rules restrict voters' right to choose who represents them at party meetings by requiring women to be represented equally, and infringes upon the voting rights given to voters through the Constitution. However, cases such as Bachur v. Nat'l Democratic Party and Cousins v. Wigoda concluded that political parties have a right to shape their delegations in this way, as long as their methods support some rational interest of their party.

And for good reason— research shows recruitment for office is an important factor for increasing the number of women who run and that recruitment is most effective when conducted by elected officials and party leaders. When fewer women attend state and national party conventions, they may miss out on chances to meet leaders with influence, as well as future recruitment opportunities and connections needed for running successful campaigns.

While we can't require that more spaces are held for women in office, we can provide more opportunities for women to run and get involved in the political process. Gender balance rules in political parties promises opportunities (though not outcomes) for women to learn from and be recruited by party leaders.
Click here to see the full report on Party Rules and here to see the interactive map that shows gender balance rules in place in each state.
---
If you found this article helpful, please consider supporting our independent reporting and truth-telling for as little as $5 per month.
---
There was a very interesting piece in the Harvard Business Review by Deepa Mahajan, Olivia White, Anu Madgavkar and Mekala Krishnam about the impact of COVID on the work for women's equality internationally and actions that should be taken to protect the progress that has been made:
Three Areas for Action

The strong message emerging from our research is that policy makers and business leaders need to act fast to push for greater gender equality. Overarching areas for action include reducing the gender imbalance in child care responsibility, for example through better recognition of unpaid work and rebalancing between men and women; closing the gender gap in digital inclusion, which is especially important as remote work and online shopping have become more prominent during the pandemic; and tackling attitudinal biases, potentially through campaigns and enlisting male champions to help drive home the idea that a larger number of women at work represents socially and economically beneficial progress.

We recommend CEOs start with these three actions:

1. Track the data.

Business leaders will need transparency on gendered regressive impacts within their company. Are job losses or requests for leave higher among women?  Have promotion rates of women slowed?  With new hiring, is the pre-Covid gender balance level being maintained, or is there slippage? Such information for the company as a whole can be accompanied by more detailed data by department and tenure band.

2. Take action.

Many companies have already put in place policies to enable flexible working, but as lockdowns extend in many parts of the world, they will need to more actively consider how to factor the pandemic's impact into performance reviews, prevent employee burnout, and ensure that traditional diversity practices, such as sponsorship programs or employee resource groups, are reinvented for a virtual world.

Companies that are rehiring need to ensure that hiring practices consider gender diversity. Those investing in reskilling need to ensure female workers are actively encouraged to participate in such programs. In this Covid-19 period, leading by example can help, including encouraging employees to share the unpaid care burden openly and willingly, setting boundaries for those working remotely between office life and home life, and ensuring that your company shows care for the health and mental well-being of women employees.

3. Look for opportunities to increase gender equity throughout your corporate ecosystem.

How can your products and services help counter regressive effects? Deliberately identifying such impacts and potential interventions can make a difference. For example, financial services firms can ensure their products reach women entrepreneurs, and technology firms can ensure their products are designed with diverse perspectives in mind. Companies can also take action to encourage gender diversity not just within their organizations but also more broadly across their supply chains and distribution channels.

The evidence from our research is clear: Greater gender equality is good for the economy and society as a whole. If we act now to remove barriers to greater female labor-force participation and a bigger role in society, we can reap the economic and social benefits. If we delay, the benefits will be more meager, while allowing the disappointing status quo to continue will result in a backwards slide. Parity is powerful. It needs to move forward.
---
I was very interested to read this piece by Maire Berry and Milli Lake in the Boston Review that finds fault with the impact of gender quota rules in Nepal, Colombia and Rwanda.
My reaction—which they rightfully anticipated in the article—is to wonder about the efficacy of questioning a tool that has so clearly delivered representation to women faster than any other mechanism. But I do agree that there is merit in always evaluating the impact of any and all efforts to get more women in office.
I often wonder, for example, if women now feel they need to be "trained" in order to run for office—when men surely never contemplate that question. Here is an excerpt from the article:
In considering the impact of a hundred years of women's suffrage in the United States, it is incumbent on us to reflect on how emancipatory and gender-progressive reforms provide a canvas upon which exclusionary and counter-feminist agendas play out.

In Colombia, efforts to secure women's political inclusion have legitimized capitalist projects linked to the militarized export economy.

In Rwanda, these efforts have entrenched an authoritarian regime that widely suppresses freedom of expression and democracy.

In Nepal, these efforts have appeased international advisors while facilitating the continued dominance of particular caste, regional, and class interests.

In all of these cases, and elsewhere, the means of securing women's inclusion have reaffirmed the patriarchal, capitalist systems responsible for inequality and injustice in the first place.

Is there another option? Many champions of women's political representation and gender quotas will acknowledge the limitations of such initiatives, but will dismiss our argument on the grounds that such interventions are stepping-stones on the path to more equitable gender representation—essential first steps in constrained sociopolitical and economic contexts.

We are sympathetic to this perspective but contend that only movements rooted in the communities of the most marginalized can generate a genuinely transformative reallocation of power. Any political project that does not look first to those most excluded promises to guard hierarchical structures of power and entrench existing privilege. And gender innovations that reinforce interlocking forms of market, class and ethnic dominance will only ever serve to preserve rather than undermine patriarchal power.
---
RepresentWomen summer intern Lola Solis wrote a very impressive report on the representation and rights of women who are incarcerated. Read the full report and here is an excerpt:
In the past few decades there has been heightened interest in and scholarship in incarceration and the incarcerated population in the United States. However, much of this research has surrounded male incarceration rates, often overlooking the growing number of incarcerated women.

While male incarceration rates have steadily declined in the past decade with the help of public scrutiny, women have become the fastest-growing incarcerated population. Between 1980 and 2017, the population of incarcerated women has risen by 750%. Along with the rapid growth, incarcerated and formerly incarcerated women face unique challenges in re-entering society and regaining voting rights all of which impact their political representation. 
Incarceration impacts political representation by:
Requiring formerly incarcerated individuals to pay legal financial obligations (LFOs) before being re-enfranchised. This pay-to-vote system is particularly difficult for formerly incarcerated women who face higher rates of unemployment both before and after incarceration than men.
Prison gerrymandering counts incarcerated individuals as residents of the prison's district rather than their home communities in the decennial census. This impacts both the funding and representation given to both the prison and home communities.
---
Our sister organization IGNITE has developed a bot named Sophia that is designed to help users register to vote! RepresentWomen will be featuring Sophia on our website soon! If you are interested in meeting Sophia visit the IGNITE website and she will pop right up! Here is a note from Kristin Hayden about this great new tool:
Looking for innovative and easy-to-use voting tools to share on your organizational website in this important election season?

IGNITE has developed a fun and interactive chatbot that uses AI to help voters get registered, deliver state-based voting plans and send reminders up to election day.  Check out how "Sophia theVote Bot" works by texting IGNITE to 33777 or visiting SophiaBot.org.  A fantastic feature is that IGNITE can co-brand Sophia the Vote Bot for free and embed her on any page of an organizational website. Contact Kristin Hayden, IGNITE's Chief Partnership Officer at kristin@ignitenational.org for more information.
---
This week marks another milestone: Harriet Tubman's escape from slavery in 1849. This quote of hers on the image above should fuel us through what is already a roller coaster of an election.
---
Look for RepresentWomen on your favorite social media networks and check out this week's #FeministReading from the team!
---
Sending warm wishes from my garden to yours.
---