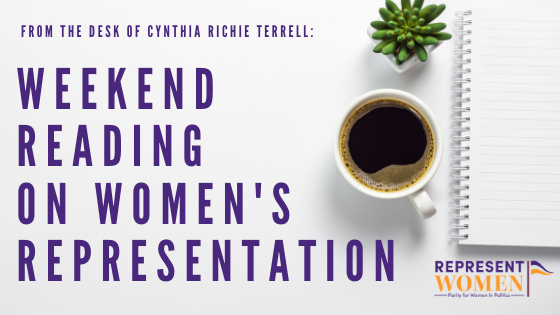 Weekend Reading on Women's Representation is a compilation of stories about women's representation in politics, on boards, in sports and entertainment, in judicial offices and in the private sector in the U.S. and around the world—with a little gardening and goodwill mixed in for refreshment!
---
Melinda Gates, who has demonstrated her dedication to advancing women's representation and leadership by funding the Equality Can't Wait Challenge, has written a powerful op-ed in The Washington Post calling on President-Elect Biden to "make caregiving a presidential priority" because inequities that women are facing pre-date the pandemic and will continue, unless intentional action is taken to address them:
The coronavirus has laid bare what was painfully clear to many families already: The caregiving system in the United States is broken, and it is women who are paying the price.

Even before the pandemic began, child-care and long-term care solutions were often unaffordable and inaccessible, and women were filling the gaps at tremendous cost to their own economic potential.

Now, with child-care centers closed, schools operating remotely and families caring for sick adults and aging parents at home, what was previously untenable has become almost impossible — especially for single mothers, essential workers and others working low-wage jobs with unpredictable hours.

Recent jobs reports paint a grim picture of an economy that is hemorrhaging jobs held by women (865,000 in September alone), some of whom may never return to the workforce. A survey by the Lean In organization and the McKinsey consulting firm found that a staggering 1 in 4 women are considering downshifting their careers or leaving their jobs because of the pandemic. Meanwhile, 1 in 5 child-care jobs has disappeared, affecting women of color disproportionately and contributing to an unemployment rate for Black and Latina women that is hovering around 9 percent.

Women's COVID-forced exodus from the economy is a blow to decades of progress toward gender equality — and there is little evidence that progress will recover soon. As Adrienne Schweer at the Bipartisan Policy Center put it to me last spring, if the status quo continues, it will cleave the post-pandemic economy into two classes of workers: people with caregiving responsibilities and everyone else.

But as Biden made clear when he laid out a visionary caregiving agenda this summer, it doesn't have to be this way. And by creating a new position to lead a multiagency caregiving response, he could ensure that, for the first time ever, the federal government is formally considering the needs of caregivers in all policymaking and legislation. (Given how many Americans have caregiving responsibilities, you might assume that such a role already exists, but, in fact, it never has.) Because caregiving cuts across so many departments and issue areas — health, education and labor — reform is best driven by someone positioned high enough to take a sweeping view of the policy landscape and empowered with the resources and authority to elevate promising solutions.
---
While I believe that advancing women's representation in all sectors and at all levels will lead to more reflective representation I think this piece in The New Republic by Melissa Gira Grant about the list of women whom Joe Biden has named as appointees to his new administration provides an interesting counterpoint:
To date, the Biden-Harris administration has named 17 women to top posts, some of them firsts, many of them contingent on Senate confirmation. Heading in the direction of gender parity in hiring has been regarded as another "audacious" Biden move, a turning point in the country's history. The opening note of this administration is meant to portend a feminist future, even if it is headed by a white man in his seventies. After a primary that raised hopes that "America would end up with a revolutionary person in the Oval Office," columnist Monica Hesse wrote in The Washington Post, "[i]nstead, we'll end up with Joe Biden," but "he still can be a revolutionary" if his Cabinet consists of at least 50 percent women. It's not clear if the equality bar is set that low—a perfect half, nothing more—after the highs of the primary, or if it was always so slight.

If your political aspirations are mainly about getting a seat at the table, these appointments may feel worth lauding. But they are in many ways symbolic gains, a point that even some of those who celebrate such symbolism can accept. Their takeaway is that girls will see these women in these jobs and realize "they can do that, too"—not that they will also have the means to do it or that it will necessarily improve many other women's lives. It's a regression to the kind of individualistic, girlboss feminism we have been trying to pull away from but that still has a powerful hold on those who posit a commitment to "gender equality" largely confined to who holds the power, not what they do with it.

We have yet to hear how, specifically, the first woman selected to head the Treasury Department or Defense would deliver something different than any or all of the men who preceded her. And there is nothing new in the symbolic being elevated over the reality of the daily lives of the people these powerful appointees are meant to serve.
---
While women picked up some seats in 2018 and 2020 in the Massachusetts legislature, very few districts are competitive, according to this story in MassINC:
Last November, MassINC released a report outlining emerging threats to the Commonwealth's democratic institutions. The challenges the report captured included a long-term decline in competitive elections and increasingly unbalanced representation by gender, race and ethnicity, and party affiliation. Below we update figures from the 2019 report with results from this fall's contests.

In summary, electoral competitiveness remains at an all-time low and people of color continue to be underrepresented by similar margins. Republicans have lost voice. While Massachusetts does appear to be making progress toward gender parity, on balance, we have not made gains tackling these systemic issues. This raises questions about how the legislature accesses the diversity of perspective required to counter increasingly complex challenges.

Massachusetts added female legislators in 2018 and again 2020.

The 200-member Massachusetts state legislature still needs 42 more women to reach gender parity, but this is the one area where trends appear to be heading in the right direction. When the 2021-2022 legislature is seated next year, 31 percent of its members will be female. The five additional female legislators added this November come on top of a gain of five in 2019-2020. This progress over the last two legislative cycles is notable because it contrasts sharply with the previous five elections. For over a decade, the legislature failed to gain momentum toward gender parity and seemed perpetually stuck at around 25 percent female.
---
If you found this article helpful, please consider supporting our independent reporting and truth-telling for as little as $5 per month.
---
Shenna Bellows will become Maine's first woman secretary of state after being chosen as the nominee via a ranked choice ballot according to this story on WMTW:
Elected by the state legislature Wednesday, Maine's next secretary of state, Shenna Bellows, is the first woman to win the job.

"I am so honored and humbled to be the first female secretary of state in 200 years in Maine's history," Bellows said in an interview Thursday outside the State House. "My parents really worked hard, and they taught us we could do anything."

Bellows, 45, comes from modest beginnings in the town of Hancock, Maine, outside Ellsworth.

"I grew up without electricity or running water until i was in the 5th grade. I'm the daughter of a carpenter," she said.

Their standard of living improved when her mother took a job working in a local greenhouse.

After graduating from Middlebury College, in Vermont, where she learned Spanish, Bellows joined the Peace Corps, in Panama, working with students and developing a micro-lending program for artisans….

Bellows said, "The role of secretary of state is so important, because the integrity of our elections and public confidence in our elections if foundational to our very democracy and to everything else that we care about."
---
Japan ranks 167th in the world for women's representation, so it is not surprising that advocates there are considering a gender quota law to fast-track women into the Diet—read more details in this story from the Kyodo News:
Japan will aim for a 35 percent quota for female parliamentary candidates by 2025, Cabinet Office officials have said, hoping that setting a concrete target will advance gender equality in the political realm.

Japan, which lags on the global stage in terms of gender equality and parity, aims to significantly increase female representation among lawmakers and civil servants, as well in managerial positions in private businesses, among others, in a plan Prime Minister Yoshihide Suga's Cabinet will approve in December to revise the current goals.

Only 17.8 percent of candidates for the House of Representatives were women in the most recent elections in 2017. Although the election in 2019 for the House of Councillors fared slightly better, with female candidates making up 28.1 percent, it still fell below the 35 percent goal laid out in the newly revised plan.

As of October, 46 out of a total of 465 lawmakers, or 9.9 percent, in Japan's lower chamber were women, ranking 167 out of 190 countries in female representation, according to the Geneva-based Inter-Parliamentary Union.

Local elections, in which women currently account for just 16.0 percent of candidates, will also set a 35 percent female quota out of those running for local assemblies.

Although the government set a goal in 2003 to fill around 30 percent of leadership positions with women by 2020, the target was abandoned after it was sidelined by other political and economic initiatives.

It was revised with a mandate of fulfilling the numbers "as soon as possible within the 2020s."
---
I had a piece in Ms. about New Zealand's switch to a proportional voting system 25 years ago that has doubled the percentage of women in Parliament and helped foster an environment where women's leadership is respected and expected:
Progress toward gender balance in politics remains intermittent and uneven across the ideological, racial and geographic spectrum. But don't just take it from me: The Inter-Parliamentary Union's ranking of women in parliaments confirms the U.S. is actually not making remarkable progress—in fact, we are falling farther behind our allies in the share of women in Congress.

Twenty years ago, the U.S. ranked 48th internationally for women's representation. In 2021, we will rank 70th—that's a sizable drop.

Meanwhile, on the other side of the world, in another former British colony, New Zealand's recent election has resulted in one of the most diverse governments in the world. Prime Minister Jacinda Ardern led the Labour Party to its first outright victory, winning 64 of the 120 parliamentary seats. The recently elected New Zealand Parliament features the country's first African, Latin-American and Sri Lankan members of parliament (MPs), 10 percent of the incoming MPs identify as LGBTQ+ including deputy Prime Minister Grant Robertson, and the percent of women held seats increased from 40.8 percent to 47.5 percent—very close to gender parity. The Labour Party alone has surpassed gender parity, with women holding 55 percent of its seats…

As we celebrate the fairly meager victories for women candidates in the 2020 election and compare our progress to our democratic allies around the world, there is much to learn from New Zealand's successful transition to a mixed-member proportional system.

In lieu of a government commission on electoral reform, organizations like RepresentWomen are studying and advancing proven strategies to implement a fairer and more representative electoral system in the United States. We are actively working to build a coalition of stakeholders and allies to update our antiquated voting system which limits competition, favors incumbents, and prevents women's full and equal political representation.

In order for the United States to make serious and sustained progress toward parity by 2050, we must invest our energy and our resources in systemic reforms that address the structural barriers women face as candidates and elected officials. We hope that others will join us—because equality simply can't wait.
---
RepresentWomen's research director Courtney Lamendola will be joining a terrific panel to discuss diversity in the Biden-Harris administration on Monday, Dec. 7 at 1:30 p.m. EST—register here: 
Every new president can choose a team to advance their agenda. Thus, the incoming Biden-Harris Administration will have more than 9,000 new political jobs, all of which are listed in the "Plum Book". There are also numerous part time board and commissions where you could have a voice on behalf of underrepresented groups while making our country better.

RespectAbility is a proud partner of www.InclusiveAmerica.org, a nonprofit which is working to develop slates of qualified diverse candidates for every relevant position so we can provide a positive alternative to the status-quo. We are working to support policies that increase diversity, equity and inclusion in the public sector. For example, we supported their Pledge for Diversity, Equity, and Inclusion.

Join us to hear from an expert panel who will discuss navigating the "Plum Book" and identify the process for being considered for political appointments. Learn how YOU can make a difference in the next Administration!
---
I'd be very grateful if you could make a donation of any size to support our work at RepresentWomen—here is a link to our Facebook fundraiser that ends on Sunday, but of course a gift of any kind any time will be appreciated!
---