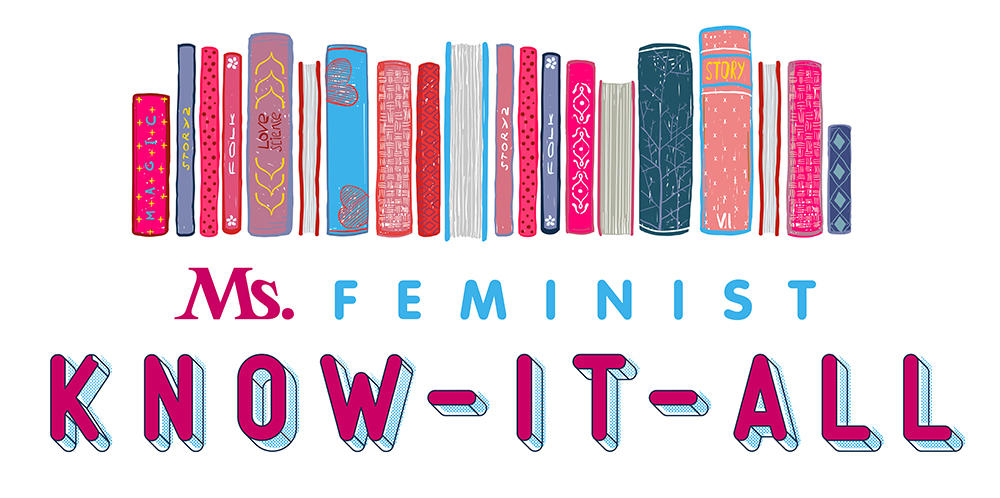 The Feminist Know-It-All: You know her. You can't stand her. Good thing she's not here! Instead, this column by gender and women's studies librarian Karla Strand will amplify stories of the creation, access, use and preservation of knowledge by women and girls around the world; share innovative projects and initiatives that focus on information, literacies, libraries and more; and, of course, talk about all of the books.
---
Each month, I provide Ms. readers with a list of new books being published by writers from historically excluded groups.
The aims of these lists are threefold:
I want to do my part in the disruption of what has been the acceptable "norm" in the book world for far too long—white, cis, heterosexual, male;
I want to amplify amazing works by writers who are women, Black, Indigenous, Latinx, APIA/AAPI, international, LGBIA+, TGNC, queer, disabled, fat, immigrant, Muslim, neurodivergent, sex-positive or of other historically marginalized identities—you know, the rest of us; and
I want to challenge and encourage you all to buy, borrow and read them!
Happy Summer!
I hope you've been able to enjoy some time doing things you love and that leave you feeling refreshed and recentered. With all the uncertainty and injustice in our daily lives, we each need to find ways to unplug and recharge. Of course, one way to do this is unwind with a great book. This list gives you 37 to choose from this month, from dark mysteries to feminist fantasies to gripping historical fiction.
As we head into the dog days, take care of yourself, and others.
---
By Naomi Hirahara (@gasagasagirl). Soho Crime. 312 pages. Out now.
Centering a young woman investigating the suspicious death of her older sister, this immersive true-crime historical mystery novel takes place in Chicago in 1944, at the height of the mass incarceration of Japanese Americans.  
---
Written by Sheng Keyi (@shengkeyi)and translated by Shelly Bryant. Restless Books. 384 pages. Out now. 
An immersive satiric statement on government oppression and the resistance that often explodes in its wake, this volume is banned in China for its allusions to the Tiananmen Square massacre. 
---
By Cristalle "Psalm One" Bowen (@psalmone). Haymarket Books. Out now. 
In her engaging memoir, legendary hip hop trailblazer Cristalle "Psalm One" Bowen shares her remarkable story of growing up, making music, battling homophobia and misogyny, and making peace.  
---
By Shugri Said Salh (@shugrisalh). Algonquin Books. 304 pages. Out now.
A natural storyteller, Shugri Said Salh was born in the Somali desert and has endured war, refugee camps, loss and oppressive traditions on her way to finding her home. 
---
By Victoria Lee (@sosaidvictoria). Delacorte Press. 384 pages. Out now.
If you're a dark academia fan, this one is for you. Of course, it has an old boarding school, murders and magic, but it's also got thought-provoking depth, bold twists and engaging queer main characters. 
---
By Jadie Jang (@seelight). Solaris. 405 pages. Out now.
Jadie Jang's kaleidoscopic debut is a fresh, original take on the Chinese mythical figure the Monkey King, repackaged in a spellbinding urban fantasy.
---
By Carolina De Robertis (@caroderobertis). Knopf. 224 pages. Out now.
Always surprising and unique, Carolina De Robertis has written a tale of hope and resilience found within the depths of despair by a Latin American president jailed in solitary confinement except for one thing: a frog.
---
By Anita Kopacz (@anitakopacz). Black Privilege Publishing. 224 pages. Out now.
In this captivating debut, Anita Kopacz tells a tale of Yemaya, an Orïsha of the Yoruban people, during the mid-1800s. From Africa to the Americas, Yemaya makes a harrowing journey to find a man and, ultimately, her true self.
---
By Kaia Alderson (@kaiawrites). William Morrow. 400 pages. Out now.
Based on the true story of the the Six Triple Eight, the only all-Black battalion of the Women's Army Corps, this engrossing debut historical fiction highlights the bravery, sisterhood and strength of these little-known heroes. 
---
Written by Jamia Wilson (@jamiaw) and illustrated by Aurelia Durand (@4ur3lia). Frances Lincoln Children's Books. 160 pages. Out now. 
Gorgeously illustrated, this volume explains feminism, intersectionality, identity, wellness and more in engaging and accessible prose. Pick up this gem for the budding feminists of all genders in your life who are joining—and reimagining—the fight against the patriarchy! 
---
By Chandra Prasad (@chandrabooks). Soho Teen. 360 pages. Out now.
When you mix mercury with old daguerreotypes in Chandra Prasad's latest YA novel, the boy in the photo will come alive in your dreams. At least that's what happens to Saskia and her friends until things start to unravel.
---
Written by Zoe Mendelson (@youngzokeziah) and illustrated by Maria Conejo (@maria_conejo). Hachette Go. 432 pages. Out now.
Accompanied by Maria Conejo's beautiful illustrations, Zoe Mendelson has written an astonishingly informational volume about the pussy, which they redefine in a new wonderfully gender- and organ-inclusive way.   
---
By Sara Nisha Adams (@saranishaadams). William Morrow. 384 pages. Out now.
This remarkably readable debut is a testament to the connective and comforting power of books. 
---
Edited and translated by Melanie Magidow (@MelanieMagidow). Penguin Classics. 208 pages. Out now.
Tracing Princess Fatima's heroic journey from orphan to legendary warrior, this Arabic classic is available now for the first time in English.
---
By LaTanya McQueen (@LT_MCQ). Harper Perennial. 256 pages. Out now.
This skillfully constructed debut takes on the attempts to erase violent and oppressive histories of spaces and places when a group of old friends attends a wedding at a  former plantation.  
---
By Nafiza Azad (@nafizaa). Margaret K. McElderry Books. 352 pages. Out now. 
The Wild Ones are a group of magical teenage girls who are determined to save the life of Taraana in this captivating feminist fantasy. 
---
By Da'Shaun L. Harrison (@DaShaunLH). North Atlantic Books. 152 pages. Out August 10.
Don't let this slim volume deceive you, for it is a powerful and necessary examination of anti-fatness as anti-Blackness from a fat, Black, disabled and nonbinary trans writer extraordinaire. 
---
By YZ Chin (@yz_chin). Ecco. 320 pages. Out August 10. 
Centering a young Malaysian immigrant searching for her husband after his mysterious disappearance, this sharp post-Tr*mp debut explores immigration, relationships and identity.
---
By Tracy Swinton Bailey. Other Press. 192 pages. Out August 10. 
Language and literacy educator Tracy Swinton Bailey has written this part-memoir, part-guide to supporting low-income children in reading, based on her after-school and summer program, Freedom Readers. 
---
By Raquel Vasquez Gilliland (@poet_raquelvgil). Simon & Schuster BYR. 432 pages. Out August 10. 
Raquel Vasquez Gilliland returns with a magnetic road trip romance that's as much about self-love as it is about first love. 
---
By Leila Slimani. Penguin. 320 pages. Out August 10.
Set in Morocco during and after WWII, this nuanced and elegantly written story explores themes of colonialism, race, family and belonging. 
---
By Rafia Zakaria (@rafiazakaria). W. W. Norton & Company. 256 pages. Out August 17.
American Muslim woman, attorney and political philosopher, Rafia Zakaria has written this unflinching and necessary indictment of white feminism and demand for a more radical, inclusive, transnational Black and Brown feminism.
---
By Shannon Price (@spricewrites). Tor Teen. 304 pages. Out August 17. 
This epic YA fantasy debut is full of shapeshifters, thrilling adventures and badass warrior women. 
---
By Thirii Myo Kyaw Myint (@thiriimkm). Graywolf. 176 pages. Out August 17.
Winner of the 2018 Graywolf Press Nonfiction Prize, this is a unique and meditative memoir exploring time, absence, family and the legacy of colonialism.
---
By Jordan Ifueko (@jifueko). Amulet Books. 336 pages. Out August 17.
Tarasai is back and bound to survive the trials and terrors of being the Empress Redemptor in this remarkably written fantasy sequel.  
---
By Nichole Perkins (@tnwhiskeywoman). Grand Central Publishing. 272 pages. Out August 17. 
In this Roxane Gay Audacious Bookclub Pick, Nichole Perkins examines media and its effects on Black women's lives through a series of hilarious, poignant and reflective essays. 
---
By Silvia Moreno-Garcia (@silviamg). Del Rey. 304 pages. Out August 17.
Following up on her massive bestseller Mexican Gothic, Silvia Moreno-Garcia has written a slow burn noir mystery about a lonely secretary and a quirky stranger searching for a missing woman in the political unrest of 1970s Mexico City.
---
By Jennifer C. Nash. Duke University Press. 264 pages. Out August 20.
Duke University professor Jennifer C. Nash presents this essential examination of Black motherhood and its layered complexities of representation, performance, gaze, critique, precarity and politics.  
---
By Tina M. Campt. MIT Press. 232 pages. Out August 24.
In this beautiful volume, Black feminist theorist of visual culture and contemporary art Tina M. Campt disrupts the normative passivity applied to art and artistry to build an (inter)active, intimate, radical and necessary Black gaze. 
---
By Honorée Fanonne Jeffers (@BlkLibraryGirl). Harper. 816 pages. Out August 24.
This is the utterly remarkable fiction debut of award-winning poet Honorée Fanonne Jeffers, which centers a young girl who explores her own identity through her family's sweeping legacy from slavery, through the Civil War to the present.
---
By Roxanne Dunbar-Ortiz (@rdunbaro). Beacon Press. 392 pages. Out August 24.
In this hard-hitting volume, Roxane Dunbar-Ortiz challenges the "nation of immigrants" narrative and reveals the true intention behind this trope: to mask the truth of white supremacy, settler colonialism and genocide. 
---
By Margo Tamez (Lipan Apache) (@indigifem). Turtle Point Press. 152 pages. Out August 31. 
By experimenting with form and fusion of Indigenous knowledges of time, memory and tradition, Margo Tamez recreates understandings of identity bound by generations of violence, trauma and genocide.  
---
By Kathryn Bond Stockton. MIT Press. 256 pages. Out August 31.
In this slim volume, the latest in MIT's Essential Knowledge Series, Stockton presents an accessible, witty and contemporary examination of the true queerness of genders and gendering. 
---
By Krystale E. Littlejohn (@drklittlej). University of California Press. 184 pages. Out August 31.
This is a well-researched and much-needed historical and contemporary exploration of the unjust (cis)gendered aspects of birth control, pregnancy and reproductive autonomy. 
---
By Kia Corthron. Seven Stories Press. 592 pages. Out August 31.
In her absorbing and original second novel, Kia Corthron examines racism, family and identity through the eyes of Theo, a young biracial orphan growing up in mid-19th century New York City. You won't soon forget this one. 
---
By Teresia Kieuea Teaiwa. University of Hawaii Press. 288 pages. Out August 31.
The untimely passing of Dr. Teresia Kieuea Teaiwa (Banaban/I-Kiribati/Fiji Islander/African American) in 2017 devastated those who knew and admired her. In tribute to an extraordinary life cut short, this volume presents fifteen of Teaiwa's most influential works in Pacific, Native and gender studies as well as four of her poems. 
---
By Jo Hamya. Mariner Books. 208 pages. Out August 31.
Focused on a young woman who longs for a room of her own, this debut is a sharp statement on Millennial disenfranchisement and poverty.
Up next: