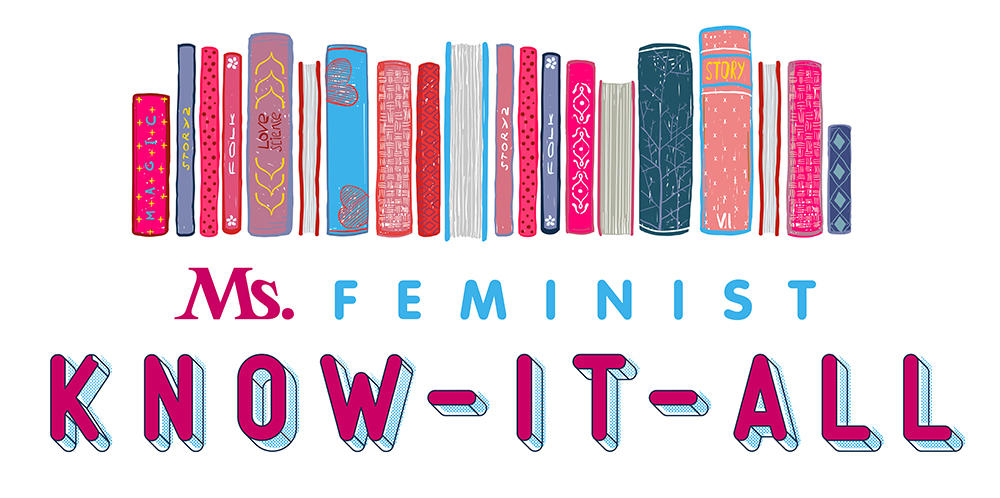 The Feminist Know-It-All: You know her. You can't stand her. Good thing she's not here! Instead, this column by gender and women's studies librarian Karla Strand will amplify stories of the creation, access, use and preservation of knowledge by women and girls around the world; share innovative projects and initiatives that focus on information, literacies, libraries and more; and, of course, talk about all of the books.
---
Each month, I provide Ms. readers with a list of new books being published by writers from historically excluded groups.
The aims of these lists are threefold:
I want to do my part in the disruption of what has been the acceptable "norm" in the book world for far too long—white, cis, heterosexual, male;
I want to amplify amazing works by writers who are women, Black, Indigenous, Latinx, APIA/AAPI, international, LGBIA+, TGNC, queer, disabled, fat, immigrant, Muslim, neurodivergent, sex-positive or of other historically marginalized identities—you know, the rest of us; and
I want to challenge and encourage you all to buy, borrow and read them!
December is usually a slow month for new book releases, but we all know it's quality and not quantity that counts! And this little list of 10 won't disappoint.
Also on its way is my 2021 Best of the Rest, chock full of ideas for gifting or curling up on your own for a few days. Wishing you all the best—and all the rest—as we close out 2021! 
---
By Juhea Kim (@juhea_writes). Ecco. 416 pages. Out December 7.
Set during the Korean fight for independence from Japan in the early 1900s, this kaleidoscopic debut is powerful, romantic and wholly unforgettable. 
---
By Teresa Dovalpage. Soho Crime. 336 page. Out December 7.
The latest Havana Mystery won't disappoint Dovalpage fans or newcomers alike. The combination of plot, setting and characters make for a compelling read.
---
By Aysegül Savas. Riverhead Books. 192 pages. Out December 7.
This is a unique and sober examination of friendship, art and the precarity inherent in all aspects of life, emotion and mind. 
---
By Hasanthika Sirisena (@thinkhasie). Mad Creek Books. 184 pages. Out December 10.
Through the lens of dark tourism—visiting sites of violence, war and trauma—this evocative collection explores how personal and shared histories overlap in spaces of grief and pain. 
---
By Marilyn Hacker and Karthika Naïr. Milkweed Editions. 96 pages. Out December 14.
Based on the ancient Japanese practice of renga or "linked verse," this is a poignant collection of poems written collaboratively by Marilyn Hacker and Karthika Naïr during the COVID epidemic. 
---
By Ayana Contreras (@ReclaimedSoul). University of Illinois Press. 192 pages. Out December 14.
This is a beautiful and hopeful ode to Black Chicago: its music, dance, creativity, innovation, hustle, history, connections, generations and more. 
---
By Nadifa Mohamed (@thesailorsgirl). Knopf. 320 pages. Out December 14. 
Longlisted for the Booker Prize, this heartwrenching novel is based on the true story of a gross miscarriage of justice against a Somali migrant in Wales, executed for a murder he didn't commit.   
---
By Alicia Jasinska (@aliciajasinska). Sourcebooks Fire. 352 pages. Out December 28. 
This debut fantasy is sure to scratch your deepest Sapphic, feminist, enemies-to-lovers itch. Perfect to curl up with on a cold winter evening.
---
By Aya de Leon (@ayadeleon). Dafina. 288 pages. Out December 28. 
Aya de Leon is the queen of cool, dramatic fiction with feminist, social justice messages. In her latest, a rapper hits it big and battles against misogyny and capitalism to get the respect she deserves. 
---
By Lorena Hughes (@sisterlorena). Kensington. 304 pages. Out December 28. 
This sweepingly elegant historical novel centers a young Ecuadorian chocolatier who must impersonate a man in order to claim what is rightfully hers. 
Up next: