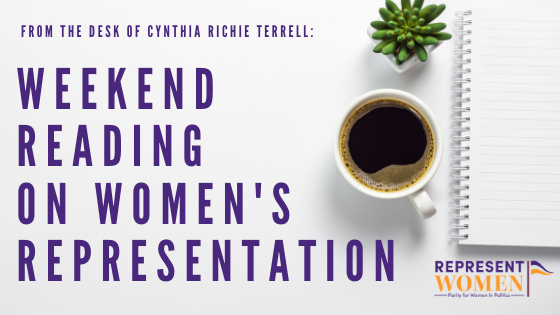 Weekend Reading on Women's Representation is a compilation of stories about women's representation in politics, on boards, in sports and entertainment, in judicial offices and in the private sector in the U.S. and around the world—with a little gardening and goodwill mixed in for refreshment!
---
There is a lot going on this week—from changes in leadership in the U.K. and women's representation in China, to new research from VoteRunLead on women's representation in state legislatures, to the demographics of women candidates from Open Secrets, to the barriers women face as elected officials, and mounting evidence of the need for and impact of ranked choice voting. And just over two weeks to the midterm elections ….
How Reflective Is the State Legislature Across All 50 States?
VoteRunLead has created and released a new data visualization tool to illustrate stats on the representation of women and women of color in state legislatures.
Check out the "State of My Democracy" to see how far we've come, and how far we have to go to reach gender balance in state legislatures. State legislative representation has always been important, but it's all the more essential that women are at the decision-making table in light of recent and anticipated SCOTUS decisions.
---
Competitive Districts Unlikely to Spur Greater Diversity in Congress
Campaign finance expert Sarah Bryner wrote about new research from Open Secrets on fundraising stats for Black women and Latina candidates, the number of women running in competitive districts, and likely demographic changes in the 118th Congress:
Around 20% of all federal races this cycle will be competitive, and these races provide the greatest opportunity to increase diversity in Congress. But the makeup of candidates running in these races is not particularly different from incumbents who currently serve the districts. This is the continuation of a trend OpenSecrets first noted in 2020. 

Candidates running in competitive races this election cycle are slightly less likely to be white but much more likely to be young than safe candidates, the new OpenSecrets analysis found.
Notably, 38% of candidates running in competitive races are women, a higher percentage than those who currently serve as candidates. And 40% of the members representing these districts in the 117th are women. This suggests that women in Congress are more likely to run in competitive districts or likely to attract viable challengers, or both.  

While 26% of women incumbents are running in competitive races this cycle, just 13% of male incumbents face viable challengers. Similarly, but less pronounced, 19% of incumbents of color are running in competitive races compared to 15% of white incumbents. 

Incumbents who are women and incumbents of color are both more likely to be running in competitive federal elections, OpenSecrets found. This trend is more pronounced when looking at gender alone, with women incumbents being twice as likely to run in competitive races than men. 
---
Plurality Winner Likely in Oregon as Women Candidates Split the Vote
There are three women candidates in the race for governor in Oregon and polls are showing the Democratic candidate, Tina Kotek, is running neck-and-neck with the Republican candidate, Christine Drazan.
According to this piece on CNN, an independent candidate, Betsy Johnson, has support from enough voters to yield a plurality "winner" who may not represent the majority of Oregon voters. This race is a classic illustration of the inherent problem with winner take all voting that ranked-choice voting solves:
Johnson's presence in the race has been an unexpected boon for Republicans, who only comprise about a quarter of the electorate. Democrats make up about 34% of the state's voters and nonaffiliated Oregonians account for nearly 35%, according to the most recent figures from the Oregon secretary of state.

Jim Moore, a political science professor at Pacific University, said Johnson appears to be siphoning more votes from Democrats, creating what is essentially a tie between Kotek and Drazan in a state that Biden won by 16 points in 2020.

"Voters are growing increasingly unhappy with what the Democrats are doing, but they're not willing to go to the Republicans who've gone further to the right," said Moore. That has led to support for Johnson among disaffected Democrats and the state's growing ranks of unaffiliated voters.
---
Ranked-Choice Voting Gains Popularity Across the United States
There was a terrific piece by Rachel Epstein in Marie Claire that provides a broad overview of the landscape for ranked-choice voting and cites RepresentWomen's dashboard on RCV's impact on women's representation. See our 2016 and 2020 ranked-choice voting reports for more data on how electoral outcomes for women and people of color have improved in jurisdictions that have implemented RCV.
Ranked-choice voting is known to increase representation for women and candidates of color. As of January 2022, women make up 51 percent of seats on RCV-elected city councils(opens in new tab) and represent 12 of the 28 sitting mayors elected by RCV. By making sure that a candidate always wins with a majority of the votes, it allows voters to elect representative winners who have broad support rather than those who achieve a narrow win by appealing to a small base. It also makes it easier for voters to rank their honest preferences rather than just casting their ballot strategically based on who they think is a more viable candidate. 

"This incentivizes candidates to reach out to new groups of voters and it allows us to express how we honestly feel about multiple candidates instead of just one," explains Hutchinson. "It also encourages new and diverse candidates to run, which leads to increased representation of women and candidates of color."

Campaigning also tends to be more positive since candidates are competing for voters' second and third spots, and they'll be ranking each other on their own ballots. Organizations and politicians have embraced the RCV system and endorsed multiple candidates.
---
Women Face Barriers as Elected Officials
It is widely understood that government workplaces were not built with women in mind, especially working and single mothers.
This week, the Minnesota Women's Press released a powerful collection of firsthand stories from women in Minnesota politics on what barriers they experience as women running and serving in a system that's just not designed for them. 
Alicia Gibson, who ran for Minneapolis City Council's Ward 10 in 2021, shared,
"In my race, there were a number of women who ran, but the thing that becomes difficult is running as a mother…

I also was considered old. I am 45. Ageism occurs for women at a much quicker rate than it occurs for men. Being Japanese-American, I truly believe in relationships that are multi-generational, and the value that elders bring to conversations, especially mothers and women who have caretaken. How are we making space for older women to also be leaders and providing examples to young people who are leaders right now but also need role models for their development and their growth?"
When asked about the reality of low wages for many elected offices, especially at the local level, Councilmember Susan Pha said,
"No one is going to give up their full-time compensation to be on a part-time council that takes up all your time. They choose their family and they choose putting food on the table. That means their voices are missing at the decision-making tables. It is saying that power and decision-making belongs to only a few who can afford it." 

Public Servant and MN Senate candidate Clare Oumou Verbeten added,

"Nobody asks men how they are going to juggle parenthood and being in office. They also need to take care of their kids. The double standards are infuriating. The state legislature is also considered part time, and it is a huge barrier for people to be able to run for office…

When we talk about having that true democracy and having our government reflect our communities, we should also have people there who are young, who are starting families, who are mothers. There is such an absence of that community in the legislature. I think the pay is one of the biggest barriers to that."
We know that, in order for women to serve effectively once in elected office, gender balanced representation is not enough on its own. Workplace culture and norms must evolve past the 'old boys clubs' that continue to dominate many fields as our elected officials become more diverse in terms of gender, race, ideology and age.
RepresentWomen has researched and advocates for legislative rules changes that remove these barriers and make the governmental workplace one in which more women office holders can thrive.
---
Women in China See Little Progress on Gender Balance in Government
Mao Zedong famously said that "women hold up half the sky," and women's equality is codified in the 1982 Constitution of the People's Republic of China, but under Xi Jinping, China's top leader, gender imbalance in politics continues.
Xi's decade as the party's general secretary has seen the number of women in politics and elite government roles decline and gender gaps in the workforce widen…Feminist voices have also been muzzled and in recent years, the government has increasingly emphasised the value of traditional roles for women as mothers and carers.
Women officials such as Sun Chunlan, Vice Premier of the PRC, who is now known as China's "zero-Covid" czar, often "get pushed to the front line when male politicians don't want to deal with a crisis."
Since 1949, just eight women have risen to the powerful 25-member Politburo, including Ms. Sun, who at 72 is expected to step down from the body this week. Three of the women were married to the Communist Party's revolutionary founders. No woman has ever been let in to the Politburo Standing Committee, China's highest governing body.

The gender imbalance is reinforced at the highest levels by a political agenda that has increasingly promoted conservative ideas about family structures and the role of women in society. Like many women with ambitions for public office, Ms. Sun was at times pushed into positions considered politically unimportant. But as she rose, she built her own network of supporters, including former President Hu Jintao, allowing her to create the kind of résumé — and patronage — needed to make it to the top.
---
U.K. Prime Minister Liz Truss Resigns
British Prime Minister Liz Truss has resigned after 44 days in office, the shortest in British history. https://t.co/4Di6t57UIN pic.twitter.com/Fgz4yPOOcv

— USA TODAY (@USATODAY) October 20, 2022
On Thursday, Liz Truss decided to resign from her position as prime minister. With economic concerns across the U.K., Truss struggled to deliver necessary changes to the people and has now become the shortest leader to serve in British history:
Her announcement came after her attempt to roll out aggressive tax cuts aimed at spurring economic growth but which dramatically roiled financial markets, led to unprecedented central bank intervention and drove her poll ratings to the lowest ever recorded for a prime minister.

Truss, 47, lasted 45 days in office. Because Britain elects a party, not a specific leader, she will be replaced by another lawmaker from her ruling Conservative Party. The process to replace Truss will take place within the next week.
Who might replace Truss? It's possible for the U.K. to have another woman prime minister yet if Penny Mordaunt is chosen:
Mordaunt, 49, was once regarded as the most likely lawmaker to succeed Johnson. Mordaunt is currently the leader of the House of Commons. She has been a member of Parliament since 2010 and previously served as trade minister and also had a stint as minister for local government and was the first woman named armed forces minister. Mordaunt was one of the leaders behind the "Brexit" referendum approved by voters in 2016, which led to Britain's separation from the EU. She is a reservist in the Royal Navy.
---
RepresentWomen's intrepid research director Courtney Lamendola and I had a great visit with our former fellow and staff from the U.S. State Department Community Solutions Program last week. It is such a joy to work with these international women leaders—I encourage every organization to consider hosting CSP fellows.
That's all for this week my friends,
Cynthia
P.S. The team at RepresentWomen is excited for the year ahead to leverage our research, and our partnerships with many of you, to make change happen in our communities. It would be fabulous if you could write a review of RepresentWomen to help amplify our work with prospective donors and I would also be grateful if you would consider a year-end or recurring donation to support our work.
U.S. democracy is at a dangerous inflection point—from the demise of abortion rights, to a lack of pay equity and parental leave, to skyrocketing maternal mortality, and attacks on trans health. Left unchecked, these crises will lead to wider gaps in political participation and representation. For 50 years, Ms. has been forging feminist journalism—reporting, rebelling and truth-telling from the front-lines, championing the Equal Rights Amendment, and centering the stories of those most impacted. With all that's at stake for equality, we are redoubling our commitment for the next 50 years. In turn, we need your help, Support Ms. today with a donation—any amount that is meaningful to you. For as little as $5 each month, you'll receive the print magazine along with our e-newsletters, action alerts, and invitations to Ms. Studios events and podcasts. We are grateful for your loyalty and ferocity.
Up next: