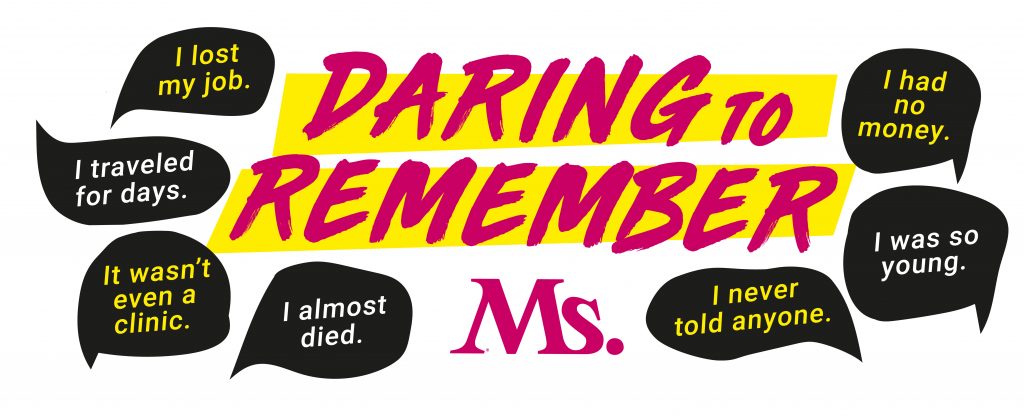 It was 1984. I was 19 years old and living out a dream to spend my gap year after high school with my grandmother in Costa Rica. I spent semana santa at the beach with my friends, celebrated some beautiful moments, discovered that condoms don't work as well if you hold them in your hand. (Which of course I was aware of, but I thought I wasn't at high risk because, due to my calculations, I wasn't ovulating—and love-making in the phosphorescent waves under the full moon got the best of me.)
I had been menstruating since I was 14, and sexually active since 15, but my sex education was laced with a lot of shame—and essentially was that if you allowed someone to touch you from the neck down, you have lost your self respect, and that "the youth of today have no morals and are out sport-fucking," a la Erica Jong. Imagine the challenges of sneaking a large bag of contraceptive sponges and condoms into my suitcase, which my well intentioned mother was intent on packing. I hid 30 of said sponges—a "year supply" in the trunk of my car in Minnesota in January and received a chuckle from the manufacturing company, whom I had to sneak call, in response to my inquiry into whether they would be damaged if they had frozen.
So: I am seven days late on a clockwork arrival cycle. I go to my friend's OB/GYN, who suggested that I purchase a progesterone injection, and since I didn't have someone to administer it, recommended that I should visit a lady down the street. I look back now and wonder if this was code for a possible termination.
I go to another OB/GYN, who treated almost everyone in our community, and by chance I find a classmate in the lobby as I am leaving. He confirms that I am pregnant. As I continue to talk in his lobby in front of my friend, he pulls me back into his office, and in very hushed tones I am told that the best thing I can do is go to Miami for three days—unless I decided to have the child, in which case he would be pleased to treat me.
I contact another dear friend for support. He was very sweet, and admired me, and offered to help me raise the child—25 years later, I realize this was a proposal, but I was too young to understand at the time. Because I refuse to have a child and bring such shame to the family, he tells me he knows a lady who does abortions out of her kitchen. I speak with her and am instructed that I will need to bring a couple of towels.
At 13 weeks, I am approached by one of my uncles: one of my cousins had disclosed that I was pregnant out of fear for my life. I had written a number of suicide notes to my loved ones. My pregnancy, in my interpretation, was a fate worse than death.
I have an older brother—he was informed, my mother in the U.S. was informed, as was my grandmother, who felt terrible and guilty that she hadn't guided me better. At that time, I discovered that my brother and his girlfriend had been through a similar situation the year before. My mother discloses that her first pregnancy wasn't planned, and that she had to drop out of school; her second pregnancy was in Mexico, and also an illegal one, but she had decided she wasn't going to have a second child at 21 when she could barely feed herself and her first child.
We go to the next OB/GYN, who says I am too far along for him to do the procedure. He is rough, he is looking at me with scorn. We know his family personally. I wonder how I will ever be able to show my face in their home again.
We are referred to another OB/GYN in a small town. This doctor checks me and I am told to come back in a day or two. I was assured everything would be okay. I pay the $500—my savings from my first theater-concession-girl job. He holds my hand so gently as the anesthesia take effect. I smell my brother's cigarette smoke from across the half-wall, which didn't go all the way up to the ceiling. My friend tells me he heard me groaning, in sadness or pain, and wanted to come back to check on me.
On the drive home, I was instructed to behave naturally, was told to be careful not to show my pain as my uterus was contracting out of concern that our car might be stopped. The next week was full of antibiotic shots, bed rest. I have never felt so vulnerable. I am blessed that my family was there to support me.
This was one of the hardest decisions I've ever had to make. If I had been older, independent, if my boyfriend hadn't been 17 years old, it might have been a very different scenario. I psychologically carried this pregnancy for a good 20 years; after much therapy, I've healed.
It was a hard enough experience to go through—having to survive the ordeal of having to access illegal care made it ten times more traumatic. I remember June 18, 1984 every year. I say a prayer to my unborn child, and to my 19-year-old self. I wouldn't change my decision, but I shouldn't have had to carry so much trauma and shame. My mother and grandmother shouldn't have, either.