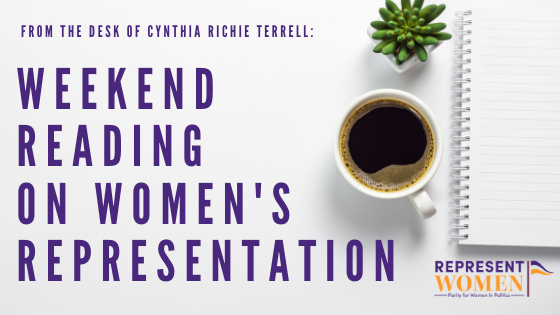 Weekend Reading on Women's Representation is a compilation of stories about women's representation in politics, on boards, in sports and entertainment, in judicial offices and in the private sector in the U.S. and around the world—with a little gardening and goodwill mixed in for refreshment!
---
On Tuesday, August 18th, we celebrated the centennial of the ratification of the 19th amendment to the U.S. Constitution that expanded the franchise dramatically and fundamentally altered the practice of democracy in these United States.
To mark this milestone, the president pardoned Susan B Anthony for her 'crime' of voting—there were polite stories on this strange event in The Washington Post and Politico.
While most agree that Anthony would have dismissed this 'pardon' as political theater, there is a deeper story about the suffrage movement that requires not a 'pardon' but a grounded discussion of the history and present day movement for women's equality.
There were a number of very thoughtful responses to The New York Times editorial last Sunday on the suffrage movement that you can find here. I highly recommend the play "The Agitators" by Mat Smart for a deep dive into the decades-long debate between Susan B. Anthony and Frederick Douglass that brings alive their shared passion for equality and their frustration with one another and the movement(s) they led:
"Do you still believe there can be a country for all?"

When that blunt question comes up in The Agitators—Mat Smart's deeply affecting play about the friendship between Susan B. Anthony and Frederick Douglass—one almost has to catch one's breath. For that question not only challenged those two great justice fighters; it is the question that tests our nation still.

In Mat Smart's powerful telling, what goes down between Susan B. Anthony and Frederick Douglass goes way beyond bio-drama. Here we see two noble seekers of equality and hear heartstrings of the history they left unfinished.

Some may already know in outline the play's reality-based plot: In life, Anthony and Douglass were family friends. They made common cause in the Abolition movement, having come to it from different standpoints. She was white, a Quaker. He was black, an escaped slave. What mattered was not whether they abhorred slavery for the same reason; what mattered was ending it. So it was that in their shared passion for equality—and in mutual regard of their respective gifts as writers, orators, and agitators—they forged an uncommon friendship.
After the Civil War ended slavery, Anthony and Douglass turned their attention to what both hoped would be universal suffrage. Their allyship was fractured, however, over the 15th Amendment, which would enfranchise only black men, and neither white nor black women. Douglass, from his standpoint as a black man, advocated for the amendment, believing it a more achievable objective than voting rights for women. From her standpoint as a woman, Anthony was betrayed, and their political falling out was bitter. He accused her of accepting funding from a racist; she accused him of accepting funding from a misogynist. They stopped communicating. But after the 15th Amendment passed, Douglass dedicated himself to agitating for women's suffrage shoulder to shoulder with Anthony. They kept at it the rest of their lives. Their friendship and appreciation of each other resumed. (Women finally got the vote long after both had died.)
---
There were a number of thoughtful pieces that discussed the convergence of the suffrage centennial, the nomination of Senator Kamala Harris as Joe Biden's running mate and the path forward toward a more just future. My friend Melinda Henneberger wrote a very good piece for USA Today that reflects the complexity of our history and the movement:
The history of American suffrage, which turns 100 this week, is racier than you'd know from those photos of buttoned-up women in giant hats carrying signs with such slogans as, "President Wilson how long do you advise us to wait?"

When Equal Rights Party presidential candidate Victoria Woodhull, aka "Mrs. Satan," enlivened the 1872 convention of the American Association of Spiritualists, for instance, by telling them all about the hypocrisy of some of her more conservative suffragist counterparts, who disapproved of her free-loving life while carrying on affairs of their own, I doubt that anyone dozed. "The most vulgar and criminal charges she made were the things for which she received the greatest applause," The Boston Investigator reported reprovingly.

But the movement that finally secured the vote for some women but not others is also a racially shameful history. Because though many of the early suffragists met as fellow abolitionists, there's no denying that the white women in white dresses sold out their Black counterparts, both male and female, again and again.

That's not to minimize the enormity of what they took on or what they accomplished. The women's vote contributed to the common good in important ways, dramatically increasing funding for education and social programs of all kinds.

Their steadfast ally Frederick Douglass, one of the few men present at Seneca Falls in 1848, went so far as to say, in a speech on women's rights 40 years later, "The history of the world has given to us many sublime undertakings, but none more sublime than this. It was a great thing for the friends of peace to organize in opposition to war; it was a great thing for the friends of temperance to organize against intemperance; it was a great thing for humane people to organize in opposition to slavery; but it was a much greater thing, in view of all the circumstances, for woman to organize herself in opposition to her exclusion from participation in government. The reason is obvious. War, intemperance and slavery are open, undisguised, palpable evils. … Her wrongs, if she had any, were too occult to be seen, and too light to be felt.
---
Jessica Byrd—founding partner of Three Point Strategies and co-organizer of The Electoral Justice Project of the Movement for Black Lives—had an excellent piece on Refinery29 about the suffrage centennial and next steps for Black women in the political realm:
This country owes Black women so much.

Today marks the 100th anniversary of the ratification of the 19th Amendment, which granted some women the right to vote. Some women. It is well documented that the Suffragist movement for voting rights threw Black women under the bus in pursuit of white women's equality with white men, and no one else.

Each year, I watch women flock to the grave site of Susan B. Anthony in Rochester, NY, adding their "I Voted" stickers to her headstone. But have you heard of Mary Church Terrell, Mary Ann Shadd Cary, Coralie Franklin Cook, and Sojourner Truth? These Black women suffragists were the first to demand an intersectional movement for women's equality.

After 100 years of organizing and progress, Black people have yet to achieve full voting access in the United States. Each election year, we see the same electoral strategy from the Republican party: to suppress and prevent Black voter participation. Until the last decade, the national conversation on voting lamented low Black voter turnout, rather than taking an honest look at voter suppression.

I learned about the voting obstacles our community faces while working on my first campaign at age 17. For Black voters, electoral politics is not as simple as "getting off the sidelines" or toppling the opposition with numbers. Each campaign — no matter the geography or diversity of the community — requires removing obstacles to Black voter participation as a central strategy. We don't have the privilege of merely debating our ideas. Ours is a multi-front battle; we must defend Black lives and Black votes.
Over the last 16 years, I've worked on campaigns in 43 states for nearly 100 progressive Black women candidates and Black Movement organizations. In 2015, I founded Three Point Strategies to be a home for Black political organizers and clear a path to structural change utilizing elections as a tactic.

In 2017, I also co-launched The Electoral Justice Project of the Movement for Black Lives, a collective of Black organizations and activists utilizing electoral strategy as a tactic towards justice. Electoral justice is a framework that names the ballot as an opportunity to mitigate and restore harm done to Black people, build in the vision of our community needs, and to engage in co-governance with elected leaders.

Our present-day leaders Kayla Reed, Rukia Lumumba, Judith Browne Dianis, Mercedes Fulbright, Jamecia Gray, Nelini Stamp, and many more wake up every day to honor the legacy of Black suffragists. We show gratitude to our freedom-fighting ancestors by pressing on with our demands for dignity and justice and fighting tooth and nail to protect our right to vote.

100 years. 36,500 days. Progress inside each year, but electoral justice still delayed.

I have a more hopeful vision for our progress in another 100 hundred years: Generations of activists will recall long voting lines from Detroit to Atlanta to Louisville, postmasters who changed the rules to win the game, and the gaslighting of Black voters. All while they celebrate Election Day as a federal holiday where automatic voter registration is a birthright.
Ranked choice voting will allow voters engaged in a multi-party system to vote for ideas first, personalities last. We'll have moved far beyond fighting for the simple right to vote, instead fully engaged in the governing of our multi-racial society. The wheeling and dealing of Black voters inherited from the legacy of white Suffragettes will be a relic of the past.
---
If you found this article helpful, please consider supporting our independent reporting and truth-telling for as little as $5 per month.
---
Byrd also supports the Fair Representation Act—HR 4000—that combines ranked choice voting with multi-seat districts to eliminate gerrymandering, elect significantly more women, and ensure that multiple constituencies of color can elect candidates of choice.
---
My son Lucas drew my attention to this very interesting piece by Amelia Thomson-DeVeaux and Meredith Conroy on FiveThirtyEight that explores the history of women voting in the United States and discusses the reasons that women began to vote in higher numbers than men in 1980—a trend that continues to this day:
Women officially won the right to vote just a few months before the 1920 presidential election, and as soon as the 19th Amendment was ratified, suffragists were predicting a sea change in American politics. One activist even proclaimed that "the women's vote is going to be a tremendous factor in this election."

And that did happen, eventually. In the century since women's suffrage, women have transformed our politics — in particular, they've become a force to be reckoned with inside the Democratic Party. Of course, many women — especially white women — still vote Republican, but in election after election, it is the Democratic Party that has added more women to its ranks.

It was a "women's wave," after all, that swept Democrats into the House in 2018, including a record number of female Democratic lawmakers. And this week, Democrats will officially nominate Sen. Kamala Harris as their vice presidential candidate, just the fourth woman to ever be on a major party's presidential ticket.

But it took a surprisingly long time for women to become the electoral force that suffragists predicted. After the passage of the amendment, women were not broadly mobilized, and in many places, women of color continued to face barriers to voting. This meant that the first women to vote were largely white, wealthy or living in states that made it easier for women to vote. It wasn't until 1980, for instance, that equal shares of men and women cast a ballot. That was also the first election where there was an observable gender gap in the presidential vote.1 According to exit polls, that year less than half (47 percent) of women voted for Ronald Reagan compared to 55 percent of men. And since then, the gap has largely expanded, with women becoming an increasingly large and influential base for Democratic candidates.

"It's a pretty stunning effect," said Elizabeth U. Cascio, an economist at Dartmouth and the co-author of a recent paper on the gender gap. In her research, she and colleague Na'ama Shenhav gathered voter turnout data in presidential elections, finding women went from being 10 percentage points less likely to vote than men in the 1940s to being about 4 points more likely to vote in 2016. At the same time, she added, women became increasingly likely to identify as Democrats, compared to men.

So what happened to make women turn out at a higher rate than men — and stick with the Democrats while many men have abandoned the party for the Republicans?
---
Speaking of my son, he has been involved in an amazing program in Philadelphia in connection with the Gender Justice Fund called the Masculinity Action Project:
"a 6-month training program focused on processing and healing from a culture of harmful masculine socialization, as well as taking action to reduce gender-based violence. As part of their commitment to taking action, each participant made a personal contribution and raised funds from their networks to support GJF grantees that had been impacted by COVID-19. They raised almost $30,000 for this effort."
I suspect both efforts would welcome your support—financial or otherwise.
---
There was a fascinating story in The Daily Nation by Moraa Obiria about a gender audit of judicial positions in Kenya.
While the audit revealed "glaring inequality at corridors of justice with only four out of 11 members at the JSC being women" (which seems like a pretty encouraging number by U.S. standards) the process is a terrific example of the innovative strategies that are being used to advance women's representation and leadership across sectors in many countries around the world—including the 83 that rank above the United States for women's representation:
Section 27 of the Constitution requires both levels of government to ensure that neither gender has more than two-thirds of public officers, whether elected or appointed.

The gender audit at the Judiciary released early last week reveals the glaring gender inequality at the corridors of justice.

The audit, which was undertaken by the National Gender and Equality Commission (NGEC) in collaboration with the International Association of Women Judges (IAWJ)-Kenya Chapter with support from the International Development Law Organisation indicates the Judiciary is yet to achieve gender parity.

The disparity is wider at the leadership level but narrows at the lower cadre positions, the report reveals.

In the Court of Appeal, female judges are half less than the male counterparts. There are 14 males against seven female.

Out of the 126 judges serving in the High Courts, 53 are women, further, only 19 out of the 46 chief magistrates, are women.
---
There was a wonderful piece in the Martha's Vineyard Times by Catherine Walthers featuring her interview with Barbara Lee:
It was the third Saturday in January. I made my way to Five Corners to join a rally marking the third anniversary of the Women's March. It was frigidly cold; there were about 20 marchers there, holding signs and waving at passersby. Right there in the middle of this small crowd was political activist Barbara Lee. I'd been trying for months to get in touch with her for an interview for this magazine, and here she was. Lee splits her time between the Vineyard and Cambridge, and is well known for heading an influential non-profit that works toward twin goals — seeing more female representation in American politics, and seeing more women artists represented in American galleries and museums.

In 1998, when at the age of 52 (post-divorce, with two grown kids), Lee launched the Barbara Lee Family Foundation, there were only four sitting female governors in the country; only 18 had been elected governor in U.S. history. Rather than supporting candidates financially, the foundation, guided by the core belief that "women's voices strengthen democracy and enrich our culture," began looking into some of the unique obstacles women face when running for this office — such as blue-collar male voters who preferred males as governors — and which strategies could be used to overcome them. The foundation published "Keys to the Governor's Office," which outlined their findings.

Since then, Lee, who has been named one of the "50 Most Powerful Women in Boston," has helped elect some 26 female governors, as well as female senators, among others — a total of 177 women taking political office in 33 states. The foundation's research has expanded to cover all political offices from local to national, with a long list of titles (such as "Cracking the Code: Positioning Women to Win") that women can turn to for resources, encouragement, and guidance in seeking office.
---
I hope that you will join me on Tuesday, Aug. 25, from 6-7pm for a conversation with leading women in the democracy reform movement including Danielle Allen, Katherine Gehl, and Daniella Ballou-Aares—hosted by the Yes on 2 campaign for ranked choice voting in Massachusetts. Register here.
---
On a very sad note, many of us knew Chris Jahnke, who was a dear friend to many and an expert coach for women candidates. Chris died on August 4th at her home in Washington, DC. Here is an excerpt from her obituary in The Washington Post:
Christine K. Jahnke, a speech coach who helped hundreds of female candidates seek and win elective office over the past three decades by bolstering their confidence and honing their messages, died Aug. 4 at her home in Washington. She was 57.

The cause was colon cancer, said her husband, Paul Hagen.

Ms. Jahnke (pronounced yawn-key) was a sought-after figure in Democratic politics—a coach and consultant brought in by the party, campaigns and interest groups to train candidates and activists to speak amid the hurly-burly of the political arena and in the sound bites often extracted for use in the news media.

Among her clients was Michelle Obama, whom Ms. Jahnke coached early in her tenure as first lady in the use of a teleprompter. Ms. Jahnke consulted on Hillary Clinton's 2008 presidential run and helped prepare speakers at five Democratic presidential conventions, the Million Mom March for gun control in 2000 and the Women's March in Washington after President Trump's inauguration in 2017.
---
Check out this week's suggested reading from the team: