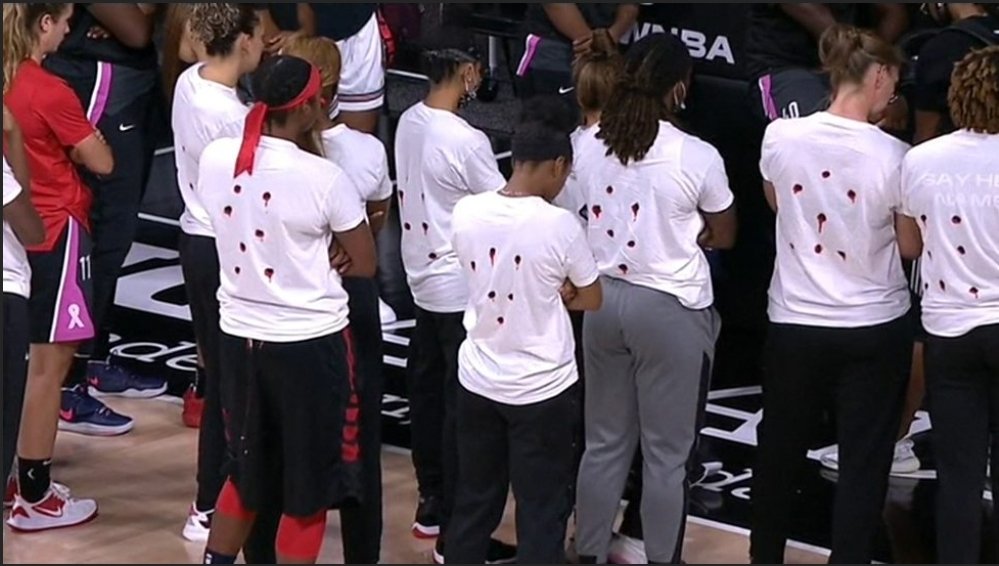 On August 26, the Milwaukee Bucks announced their refusal to play a scheduled game against the Orlando Magic and released a statement explaining the decision:
"The past four months have shed a light on the ongoing racial injustices facing our African American communities. Citizens around the country have used their voices and platforms to speak out against these wrongdoings … Despite the overwhelming plea for change, there has been no action, so our focus today cannot be on basketball."
Other NBA teams joined the strike, and the NBA and its players association released joint a statement announcing games would be postponed until August 29. Other professional sports teams also called for their own strikes in solidarity with the protests against racial injustice, including the MLB, MLS and—importantly—the WNBA (Women's National Basketball Association).
Unfortunately, the media's immediate coverage of these strikes primarily focused on the NBA. Take these headlines for example:
Headlines like these imply NBA players are the activist leaders in the sports world and reduce WNBA players to mere followers of their male counterparts' actions.
In this instance, it is true that NBA players were the first to strike playing games following the shooting of Jacob Blake by a police officer in Wisconsin and the subsequent fatal shooting of two protesters by Kyle Rittenfield. And to be sure, the NBA does generate more money and has more viewers than the WNBA (which in itself is a form of misogyny stemming from a "cyclical series of disparities for young women in sports"), so the amount of media attention the NBA gets is unsurprising.
But on the whole, the WNBA has consistently and collectively been on the forefront of social justice issues for years now.
To begin, the WNBA and the WNBPA (Women's National Basketball Player's Association) dedicated the 2020 season to the Black Lives Matter movement and the #SayHerName campaign. All WNBA players this season are wearing warm-up shirts that say "Black Lives Matter" on the front and "Say Her Name" next to "Breonna Taylor" on the back. 
Along with this announcement came the launch of the WNBA/WNBPA's Social Justice Council and The Justice Movement platform—both of which will "address this country's long history of inequality, implicit bias and systemic racism that has targeted Black and brown communities" through virtual round tables, podcasts and other community events. 
WNBPA President and Los Angeles Sparks player Nneka Ogwumike said the social justice initiatives will provide "the opportunity to amplify our collective voice." She continued:
"We have always been at the forefront of initiatives with strong support of #BlackLivesMatter, #SayHerName, the LGBTQ+ community, gun control, voting rights, #MeToo, mental health and the list goes on."
Before the tip-off of the 2020 season, New York Liberty player Layshia Clarendon gave a powerful speech, followed by a moment of recognition for Breonna Taylor.
"We are dedicating this season to Breonna Taylor—an outstanding EMT who was murdered over 130 days ago in her home. Breonna Taylor was dedicated and committed to uplifting everyone around her.

We are also dedicating this season to [the] Say Her Name campaign, a campaign committed to saying the names and fighting for justice for Black women, Black women who are so often forgotten in this fight for justice, who do not have people marching in the streets for them.

We will say her name: Sandra Bland, Atatiana Jefferson, Dominique 'Rem'mie' Fells and Breonna Taylor. We will be a voice for the voiceless."
---
If you found this article helpful, please consider supporting our independent reporting and truth-telling for as little as $5 per month.
---
The players also walked off the court during the national anthem because, as Clarendon told ESPN:
"Kneeling doesn't even feel like enough to protest. I don't want to hear the anthem, I don't want to stand out there. I don't want to be anywhere near it, because it's ridiculous that justice and freedom are just not offered to everybody equally."
However, WNBA players have been vocal about social justice issues for years now—even in spite of the fact that they are often risking a lot more than their male counterparts. In 2018, the average starting salary for NBA players was $560,000, while WNBA players made $71,635 on average.
Back in September 2016, when NBA superstars like LeBron James and Stephen Curry were expressing support for Colin Kaepernick's protest against racial injustice, they affirmed they would still stand during the national anthem. Meanwhile, every player on the WNBA's Indiana Fever took a knee during the national anthem in a powerful display of solidarity and collective action.
During that same season, the WNBA fined three teams and their players for wearing black warm-up shirts supporting #BlackLivesMatter and victims of violence.
The controversy began when The Minnesota Lynx wore black warm-up shirts that said "Change Starts With Us: Justice & Accountability" on the front. The back included the names of Philando Castile, Alton Sterling, the Dallas Police Shield in honor of the "Dallas 5" officers killed in a shooting and the phrase "Black Lives Matter."
Then-Lynx player Renee Montgomery recalled how the police shield on the Lynx's warm-up shirts didn't stop Minnesota Police Department Officers from refusing to provide security at their games. Montgomery said in an interview, "We know what it was like to stand up, even against public opinion."
Following this, the New York Liberty, the Indiana Fever and the Phoenix Mercury wore various shirts in solidarity with the Lynx team and the Black Lives Matter movement. The WNBA fined each team $5,000 and each participating player $500.
The fines were revoked following media attention, as well as collective action by four teams who led post-game media blackouts in which players did not take questions about basketball. Instead, players wore post-game shirts proclaiming "Black Lives Matter: Enough is Enough" and spoke out against the killings of Castile and Sterling, as well as police brutality more generally.
Natasha Cloud, a player for the Mystics, explained her team's conscious choice to express solidarity with their fellow WNBA players.
"We definitely wanted to show our support for those teams that did get fined … If they're going to take away our right and our voice to advocate for something so important to 70 percent of the league which is African American, we'll find other ways to do it."
The fines were later revoked after players spoke out against the decision.
Significantly, NBA players were not fined after a similar incident in 2014 in which NBA players wore shirts that said "I Can't Breathe" in honor of Eric Garner.
And WNBA teams and individual players aren't just protesting; they're also involved in activist causes.
For instance, the Seattle Storms were the first sports franchise ever to partner with Planned Parenthood, holding a pre-game rally in support of the organization and raising funds through an online auction and a partial ticket sales donation.
Additionally, The Storms' Sue Bird, Breana Stewart, Noelle Quinn and Sami Whitcomb participated in a Planned Parenthood PSA.
In a post-game interview, Stewart argued supporting Planned Parenthood should be a no-brainer.
"Why shouldn't you have [Planned Parenthood]? Why shouldn't it be here? Why shouldn't it be an option for people to have and to go to?

"You know, we're in 2017. This stuff should already be done. We shouldn't still be fighting for it. The fact that our organization, and players from this team, and coaches… joined arms with Planned Parenthood, I think it shows what type of organization we are."
These are just some of the countless ways in which WNBA players have been tirelessly paving the way for other athletes to engage in collective activism.
Ignoring Black women's activism isn't new by any means—there is a long history of discounting and erasing the importance of Black women in social movements. Recently, public figures and news media celebrated the centennial anniversary of the ratification of the 19th Amendment, which made it legal for women to vote.
Yet, many of these conversations left out the fact that Black women's activism played a key role in securing voting rights for women and that suffrage for all women was not achieved until the Voting Rights Act of 1965 (and with voter suppression—suffrage is still not a guaranteed right). Moreover, Black women were integral in the Civil Rights movement, yet we never seem to talk about them. You may know Rosa Parks, but what about Fannie Lou Hamer, Ella Baker, Daisy Bates and Dorothy Height?
WNBA players' leadership on social justice issues reminds me of the poem Poetry is Not a Luxury by self-described Black, lesbian, mother, warrior, poet Audre Lorde. The central idea of Lorde's essay is that Black and women of color have always had to use poetry as a means of survival. It's a way to effectively make a point using the little space women of color are allowed.
"Poetry coins the language to express and charter this revolutionary awareness and demand, the implementation of that freedom … For within living structures defined by profit, by linear power, by institutional dehumanization, our feelings were not meant to survive … For there are no new ideas. There are only new ways of making them felt"
Certainly, WNBA stars are channeling these sentiments by using art as a way to make Black pain felt. Before striking on August 26, players of the Washington Mystics wore t-shirts spelling out Jacob Blake's name on the front and seven bullet holes on the back to represent each time Blake was shot by police.
Women's leadership—particularly Black women's leadership—in the WNBA is too often left out of headlines about activism in professional sports. Journalists and opinion writers are missing a critical opportunity to educate readers on the ways in which WNBA players have continually called attention to racial injustice issues.

Yes, NBA players deserve credit for leading the strikes, but WNBA players deserve recognition for their sustained commitment to causes they care about—even when expressing support for those causes isn't yet popular.
---