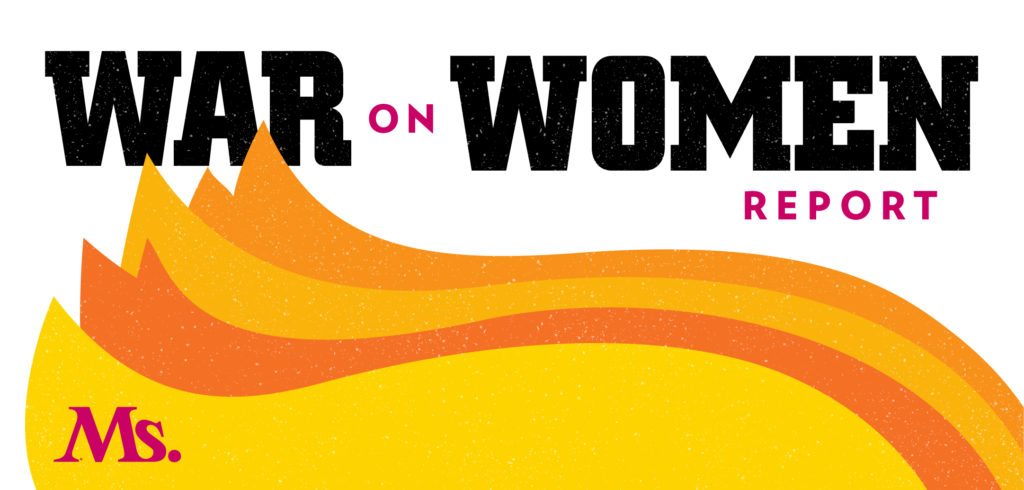 The War on Women is in full force under the Trump administration. We refuse to go back, and we refuse to let the administration quietly dismantle the progress we've made. We are watching.
This is the War on Women Report.
---
Since Our Last Report…
+ Since our last report, journalist Bob Woodward has released additional audio of Trump admitting to downplaying the severity of the coronavirus and lying to the public has surfaced. In these newly released tapes from April 13, Trump tells Woodward the coronavirus "rips you apart" and it's "a killer if it gets you. If you're the wrong person, you don't have a chance"—serving as "the starkest illustration yet of how Trump misled the U.S. about the coronavirus."
Meanwhile, three days before that interview took place, Trump tweeted "The Invisible Enemy will soon be in full retreat!" And on April 17, four days after that conversation with Woodward, Trump put out the infamous string of tweets calling to "LIBERATE" Michigan, Minnesota and Virginia against stay-at-home orders intended to flatten the curve and preventing wider spread of the—to use Trump's own words—"killer" virus.
+ According to a poll by Yahoo News/YouGov, 23 percent of Americans—as well as 15 percent of Americans who admitted voting for Trump in 2016—reported their opinion of Trump and his "coronavirus response" has changed since the Bob Woodward tapes came out. Additionally, 6 percent of 2016 Trump supporters said they will vote for Biden this year as a result of Trump's insults to dead soldiers, as well as disabled veterans.
+ A $1 billion fund allocated by Congress to the Pentagon in March to fortify supplies of medical equipment has instead been primarily used to pay defense contractors and used to make things such as jet engine parts, body armor and dress uniforms—all while major funding gaps in pandemic response still remain and many hospitals report inadequate supplies.
"This is part and parcel of whether we have budget priorities that actually serve our public safety or whether we have a government that is captured by special interests," said Mandy Smithberger, a defense analyst at the Project on Government Oversight, a watchdog group.
Monday, September 14
+ In keeping with his public defiance of both state and federal health and safety measures, the president held a rally—his first since June—in Nevada. No one was required to wear masks except those seated behind Trump, whose images would end up on TV, nor was anyone told to maintain social distancing.
This, of course, as Nevada experiences a rapid increase in coronavirus cases. Before the rally, Nevada Gov. Steve Sisolak made his opposition to Trump's plan to hold a large indoor unmasked gathering of people clear:
"[Trump was] taking reckless and selfish actions that are putting countless lives in danger here in Nevada. To put it bluntly: he didn't have the guts to make tough choices. He left that to governors and the states. Now he's decided he doesn't have to respect our State's laws. As usual, he doesn't believe the rules apply to him."
Trump's previous rally in Tulsa caused a large spike in coronavirus cases in the weeks that followed.
---
If you found this article helpful, please consider supporting our independent reporting and truth-telling for as little as $5 per month.
---
Tuesday, September 15
+ Donald Trump held a televised town hall in Philidelphia for undecided voters filled with flat-out lies, deflection of responsibility, and stumbling over basic questions.
Some of the issues Trump was questioned about by the undecided voters of Pennsylvania concerned COVID-19. Check out this a complete fact check on Trump's claims during this one event.
Trump claims he "up-played" the severity of the coronavirus (he did not) and that his administration has done a "tremendous job" in how it handled the pandemic (they did not).
When questioned about why he refuses to support "a mandate for national mask-wearing" and why he doesn't wear a mask himself "more often", he deflected the question to his opponent, former Vice President Joe Biden, and the rest of the Democrats—despite the reality that Biden has not been an active member of the federal government since Trump took office back in 2017, three years before the coronavirus outbreak even started.
Tuesday, September 22
+ At another rally on Tuesday—this time in Pennsylvania, a battleground state where Biden leads Trump 54 percent to 45 percent—Trump implied Rep. Ilhan Omar's status as a Somali immigrant lessened her status as a lawmaker.
"We're going to win the state of Minnesota because of (Omar), they say," Trump said during a rally in Pennsylvania on Tuesday. "She's telling us how to run our country. How did you do where you came from? How is your country doing?"
Omar responded to the president's comments in a series of tweets:
+ At the same rally in Pennsylvania, Trump also described the scene of a reporter getting thrown like "a little bag of popcorn" as a "beautiful sight."
"They threw him aside like he was a little bag of popcorn," Trump told supporters. "But I mean honestly, when you watch the crap that we've all had to take so long … when you see it, it's actually a beautiful sight."
Throughout his presidency, Trump has used the media as a foil and celebrated violence against members of the media.
Wednesday, September 23
+ When asked by a reporter, "Win, lose or draw in this election, will you commit here today for a peaceful transferal of power after the election?" Trump refused to commit to a peaceful transition of power.
"We're going to have to see what happens," Trump answered.
While this statement is the furthest Trump's gone in suggesting his possible response to election results, he continues to sow doubt about the results of the election by lying—falsely attacking the legitimacy of mail-in ballots and suggesting the elections might be delayed.
Meanwhile, Donald Trump, Jr., appeared in a Facebook video, in which he called for an "army" of volunteers to join the campaign's Election Day security team. He claimed the "radical left" is "laying the groundwork to steal this election from my father." The video is still up on Facebook.
+ As part of an investigation into the Trump Organization, another one of Trump's sons—this time Eric—must sit to be deposed by the New York attorney general's office by October 7. The office denied Eric Trump's request to delay the interview until after the presidential election.
"To be clear, no entity or individual is allowed to dictate how or when our investigation will proceed or set the parameters of a lawful investigation," New York Attorney General Letitia James said. "The court's order today makes clear that no one is above the law, not even an organization or an individual with the name Trump."
Thursday, September 24
+ The Trump administration unveiled proposed changes that would change permissions for student visas, leaving the international student community reeling a few weeks into the 2020-21 academic year.
According to USA Today, the proposed changes would:
Require most international students to finish their studies in four years—even though, according to the National Student Clearinghouse, most first-time college students take more than five years to earn a bachelor's degree, and many doctoral programs take more than four years.
Limit stays for some international students to two years.
Require many international students to apply for extensions to their visas with no guarantee that they'd receive them, especially if the immigration agency determined that the student was not making sufficient progress toward a degree.
Saturday, September 26
+ President Trump announced Saturday he would nominate Amy Coney Barrett to fill Justice Ruth Bader Ginsburg's vacant Supreme Court seat.
48-year-old Amy Coney Barrett is a member of a Catholic sect called People of Praise, which preaches women's subordination to men and until recently called female advisers to other women "handmaids."
Lindsey Graham has set a timeline to have the committee approve her on October 22. Several Senate Democrats have pledged not to meet with Barrett.
Sunday, September 27
+ Late on Sunday, the New York Times released bombshell reporting based on Trump's taxes spanning over two decades. The reporting revealed "struggling properties, vast write-offs, an audit battle and hundreds of millions in debt coming due."
Not only is Trump less wealthy than he claims, but he is swimming in debt to the tune of $421 million—making his presidency a security threat. House Speaker Nancy Pelosi highlighted that concern: "He has exposure to the tune of hundreds of millions of dollars, to whom? The public has a right to know."
The reporting has left the White House scrambling between two dueling responses: to call the report "fake news," while also falsely accusing the Times of illegally obtaining his tax information. (Which is it, Mr. President?)
---