Luchina Fisher takes her job as a filmmaker as seriously as her job as a mother. In her upcoming documentary feature, Mama Gloria, she shows that the two roles are linked, bound by her passion for inclusive and powerful representation.
Fisher, an award-winning director and writer, is using her skills to uplift the untold story of Chicago legend, Gloria Allen.
Allen, a 75-year old Black transgender activist, dedicated her life to supporting trans youth, many of whom were kicked out of their homes because of their trans identities. Fisher describes the need to amplify and document Gloria's journey as "personal" and "urgent," as she navigates raising and supporting her own transgender child.
Fisher's love and pride for her family emanates, even over a phone call. As I spoke to her about GLAAD's upcoming LGBTQ anti-bullying campaign, Spirit Day, she instantly snapped into action, asking how they could help. She feels a deep responsibility to educate others, especially parents, on how to support LGBTQ youth.
But she also knows her role as an ally is to create space for LGBTQ people, like her daughter, Gia, and Gloria to tell their own life stories.
Through Mama Gloria, Fisher is attempting to showcase a story of trans resilience, instead of tragedy. And by shining a light on Gloria and Gia's stories, Fisher is highlighting the power of documenting trans history and lineage.
Hear more from Fisher on the making of Mama Gloria and how parents can support their LGBTQ children in the interview below:
Clare Kenny: Tell us about your new documentary Mama Gloria.
Luchina Fisher: It's a feature documentary about Chicago's Black transgender icon Gloria Allen. Now 75, Gloria came of age amid the legendary Black drag balls on Chicago's South Side and transitioned before Stonewall with the love and support of her mother and grandmother. She pioneered a charm school that inspired the award-winning play called "Charm."

And now she's the subject of my new documentary which looks at her life and legacy and how she is aging with joy and grace. The film features an incredible original song, "Presence of a Legend," performed by Black trans singer/songwriter and activist Shea Diamond, which she co-wrote with pop superstar songwriter Justin Tranter. I was fortunate to work with a team of people who believed in the project before receiving support from Black Public Media, Sisters in Cinema, Women Make Movies and the Athena Film Festival's Works-in-Progress Program.
---
If you found this article helpful, please consider supporting our independent reporting and truth-telling for as little as $5 per month.
---
CK: What connection do you have to the documentary's subject matter?
LF: A dear friend introduced me to Gloria because she was looking for someone to help her with her memoir. In addition to being a filmmaker and writer, I am the mother of three children, including a daughter, Gia, who identifies as transgender. Gia and I were actually on our way to Chicago, where she was speaking to several companies on National Coming Out Day as part of her advocacy for The GenderCool Project. We were able to meet up with Gloria, and it was then that I knew she needed to be seen and heard. I knew Gloria's story would speak to people, because it spoke to me.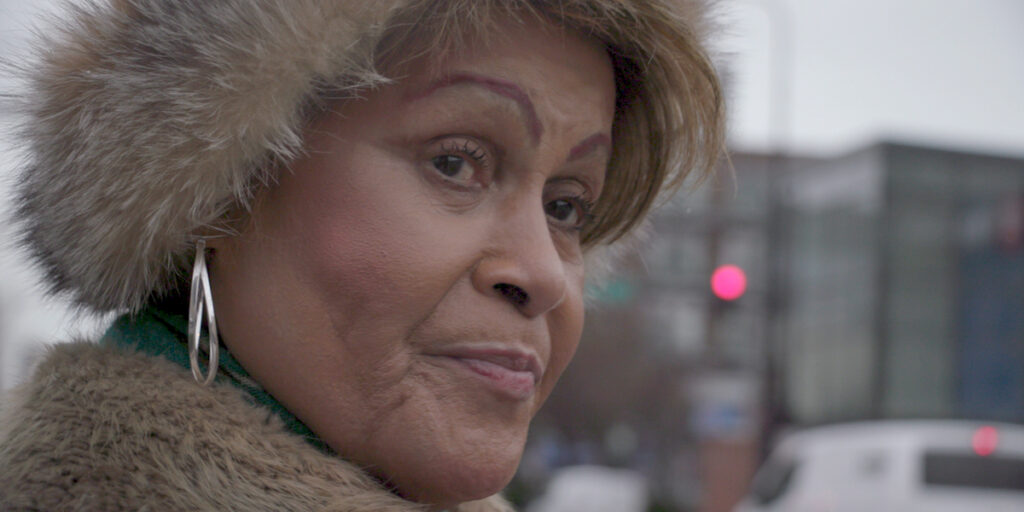 CK: Why was it important for you to share Gloria's story?
LF: As a Black woman filmmaker raising a biracial transgender daughter, I see Gloria's story through a unique lens. For me, it's personal and it's urgent.

This year is already on record as the deadliest year for transgender people. At least 32 transgender people have been killed, most of them Black women. Hate crimes against trans people have increased 34 percent under the current administration, yet only 20 percent of people actually know or think they know a trans person.

I want everyone to meet Gloria. But I think her story is especially inspiring for Gia and other young trans people who need to see that they too can have long, meaningful lives. Mama Gloria is the story of a mother's love—the love Gloria's mother had for her and the love Gloria has for her chosen children. And it's driven by the love I have for my daughter.
CK: Why was it important to you to be an ally, and why should it be important to other parents?
LF: It is critical for parents to give unconditional love and support to their trans and other LGBTQ children first and foremost. I believe that sets the foundation for everything that comes later in our children's lives. Look at Gloria. The love and support she received from her mother and grandmother long before the word "transgender" existed has carried her through her 75 years. I think it's especially important for Black families to see her and my story so that we can begin to reduce the stigma around Black trans lives. These are our family members. They need our love and support.
CK: What is something your daughter has taught you?
LF: My daughter amazes me! She came out to her entire middle school in our small town at age 13. She has taught me what it means to live authentically—and that you are stronger when you stand in your truth. Our town has fully embraced and supported her, and she has been able to take that positive message to folks around the world through her advocacy work. I could not be prouder of her.
CK: What advice do you have for fellow parents of LGBTQ youth?
LF: Listen, love and learn from your children. Most of the time our children are trying to show us who they really are. We have to believe them—and love and support them as they come out. When we do, we open ourselves up to becoming the parents and individuals that we need to be. My world has expanded thanks to my daughter, and it's a blessing.
You may also like:
---