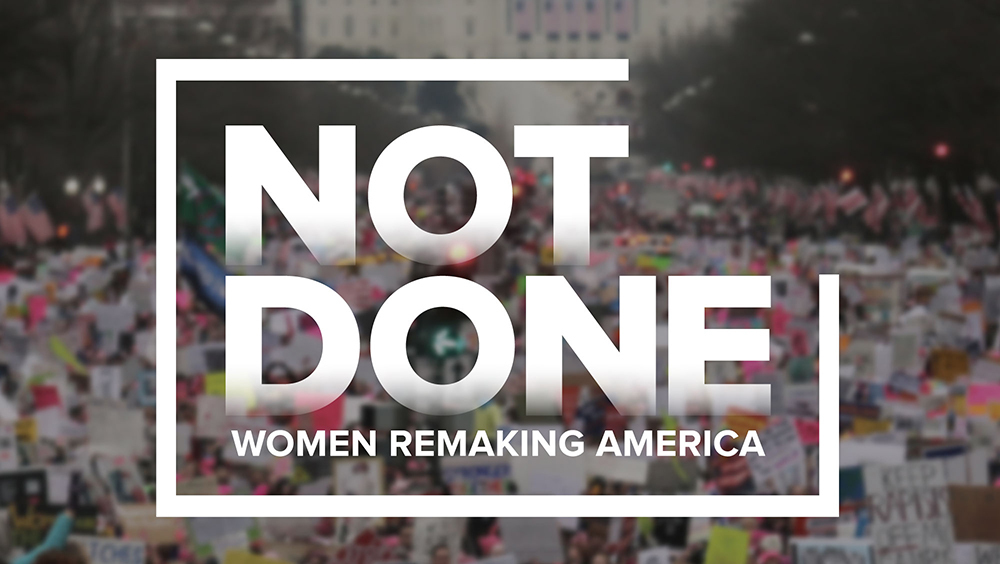 Roxane Gay, Kimberlé Crenshaw, America Ferrera and Gloria Steinem—each an influential, fearless woman in their own unique way, but what else do they have in common? Among other change-makers, they are featured in a new documentary chronicling the story of the American women's movement, as told by the women living it.
NOT DONE: Women Remaking America—a MAKERS film by Verizon Media and McGee Media, debuting on PBS on October 27 at 8 p.m. ET—expands upon the critically acclaimed PBS documentary series MAKERS: Women Who Make America. 
The hour-long documentary special chronicles the seismic eruption of women's organizing from the 2016 election through today, and the intersectional fight for equality that has now gone mainstream.
Like the movement it documents, this story is told collectively through the firsthand experiences and narratives of frontline activists, writers, celebrities, artists and politicians who are remaking culture, policy and most radically, our notions about gender.
Premiering against the backdrop of an unprecedented pandemic and widespread social upheaval, the film looks back on recent milestones in the women's movement, weaving together a story of major progress with the clear reality that our work is not done. 
"I have been awed making this film and looking back at how much has happened in the women's movement since the last election," said Dyllan McGee, MAKERS founder and NOT DONE executive producer. "Especially as we now mourn the passing of a giant like Justice Ruth Bader Ginsburg, I am heartened by the heroic women in this film who carry on her legacy."
---
If you found this article helpful, please consider supporting our independent reporting and truth-telling for as little as $5 per month.
---
NOT DONE will feature conversations, stories and insights from today's most exceptional female and non-binary voices—such as Tarana Burke, New York Times reporters Jodi Kantor and Megan Twohey, Natalie Portman, and more.
"It was a privilege to make this film and capture the extraordinary leaders and change agents featured in it. NOT DONE is a testament to the tenacity and power of women who believe that no one is free until everyone is free," said Sara Wolitzky, director of NOT DONE. "I hope audiences will walk away appreciating this supercharged chapter in feminist history, and also motivated—alongside the unstoppable women on screen—to keep fighting for true equality."
For more information on MAKERS and NOT DONE, visit the NOT DONE website and follow @MAKERSwomen on Twitter, Instagram and Facebook.
You may also like:
---