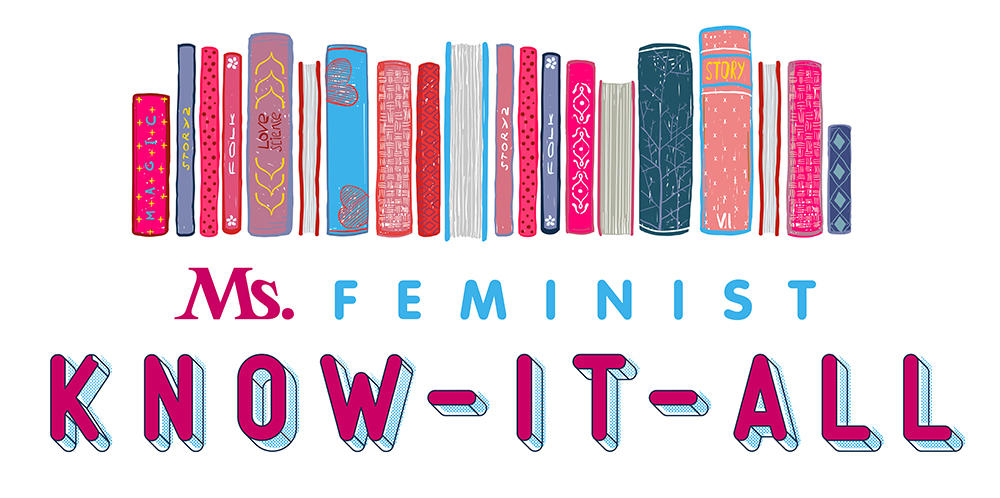 The Feminist Know-It-All: You know her. You can't stand her. Good thing she's not here! Instead, this column by gender and women's studies librarian Karla Strand will amplify stories of the creation, access, use and preservation of knowledge by women and girls around the world; share innovative projects and initiatives that focus on information, literacies, libraries and more; and, of course, talk about all of the books.
---
Happy New Year!
Each month, I provide Ms. readers with a list of new books being published by writers from historically excluded groups.
The aims of these lists are threefold:
I want to do my part in the disruption of what has been the acceptable "norm" in the book world for far too long—white, cis, heterosexual, male;
I want to amplify amazing works by writers who are women, Black, Indigenous, Latinx, APIA/AAPI, international, LGBIA+, TGNC, queer, disabled, fat, immigrant, Muslim, neurodivergent, sex-positive or of other historically marginalized identities—you know, the rest of us; and
I want to challenge and encourage you all to buy, borrow and read them!
Sorry I'm late this time around. I was taking a much-needed break—as I hope you were! But I'm back and bringing you 30 of the most exciting books releasing this month. Some of these are already out, so you'll have to catch up!
Here's hoping 2021 will bring us the strength, resilience, patience, rest, equality and opportunity we all deserve.
---
By Ilyasah Shabazz (@IlyasahShabazz) with Tiffany D. Jackson (@WriteinBK). Farrar, Straus and Giroux (BYR). 336 pages. Out now.
This is a powerful and intimate account of Malcolm X's young adult life and time in jail written by his daughter, a phenomenal writer in her own right, and Tiffany D. Jackson, award-winning author of Monday's Not Coming and Grown.
By Maika Moulite and Maritza Moulite (@maikamoulite and @maritzamoulite). Inkyard Press. 352 pages. Out now.
The Moulite sister-writer team has done it again with their outstanding sophomore follow-up to their remarkable debut, Dear Haiti, Love Alaine. This story centers race, remembrance and the power of sisterhood to overcome tragedy.
By Anna North (@annanorthtweets). Bloomsbury Publishing. 272 pages. Out now.
A western unlike any other, Outlawed features queer cowgirls, gender nonconforming robbers and a band of feminists that fight against the grain for autonomy, agency and the power to define their own worth.
Written by Claudia Hernández and translated by Julia Sanches (@sanchaises). And Other Stories. 352 pages. Out now.
In this extraordinary novel, Claudia Hernández centers one woman's experiences with rebellion, motherhood and memory in the wake of El Salvador's civil war.
By Koa Beck (@koalani). Atria Books. 320 pages. Out now.
Koa Beck continues the current discussion on race with this essential examination of the racial prejudice and elitism of white feminism and how it continues to exclude and undermine our fight for full gender equity.
By Nadia Owusu (@NadiaOwusu1). Simon & Schuster. 320 pages. Out January 12.
Nadia Owusu has penned an engaging and reflective new memoir focused on universal themes of home, abandonment, identity and autonomy.
---
If you found this article helpful, please consider supporting our independent reporting and truth-telling for as little as $5 per month.
---
By Mahogany L. Browne (@mobrowne). Crown Books for Young Readers. 192 pages. Out January 12.
This coming of age novel in verse is as beautiful as it is powerful. It's an ode to friendship, individuality and the power of self-discovery.
By Angie Thomas (@angiecthomas). Balzer + Bray. 368 pages. Out January 12.
The phenomenal Angie Thomas examines boyhood, manhood and fatherhood in her new novel, set in the neighborhood of The Hate U Give seventeen years earlier.
Written by Mariana Enriquez and translated by Megan McDowell. Hogarth. 208 pages. Out January 12.
In her new collection of terrifying stories, Argentinian writer Mariana Enriquez combines social commentary with dark tales of illness, obsession, pain and fear.
By Torrey Peters (@torreypeters). One World. 352 pages. Out January 12.
Welcome to a new kind of novel, one that doesn't shy away from the complex realities of genders, parenthood, love and relationships. This is a refreshing debut.
By Danielle Geller (@dellegeller). One World. 272 pages. Out January 12.
Archivist Danielle Geller has written a candid and achingly fractured memoir of her mother, her family, her Navajo heritage and her own journey to self-discovery and acceptance.
Edited by Cynthia R. Greenlee (@CynthiaGreenlee), Kemi Alabi (@kemiaalabi) and Janna A. Zinzi (@JannaZinzi). The Feminist Press at CUNY. 328 pages. Out January 12.
This is the first collection of writings from Echoing Ida, a collective of Black women and nonbinary writers who report on reproductive justice, health, motherhood, justice, and more.
By Salamishah Tillet (@salamishah). Abrams Press. 224 pages. Out January 12.
Scholar and activist Salamishah Tillet has written the essential companion to Alice Walker's Pulitzer-Prize-winning novel, The Color Purple, exploring its controversies, triumphs, legacies and lessons.
By Gina Apostol (@GinaApostol). Soho Press. 360 pages. Out January 12.
Winner of the Philippine National Book Award, Apostol's second novel is a uniquely voiced reimagining of the violent Spanish colonial era and the life of revered writer Jose Rizal, written in the form of a memoir by a fellow revolutionary, Raymundo Mata.
By Sadeqa Johnson (@sadeqasays). Simon & Schuster. 288 pages. Out January 12.
This captivating historical novel centers Pheby, a woman born on a plantation but promised freedom on her 18th birthday. Pheby is instead forced to endure a tortured existence in Devil's Half Acre, a jail in Richmond, Virginia, while planning her escape.
By Yxta Maya Murray (@murrayyxta). Triquarterly. 232 pages. Out January 15.
This book is as creative as its main character, Chicana artist Amanda Ruiz, who endures several life-changing events while on the verge of breaking through.
By Catherine E. McKinley (@cemck2). Bloomsbury Publishing. 240 pages. Out January 19.
Stunningly curated by writer and collector Catherine E. McKinley, this remarkable volume of photographs and stories presents an essential visual history of African women like none other.
By Jasmin Kaur (@jusmun). HarperCollins. 464 pages. Out January 19.
A bold and heartrending story unflinchingly told in poetry and prose, If I Tell You the Truth examines the intersection of sexual violence and immigration on a mother and daughter as they seek to heal the traumas of the past.
By Malinda Lo (@malindalo). Dutton Books for Young Readers. 416 pages. Out January 19.
In San Francisco's Chinatown in 1954, two young women fall in love against all odds. Lush, ambitious and layered, Malinda Lo's sweeping historical novel is the queer romance we've been waiting for.
By Cheryl Boyce-Taylor (@cboycetaylor). Haymarket Books. 136 pages. Out January 19.
In a moving tribute to her son Malik 'Phife Dawg' Taylor of A Tribe Called Quest, acclaimed poet Cheryl Boyce-Taylor gifts readers with this extraordinary collection of poems, notes, dreams, letters, lyrics and recollections.
By Nnedi Okorafor (@nnedi). Tordotcom. 160 pages. Out January 19.
Once again the incomparable Nnedi Okorafor has written a thought-provoking and visionary tale of fantastic Black girl empowerment futurism.
By Ladee Hubbard (@ladeehubbard). Amistad. 384 pages. Out January 19.
Award-winning writer Ladee Hubbard has written a potent, tragic and crucial new novel taking on themes of Black iconography, labor, class and exploitation.
By Hafsah Faizal (@hafsahfaizal). Farrar, Straus and Giroux (BYR). 592 pages. Out January 19.
The second book of the Sands of Arawiya duology is as exciting and vibrant as the first. Immerse yourself in the irresistible characters and magical worlds of Hafsah Faizal.
By Gabrielle Glaser (@GabrielleGlaser). Viking. 352 pages. Out January 26.
In American Baby, author and journalist Gabrielle Glaser uncovers the infuriating and tragic history of young women forced to give up their babies for adoption in post-WWII US.
By Eman Quotah (@equotah). Tin House Books. 312 pages. Out January 26.
Centering a young Saudi Arabian woman and her daughter in Cleveland after her husband returns to their home country, Quotah's captivating debut examines generational and religious conflict, immigration, loss and love.
By Melanie Finn. Two Dollar Radio. 320 pages. Out January 26.
The Hare's main character, Rosie, could be any of us. Imperfect yet formidable, she confronts patriarchy and expectations of womanhood in this smart and ceiling literary thriller.
By Cicely Tyson. HarperCollins Publishers. 432 pages. Out January 26.
It's Cicely Tyson. So get your copy, take a deep breath and take in the wonder.
Written by Ae-ran Kim and translated by Chi-Young Kim. Forge Books. 208 pages. Out January 26.
Focused on themes of family, relationships, heritage and honoring life's ups and downs, this is a heartfelt novel wise beyond its years.
By Keisha Bush (@keishabush). Random House. 336 pages. Out January 26.
In this triumphant debut, Keisha Bush shines a light on the hope and love that binds two cousins in the streets of Dakar, Senegal, as they try to make a harrowing journey home.
By J. Elle (@AuthorJ_Elle). Denene Millner Books/Simon & Schuster Books for Young Readers. 368 pages. Out January 26.
This is the debut fantasy we need right now! With vivid storytelling, J. Elle celebrates the magic, power and wonder of sisters determined to save their world.
You may also like:
---
Our opponents are using the lame duck period—the time between now and when the new president is inaugurated, and a new Congress convenes—to do as much damage as they can. Help ensure Ms. remains strong and independent during this period of challenge and change. If you found this article helpful, please consider supporting our independent reporting and truth-telling for as little as $5 per month.