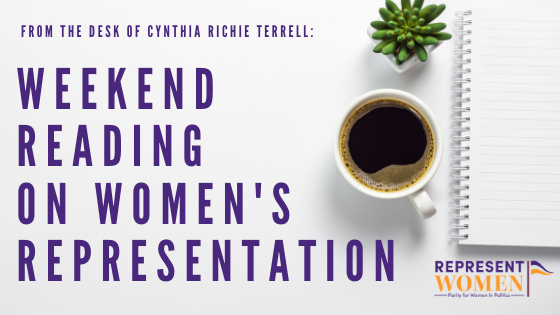 Weekend Reading on Women's Representation is a compilation of stories about women's representation in politics, on boards, in sports and entertainment, in judicial offices and in the private sector in the U.S. and around the world—with a little gardening and goodwill mixed in for refreshment!
---
To everyone who supported us, volunteered for us, organized for us, and poured their hearts and souls into this race: Thank you, thank you, for being a part of this movement.

We've run a campaign that we can all be immensely proud of — now, let's celebrate! pic.twitter.com/iG3ZvE6Nw3

— Eric Adams (@ericadamsfornyc) June 23, 2021
Today I'm feeling thankful, New York.

Thankful for every single volunteer, staffer, voter, and person who supported this campaign. I am truly blessed to have seen so much love and support – and I am humbled. pic.twitter.com/w9cI26P4Wk

— Maya Wiley (@mayawiley) June 23, 2021
While we won't know the final results of the NYC primary elections for a few weeks, it's for a very good reason. According to a new pro-voter state law, voters are able to cast no-fault absentee ballots and will have the chance to correct any small mistakes on their ballot. State law also mandates that the Board of Elections wait until June 29 to begin counting absentee ballots. The BOE will run the instant runoff tally for early and in-person votes on June 29. Preliminary results show Eric Adams with 32 percent, Maya Wiley with 22 percent, and Kathryn Garcia with 20 percent of first round votes.
The ranked-choice voting election saw the highest turnout since 1989 in a mayoral primary, and the "instant runoff" feature of the system means that neither taxpayers nor candidates will have to pay for a costly second round. It's also of note that women candidates Wiley and Garcia both ran strong campaigns with no fear of "splitting" the vote and that the winner will have an outright majority—once the other candidates' votes are redistributed.
Adams was a strong backer of ranked-choice voting when it passed in 2019 and quipped to a reporter that he had used all five of his rankings. Adams also pledged to name a woman to head the NYPD if elected. All three leading mayoral candidates confirmed their support for ranked-choice voting this week.
---
Results are also pending for the city council races but according to this story in The City, women may make up a majority of the city council when all the ballots are counted. A number of factors are at play in this potential jump in the number of women serving on the Council including 35 open seats, new public financing rules, targeted support from groups like 21 in 21, a strong endorsement process, and the introduction of ranked choice voting:
With no incumbent running for 35 of the 51 seats up for election in Tuesday's primary, the City Council was bound to transform — and based on an early, incomplete count, its new face could be female.

Women are ahead in the count for 29 of those 35 districts — a majority of them women of color, Board of Election tallies of in-person voters' top picks show.

The Council currently has just 14 female members. Never before in the Council's history have women outnumbered men.

As THE CITY reported in March, women running for Council took the lead in fundraising, thanks to a powerful combination of small donations and newly increased public matching dollars."This is an enormous victory for everyone who worked tirelessly to make this happen," declared the board members of 21 in '21, a grassroots organization working to bring gender parity to the male-dominated Council.

At least one of the women will make history if the early vote counts stand after mail-in ballots are received and ranked choice votes are then tabulated, a process that is expected to extend until mid-July.

---
The Gotham Gazette also reported on the potential surge in women's representation on the NYC Council in this piece—stay tuned for a full report when all the ballots are counted and votes are redistributed:
The New York City Council is set to experience a seismic shift in composition, with dozens of Council members term-limited out after this year, and the changing of the guard in the 51-seat legislative body may wind up being most apparent in its gender balance.

In 30 districts, there were "open" races for those seats and, in most cases, crowded Democratic primaries to fill them. With Democrats enjoying a significant voter enrollment advantage over Republicans, this month's primaries will all but decide who becomes the next Council member for almost every district across the five boroughs.

And with that many open races, there is a possibility that New Yorkers could elect the most women to ever represent the Council and even potentially a majority, which would be a massive increase from the 14 seats currently held by women.
Of the 51 seats on the Council, 46 are currently held by Democrats, three by Republicans, and two lie vacant. But there are only 14 women on the Council – including Queens' Selvena Brooks-Powers and Brooklyn's Darma Diaz, who were both recently elected in special elections – down from a high of 18 in 2009. Of the remaining 12, seven are term-limited and could not run for reelection in this year's contests.

But the vast number of open seats provided an opportunity for activists and candidates seeking to increase women's representation in the Council. The nonprofit group 21 in '21 was co-founded in 2017 by then-City Council Speaker Melissa Mark-Viverito and then-Council Member Elizabeth Crowley for that express purpose and the organization endorsed 74 women candidates in 35 districts this year, including ranked-choice endorsements as that system was being implemented citywide for the first time in party primaries and special elections.

In 26 Districts, women have either won or are leading the race in first-choice votes as the primaries move toward counting absentee ballots and executing the ranked-choice instant runoff where warranted.
---
The Progressive Grocer reports that the Clorox Company has been named to the list of the top companies for gender parity—you can find other companies on the Parity.org list here:
The Clorox Co. has been named to the Parity.org Best Companies for Women to Advance List 2021. This list recognizes organizations that have implemented a mix of exemplary benefits, policies and programs that ensure women have significant opportunities to advance their careers.

"After a year that has erased all the gains women have made in the past several decades, there are still companies that are making progress to support women's advancement at work — all the more reason to celebrate their successes," noted Cathrin Stickney, founder and CEO of Parity.org, a San Francisco-based 501(c)(3) nonprofit focused on bringing gender equality to the highest levels of business. "The companies that are on the 2021 list of Best Companies for Women to Advance are shining examples of companies that actually walk the talk and are helping create equal representation, now."

Companies on the list, which also includes Purchase, N.Y.-based PepsiCo, share many common best practices known to support women, such as work-from-home or telecommute options (97%), flexible working hours (94%), and equal paid family leave for men and women (88%). Almost every company measures and reports on gender parity to the executive team (97%), and every one of the companies regularly communicates their gender-parity values to employees, encourages men to take their full family leave, and has a zero-tolerance policy for harassment.

Parity.org began the Best Companies for Women to Advance List to recognize organizations that have instituted benefits, policies and programs that are particularly beneficial for women to advance in the workplace. Thirty-four companies appear on the 2021 list, based on a cumulative rating that took into consideration recruitment, benefits, executive preparation, measurement and overall representation.
---
Our friends at the Barbara Lee Family Foundation issued a new report this week on strategies for women incumbents to retain their seats—here are some of the key findings:
Voters recognize women and women of color are held to a different and higher standard when they run for office. In focus groups, many, but not all participants said that women governors and mayors are judged differently and more harshly, and treated differently than their male counterparts.

Women incumbents must show, not tell. When it comes to a woman executive elected official and her record, voters don't just assume she is doing a good job. They want her to show them she has gotten results and helped people. This is in line with previous BLFF research which found voters that assume men are qualified yet do not assume women are qualified. Previous BLFF research also shows that it is harder for women to establish their qualifications.

Voter preferences for how a woman communicates her record can vary based on her race. However, a successful strategy for communicating a woman incumbent's record was consistent for hypothetical women governors across race.

If a woman incumbent decides to respond to criticism, voters want a timely and effective reply. When a woman and her record are attacked, voters want to see how she handles the critique. Damage can be done when an attack lingers while a woman decides whether or how to reply. If the attack is substantive, she should reclaim the narrative about her record by responding with specifics about her accomplishments. A strong response is a leadership test women can pass.

A woman's response to attacks on her record can maintain and impact her likeability and effectiveness. Voters will vote for a man they do not like if they believe he is qualified, but will not do the same for a woman. The same actions that increased likeability of women candidates for voters in this research also increased their perceived effectiveness. Those actions include centering families and small businesses, focusing on the outcomes of legislation for people, listening to residents about their priorities for the state, and having the values of hard work and responsibility. We know from previous BLFF research that likeability is a non-negotiable for women candidates, and likeability and effectiveness are more strongly correlated now than ever before.
---
It was great to read this terrific report by Coral Ross, a Winston Churchill Trust Fellow, who traveled the world to gather information about the barriers women face when running for office.
I was so glad to have met Coral in person—before the pandemic—and have the chance to discuss the impact of gender quotas and targets, district design, and ranked-choice and proportional voting systems on electoral outcomes for women. It's great to see these topics discussed, among many others, in her landmark report that is the feature of this article:
Ms Ross, then a councillor at the City of Boroondara and national president of the Australian Local Government Women's Association, had been awarded the 2018 Fellowship to look into improving gender equality in local government.

During an eight week fact finding mission she questioned local government leaders from 50 organisations in the US, Canada, the UK, Sweden and Germany about what they were doing to foster gender equality in the sector.

The result was a 75-page report compiling best practice from around the world and making more than 30 recommendations for the Australian government to consider.

"It's the first time that that has actually been collated," she told Government News.

"I've found 52 different initiatives to get women elected, I've made 33 recommendations based on those."

She says unlike in Australia, significant resources have been made available overseas to investigate gender equity in local government and come up with proposals for the way forward.
---
This week marks the anniversary of Title IX championed by Rep Patsy Mink and signed into law on June 23, 1972, and the Americans With Disabilities Act that was passed on June 26, 1990. These systems strategies leveled the playing field for women and girls in education, athletics, employment opportunities, and led to the creation of ramps so that all can access sidewalks among many other enduring measures. Strategies like these that address the structural obstacles women face in politics are what's helping to advance women's representation—faster—around the globe.
---
I said what I said.#MadamMayor pic.twitter.com/JVvXmZoynR

— India Walton (@Indiawaltonbflo) June 23, 2021
According to this article in Fast Company, India Walton has a very good chance of becoming the first woman mayor of Buffalo, N.Y., after her primary win this week:
In Buffalo, Tuesday's mayoral primary ended with a stunning upset for the city's four-term Democratic mayor Byron Brown, who lost the race to a political newcomer running her first campaign.

Brown was beaten by a progressive challenger backed by the Democratic Socialists of America and the Working Families Party, a group often referred to as the "Tea Party of the Left"—thus signaling shifting winds in the political landscape of New York's second-biggest city. If elected in November, new nominee India Walton would become the first socialist mayor of a major American city since 1960, when Frank Zeidler reigned in Milwaukee.

WHAT ARE THE ODDS THAT WALTON BECOMES MAYOR?

According to election analysts, highly likely—Buffalo is a deep blue city, with all nine seats on its municipal council held by Democratic party members. The last time it was led by a Republican was five mayors ago, in 1965.

However, Brown has yet to concede the primary, telling the media late Tuesday that "we're going to make sure every single vote is counted."

SO, WHO IS WALTON?

India Walton is a public school nurse and community organizer, born and raised in Buffalo. She had her first child at age 14, and after leaving high school to give birth to twins, earned a G.E.D. and a nursing degree from SUNY Erie. She was an active demonstrator in last summer's Black Lives Matter protests, and has spoken out about issues including police reform, housing, and infrastructure.
---
Saturday, June 26, marks the anniversary of the day that the Supreme Court legalized same-sex marriage in 2015—we honor this milestone and Pride Month with a list of film suggestions:
---
RepresentWomen is excited to have a big (16) team of interns, devoted board members, and strategic advisors from around the globe—we wish we could all be together in one place but small gatherings and Zoom calls will have to suffice.
Flowers and fruit are flourishing in my garden, and I have enough green beans for pickling and raspberries for a batch of jam!
---