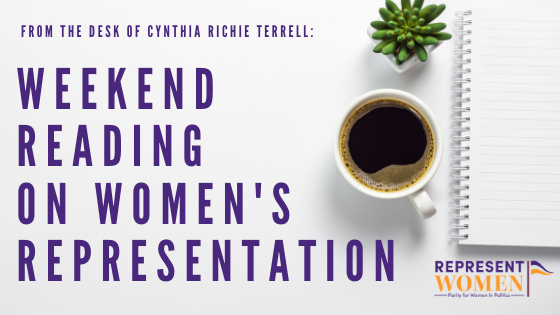 Weekend Reading on Women's Representation is a compilation of stories about women's representation in politics, on boards, in sports and entertainment, in judicial offices and in the private sector in the U.S. and around the world—with a little gardening and goodwill mixed in for refreshment!
---
The votes have been counted in the New York City primary and, while the city will have to wait at least another four years for a woman mayor, turnout was the highest its been in 30 years, 95 percent of voters found the ranked-choice voting ballot easy to use, and women are projected to hold the majority of seats on the NYC council after the general election in November.
---
Maya Wiley and Kathryn Garcia both ran strong campaigns despite being outspent by a number of the male candidates—Garcia came within a percentage point of becoming the first woman mayor of New York City. But, as Emma Fitzsimmons writes in The New York Times, there have been 109 male mayors of New York City and residents will have to wait four years for the chance to elect the first woman mayor:
It was a constant refrain for the two leading female candidates running for mayor of New York City: The city has had 109 mayors, and all of them were men. It was finally time for a woman.

The two candidates, Kathryn Garcia and Maya Wiley, had experience in government. They had major endorsements from unions, elected officials and newspaper editorial boards. They raised millions of dollars and gained momentum in the final weeks of the campaign.

But Ms. Garcia, the city's former sanitation commissioner, and Ms. Wiley, a former counsel to Mayor Bill de Blasio, still fell short, placing second and third in the Democratic primary behind Eric Adams, the Brooklyn borough president.

New York is one of a handful of major cities where voters have yet to elect a woman as mayor, along with Los Angeles, Detroit and Philadelphia. Boston recently got its first female mayor, and women currently run more than 30 of the nation's 100 largest cities.

Ms. Wiley and Ms. Garcia won more than 380,000 first-choice votes between them, or nearly 41 percent of the votes. Ms. Garcia finished just one percentage point behind Mr. Adams under the city's new ranked-choice voting system.

But their loss felt like a missed opportunity for those who believed that New York would at long last elect a woman.

"I'm disappointed and sad," said Christine Quinn, the former City Council speaker who ran for mayor in 2013. "I give a lot of credit to Eric Adams, but I want a woman to be mayor of New York. It is truly, truly disheartening."
---
Vanessa Gibson is the Democratic nominee for Bronx Borough president—she received 53.5 percent of the vote after 3 rounds of vote tallies. According to this story in The Gotham Gazette, if elected in November, Gibson will become the first woman to serve as Bronx Borough president:
City Council Member Vanessa Gibson is likely to become the Bronx's Borough President after winning the Democratic primary in the overwhelmingly Democratic borough. Gibson had centered her campaign around the Bronx's recovery from the devastation of COVID-19, focusing particularly on the needs of low-income residents facing food insecurity and housing instability.

She would make history as the first woman to serve as Bronx Borough President, and Gibson, who is Black, would be the first non-Latino Bronx Borough President in 35 years.

As borough president, Gibson's role would in some ways be symbolic, but while borough presidents have little binding power in city government, they still have an influential voice on a number of government processes. Gibson would offer formal advice and input on both the city's annual budget and local land use initiatives. She would be charged with appointing members to Community Boards, Community Education Councils, the City Planning Commission, and the Panel for Educational Policy. She would have the ability to co-sponsor City Council legislation, have a budget to allocate money to local nonprofit organizations and to capital projects. And perhaps most importantly, she would have a significant bully pulpit, the ability to dedicate energy and staff to focus issues, and a key voice in the city's extensive process for approving or rejecting Bronx-based land use decisions that require city approval — decisions that are ultimately made by the City Council but often include the voices of developers, the mayoral administration, local stakeholders, and the borough president, among others.

Of the in-person ballots cast during early voting and on primary day, Gibson emerged with 39.2% of first-choice votes, running a slight lead over City Council Member Fernando Cabrera, who received 34.1% of first-choice votes. Unofficial ranked-choice tallies of those in-person votes, excluding absentee ballots, showed Gibson garnering 43,258 votes, or 53%, compared to Cabrera's 38,365, or 47%, once the "instant runoff" was tabulated.

That left more than 12,000 Bronx-based absentee ballots uncounted, according to the New York City Board of Elections, which would need to be counted then factored into a new ranked-choice runoff. With most of those absentees accounted for, a new unofficial but very close to final tally released by the Board of Elections on Tuesday night showed Gibson with 49,392, or 53.5%, and Cabrera with 42,953, or 46.5%, making Gibson the clear winner of the primary.

That night, Gibson declared victory on Twitter, writing, "Thank you to all of the people who came out to vote in this race. There's plenty of work to be done, but I'm honored to be your Democratic nominee for Bronx Borough President. Thank you for believing in me."
---
Women now hold 14 of the 51 seats on the NYC Council but due to a combination of many terrific candidates, lots of open seats, smart organizing by groups like 21 in 21, a strong endorsement process, public financing, and ranked-choice voting, women are projected to hold the majority of seats after the November general election. Of the 29 women who are likely to win, 26 are women of color, 18 of whom are under 40. Read more about these spectacular results for women candidates in this piece in the Gothamist:
With the first Muslim woman, the first South Asian members, the first openly gay Black woman, seven foreign-born New Yorkers, and more women and people of color poised to be elected than ever before, the next New York City Council is on track to be the most diverse and the most left-leaning in the city's history.

Among the record-breaking statistics of this incoming class, women members are expected to outnumber men on the Council, likely holding at least 28 of the 51 seats. In contrast, there currently are 14 women council members. Given that all of the current women candidates are Democrats who as a whole vastly outnumber Republicans, they're all but guaranteed to win the November general election, with one seat in Harlem remaining a toss-up between incumbent Bill Perkins and challenger Kristin Richardson Jordan.

"To have all those firsts happening," said Yvette Buckner, the vice chair of 21 in '21, a group founded to elect more women to the New York City Council. "It's goosebump-worthy."

She and a host of other advocates who worked to elect a more diverse Council told Gothamist/WNYC that they hoped a more representative legislative body would mean more attention and money for New Yorkers who previously felt shut out of politics.

"In NYC the results are dramatic with a wholesale women-led overhaul of the power structure of the City Council.," said Sonia Ossorio, executive director of NOW-NYC, who cited the Covid-19 pandemic that disproportionally harmed women and communities of color. "The surge in women of color running for office and going on to win is historic. This is transformational change at its core."

At least seven incoming members are foreign-born New Yorkers, hailing from countries including Belarus, Haiti, Panama, and Korea, up from four foreign-born members currently serving in the Council.

Fifteen likely new members are of Latino or Afro-Latino descent, up from 11 on the current Council. Fourteen pending members are Black, up from 13 currently. Just two current Council members are of Asian descent — Margaret Chin and Peter Koo — while the next Council likely will have six Asian American members, including the first three of South Asian descent. Shahana Hanif, whose parents immigrated to Brooklyn from Bangladesh, is poised to become the first Muslim woman elected to the Council.

Overall, around 35 incoming members identify as people of color, up from 26 in the current Council. For advocates, the new Council more accurately reflects the city's demographics, where statistics show it to be home to 29% Hispanic, 32% white, and 22% Black. Asians make up 13% of the population, according to census figures.
---
As the nominees campaign over the summer and fall, we will learn more about their stories—but this piece by Barbara Rodriguez in The 19th provides a window into a few of the candidates and the organizations that helped them run viable campaigns:
Most primary candidate winners for city council led their races after the first round of election results. (One city council candidate, Kristin Richardson Jordan, was initially not in the lead in her race after the first round of results but has since surpassed the incumbent). But the ripple effect overall, according to experts, organizers and candidates, is a more level playing field for multiple candidates seeking the same office. In several instances, they were able to run more robust campaigns that were also more positive and collaborative as they vied to be voters' second and third choices.

Jordan and Crystal Hudson, who won her primary for a council seat representing a part of Brooklyn, are expected to become the first out Black gay women to serve on the council. Hudson said she spent considerable time educating potential voters about ranked-choice voting while reaching out to a broad coalition of potential supporters. Hudson described herself as a non-traditional candidate who still faced forms of sexism and racism on the campaign trail. But she said ranked-choice voting helped remove barriers that often come into play for political newcomers in the primary.

"Ranked-choice voting gives people like me a real shot at actually winning," she said. "And so, even when we may not be somebody's first choice, for them to be able to put us as a second or third choice, I think is where we see a solid difference."

There was also more organization among different political groups, including 21 in '21, a nonprofit group co-founded in 2017 by former women city council members. The organization has a goal of electing more women on the council and endorsed more than 74 women candidates in 37 districts.

Jessica Haller, the executive director of 21 in '21, listed several reasons that women were poised to have more political power: ranked-choice voting; the city's matching funds, which help candidates finance their campaigns; and "the ecosystem of support that has grown up around supporting women," including her group but also Eleanor's Legacy and Vote Mama. She said all of it was part of a moment, where people sought tangible change in response to the pandemic and growing inequities.

Haller said women have lived experiences of being parents and caregivers, among other roles, that give them unique perspectives on addressing issues like education and health care. She hopes that will mean different policymaking.

"Women in leadership looks like a greater focus on the future, better focus on long-term planning and better focus on generational shifts," she said.

Sandy Nurse, an Afro-Latina community organizer who also won her primary race for a city council seat representing a part of Brooklyn, said women candidates are not monolithic in terms of their priorities once they're elected to office. But she is hopeful many will put more attention on issues like a lack of accessible child care, affordable housing and reproductive health — all issues that she believes the pandemic exacerbated.

"I think that having a dominant amount of women in the city council is going to mean that we'll see a serious focus on those issues and improvements in the lives of women and families," she said.

Richie Terrell noted the ways that history intertwines with the present. When New York City implemented a form of ranked-choice voting in the 1930s, it soon afterward elected its first woman to the council.

"If that's not a compelling story to tell about the impact of rules impacting representation outcomes, I don't know what is," she said.
---
New York City is also projected to have a record number of LGBTQ candidates on the council come November according to this article in Metro Weekly:
In addition to selecting a new mayoral frontrunner, Democrats in New York City selected six out LGBTQ candidates to represent them on the 51-seat City Council. Due to the overwhelmingly Democratic lean of the city, and the individual districts in particular, all six are favored in the general election (three don't even have major-party opponents), which would mean the city would have the most out LGBTQ councilmembers serving simultaneously than at any other time in its history.

Among the victors in the primaries — which used ranked-choice voting for the first time, thus delaying the final tabulations for several weeks after June 22 — were Crystal Hudson, of Crown Heights, Brooklyn, and Kristin Richardson Jordan, of Manhattan's Harlem neighborhood, who are likely to become the first out LGBTQ women elected to the Council.

Chi Ossé, of Bedford-Stuyvesant, in Brooklyn, will make history as the youngest person ever elected to the Council. Tiffany Cabán, of Astoria, and Lynn Schulman, of Forest Hills, will become the first out queer people elected to any public office in Queens. And in Manhattan, Erik Bottcher will continue the tradition of an LGBTQ person continuing to represent a district that includes Greenwich Village, Chelsea, Hell's Kitchen, and Hudson Square.

All four current LGBTQ members of the Council were term-limited, meaning there was a possibility that LGBTQ representation on the Council would diminish or be nonexistent for the next four years. But the most recent round of vote tabulations allays those fears for most activists.

Annise Parker, the president and CEO of LGBTQ Victory Fund, which endorsed all six Democrats in their bids for public office, celebrated their primary victories.

"New York City's slate of LGBTQ council candidates are a reflection of the city they aim to represent, and many will make political history when elected in November," Parker said in a statement.
---
Antiquated winner-take-all voting rules for federal, statewide and county offices in Maryland are a serious barrier to women's representation. In Montgomery County, Md., where I live, there is just one woman on the county council, there are zero women members in the congressional delegation from Maryland, and so far all the nine Democratic candidates for governor are men. Ovetta Wiggins writes about the lack of gender diversity in The Washington Post this week:
Some Democrats have quietly expressed frustration that their candidates are all men. On the Republican side, Kelly M. Schulz, who is Hogan's commerce secretary, is vying to become the Republican nominee, along with Del. Daniel L. Cox (R-Frederick), a strong defender of former president Donald Trump, and former state lawmaker and perennial candidate Robin Ficker.

The Democratic field has racial diversity, with three Black men — John B. King Jr., a former U.S. education secretary who is also of Puerto Rican descent; Wes Moore, a former head of the Robin Hood Foundation; and Rushern L. Baker III, a former Prince George's County executive — and one Hispanic man — Tom Perez, a former chair of the Democratic National Committee and former U.S. labor secretary. Ashwani Jain, a former candidate for Montgomery County Council who also is running, is the son of Indian immigrants.

But the Democrats lack gender diversity.

"It's unbelievable to me," said Terry Lierman, a former chairman of the state Democratic Party.

Lierman — whose daughter, Del. Brooke Lierman (D-Baltimore City), is running for comptroller — said the dearth of women seeking statewide office is "like a drought" in Maryland, which has not had a woman in its congressional delegation since January 2017.

Although there have been Black lieutenant governors and a female lieutenant governor in Maryland, no Black person, Hispanic person or woman has ever been elected to statewide office on their own.

Eberly said there is still time for a woman to enter the race.

"It is — at least according to the calendar — still early," he said.
---
The Cook Political Report issued ratings for the upcoming gubernatorial races that suggest there isn't much opportunity for women to pick up many, if any, seats.
Questions remain around whom the Democrats will nominate to run for Oregon Gov. Kate Brown's seat as she is termed out—this would be an excellent opportunity for the party to commit to fielding women candidates to fill her seat.
There is also an open seat race in Pennsylvania where party officials and advocates could also prioritize the recruitment of women to run.
Also in play are seats held by Democratic women in Maine, Kansas and Michigan along with potential Democratic nominees in seats held by Republicans in Arizona, Georgia and Florida.
---
La protesta social que puso al país en un nuevo horizonte de dignidad, no puede seguir siendo castigada con prisión política: es una realidad que el pueblo mapuche y sus organizaciones ya han vivido por demasiadas décadas. Iniciamos la tercera sesión. pic.twitter.com/gtnfHLeIrJ

— Elisa Loncon – Constituyente Mapuche (@ElisaLoncon) July 8, 2021
Meanwhile, in Chile, a gender balanced constitutional assembly tasked with rewriting the Constitution has selected an Indigenous woman Elisa Loncon to lead the effort, according to this story in Al Jazeera:
The architects of Chile's new constitution have chosen an Indigenous Mapuche woman to lead the process, as the country's constitutional assembly was inaugurated on Sunday in the capital, Santiago.

University professor and activist for Mapuche educational and linguistic rights Elisa Loncon, a 58-year-old independent constituent, was picked by 96 of 155 delegates, including 17 Indigenous people, who make up the constitutional body.

The delegates were elected to draft a new text to replace Chile's previous Magna Carta, which was produced during the dictatorship of Augusto Pinochet.

"I am grateful for the support of the different coalitions that placed their trust and their dreams in the hands of the Mapuche nation, who voted for a Mapuche person, a woman, to change the history of this country," Loncon said.

Fed up with the political status quo and urging systemic reforms, Chilean voters in May elected dozens of progressive, independent delegates to redraft the constitution – dealing a surprise blow to conservative candidates who failed to secure a third of the seats to veto any proposals.
---
In other news from around the globe, women's representation advocates in Malta are pushing for new gender quota legislation for local office according to this piece in Lovin Malta:
With a 'gender quota' bill for MPs set to kick in by the next election, the Labour Party has now set its eyes on local councils.

"The principle of strengthening equal participation of sexes on a parliamentary level should be extended to local councils with a mechanism that would be adequate for them," the PL said in its latest policy document '100 Idea'.

This particular proposal was also highlighted by PL deputy leader Daniel Micallef in his speech, who said that after the "historic parliamentary gender mechanism reform, we must see how it can apply for local councils". 

The 'gender quota' bill for MPs envisages an electoral mechanism which will automatically kick in if the lesser represented gender gains under 40% of the total seats. 

Up to 12 seats, split evenly between PL and PN, would be added for women or gender-neutral people who failed to get elected in the first round, to ensure a minimum 40% representation of the underrepresented sex. This mechanism will only apply if MPs from two political parties are elected.
---
Remember to check out suggested feminist reading from the team at RepresentWomen:
---
One final thought: Each year when the focus of celebration is on the architects of the United States Constitution, I am reminded of the contribution of the Iroquois men and women who built a system of representative government long before my ancestors landed on these shores. The system of democracy they designed appealed to William Penn who modeled his Pennsylvania experiment on the concept that everyone should have a voice in government. The constitutional framers borrowed some of these same notions for their historic document but left out some key components relating to representation and equality.
I am committed to legislative advances like the Fair Representation Act that correct some of the mistakes of the "founders" and help to build a 21st century democracy where power is shared and decisions are made by the true will of the governed. 
---
Pickles, fruit tarts and lime drinks are keeping me busy and happy this week; here's to a restful and productive summer.
---