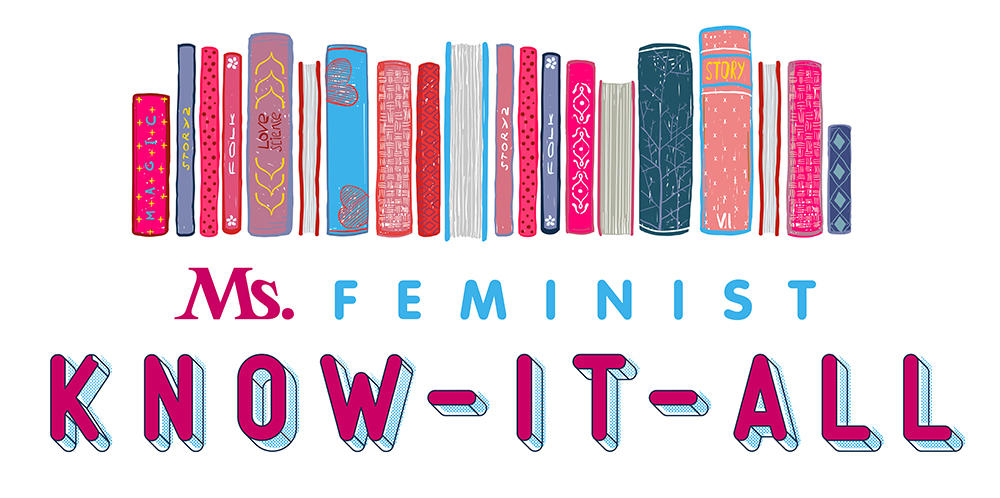 The Feminist Know-It-All: You know her. You can't stand her. Good thing she's not here! Instead, this column by gender and women's studies librarian Karla Strand will amplify stories of the creation, access, use and preservation of knowledge by women and girls around the world; share innovative projects and initiatives that focus on information, literacies, libraries and more; and, of course, talk about all of the books.
---
Each month, I provide Ms. readers with a list of new books being published by writers from historically excluded groups.
The aims of these lists are threefold:
I want to do my part in the disruption of what has been the acceptable "norm" in the book world for far too long—white, cis, heterosexual, male;
I want to amplify amazing works by writers who are women, Black, Indigenous, Latinx, APIA/AAPI, international, LGBIA+, TGNC, queer, disabled, fat, immigrant, Muslim, neurodivergent, sex-positive or of other historically marginalized identities—you know, the rest of us; and
I want to challenge and encourage you all to buy, borrow and read them!
I don't know about you, but I feel as though I've been in a time warp the last 18 months. COVID has really messed with my sense of time: Sometimes I feel like it's gone by in the blink of an eye, while other times I can't believe how long it's felt. As we shift into autumn and begin our inevitable descent into winter (I'm in Wisconsin, you may recall), I am thinking a lot about time, mood and motivation. They are so linked for me and really affected by my surroundings, the weather, music and yes, what I am reading.
This list of 30 books releasing this month has given me new knowledge, deeper empathy, broader perspectives, much-needed laughter and increased inspiration. I hope you find something here that does the same for you.
---
Edited by Ricia Anne Chansky and Marci Denesiuk. Haymarket Books. 330 pages. Out September 4.
This latest volume of the brilliant Voice of Witness series is this collection of 17 oral histories from people who survived Hurricane Maria which hit Puerto Rico in 2017. This book is not only an illustration of the resiliency and community needed to survive a storm like this, but a testament to people around the world for whom climate change hits hardest. (Register for the launch event here.)
---
By Cassandra Khaw (@casskhaw). Erewhon. 288 pages. Out September 7.
This extraordinary debut sci-fi will blow your mind with its imagination, world-making and character creation. With statements about AI, humanity and death, it's one of a kind.
---
By Shruti Swamy (@theshrutster). Algonquin Books. 304 pages. Out September 7.
Lush and poetic, this book centers a young woman in '60s and '70s Bombay who is searching for a balance between tradition, identity and the endless possibilities of love and art.
---
By Sarah Raughley (@s_raughley). Margaret K. McElderry Books. 496 pages. Out September 7.
In this historical fantasy, Iris is an African tightrope walker in 1880s London searching for the truth of her past while trying to secure her future. As she participates in a vicious fighting competition, Iris is lucky that she is immortal but uncertain what secrets she may uncover.
---
By Julietta Singh. Coffee House Press. 168 pages. Out September 7.
In this essay-length letter to her daughter, academic and writer Julietta Singh reflects on queer families, race, the climate crisis and more to inspire the adoption of childlike wonder and possibilities for a more equitable future.
---
By Emily Itami (@emilyitami). Custom House. 220 pages. Out September 7.
Centered on Tokyo lounge singer-turned-housewife and mother Mizuki, this remarkably strong debut has volumes to say about choices, adulthood, tradition and freedom.
---
By adrienne maree brown (@adriennemaree). AK Press. 206 pages. Out September 7.
This is adrienne maree brown's first novel and it's as timely as it is beautifully written. Centering public health, gentrification and loss, this dystopian thriller is mysterious and engrossing.
---
By Lolá Ákínmádé Åkerström (@lolaakinmade). Sourcebooks Landmark. 416 pages. Out September 7.
This compelling debut centers three Black women in the U.S. and Sweden as their lives overlap and provide a nuanced, character-driven exploration of race and class in contemporary society.
---
By Anne Liu Kellor (@anneliukellor). She Writes Press. 272 pages. Out September 7.
In her meditative memoir, Anne Liu Kellor has documented her journey as a mixed-race American exploring her Chinese heritage and language. Rich and nuanced, Kellor's story is likely to spark reflections of identity, meaning-making and belonging in readers.
---
By Zoraida Córdova (@zlikeinzorro). Atria Books. 336 pages. Out September 7.
This is the magical realist adult debut of Zoraida Córdova, writer of the wildly popular Brooklyn Brujas series. This novel captivatingly explores heritage and ancestry with Córdova's signature immersive storytelling.
---
By María Amparo Escandón. Flatiron Books. 336 pages. Out September 7.
As Oscar Alvarado obsesses over the L.A. weather, the rest of the family will be reeling from the secret he carries and left questioning the relationships they once knew and trusted.
---
By Buki Papillon (@bukipapillon). Pegasus Books. 336 pages. Out September 7.
Unique and important, this book centers Oto, who, while assigned male at birth, is intersex and longs to live as a girl. This is a dynamic story of tradition, culture and identity.
---
By Dawn Turner (@dawnturnertrice). Simon & Schuster. 336 pages. Out September 7.
This original memoir explores race, class and opportunity of three childhood sister-friends coming of age in the Bronzeville neighborhood of Chicago. Poignant and nuanced, this is a thoughtful reflection on friendship, family, fate and redemption.
---
By Jill Louise Busby (@jilllouisebusby). Bloomsbury Publishing. 224 pages. Out September 7.
You may know her as Jillisblack. She's hilarious and vulnerable and brilliant and has now written a book that is hilarious and vulnerable and brilliant.
---
By Natasha Brown (@wordsbynatasha). Little, Brown and Company. 112 pages. Out September 14.
This is one of the debuts I am most excited for. The story takes place over two days in which our main character, who seemingly has it all, still feels weary, discordant and in need of finding real control and meaning in her life.
---
Written by Wendy Guerra (@wendyguerrat) and translated by Alicia "Achy" Obejas. HarperVia. 336 pages.
As Nadia Guerres leaves Cuba on a journey to find her parents, she also searches for answers to life-long questions, for the legacy of the Revolution and for the meaning of a life she thought she knew.
---
By Diane Glancy. Turtle Point Press. 128 pages. Out September 14.
Inupiat woman Ada Blackjack traveled on an Arctic expedition in 1921—and was the only survivor. After re-discovering Blackjack's diary in the Dartmouth archives, Diane Glancy knew she needed to share this incredible story with the world.
---
Edited by Kinshasha Holman Conwill and Paul Gardullo. Amistad. 224 pages. Out September 14.
This beautiful volume explores the Reconstruction era and its legacies, which strongly reverberate today. With essays by Thavolia Glymph, Kimberlé Crenshaw, Katherine Franke, Hasan Kwame Jeffries, and more, this is a triumphant work.
---
By Megan Milks (@sklimnagem). Amethyst Editions. 256 pages. Out September 14.
Megan Milks blends mystery, comedy and nostalgia with feminism, queerness and politics to imagine the perfect '90s coming of age debut. It's both super-smart and super-fun.
---
By Gayl Jones. Beacon Press. 504 pages. Out September 14.
In her first novel in over twenty years, Gayl Jones centers Almeyda, an enslaved girl who escapes a 17th-century Portuguese plantation to Palmares, a settlement for runaways. This is an engaging and extraordinary epic by one of literature's finest.
---
By Tarana Burke (@taranaburke). Flatiron Books. 272 pages. Out September 14.
Long before Tarana Burke founded the Me Too movement, she was a survivor of sexual assault herself. Both Imani Perry and Kiese Laymon compare her debut memoir to I Know Why the Caged Bird Sings; survivors and others alike will be moved by this brave, empathetic story.
---
By Sheryll Cashin (@SheryllCashin). Beacon Press. 312 pages. Out September 14.
This well-researched and accessibly written volume examines the government-created system of residential caste in the U.S. Cashin also provides ideas for the abolition of these practices to create a more equitable future for all.
---
By Ari Honarvar (@rumiwithview). Forest Avenue Press. 350 pages. Out September 21.
Ari Honarvar's lovingly written debut is a meditation on the legacies of a childhood in war-torn Iran. When past and present collide, Kimia is forced to face her fears and make peace with her family, their secrets and her homeland.
---
By Xiran Jay Zhao (@XiranJayZhao). Penguin Teen. 400 pages. Out September 21.
The author tweeted that their debut novel is "400 pages of female rage." 'Nough said.
---
By Jayne Allen (@jayneallenwrites). Harper. 368 pages. Out September 28.
Tabitha has it all—the education, the boyfriend, the career—but when life hands her a shattering surprise, she will need to call on friends, family and courage to make it through. This contemporary first book of a series focusing on modern womanhood will appeal to many readers.
---
Cuíer (Calico Series 4)
Two Lines Press. 344 pages. Out September 28.
This is the latest volume in the fantastic Calico Series from Two Lines Press and features poetry, photography, fiction, nonfiction and more from a variety of queer Brazilian creators.
---
By Nicola I. Campbell (Nłeʔkepmx, Syilx and Métis) (@nicolacampbel20). HighWater Press. 304 pages. Out September 28.
In this extraordinary memoir, Campbell explores historical intergenerational trauma caused by residential schools in British Columbia and the journey to healing of many Indigenous people through tradition, creativity and sharing among loved ones.
---
By Deborah Tuerkheimer. Harper Wave. 320 pages. Out September 28.
In this fascinating and necessary new book, law professor Deborah Tuerkheimer expertly interrogates the "credibility complex," or the biases, concepts and stereotypes we take for granted when determining the credibility of a rape survivor and their offender.
---
By Ryka Aoki (@ryka_aoki). Tor Books. 384 pages. Out September 28.
This wonderfully queer sci-fi fantasy will pull at your funny bone and your heartstrings as it explores the challenges, resilience and redemption of queer people of color, immigrants and chosen families.
---
By Janell Hobson (@jprofessor). Routledge. 202 pages. Out September 30.
Janell Hobson's latest book is a convincing and compelling analysis of Black feminist contributions across spaces of creation and imagination. By flipping the usual oppressive colonial lens on its head, Hobson illustrates how creators are retelling stories of Black embodiment, spirituality, legacies and futures in their intended liberatory glory.
Up next: