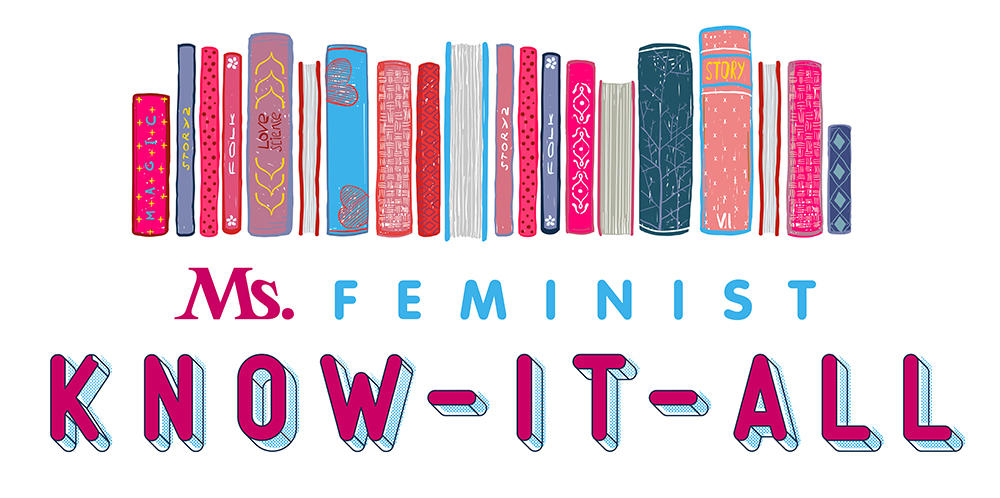 The Feminist Know-It-All: You know her. You can't stand her. Good thing she's not here! Instead, this column by gender and women's studies librarian Karla Strand will amplify stories of the creation, access, use and preservation of knowledge by women and girls around the world; share innovative projects and initiatives that focus on information, literacies, libraries and more; and, of course, talk about all of the books.
---
Each month, I provide Ms. readers with a list of new books being published by writers from historically excluded groups.
The aims of these lists are threefold:
I want to do my part in the disruption of what has been the acceptable "norm" in the book world for far too long—white, cis, heterosexual, male;
I want to amplify amazing works by writers who are women, Black, Indigenous, Latinx, APIA/AAPI, international, LGBIA+, TGNC, queer, disabled, fat, immigrant, Muslim, neurodivergent, sex-positive or of other historically marginalized identities—you know, the rest of us; and
I want to challenge and encourage you all to buy, borrow and read them!
This month, I seemed to be captivated by imagination. Not my own, per se, but the idea of imagination and using it as a tool for self-care, for solving the world's problems, or for simply escaping the challenges of the day.
I thought about imagination when I attended the WECAN Global Women's Assembly for Climate Justice and heard leaders from across the world discuss their work and solutions to the climate crisis. I reflected on imagination when faced with anxiety regarding my writing, my work, my future. I witnessed collectives of others reimagining how we assist those who've been affected by the latest attacks on abortion rights. I provided my own imaginative insights to discussions about maintaining a positive work-life balance in an age of COVID and an ever-rising right-wing white supremacist cisalloheteropatriarchy.
In short, imagination is powerful.
From the smallest of issues to the world's largest, imagination just may save us all. Provided we use it.
And it just so happens that this month's 30 Reads for the Rest of Us all have a hint of enchanting, irresistible, impudent or irreverent imaginary within them. Some more than others. Can you find it?
---
By Sesali Bowen (@BadFatBlackGirl). Amistad. 272 pages. Out October 5.
Sesali Bowen saw the need for a queer, Black, fat, inclusive, hip hop feminism, so she coined "trap feminism." I think the description on the back of her debut says it all: "Bad bitches: this one's for you."
---
Edited by Mattilda Bernstein Sycamore (@mbsycamore). Arsenal Pulp Press. 368 pages. Out October 5.
This collection of 36 diverse personal essays all contend with the trauma of coming of age in a time when queer sex led to HIV, which inevitably led to death. While this is thankfully no longer the case, the legacy lives on in many of this generation.
---
By Brandy Colbert (@brandycolbert). Balzer + Bray. 224 pages. Out October 5.
This essential volume provides a crucial examination of the Tulsa Race Massacre. Written for young people, readers of all ages can learn from Colbert's compelling historical analysis of this event and what it means for all of us today. 
---
By Aja Barber (@AjaSaysHello). Balance. 304 pages. Out October 5.
Aja Barber has written an imperative call to action with Consumed, her incisive indictment of capitalist consumerism with a focus on the fashion industry. Barber uncovers the unjust effects of our desire to buy and what we can do to change it.
---
By Reni K. Amayo (@renikamayo). Onwe Press. 432 pages. Out October 5.
This is the captivating sequel to Amayo's knockout YA fantasy debut, Daughters of Nri. Amayo's work centers Black women and reimagines Nigeria without colonialism and fully entertains with myth, magic and adventure. 
---
By Brittney Cooper (@ProfessorCrunk), Chanel Craft Tanner and Susana Morris (@iamcrunkadelic). Norton Young Readers. 240 pages. Out October 5.
What better introduction to feminism than one written by the founding members of the Crunk Feminist Collective? Get one for your little cousin and then borrow it to read for yourself.  
---
By Jen Winston (@jenerous). Atria Books. 336 pages. Out October 5.
This hilarious collection of essays explores being bisexual and the confusion, stereotypes, myths and freedom that go along with identifying as bi (or not).  
---
By Khadija Abdalla Bajaber (@kaali_msa). Graywolf Press. 272 pages. Out October 5.
Winner of the inaugural Graywolf Press African Fiction Prize, this debut centers one girl's search for her father and the strange things that happen when they return to Mombasa, Kenya. This is a magical coming-of-age tale that readers won't soon forget.
---
By Jocelyn Nicole Johnson (@jocelynjohnson). Henry Holt and Co. 224 pages. Out October 5.
This collection of stories harmoniously weds the ugly with the beautiful, the terrifying and the brave, the disappointing and the hopeful, and makes for a brilliant debut.  
---
By Chibundu Onuzo (@ChibunduOnuzo). Catapult. 304 pages. Out October 5.
Uniquely layered and lovingly written, this story follows a woman's search for identity through an exploration of the past. 
---
By Nadia Wassef. Farrar, Straus and Giroux. 204 pages. Out October 5.
In 2002, Nadia Wassef, her sister and their friend started Diwan, an independent bookshop in Cairo. Filled with humor, lessons and middle fingers to the men who said they'd never succeed, this memoir is an ode to collective action and friendship in business and in life. 
---
Written by Mirion Malle (@ohhmarion). Translated by Aleshia Jensen and Bronwyn Haslam. Drawn & Quarterly. 208 pages. Out October 5.
In her most recent graphic novel, Mirion Malle frankly and sensitively explores mental health through a young woman dealing with a sexual assault. With a focus on the millennial generation, Malle shines a light on coping mechanisms, community and self-love.
---
By Keisha N. Blain (@keishablain). Beacon Press. 200 pages. Out October 5.
As talented a storyteller and cultural critic as she is a historian, Keisha Blain has written a history of Fannie Lou Hamer that also challenges readers to look to her legacy as a guide for tackling current issues of voter suppression, state-sanctioned violence, women's inequality and racism.
---
By Myriam J. A. Chancy. Tin House Books. 320 pages. Out October 5.
Heartbreaking and haunting, this exploration of life in Port-au-Prince, Haiti, after it's hit by a 7.0 magnitude earthquake is sure to stay with you, especially as we see the death toll rise from Haiti's most recent 7.2 earthquake that struck on August 14, 2021. If you are able, please consider donating to the Lambi Fund of Haiti. 
---
By Victoria Chang (@VChangPoet). Milkweed Editions. 136 pages. Out October 12.
This is a tender and poetic exploration of heritage, tradition and loss through a collection of letters and other family archives. In it, Chang reflects on imagination and memory in the creation of identity and meaning. 
---
Written by Yeo-sun Kwon and translated by Janet Hong (@janethong333). Other Press. 176 pages. Out October 12.
Award-winning writer Yeo-sun Kwon's latest novel is a deftly written exploration of life and death, grief, revenge and acceptance of the unknown, all cloaked in an engaging murder mystery.
---
By Mecca Jamilah Sullivan (@mecca_jamilah). University of Illinois Press. 288 pages. Out October 12. 
Here's your monthly academic text! In it, Dr. Sullivan provides expert analysis of the complex queer creativities of Black women and their (re)inventions and (re)imaginings of meaning-making in vast literary forms.  
---
By Alessandra Narváez Varela. Cinco Puntos Press. 208 pages. Out October 12.
This riveting YA debut novel in verse centers a young girl growing up in Mexico who is visited by her 30-year-old self as she deals with depression and learns about acceptance of self and others.  
---
By Toufah Jallow with Kim Pittaway (@kimpittaway). Truth to Power. 320 pages. Out October 12.
At 19, Fatou "Toufah" Jallow was raped by the corrupt then-president of The Gambia. When she came forward with the accusation, she inspired a #MeToo movement across Africa.    
---
By Margaret Verble (Cherokee). Mariner Books. 384 pages. Out October 12.
Pulitzer Prize finalist Margaret Verble has written a singularly unique story of a Cherokee horse-diver named Two Feathers. Alternatively funny and touching, this novel has a distinctly original and unconventional feel.
---
By Wanjikũ Wa Ngũgĩ (@wanjikuwangugi). Seagull Books. 248 pages. Out October 15.
Kenyan author Wanjikũ Wa Ngũgĩ tells an incandescent tale of Mumbi, sent to live in Hippoland as a child. Once grown, Mumbi returns to her homeland to relate a magical story that challenges their understanding and imagination. 
---
By Zeba Blay (@zblay). St. Martin's Griffin. 272 pages. Out October 19.
As one of the first people to coin #carefreeblackgirls, Zeba Blay honors and celebrates Black women in this sharp collection of essays.
---
By Asali Solomon. Farrar, Straus and Giroux. 208 pages. Out October 19.
Women of a certain age—myself included—will see themselves reflected in the latest book by award-winning writer Asali Solomon. It's fresh and funny, offering reflections on friendships, choices and how the past truly shapes the future.
---
By Linda LeGarde Grover (Bois Forte Band of Ojibwe). University of Minnesota Press. 200 pages. Out October 19.
Misaabekong—the place of the giants—on Lake Superior, serves as the setting for Linda LeGarde Grover's latest genre-defying book. Sharing stories and histories, Grover lyrically reflects upon her community's relationships to the land, the culture and one another.    
---
By Cherie Dimaline (Georgian Bay Métis) (@cherie_dimaline). Amulet Books. 400 pages. Out October 19.
If you loved The Marrow Thieves, you've probably been waiting for this follow-up as eagerly as I have. And you will not be disappointed! Dimaline revisits Rose, Frenchie and the rest of the family to examine the legacies of Native American genocide.  
---
By Cassandra Khaw (@casskhaw). Tor Nightfire. 128 pages. Out October 19.
This is your obligatory October horror read! It includes Japanese folklore, a haunted mansion, secrets, death, unexpected twists and ghost brides. I dare you to read it alone!
---
By Lauren Blackwood (@LJ_Blackwood). Wednesday Books. 336 pages. Out October 19.
Lauren Blackwood's debut has been referred to as an Ethiopian retelling of Jane Eyre. And it's a creepy, immersive, romantic and thrilling retelling, at that. 
---
By Angela Y. Davis, Gina Dent, Erica Meiners and Beth Richie. Haymarket Books. 150 pages. Out October 26.
This powerhouse quartet of activist scholars has come together, in a slim and accessible volume, to provide readers with a feminist abolitionist framework that is imperative. Connecting the inhumane and unjust carceral system with gender and sexual violence, they make a strong case for abolition using collective, grassroots, community-based action.
---
By Catherine Knight Steele (@SteeleCat717). NYU Press. 208 pages. Out October 26. 
With this accessible volume, Catherine Knight Steele has offered readers a compelling explanation of Black feminist technoculture. Black women have long been at the forefront of technological advances, creation and dialogue; Steele skillfully traces their influence into the present and future.
---
By Maha Hilal (@dr_maha_hilal). Broadleaf Books. 336 pages. Out October 26.
Scholar-activist Dr. Maha Hilal has written this critical examination of the twenty years since the 9/11 attacks and the system of Islamophobic state violence created within that time.
Up next: