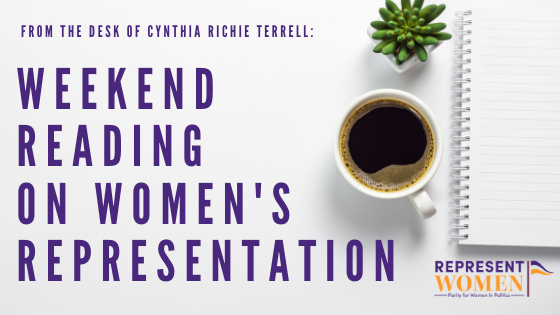 Weekend Reading on Women's Representation is a compilation of stories about women's representation in politics, on boards, in sports and entertainment, in judicial offices and in the private sector in the U.S. and around the world—with a little gardening and goodwill mixed in for refreshment!
---
This week has been a busy one in Washington, D.C., with important discussions about redistricting on Capitol Hill, in-person fundraising events with democracy advocates, and the launch of More Voice D.C. in support of ranked choice voting for the District of Columbia.
On Friday morning, I spoke at a press conference in support of the ranked-choice voting (RCV) measure introduced by council member Christina Henderson and joined dozens of other supporters in testifying before the D.C. Council in support of the VOICE Act:
An excerpt from More Voice D.C.'s press release:
Ranked Choice Voting puts voters first. It puts more power in the hands of voters, where it belongs. With Ranked Choice Voting, your vote has more impact on the outcome of elections. Under the current election process in D.C., technicalities can allow candidates without the majority vote to win. It also causes communities to split their votes amongst good candidates, hurting outcomes, and causing voters to hold their nose, or cast a vote for who may be perceived to win already.
The VOICE Act and Ranked Choice Voting will replace these issues with equitable solutions. District residents have the power to vote without the pressure of going with who will likely win, diverse communities aren't forced to split their votes and fairer, more equitable outcomes are achieved.
Studies found that Ranked Choice voting benefits communities of color specifically through round-by-round counting, where Black and Hispanic candidate vote totals and district gains grew, through the ranking process, where candidates of color tend to rate more candidates than white voters, and more. Studies have also shown that, historically, ranked choice voting is effective at increasing women's representation in cities that used it in the early 20th century, and that the single-winner version has been effective in the 21st century.
---
The rapid expansion in the use of ranked-choice voting in the United States has led to a number of studies on the impact of RCV, including this report from New America that cites RepresentWomen's research on the barriers women face in politics and the benefits of RCV for women candidates and voters:
Terrell and Lamendola's 2020 article on RCV's impacts on women's representation concluded that the number of women winning elected office is higher in cities that use RCV. Following up on the four Bay Area cities examined in John et al.,118 they report that women have won an average of 56 percent of RCV elections between 2010 and 2019, despite representing only 38 percent of candidates.

Furthermore, across all 19 U.S. cities and counties using RCV in that time period, women won 48 percent of all contested seats, while making up only 34 percent of candidates. And according to the article, as of July 2020, 47 percent of city council seats in the Bay Area cities using RCV were held by women compared to only 36 percent in control cities (California cities with at least 30,000 residents), and 37 percent in Bay Area control cities.
---
Michelle Wu was sworn in as mayor of Boston this week becoming the first woman and the first woman of color elected to that position, according to this story on WBUR:
Boston Mayor Michelle Wu, a former city councilor and daughter of Taiwanese immigrants, made history Tuesday when she took the oath of office, becoming the first woman, the first Asian American and first person of color elected and sworn into the city's highest post.

Surrounded by family members as well as prominent state and local politicians, Wu pledged to immediately go to work.

"We have so much work to do, and it will take all of us to get it done," said Wu, shortly after being sworn in.
---
This week, Senator Patrick Leahy (D-Vt.) announced he plans to step down after serving many terms in the U.S. Senate, which sparked conversation about whether Vermont could elect its first woman member of Congress if the current representative runs for Leahy's seat:
Sen. Patrick Leahy's decision to retire provides an opening for Vermont to shed its distinction as the only state that's never sent a woman to Congress.

If Rep. Peter Welch (D) runs to succeed Leahy in the Senate, the race for Welch's statewide congressional district in the Democratic-leaning state may include one or more female officeholders. Potential candidates for either seat include Lt. Gov. Molly Gray, state Senate President Pro Tempore Becca Balint, and state Sen. Kesha Ram Hinsdale, all Democrats.

Vermont's status as the only state to never send a woman to Congress owes mostly to its small size, with only one House member since the 1930s, and its male incumbents serving a long time.
---
An interesting new study from McKinsey investigates the state of women in the public and social sectors and explores strategies to nurture women's leadership:
The public and social sectors are showing the rest of America's workplaces the way forward to equal representation for women. Our research finds that the proportion of women at every level exceeds those in the workforce as a whole. Public and social sector (PSS) organizations today hire 53 percent women at the entry level, compared with 47 percent in the broader workforce.

Historically, women's progress toward senior managerial levels has been impeded by their relative absence in middle management. The most recent data suggests that PSS organizations have taken a crucial step toward parity at all levels by fixing the critical "first rung" between entry level and manager. PSS organizations now have reached gender parity in promotion, attrition, and hiring rates for managerial-level roles (see Sidebar).

Despite these gains, however, women in government and social sector organizations continue to be underrepresented compared with men at every management and leadership level, with their representation falling steadily from entry-level through management and leadership ranks.
---
Six years ago, when our name was still Representation2020, we posted the first Weekend Reading blog to the website. By my calculations that means I have written over 300 pieces in this series—which seems like a lot of women's representation. I am grateful to all of you for your faithful readership over the years and to Ms. for publishing the Weekend Reading blog online since early 2020!
---
Remember to check out suggested feminist reading from the team at RepresentWomen:
---
I planted dozens of bulbs last weekend and pulled up the tender annuals but kale, spinach, leeks, mint, lemon verbena, Brussels sprouts, toad lily and roses are still going strong in my garden.
That's all for this weekend,
Cynthia
If you found this article helpful, please consider supporting our independent reporting and truth-telling for as little as $5 per month.
Up next: