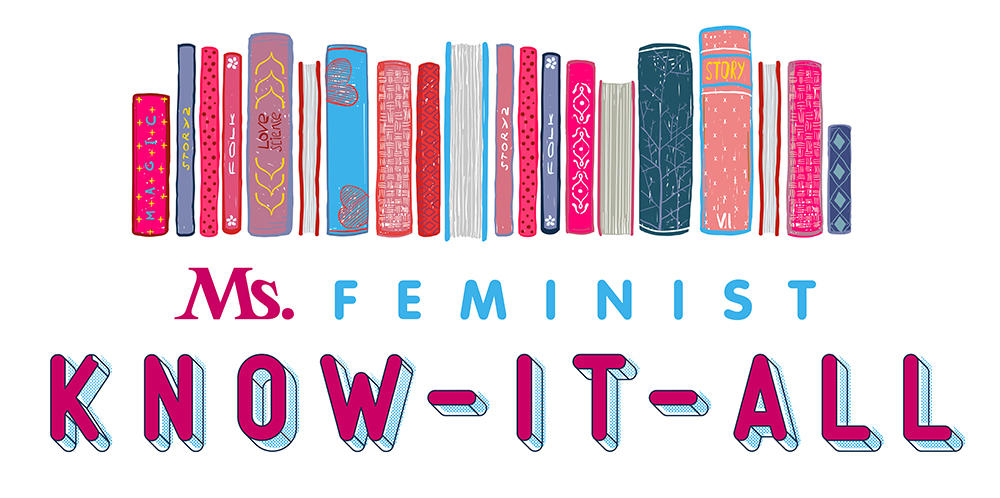 The Feminist Know-It-All: You know her. You can't stand her. Good thing she's not here! Instead, this column by gender and women's studies librarian Karla Strand will amplify stories of the creation, access, use and preservation of knowledge by women and girls around the world; share innovative projects and initiatives that focus on information, literacies, libraries and more; and, of course, talk about all of the books.
---
Each month, I provide Ms. readers with a list of new books being published by writers from historically excluded groups.
The aims of these lists are threefold:
I want to do my part in the disruption of what has been the acceptable "norm" in the book world for far too long—white, cis, heterosexual, male;
I want to amplify indie publishers and amazing works by writers who are women, Black, Indigenous, Latinx, APIA/AAPI, international, queer, trans, nonbinary, disabled, fat, immigrant, Muslim, neurodivergent, sex-positive or of other historically marginalized identities—you know, the rest of us; and
I want to challenge and encourage you all to buy, borrow and read them!
Greetings to readers, new and old! (Well, not old old … you know what I mean.)
You may or may not have noticed that I've been trying a couple of new things with these monthly lists. First, I am trying to make them shorter. And I am here to tell you that IT. IS. HARD. There are so many extraordinary books coming out each month but I am now committed to capping each list at 30. That seems like a lot for a list that publishes monthly but I assure you it is just skimming the surface.
Making it even more difficult is that I have been inclined to sprinkle in a couple of books by men here and there … "Men?!" you say. Yes, even cishet ones. Let go of your pearls; we all need to practice tolerance and inclusion and widen our perspectives every now and then. We'll see how it goes.
But I encourage you to get out there and explore your fave indie bookstores for new titles that aren't included here. And then tell me about them! And your friends.
Here's to all the great writers out there toiling away to make us think, learn, feel and fly … and to the 30 on this list.
---
Written by Hemley Boum (@boumhemley) and translated by Nchanji Njamnsi (@NMNjamnsi). Two Lines Press. 350 pages. Out September 6.
For the first time in English, Henley Boum's award-winning saga of a Cameroonian mother and daughters contending with tradition and modernity speaks to patriarchy, family legacy and human connection.
---
By Teresa Lim. Pegasus Books. 356 pages. Out September 6.
Teresa Lim never knew her great aunt Fanny, whose face she'd seen in a photo but whose story was never told. Lim made it her mission to investigate Fanny and in so doing, has written this powerful story of family, feminists, tragedy and truth.
---
By Tanvi Berwah (@tanviberwah). Sourcebooks Fire. 352 pages. Out September 6.
This adventurous debut fantasy explores themes of class, privilege, power and the lengths one girl will go to for her family's survival. All with a healthy dose of sea monsters.
---
By Margaret Wilkerson Sexton (@mwilkers13). Ecco. 304 pages. Out September 6.
The extraordinary Margaret Wilkerson Sexton is back with this latest family drama set in 1950s San Francisco in which a mother's dreams collide with her daughters' ambitions.   
---
By Ramzi Fawaz (@newmutantramz). NYU Press. 464 pages. Out September 6.
With Queer Forms, Ramzi Fawaz has examined gender and sexual formlessness illustrated by queer and feminist film, literature and visual culture. This "shapeshifting" allows for greater evolution, authenticity and intimacy for all.   
---
By Remica Bingham-Risher (@remicawriter). Beacon Press. 256 pages. Out September 6. 
This collection of essays is a remarkable ode to Black poets and poetry unlike any other. Bingham-Risher examines the writing process through some of her favorites, from Lucille Clifton to Beyonce, through a lens of joy, power, love and legacy. 
---
By Patricia A. Turner (@paturner). University of California Press. 264 pages. Out September 6. 
Remember how some said we had reached the post-racial era when Barack Obama was elected president? Patricia A. Turner explains why that's not only wrong but how the rumors about Obama persisted, twisted and have evolved into the distrust, fake news and conspiracy theories of today. 
---
By Catherine Adel West (@cawest329). Park Row. 320 pages. Out September 6. 
Pregnant and alone, Sara leaves Chicago for Memphis during the tumultuous 1960s. With compassion and complexity, West invites us into Sara's friendships, an unexpected romance and the secrets that may tear it all apart. 
---
By Stephen Breyer, Sonia Sotomayor and Elena Kagan. Melville House. 224 pages. Out September 6. 
This is just what it sounds like: the full text of the Dobbs v. Jackson decision, highlighting the dissent by Justices Breyer, Sotomayor and Kagan. Read it, weep and take it to the street.
---
By Talia Lakshmi Kolluri (@taliakolluri). Tin House Books. 200 pages. Out September 6.
An array of animals narrate the touching stories in this original debut collection. Tackling environmentalism, endangerment, belonging, loss and hope, this one will move you.
By Alice Wong (@SFdirewolf). Vintage. 352 pages. Out September 6.
This is the essential memoir from the founder of the Disability Visibility Project. After you pre-order it, be sure to read this candid article by Alice and consider supporting the ongoing costs of her care if you can. 
---
By Zoulfa Katouh (@thelemonwitch_). Little, Brown Books for Young Readers. 432 pages. Out September 13.
This speculative YA debut centers Salama, a young woman amid the Syrian Revolution who must face loss, fear and desperation to fight for Syria's freedom—and find her own.
---
By Kit Heyam (@krheyam). Seal Press. 352 pages. Out September 13.
Kit Heyam shows us what radical inclusivity can really look like in their extraordinary global history of gender nonconformity, focusing on those, trans or not, whose gender identities aren't confined to categories of woman or man. 
---
By Gayl Jones. Beacon Press. 216 pages. Out September 13.
Don't call it a comeback … Gayl Jones continues her resurgence with this novel focused on Black women creatives on Ibiza as one of them continues trying to kill her husband. 
---
By Kate Beaton (@beatonna). Drawn & Quarterly. 436 pages. Out September 13. 
Kate Beaton worked in Canada's oil sands for two years and has written this candid and unflinching graphic memoir about the effects of capitalism, extraction and exploitation on the land, the environment and the people.  
---
By Angie Cruz (@acruzwriter). Flatiron Books. 208 pages. Out September 13.
From the author of Dominicana comes a new novel brilliantly illustrating the importance of telling one's story.
---
By Omolola Ijeoma Ogunyemi (@lolaogunyemi). Amistad. 256 pages. Out September 13. 
Nigerian author Omolola Ijeoma Ogunyemi's US debut follows four friends from an all-girls boarding school to their divergent adult paths in which they travel, love, work, hope, grieve and grapple with the complexities of life.   
---
By Brandi Collins-Dexter (@brandingbrandi). Celadon Books. 304 pages. Out September 20. 
With this incisive, witty and poignant collection of essays, Collins-Dexter examines Black voters, their tenuous relationships with the Democratic Party and the ramifications of their disillusionment with politics-as-usual.
---
By Kimberly Garrett Brown (@kimwrites). Inanna Publications. 170 pages. Out September 20. 
In 1920s Harlem, Cora is a Black librarian who begins cooking for a wealthy white family to help out her cousin. But Cora's dream is to write. This is a resonant, beautifully written story of friendship, ambition and dreams.
---
By Phyllis Vine (@Phyllis_Vine). Beacon Press. 408 pages. Out September 20. 
In this essential history, Phyllis Vine recounts the long movement for liberation and recovery of people with mental illness and those who've led this imperative and incredible work.
---
By Maria Cristina Garcia (@ithacamcg). University of North Carolina Press. 256 pages. Out September 20.
Accessibly written by Maria Cristina Garcia, this is an intriguing and important explanation of climate-change-induced migration and the challenges and inequities it presents for the most vulnerable of the world's populations. 
---
By Margaret Killjoy (@magpiekilljoy). AK Press. 248 pages. Out September 20. 
If you haven't yet read Margaret Killjoy, what are you even doing with your life? Now's your chance to jump into the pool of queer, fantastical love that is Killjoy… or begin by just dipping a toe into one of these 21 spryly speculative stories. 
---
By Patty Krawec (Anishinaabe/Ukrainian) (@gindaanis). Broadleaf Books. 240 pages. Out September 27.
In this remarkable volume, Patty Krawec (Lac Seul First Nation) examines the damage and division of settler colonialism and offers ideas for revisiting the past in order to reshape our collective futures. 
---
By Aurelia Durand (@4ur3lia). Chronicle Books. 160 pages. Out September 27.
Vibrant, colorful and inspirational, this beautiful volume is all about the power of dance and the joy it brings to all. Gift one to yourself and one to your dance partner!
---
By Chloe Gong (@thechloegong). Margaret K. McElderry Books. 528 pages. Out September 27.
I loved the These Violent Delights duet, so of course, I am ready for another thrilling crime fantasy extravaganza!
---
By Namwali Serpell (@namwalien). Hogarth. 288 pages. Out September 27. 
When faced with tragic grief, Cassandra Williams' family and life is falling apart. This extraordinary new novel explores love, loss and longing in new and unexpected ways.
---
By Neon Yang (@itsneonyang). Tor Books. 432 pages. Out September 27. 
Neon Yang's debut sci-fi space opera is just what I need right now: excitement, adventure, battles for good against evil, robots and princesses… and it's queer AF to boot!
---
Edited by Corinne T. Field and LaKisha Michelle Simmons. University of Illinois Press. 312 pages. Out September 27.  
Field and Simmons have edited an indispensable volume highlighting the histories of Black girls and girlhood. Includes contributions from Ruth Nicole Brown, Tara Bynum, Cynthia Greenlee, SA Smythe and others.  
---
By Kacen Callender (@kacencallender). Amulet Books. 336 pages. Out September 27.
National Book Award winner Kacen Callender is back with this exceptional new YA with themes of self-love, relationships, gender, polyamory, sexuality, activism, bullying and mental health. 
---
Two Lines Press. 180 pages. Out September 27.
The sixth book of the Calico Series, this unique and thought-provoking volume includes six compelling pieces that explore the relationships between words and images, and challenge readers to expand their perspectives. 
U.S. democracy is at a dangerous inflection point—from the demise of abortion rights, to a lack of pay equity and parental leave, to skyrocketing maternal mortality, and attacks on trans health. Left unchecked, these crises will lead to wider gaps in political participation and representation. For 50 years, Ms. has been forging feminist journalism—reporting, rebelling and truth-telling from the front-lines, championing the Equal Rights Amendment, and centering the stories of those most impacted. With all that's at stake for equality, we are redoubling our commitment for the next 50 years. In turn, we need your help, Support Ms. today with a donation—any amount that is meaningful to you. For as little as $5 each month, you'll receive the print magazine along with our e-newsletters, action alerts, and invitations to Ms. Studios events and podcasts. We are grateful for your loyalty and ferocity.
Up next: