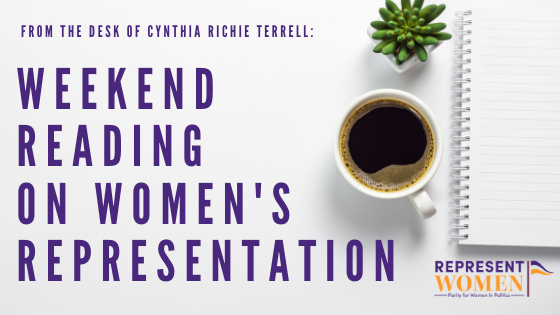 Weekend Reading on Women's Representation is a compilation of stories about women's representation in politics, on boards, in sports and entertainment, in judicial offices and in the private sector in the U.S. and around the world—with a little gardening and goodwill mixed in for refreshment!
---
As of Friday midday, the House of Representatives is beginning its 12th vote for House speaker, with no single candidate receiving a majority yet.
In times like this, I am reminded of how much time and energy could be saved if ranked-choice voting was used. The members of the House of Representatives cannot be sworn into office until the speaker is elected, which is hindering effective running of our democracy.
Fmr House Majority Whip James Clyburn nominates Hakeem Jeffries in 12th House Speaker vote & thanks House Clerk Cheryl Johnson for "your contribution to maintaining the dignity & honor of the august body. The eyes of the country are on us today," followed by applause by members. pic.twitter.com/W5x8KDzETf

— Craig Caplan (@CraigCaplan) January 6, 2023
---
Providence, R.I., Now Has Their Most Diverse and Representative City Council in History
Rachel Miller, recently unanimously elected city council president, identifies as queer, and her swearing-in marks a historic first for the LGBTQ+ community of Providence. The council itself is both majority women and majority people of color.
Seven of the 15 members are new additions, and Miller highlighted the importance of general change, along with a policy agenda rooted in addressing top-of-mind issues such as affordable housing and education.
Miller also reflected on being the first queer woman to lead the council, stating:
"Being able to stand here with our colleagues to be open and proud and to have that leadership in the council means a lot."

"It's really moving," Miller said. "It's funny, when you start talking about the way in which representation matters, you really see it in the room – both the [council members] and also the families that were here today."
Although Providence is not in the top 100 cities in terms of population (it ranks around 139th), RepresentWomen's recent report covering city council representation in the top 100 cities shows how places like Providence can sustain and encourage fair representation.
---
Patty Murray Becomes First Woman President Pro-Tempore
Sen. Patty Murray (D-Wash.) has been elected president pro-tempore, making her second in line to the presidency, behind Vice President Kamala Harris.
Sen. Murray joined the Senate in 1992 and was a part of a "wave of soccer moms." Murray emphasized the importance bringing differing perspectives to the governing body:
When she became the first female chair of the Veterans' Affairs Committee, she widened its focus to veterans' caregivers, as well. And she sought to include reproductive rights and child care into budget conversations.

"I think often we bring a voice to the table that would be missed when it was men only," she said. "I'm not the only woman on that committee [now]. There are other women who echo my viewpoint, and who are respected for who they are."
I'm so grateful to be sworn in today for my 6th term representing the people of WA state. They have trusted me to be their voice in the U.S. Senate, and each and every day, my work will continue to be guided by solving problems & delivering for families & communities back home. pic.twitter.com/3ixZPRQ3bK

— Senator Patty Murray (@PattyMurray) January 3, 2023
Representation in Congress, both descriptive and substantive representation, isn't just about numbers. Prioritizing fair representation can facilitate open deliberation and discussion in our government, particularly around issues that have gone unseen.
RepresentWomen's Gender Parity Index shows how women's representation numbers in the United States have changed over time. Some things that continue to ring true over the years are (1) progress is slow and inconsistent; (2) "record breaking wins" happen nearly every year, but the actual percent change tends to be incremental.
Nevertheless, we need not be discouraged. Places such as New York City and Providence, RI, show us that significant change is not just possible, but that women are also inspired. They are ready to run, win, serve, and lead.
---
Gender Parity in Congress Projected to Take 118 years
The 118th Congress will have just two more women in it than the 117th Congress, raising the percentage of women in Congress to just 27.9 percent. At this rate, it will take 118 more years to achieve a balanced number of men and women. This is troubling because having women in office is essential to a representative democracy.
The slow progress of women in elective office is frustrating for some political observers and experts – including myself – who believe that achieving gender equality in Congress is an important goal…

This issue is important because how many women there are in the room when legislative decisions are made has significant consequences for the policies that governments enact. Female legislators are more likely than men to introduce, speak about and work to pass policies that disproportionately affect women and girls, such as paid family leave, pay equity and gender-based violence.

Having more women in Congress also strengthens female voters' sense of connection with the government. It also bolsters women's sense that government cares about their concerns and inspires young women to become more politically engaged.
According to data collected from the Inter-Parliamentary Union, the United States ranks 26th amongst OECD countries, as displayed above, in terms of women's political representation. Women in the US face systemic barriers to running for office. Ranked-choice voting is critical in helping remove these barriers so we can achieve a gender balanced democracy in our lifetimes.
---
Reps. Bice and Houlahan Call for Paid Family Leave
In this terrific article from The Hill shared by Melinda Gates, Representatives Stephanie Bice and Chrissy Houlahan express the need for reforms to support moms in Congress:
That is why we have recently formed the Bipartisan Paid Family Leave Working Group in the U.S. House of Representatives alongside Reps. Colin Allred (D -Texas), Haley Stevens (D-Mich.), Mariannette Miller-Meeks (R-Iowa) and Julia Letlow (R-La.). Comprised of an equal number of Democratic and Republican members, we are dedicated to identifying and exploring paid leave policy solutions that assist businesses and families. In the coming months, we plan to study options for making working and caregiving more compatible. We will also study the effects of paid family leave on maternal health, infant development, and family connectivity. We will learn from state leave programs that have been successful for businesses and for the financial security of working caregivers.

We welcome any and all ideas. To reach its potential, paid family leave policy must be durable, and to be durable it must be bipartisan, which is why our focus on finding consensus will be unwavering. A policy that depends on the party in power is in constant jeopardy, and therefore hardly a policy at all. We can and must do better than that.
Not having access to affordable childcare is one of the numerous barriers to women serving. Check out the legislative rules changes RepresentWomen supports to help women serve!
---
Rest in Power, Feminist Abolitionist Lucretia Mott
Happy birthday to Lucretia Mott! Mott, a noted feminist and abolitionist, was born 230 years ago this week. The anniversary of her birth offers a reminder that Quaker women were encouraged to participate in worship and in meetings for business at a time when most women did not have that opportunity.
As a fellow Quaker, I admire this early example of how power can be shared. It's really not that hard a practice.
---
Join Us for a Parity in Politics Chat
I will be speaking at the Montgomery Women's Parity in Politics event next week on Thursday, Jan. 12, at 6 p.m. ET. Register to attend here!
That's it for this week. Happy new year to you all!
Up next:
U.S. democracy is at a dangerous inflection point—from the demise of abortion rights, to a lack of pay equity and parental leave, to skyrocketing maternal mortality, and attacks on trans health. Left unchecked, these crises will lead to wider gaps in political participation and representation. For 50 years, Ms. has been forging feminist journalism—reporting, rebelling and truth-telling from the front-lines, championing the Equal Rights Amendment, and centering the stories of those most impacted. With all that's at stake for equality, we are redoubling our commitment for the next 50 years. In turn, we need your help, Support Ms. today with a donation—any amount that is meaningful to you. For as little as $5 each month, you'll receive the print magazine along with our e-newsletters, action alerts, and invitations to Ms. Studios events and podcasts. We are grateful for your loyalty and ferocity.