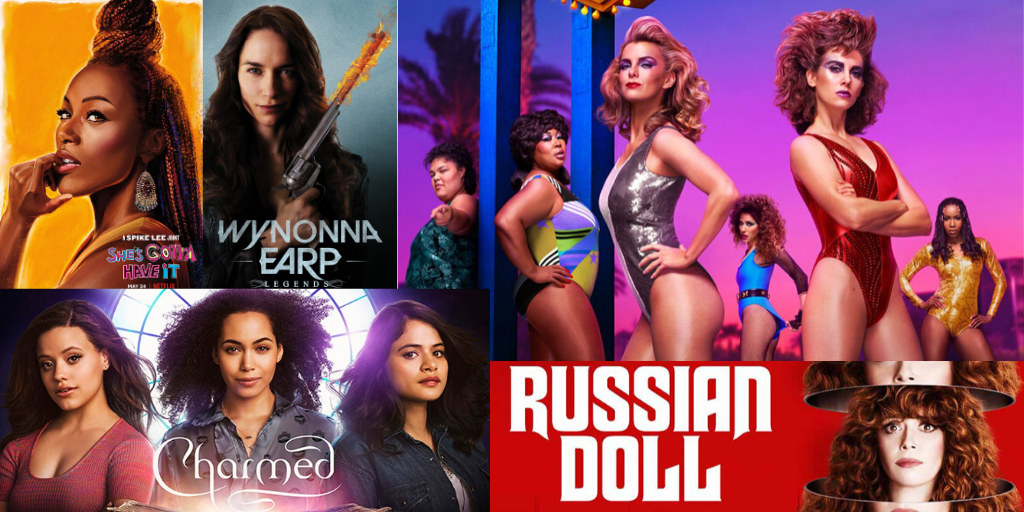 Whether you're seeking catharsis through gripping, unconventional dramas, or looking for a smart comedy to take your mind off the current state of the world—there are plenty of shows featuring compelling feminist characters streaming on Netflix to carry you through the coming months.
In compiling my recommendations, I tried to stick to a few criteria:
The shows below pass the Bechdel-Wallace Test with flying colors.
They showcase multiple well-defined, engaging female characters and at least one (but, in most cases, more than one) major character who is a person of color and/or LGBTQ.
These shows have story lines that emphasize the wide range of experiences women and girls have, and/or offer narratives in which women's experiences are primary rather than nonexistent or an afterthought.
They're all recent shows that have at least one complete season online and are either still in progress or ended only within the last year. Some popular shows—like Orange is the New Black—are missing from the list because they're already quite well-promoted, and some promising new shows—like I Am Not Okay With This and Never Have I Ever—are absent simply because they are so new, I haven't had a chance to watch them yet. (But you should and then let me know what you think!)
These are all teen or adult shows, some with mature themes and adult language—but if you're looking for children's programming, I've got you covered.
While all of these programs won't appeal to every viewer, they do each offer representations of women who are artfully complex, refreshingly intelligent, realistically flawed, and, most importantly, have narrative agency—even if it sometimes comes from an unexpected place.
So, without further ado, and in no particular order, my drama recommendations:
(Trailers are not necessarily appropriate for all ages.)
---
(3 seasons, 2016-present) | Supernatural Western | TV-14
Based on comic books by Beau Smith and originally pitched by series creator and showrunner Emily Andras as "Frozen meets Buffy," SyFy's Wynonna Earp defies easy description.
Inspired, unpredictable and wilder than the Wild West of silver screen fantasy, the series boasts a memorable cadre of characters:
the unlikely gunslinger/demon slayer, Wynonna (Melanie Scrofano), both brash and vulnerable in her intense desire to protect her family; her beloved sister;
Waverly (Dominique Provost-Chalkley), whose bond with Wynonna rivals Elsa and Anna's any day;
local cop Nicole Haught (Katherine Barrell) whose love story with Waverly has endured far longer than most queer romances on television; and
an exceptional ensemble cast including an immortal Doc Holliday (Tim Rozon) and a supernatural U.S. Marshall, Agent Dolls (Shamier Anderson).
Add to that a host of terrifying demons, a family curse, a town called Purgatory, a deeply committed cast and crew (led by the inestimable Andras), and preternaturally adoring fans—whose love for the show saved it when financial woes saw it teetering on the brink of cancellation last year—and you've got a winning combination.
(1 season, 2019-present) | Supernatural Dramedy | TV-MA
Netflix original Russian Doll takes the "Groundhog Day" trope, in which a character repeatedly experiences the same day, and renders it in such a unique, twisted way that the repetitive conceit of the pilot—video game designer Nadia Vulvokov (Natasha Lyonne) keeps dying and time looping back to the night of her 36th birthday—quickly gives way to a dark, enthralling mystery that's as psychologically stimulating as it is visually stunning.
Lyonne plays the idiosyncratic, take-no-prisoners Nadia—with equal parts wit and gravitas, embracing the inherent absurdity of the premise with such intention that it's difficult to not find yourself fully immersed as well.
---
If you found this article helpful, please consider supporting our independent reporting and truth-telling for as little as $5 per month.
---
(2 seasons, 2017-2019) | Dramedy | TV-MA
A remake of Spike Lee's first feature film (1986), the series version of She's Gotta Have It also focuses on the life of its polyamorous, pansexual protagonist Nola Darling (DeWanda Wise) and how she navigates her relationships with friends and lovers in her Brooklyn neighborhood.
The show explores social norms around sexuality (particularly black women's sexuality), sex and romance, while addressing contemporary politics, art, music and activism, including #BlackLivesMatter and #MeToo.
Notably, in reaction to controversy around the original film's handling of sexual assault, the series tackles assault and street harassment head-on, with Nola using her art and agency to push back against those who attempt to oppress, shame, or bully her.
(2 seasons, 2018-present) | Supernatural Drama | TV-14
Another reboot, CW's Charmed leans on the premise of the original—three sisters who discover they are a powerful trio of chosen ones, witches whose magic is strongest when they work together—but reinvigorates the series to render the inherent feminism of the concept explicit.
Unlike the almost all-white main cast of the 1990s version, 2018's Charmed features three women of color in lead roles, playing Mel Vera (Melonie Diaz), her sister Maggie (Sarah Jeffery) and their half-sister Macy Vaughn (Madeleine Mantock)—all very different women who still find ways to see eye-to-eye and work together to fight the forces of evil. (It's not central to the narrative, but worth noting, that Mel is also openly lesbian.)
Moreover, the series is self-aware and unabashed in its engagement with women's issues: A significant arc of the first season rests on an all-too-familiar narrative—albeit with the addition of ancient demons and magic spells—in which a predatory male professor preys on his female students.
(2 seasons, 2017-present) | Dramedy | TV-MA
The series title's acronym stands for "Gorgeous Ladies of Wrestling," which simultaneously tells you everything and nothing about its premise and its appeal.
Created by Liz Flahive and Carly Mensch, known for their work on other smart, women-focused shows, and set in the 1980s, G.L.O.W. is based very loosely on the real, eponymous wrestling league.
On the show, struggling actress Ruth (Alison Brie) laments the terrible state of acting roles for women in Hollywood after she's rejected from yet another audition. Soon, Ruth, and other hopeful women, looking for something beyond ingenue and secretary roles, stumble into the world of amateur women's wrestling.
Initially thinking of the whole performative ritual of wrestling as a joke, Ruth eventually commits to her new gig, even finding a way to contend with the participation of her friend-turned-nemesis Debbie (Betty Gilpin).
Not only does the show feature over a dozen main and recurring women characters in unconventional, striking roles and tackle some weighty subject matter against the backdrop of glittery costumes and stage combat—but its set was also once described by Gilpin as a "feminist bio-dome," an exemplar for how to create and nourish talented women.
Looking for a smart comedy to take your mind off the current state of the world?
---