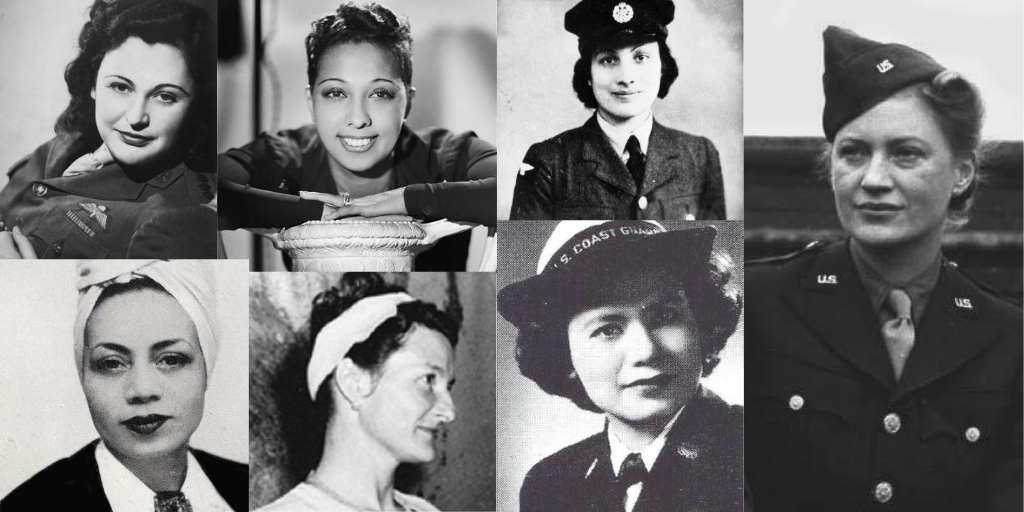 In these times of unrest, lockdowns and change, and on the 75th Commemoration of the End of World War II, it feels more appropriate than ever to see what lessons we can take from pivotal moments in history, and the actions of those who came before us. After all, as George Santayana wrote in 1905: "Those who cannot remember the past are condemned to repeat it." 
In looking back on history, it is imperative we re-examine, expand our understanding, and in some cases, take inspiration.
I have long had a passion for history's under-told stories, in particular the extraordinary women of the WWII era—and there are so many women who we have not heard enough about.
In recent years, with evidence of rising fascism, and even Nazi symbols proudly displayed at marches, the hard lessons of WWII and the postwar period continue to resonate, spurring me on to write my thirteenth book, The War Widow, which I dedicated to my Oma and Opa—ordinary citizens who did extraordinary things to escape the Nazis in occupied Holland. The War Widow is a novel in the hard-boiled tradition, but with a twist, and is unashamedly centered on ordinary people—not generals, royals and politicians—but on the women who are too often overlooked in our retelling of history.
In it, my main character—war reporter turned private inquiry agent Billie Walker—pushes against the workforce prejudices of 1946 Australia, as does her informant and friend, Shyla, a Wirajuri woman who deals with the compounded prejudices experienced by Aboriginal women. The world these brave women inhabit is one of danger, massive social and political change, disabled and traumatised soldiers returning from overseas, and ongoing racial and class divisions. It is a world torn by war, and where injustice continues.
While my novel doesn't take directly from any one woman's real-life story, the characters are inspired by the indomitable women of the period who rejected the entrenched prejudices of gender, race, disability and religion, to achieve incredible feats.
Below, I share a brief look at just a seven such women. Their deeds and sacrifices deserve to be known as widely as their male counterparts.
In no particular order, here are seven indomitable women of WWII you should know:
Florence Finch
Tortured by the Japanese army with electric shocks and confined to a tiny cell, Finch refused to talk.
"Women don't tell war stories like men do," Florence Finch's daughter, Betty Murphy recently told the New York Times after her mother was buried with full military honors after passing away at the age of 101.
In the case of Finch—the Philippine-born daughter of an American father and Filipino mother—practically no one outside of her family knew that she was a highly decorated veteran, having received the Medal of Freedom in 1947, the nation's highest award to a civilian.
Finch was working as a stenographer for army intelligence headquarters in Manila, when it fell to the Japanese. She then convinced the occupying forces that she was Filipino and got a job writing gas rationing vouchers, which she cleverly used to aid the resistance movement. Her job enabled her to divert fuel supplies and sabotage Japanese shipments.
She later went on to smuggle food to starving American prisoners before being caught by the Japanese army and tortured, confined to a two-by-four-foot cell. Despite being tortured with electric shocks, Finch refused to talk. She survived only to be sentenced to hard labour, and when American troops finally freed her on February 10, 1945, Finch reportedly weighed just 79.8 pounds.
The Coast Guard named a building on Sand Island in Hawaii in her honour in 1995.
Virginia Hall
Imagine fleeing on foot over a mountain range, in deep snow, pursued by Nazis, and doing all this with one leg.
It is perhaps ironic that Virginia Hall's bid to work as a diplomat with the American Foreign Service was denied because of her disability, yet by the end of WWII she had become the SOE's first female resident agent in France and had proved herself a fearless spy.
An American who worked in German occupied France as a British espionage agent, Hall lost the lower part of her leg in a hunting accident before the war, and used a seven-pound wooden prosthetic that she lovingly nicknamed 'Cuthbert'.
To the French, Hall became known as "la dame qui boite"—the limping lady—and to the Germans she was "Artemis," one of the most dangerous Allied spies. Among other feats, she worked undercover posing as an American journalist from the New York Post, planning and organizing resistance movements.
Later in the war she worked mostly alone, as a wireless operator—a highly dangerous job at the time—disguising herself as an elderly peasant and even filing down her teeth to make her disguise more convincing. When she was forced to flee her position as Nazis closed in on her in 1942, she set out on a three-day journey over the Pyrenees mountains on foot in heavy snow, despite having only one leg, and eventually became the most decorated female civilian in WWII, and one of the first women to work for the CIA. It again goes to show you shouldn't discount the more than one quarter of the population who have disabilities. You may well be turning down the best talent for the job.
Jane Vialle
She survived a concentration camp, was so expert at coding that the Nazis couldn't uncover her secrets, and went on to a brilliant career as a senator to further women's rights.
Jane/Jeanne Vialle was born in what is now the Republic of Congo, but raised and educated in France. Like my main character Billie Walker, she worked as a journalist when WWII broke out. Vialle joined the French resistance in 1940, gathering intelligence on Nazi movements across France.
In 1943 she was arrested in Marseille and charged with treason. The Vichy French prosecutor stated that her communications were so expertly coded that even when the Nazis raided her house, they couldn't crack them. Vialle was sent to a concentration camp, and later a women's prison, but she survived to escape or be released. (Records differ on this. As is the case with too many black women's histories, their stories are untold or incompletely documented.)
Her actions during the war earned her the Resistance Medal by the French government, and after the war she was elected to the French Senate as a representative of Oubangui-Chari (today's Central African Republic) and co-founded an economic cooperative called L'Espoir Oubanguien (Oubanguian Hope).
Vialle was a staunch supporter of women's and girls' rights, and in 1948 founded l'Association des femmes de l'Union française d'outre-mer et de métropole (Association of Women of the French Union) to encourage and support the education of girls from France's colonies.
---
If you found this article helpful, please consider supporting our independent reporting and truth-telling for as little as $5 per month.
---
Lee Miller
Miller covered battles during WW2, and was even arrested for it by the U.S. Army because of her gender.
New York-born former Vogue fashion model and surrealist muse, Lee Miller was an accomplished photographer and correspondent during WWII.
I am often asked if women in the 1940s really were private investigators or indeed war correspondents. There were, in fact, many—though in terms of war correspondents, almost all of them were with the U.S. forces, as the British Army would not allow women reporters to be accredited. Lee Miller stands out for many reasons, not least the quality and power of her images, and the fact that she saw many battles up close.
At the siege of St. Malo in 1944, Miller was the only photographer present and she covered the battle alone for several days. After the battle, the U.S. Army arrested Lee for violating the terms of her accreditation, which banned her from covering conflict because she was female. Despite this, Miller went on to continue to take some of the war's most compelling and important images, including piles of bodies and skeletal survivors at Dachau and Buchenwald concentration camps, which shocked the world.
She was also one of few to witness and document a NAPALM bomb, though her images of it were censored and forbidden to be shown until after the war.
Arguably the most famous portrait of Miller was taken by David E. Scherman when they were in Adolf Hitler's apartment and she took off her dirty boots, covered in filth from documenting the atrocities at Dachau, and took a bath.
Her son, Antony Penrose, told the UK's Telegraph:
"She was sticking two fingers up at Hitler. On the floor are her boots, covered with the filth of Dachau, which she has trodden all over Hitler's bathroom floor. She is saying she is the victor."
Noor Inayat Khan
Khan broke away from a noble Muslim family to prove the worth of Indian citizens in war, only to be ratted out. But she still refused to give up her secrets.
Noor Inayat Khan, also known as Nora Baker, or by her code name, "Madeleine," was born in Moscow to a noble Indian Muslim family and raised in England and France. Noor believed that if Indians distinguished themselves in the war it might break down the racial prejudice against them, and so joined the Women's Auxiliary Air Force, becoming the first female wireless operator to be sent from Britain into occupied France during WWII.
A pacifist, influenced by the teachings of Ghandi, Noor wanted to serve, but she didn't want to kill anyone. She felt that volunteering for this dangerous position was the best way she could serve the British, improve the status of Indians in the Empire and maintain her ethical principles.
Noor was sent to France, but there was dissent within the cell that received her, and she was sold out to the Nazis. Khan was arrested, interrogated and tortured, and tried to escape twice. After her second attempt, she was kept in shackles and in solitary confinement for 10 months – still refusing to give up her colleagues. Ultimately, Noor was among those executed at Dachau. Her last word is said to have been "Liberté." For her brave service she was posthumously awarded the George Cross and the Croix de Guerre with silver star.
Josephine Baker
Best known for her immense talent as an entertainer, some of Baker's most valuable but lesser known skills were saving refugees and smuggling military secrets written in invisible ink on her sheet music.
Josephine Baker is famous as an American-born French entertainer and spy, and may be the only recognizable woman on this list.
A talented dancer and singer, in 1927 Baker caused a sensation performing at the Folies Bergère in Paris in a skirt made from bananas. In 1934 she also became the first African American woman to star in a major motion picture.
Her ongoing popularity in Paris in the forties gave her access to parties, embassies and ministries where high-ranking officials gathered, and rather than simply enjoy her position and focus on her career, Baker used her access to extract valuable top-secret information and pass it on to French military intelligence.
Once the Nazis occupied France, Josephine moved to the South of France and worked with the French Resistance, sheltering refugees and supplying them with visas and other support. Among other ingenious methods, she smuggled military secrets out of Nazi occupied France and forwarded it to England, written in invisible ink on her sheet music.
She had many close calls during her time as a spy, but Baker reportedly laughed off the danger, saying, "Who would dare strip-search Josephine Baker?" Her work with the French Resistance earned her the Croix de Guerre and the Lègion d'honneur.
Baker later returned to the U.S. after the war and went on to actively support the Civil Rights Movement, participating in demonstrations and boycotting segregated clubs and concert venues, arguing, quite rightly, that if African Americans could not attend her shows, she would not perform.
Nancy Wake
Wake killed a Nazi with her bare hands and achieved things her male counterparts could never have pulled off, including cycling 300 miles past Nazi checkpoints.
Known by the Nazis as "The White Mouse," Nancy Wake was born in New Zealand with English and Maori ancestry, and raised in Australia. Like my main character Billie Walker, Wake witnessed the rise of Hitler, Nazism and anti-Semitism in Europe in the 1930s, and some of Billie's 'recollections' in the novel are based on Wake's.
Wake was in France when it fell to Nazi Germany in 1940, and she joined the Resistance as a courier, smuggling messages and food to underground groups, sheltering Allied airmen and buying an ambulance to help refugees fleeing the German advance. Eventually her work became too well known and she was forced to escape to England, but her French husband was captured and executed.
Despite her husband's death, Wake continued to resist, joining the British Special Operations Executive that worked with the French Resistance. She was trained in espionage, bomb making and hand to hand combat and eventually parachuted into the South of France. During her time there, Wake became known for ensuring resistance groups in the region were well-armed and equipped.
Among other feats, she famously cycled over 300 miles past Nazi checkpoints to deliver a report, was involved in a battle between the Resistance and the Germans, and killed an SS sentry with her bare hands. After the War, she received the George Medal from the United Kingdom, the Medal of Freedom from the United States, the Légion d'honneur from France, and medals of recognition from Australia and New Zealand, becoming the Allied forces most decorated servicewoman of WWII.
It is said that when she was dropped behind enemy lines, Wake ensured she had a handgun, a satin cushion and her favorite red lipstick.
---