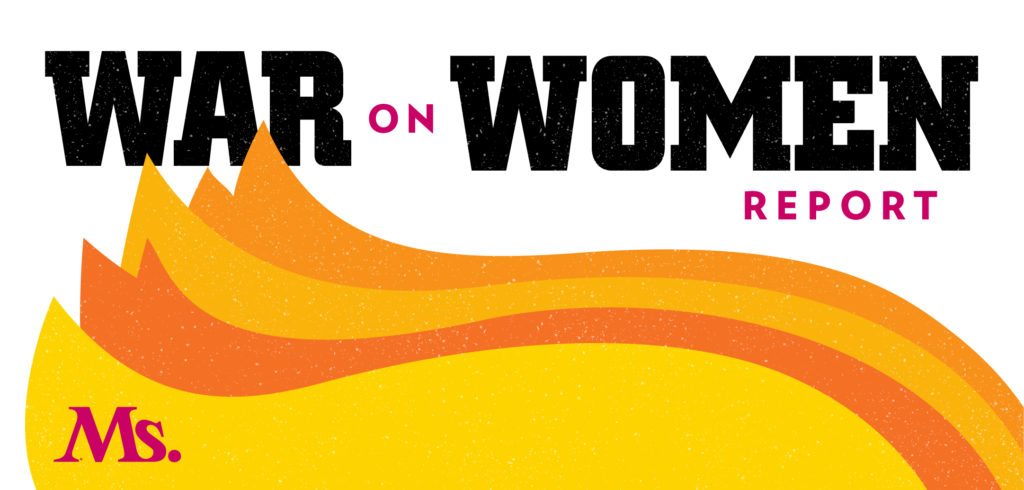 The War on Women is in full force under the Trump administration. We refuse to go back, and we refuse to let the administration quietly dismantle the progress we've made. We are watching.
This is the War on Women Report.
---
Since Our Last Report…
+ The White House was hit by another coronavirus outbreak, this time infecting Mike Pence's chief of staff as well as four other high-level aides. While Pence himself tested negative for the virus, the outbreak followed shortly after Trump himself tested positive, along with other White House officials. It seems only fitting that an administration that took so long to recognize the severity of coronavirus and to encourage mask-wearing would also be hit so hard by the virus.
+ Georgia Senator Kelly Loeffler had a similar experience last week, with two of her staffers testing positive for the virus last week. Loeffler, a well-known Trump supporter, also claimed this week to have never heard about Trump's problematic Access Hollywood Tape.
+ The Trump administration has reversed nearly 100 environmental regulations. These changes involve air pollution, drilling, infrastructure and water pollution—to name some of the most pertinent issues.
+ The partisan divide deepens amongst Americans as Election Day results continue to pour in. While key battleground states remain uncalled, Trump's campaign continues to lie, claiming any lead held by Joe Biden is a product of fraudulent mail-in ballots. They have announced plans to contest vote counts in states such as Wisconsin, and hinted that they may take their grievances to the Supreme Court if necessary.
Sunday, October 25
+ One year ago, Joe Biden tweeted that under Trump's administration, we "are not prepared for a pandemic." Biden warned that we need leadership that "mobilizes the world to stop outbreaks before they reach our shores." (Sound familiar?)
Monday, October 26
+ GOP senators succeeded in confirming Justice Amy Coney Barrett to the Supreme Court on Monday night. With this appointment, the Supreme Court has shifted to a firmly 6-3 conservative leaning. Barrett threatens the rights of women and the LGBTQ community.
In pushing through Barrett's confirmation, Republicans brushed aside much-needed coronavirus relief legislation.
+ White House advisor Jared Kushner belittled the historic and modern struggles of people of color, specifically the Black community. In an interview on Fox and Friends, he referred to efforts to reduce systemic inequality and racism as "complaining" on behalf of people of color. He also suggested that the Black community must want greater change in order to enact greater change.
+ The Supreme Court ruled that Wisconsin, a crucial swing state, will not be allowed to count mail-in ballots received after Election Day. This court ruling aligns with repeated efforts by the GOP and Trump administration to increase the difficulty of remote voting.
Tuesday, October 27
+ At a rally in Lansing, Mich., Donald Trump seemed to forget that in the 21st century, women—along with men—can hold careers and be successful bread-winners. In his ever-problematic quest to gain the vote of suburban women, Trump promised to get their "husbands back to work."
The coronavirus pandemic has disproportionately impacted women in the workplace. Trump's language seems to support an outdated idea of the heterosexual couple that paints men as bread-winners and women as housewives.
+ A federal judge issued a temporary blow against Donald Trump when he ruled that a lawsuit brought against the president for rape can continue to be carried out. This decision came after the Justice Department attempted to block a suit brought by writer E. Jean Carroll who alleges that Trump raped her in the 1990's and who has since been subject to defamation and verbal attacks by the president, who has called her a liar. The case will now be allowed to continue its way through the legal system.
---
If you found this article helpful, please consider supporting our independent reporting and truth-telling for as little as $5 per month.
---
Thursday, October 29
+ In a joint legal action, the NAACP Legal Defense and Education Fund, the National Urban League and the National Fair Housing Alliance, filed a federal lawsuit against Donald Trump. The suit specifically targeted the administration's "Executive Order on Combating Race and Sex Stereotyping"—which sought to censor trainings on race and gender equity. The lawsuit say's Trump's order violates rights including free speech, equal protection and due process.
+ Louisville Sergeant Jonathan Mattingly filed a lawsuit against Breonna Taylor's boyfriend, Kenneth Walker. On the night Taylor was murdered, Walker fired a shot that hit Mattingly's leg. The civil suit is on the basis of alleged "severe trauma, mental anguish and emotional distress."
Tuesday, November 3
+ While the presidential election is still a tight race, with many ballots yet to be counted post-Election Day, projections show women candidates prevailing in several local elections. All four members of The Squad—Reps. Ilhan Omar (D-Minn.), Alexandria Ocasio-Cortez (D-N.Y.), Rashida Tlaib (D-Mich.) and Ayanna Pressley (D-Mass.)—were reelected to their seats in the House, marking a victory for progressive women of color.
+ New Mexico, represented by three members of the House, became the first state to have a delegation composed entirely of women of color. Representative-elects Teresa Leger Fernandez (D), Yvette Herrell (R) and incumbent Deb Haaland (D) will serve in the 117th Congress, with the two latter candidates giving a voice to Native American residents of New Mexico.
+ Colorado likely elected their first Muslim state legislator, with Iman Jodeh (D) projected to represent District 41 in the state House of Representatives. Jodeh is a community activist and daughter of Palestinian immigrants.
+ Washington state's Marilyn Strickland (D) will represent District 10 in the House of Representatives, becoming the first Black woman from the state to do so.
+ Cori Bush (D), a Black Lives Matter activist and projected winner of Missouri District 1, will be the first Black woman to represent the state in Congress.
+ Sarah McBride (D-Del.) was elected as the country's first openly transgender state senator. She is a former Human Rights Campaign spokesperson, and beat her Republican challenger Steve Washington by a wide margin, ending with approximately 73 percent of the unofficial tally.
+ President Donald Trump took to Twitter on election night, claiming "We are up BIG, but they are trying to STEAL the Election. We will never let them do it. Votes cannot be cast after the Polls are closed!" He later reiterated claims of fraudulence during his address in the White House, despite a lack of evidence. States have a right to continue counting all votes that were legally cast on or before Election Day, which in some states includes mail-in ballots received after Nov. 3.
You may also like:
---