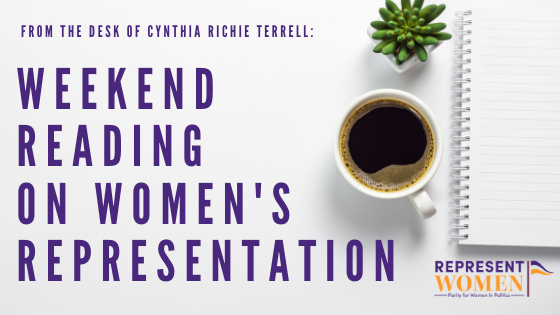 Weekend Reading on Women's Representation is a compilation of stories about women's representation in politics, on boards, in sports and entertainment, in judicial offices and in the private sector in the U.S. and around the world—with a little gardening and goodwill mixed in for refreshment!
---
Have you wondered how I collect the stories that I share on this blog each week? I read several daily newspapers and review the Google Alerts that I have set up to catch various terms like "women's representation" and "gender parity" which provides much of the content.
This week, however, a number of friends, allies and board members emailed me about the news that the mayor of Paris, Anne Hidalgo, had been fined 90,000 euros for appointing too many women to senior leadership positions. According to this story in The New York Times, Anne Hidalgo violated the rule that was previously established to ensure gender balance in decision-making bodies:
Nothing, it has been said, succeeds like excess.

Unless you happen to be the mayor of Paris, whose winning drive to bring women into the senior levels of her city government was deemed too successful.

After she managed to bring in 11 women to fill 16 top city jobs — fulfilling the spirit of a 2012 law aimed at correcting gender imbalances — she was slapped with a nearly $110,000 fine last week for appointing too many women to senior management positions.

"Far too feminist," Anne Hidalgo, the mayor, said with more than a hint of sarcasm.

Technically, the law under which the city was fined required that no more than 60 percent of one gender be appointed to top civil service positions in a given year. It was amended in 2019 so that there would be no fines if a disproportionate number of men or women were hired in any given year as long as the overall gender balance was respected.

But Ms. Hidalgo found herself running afoul of the law because she did the hiring in 2018.

Not that she minded.

"Today I am going to rejoice that we have been sentenced to a fine," Ms. Hidalgo said at a Paris City Council meeting on Tuesday. "It is with joy, shared with many others, that I learned last week that the city of Paris had to pay a 90,000 euro fine."

Still, Ms. Hidalgo said the "absurd" decision to issue a fine offered a chance to address systemic problems that persist across France, where the percentage of women in top Civil Service jobs was about 31 percent in 2018, according to official figures. Ms. Hidalgo, who was elected in 2014, is the first woman to lead the city's government, and she has worked hard to address longstanding imbalances in who represents the interests of Parisians.
---
While it is tempting to dream about the money that could be raised to support all of our work with a retroactive penalty for all the many elected & appointed bodies that have been all or mostly male for centuries, our work together must focus on building incentives and penalties to advance women's representation in the coming decades.
Ace researcher and writer Maura Reilly wrote this piece about some of the current uses of financial incentives, and penalties, to ensure gender balance, that offer terrific models to consider for widespread adoption:
This week, Anne Hidalgo, the second-term Mayor of Paris, made history becoming the first French official fined for appointing too many women to management positions within the city administration. In 2018, Hidalgo named eleven women and five men to senior level positions within her administration; with women holding 69% of the positions, Hidalgo failed to adhere to the 2013 national law requiring no single gender make up more than 60% of senior officials.

Although the law was amended in 2019 to include waivers for cases in which new hires do not create overall gender imbalance or inequality, Hidalgo's administration has been fined 90,000 Euros, roughly $110,000. A fine, which Mayor Hidalgo has stated she is not only happy to pay, she will deliver the check personally along with women in her administration to the Ministry of Public Service.

While the case in Paris is novel, financial sanctions and incentives to enforce gender quotas have been gaining popularity both in politics and business over the last decade. Political parties in Portugal and France which fail to uphold the 33% and 50% respective gender quotas on their candidate lists are fined according to their level of non-compliance. In Ireland, political parties which fail to nominate at least 30% women to the candidate lists, lose 50% of their state funding. While in Georgia, where no legislated gender quota exists, the government has incentivized political parties to have women make up 30% of the candidate lists by increasing the state funding for parties which achieve this.

Similar financial sanctions have been applied to increase the gender diversity of corporate boards both in Europe and the United States. Just this spring, the European Union Commission revived a plan which fined European-listed companies which fail to have women make up at least 40% of their board members. The legislation originally drafted in 2012 will be incorporated into the EU Commissions'larger five year gender equality strategy. Currently, women only hold 26.4% of non-executive board positions across all companies established in the EU.
France and Italy have both implemented national gender quotas for corporate boards. In 2011, France adopted a law which requires all companies with 500+ employees and revenues of over 50 million Euros to have women make up at least 20% of board positions. This later rose to 40% in 2014; if companies fail to comply, they are barred from paying their board members until the board composition is rectified. Italy implemented similar legislation in 2012, requiring women hold 20% of board positions upon first renewal and 33% on second renewal; companies which fail to reach these benchmarks face heavy fines from the government.

Closer to home, California has implemented a state law which requires public companies with executive offices in the state reach a set gender quota or face a state levied fine. The law, passed in 2018, requires all companies to elect a woman director to their boards, either by filling an open seat or adding a seat, by December 2019. And depending on the size of the board, an additional one or two women must be added by December 2021. Failure to comply results in a $100,000 fine for the first violation and upt to $300,000 for subsequent violations. Between 2018 and 2019, the percent of women on corporate boards in the state increased from 17.4% to 21.1% and is likely to continue to grow following the 2021 additions.
A study conducted by the University of London Business School found "businesses are more compliant with gender diversity regulations if it is enforced," and politics is no different. Political parties and our government have a role to play in improving women's political representation up and down the ballot; and, it is time they start using their money to make it happen. Democratic and Republican state parties can, and should, tie state party funding to their ability to recruit women candidates and appoint women to vacancies. Political appointments provide opportune moments to spur legislatures and cabinets toward gender parity. In RepresentWomen's home state of Maryland, 20% of all state legislators were appointed in 2019, and 50% had been appointed at one stage of their tenure.

Despite decades of demanding a seat at the table, women make up less than 30% of all elected officials in the United States. Women may have equal opportunity to run for office; but equality is far from equity. While our electoral system continues to favor incumbents, the majority of whom are men, parity cannot be achieved or sustained by simply allowing women to run. In response to her fine, Mayor Anne Hidalgo succinctly put it: "to promote and one day achieve parity, we must speed up the tempo and ensure that in the nominations there are more women than men."
---
If you found this article helpful, please consider supporting our independent reporting and truth-telling for as little as $5 per month.
---
While there have been a number of women appointed to the serve in the Biden-Harris administration, the appointment of Rep. Deb Haaland (D-N.M.) to be the next secretary of the interior was especially exciting as she will be the first Native American woman to serve in a Cabinet position.
This story in The Washington Post captures the historic nature of this appointment:
President-elect Joe Biden chose Rep. Deb Haaland (D-N.M.) Thursday to serve as the first Native American Cabinet secretary and head the Interior Department, a historic pick that marks a turning point for the U.S. government's relationship with the nation's Indigenous peoples.

With that selection and others this week, Biden sent a clear message that top officials charged with confronting the nation's environmental problems will have a shared experience with the Americans who have disproportionately been affected by toxic air and polluted land.

"A voice like mine has never been a Cabinet secretary or at the head of the Department of Interior," Haaland tweeted Thursday night. " … I'll be fierce for all of us, our planet, and all of our protected land."

In addition to Haaland, Biden has turned to North Carolina environmental regulator Michael S. Regan to become the first Black man to head the Environmental Protection Agency, as well as Obama administration veteran Brenda Mallory to serve as the first Black chair of the White House Council on Environmental Quality.
---
Thomas Friendman wrote a very interesting piece in The New York Times about the role that Vice President-Elect Kamala Harris could play in the new administration:
I was speaking recently to Matt Dunne, founder of the Center on Rural Innovation, which promotes digital economic development in small-town America, and he was telling me about a Vermont community near his home with a great public library: "You could drive by on any Sunday and the parking lot would be full," he said. "There was just one problem: The library was closed on Sundays."

The parking lot was full of cars with kids doing their homework and adults doing their office work — using the wireless connectivity spilling out of the empty building because their rural homes lacked high-speed broadband. Alas, stories abound of rural Americans going to Subway sandwich shops and Dairy Queens in search of free Wi-Fi.

And that is why I want to talk today about Vice President-elect Kamala Harris.

Harris is too smart and energetic to be just the vice president, a position with few official responsibilities. I'd love to see President-elect Joe Biden give her a more important job: his de facto secretary of rural development, in charge of closing the opportunity gap, the connectivity gap, the learning gap, the start-up gap — and the anger and alienation gap — between rural America and the rest of the country.

President Trump feasted off those gaps in our last two presidential elections to dominate Democrats in rural America. Putting Harris in charge of fixing them would be a real statement by the Biden team.
It would provide a vision for American renewal and signal that Democrats were no longer going to cede rural America to Republicans but were instead going to seize it from them. And it would make Harris a super-relevant vice president from Day 1.
---
Appointing women to office is by far the quickest way to advance women's representation and leadership—the impact of appointing women to office is especially powerful in high-profile offices like Cabinet members and senior leadership positions.
A team of writers at FiveThirtyEight—including Meredith Conroy, Anna Wiederkehr and Nathaniel Rakich—tallied the number of women who have been appointed to leadership positions by President-Elect Biden in this piece:
On Thursday, President-elect Joe Biden tapped Deb Haaland to be the first Native American secretary of the interior. As we wrote earlier this week, Biden is on track to name a historic number of women and people of color to his Cabinet

Though the president's Cabinet is meant to expose him to a diverse set of perspectives and backgrounds, until recently, that meant diversity of geography or ideology, not diversity of gender or race. It took until 1933 for the first woman to be appointed to a Cabinet position (Labor Secretary Frances Perkins) and 1966 for the first African American (Secretary of Housing and Urban Development Robert Weaver). And even since then, women and people of color have consistently been underrepresented in the Cabinet.

But Joe Biden's administration seems determined to change that. The president-elect has chosen 11 people of color for Cabinet-level posts so far and has promised that his Cabinet will be the most racially diverse in history. And as of Thursday, Dec. 17, he has now chosen 10 women (compared with nine men) to serve in these positions as well.

According to our research, if they're all confirmed, it would break the record for the most women ever to serve in the 25 current Cabinet-level positions. It also raises the possibility that Biden's Cabinet could be the first in American history to include at least as many women as men.

But while gender parity represents progress, numeric representation in and of itself doesn't mean that men and women have equal political power and influence. For example, women have historically been underrepresented in the "inner Cabinet" — the vice president, attorney general and secretaries of state, defense and treasury — who typically have the closest ties to the president. And although we can expect a number of firsts under Biden (the country's first female vice president, treasury secretary and director of national intelligence5), a handful of Cabinet-level posts still have yet to be led by a woman. Historically there have just been fewer women than men in careers relevant to these roles, and those who are floated for these offices often run up against gender stereotypes that women lack the traits to succeed in them.
President Joe Biden is nominating and appointing a record number of diverse women to hold leadership roles in the Biden-Harris administration. Allow Ms. to introduce you to all the women appointed to join this historic administration.
---
Women's leadership and representation is under discussion in Zimbabwe as well, according to this story in the NewsdzeZimbabwe that reports on proposals for gender quotas to ensure women's voices are heard in government. (I am not able to copy and paste text from the story but I promise that it's worth reading!)
---
The organization my husband started and runs, FairVote, has released its Monopoly Politics report, which explains how partisanship of districts is the biggest indicator of which party will win which seats. Kudos to my smart husband for thinking up this formula before the Cook Political Report took it as their own and for shedding important light on who gets elected and why.
Read Aaron Blake's piece in The Washington Post for more details:
One of the increasingly prevalent arguments spun by President Trump and his allies when it comes to supposed voter fraud in the 2020 election is this: Republicans had, by and large, a pretty good election below the presidential level. They gained significant ground in the House and probably held the Senate — as long as they don't lose both Georgia runoffs. So how on earth did Trump lose?

The answer is actually pretty simple: Our elections increasingly look more like parliamentary ones, and given that, the results make a ton of sense.

New data from the election-reform group FairVote sheds some light on how the battle for the House played out. The big takeaway: Our politics are increasingly less about people and incumbents and more about party. We've been talking about increased polarization for many years, but the 2020 election really drove it home. The results for Congress affirm the fact that Republicans writ large lost the election, even though it might have been closer than many expected.
The 2020 election, though, continued an increasing decline in that advantage.

FairVote's formula for "incumbency bump" is somewhat complex; it combines how much voters favor incumbents overall in a given election and the incumbent's performance relative to how an average candidate would have been expected to do based upon past results.

While incumbents gained nearly eight percentage points from this advantage in the 2000 election, that number has steadily dropped to 1.5 points in the 2018 midterm elections and 1.4 points in the 2020 election. In other words, there is increasingly little daylight between being any old candidate with an "R" or a "D" next to your name and someone with those labels who currently holds the seat.
---
If you are looking for gift ideas check out this list of feminist books for children developed by the RepresentWomen team and written about in Ms. Magazine—a book about my great great aunt Hannah even made the list!
---
That's all for this week! Have a safe and happy holiday!
---