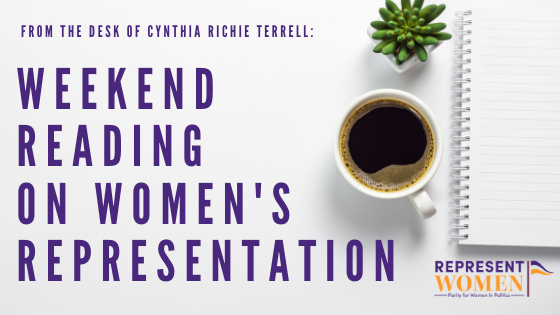 Weekend Reading on Women's Representation is a compilation of stories about women's representation in politics, on boards, in sports and entertainment, in judicial offices and in the private sector in the U.S. and around the world—with a little gardening and goodwill mixed in for refreshment!
---
Paid leave is established law in all other developed countries—but families in the United States continue to struggle to care for children, parents and loved ones without jeopardizing their employment. While paid leave is essential across all sectors, RepresentWomen promotes its adoption for elected officials to ensure that caregivers can serve effectively once elected to office.
Melinda French Gates brings renewed focus to the imperative of passing paid leave legislation in Congress with a compelling piece in TIME Magazine:
"This is a once-in-a-generation opportunity," a member of Congress told me earlier this summer. We were talking about the chance to pass a desperately needed, long overdue national paid family and medical leave law. After decades of groundwork by advocates and activists, this must be the year that the United States finally moves to guarantee paid leave for all workers.

It's difficult in these divided times to find issues that Americans overwhelmingly agree on, but paid leave is one of them. Seventy-five percent of U.S. voters across party lines support a national paid family and medical leave policy, according to a survey conducted by Invest in America and Data for Progress. That includes 64% of Republicans and 91% of Democrats. In another survey, by the Global Strategy Group, 69% of likely voters across seven battleground states told pollsters they'd even be willing to pay more in taxes in exchange for the protection of a national law.

Why has paid leave generated such broad support? Probably because it solves a problem that is as universal as it gets. At some point in our lives, almost everyone who works will need time away from their job to take care of themselves or someone they love. A new baby, an aging parent, a sick family member, a startling diagnosis: these are constants of life. Workers want to know that when the inevitable happens, they'll be able to stay connected to their jobs and maintain some financial security. At the same time, employers want to support their employees while attracting top talent, reducing turnover and boosting productivity—which is harder in a country that doesn't help employers provide paid leave.

Unless Congress acts, the United States will maintain the dubious distinction of being the only industrialized nation that doesn't guarantee paid leave of any kind. As a result, only about one in five private-sector employees has access to any paid family leave through their employer. For the lowest-wage workers—the people who can least afford unpaid time away from work—that number is one in twenty.

Instead of making it possible for U.S. workers to be active parts of their families and the economy at the same time, our country has long operated on the wildly outdated assumption that we all have stay-at-home partners to handle the caregiving. This may be because so many of the people who set policy in this country are in precisely that position. A telling example: in 2019, Congressman Colin Allred became the first member of Congress to publicly take paternity leave in the institution's 232-year history. Now that most mothers work outside the home—and only about one in four parents has a partner who doesn't—it's time to catch up to the fact that our economy is powered by people with caregiving responsibilities.
---
Action on paid leave is necessary at the federal level, but policy reform is also needed on the state level to safeguard and advance women's equity—as this piece in the The Daily Utah Chronicle by Sarah Bueing argues:
We know that legally protecting women's rights will effectively promote equal treatment because it has worked elsewhere. Iceland, which has held the title as the most gender-equal country in the world for nine years straight, exemplifies this. In 2000, the country passed the Act on Equal Status and Equal Rights of Women and Men. Iceland also became the first country in the world to require that public and private businesses prove that they offer equal pay regardless of gender, in 2017.

Back here in the U.S., Utah shares a border with the country's most gender-equal state, Nevada. Numerous factors contribute to their more equitable reality. For instance, they implemented the Fair Employment Practices Act (FEP), which prohibits employment practices that discriminate on the basis of sex — including pregnancy and childbirth. Gonzalez recommended "legislation and policies regarding women in the workplace, better cultural attitudes and transparency in the hiring and promotion process."

When providing these protections, Utah will see improvements in other areas of society. They would likely encourage the increases in women's representation that we need to establish long-lasting equality. Gonzalez said, "Most of the states that ranked at the top have either more women or an equal number of men and women lawmakers in the U.S. Senate." In order for a government to represent its people, it needs to value women's perspectives.

Our state and national governments have and will fail us as long as they continue to deny women equally protected rights. The data speaks for itself. The states and countries that have realized better environments for their women got there by establishing protections that we still have not. If we can learn anything from the comparisons these studies provide, we should learn to follow what's worked.
---
Advancing women's economic equity through paid leave and fair employment provisions is critically important, but intentional actions are also needed to ensure women are appointed to political offices. This article in Boston News reports on efforts to pass gender balance rules for public boards in Massachusetts—here is an excerpt:
A number of state boards and commissions would need their memberships to better reflect the state's population based on gender, race, and ethnicity under legislation that advocates say would balance out the makeup of high-profile public bodies.

The bill (H 3157 / S 2077, filed by Rep. Patricia Haddad and Sen. Jason Lewis, was highlighted Wednesday as a way to increase diversity and parity on permanent boards and commissions. The State Administration and Regulatory Oversight Committee held a hearing on the bill Monday where Haddad, Treasurer Deborah Goldberg, and several other lawmakers expressed their support for the proposal.

The bill is aimed at entities like the Board of Elementary and Secondary Education, the Health Connector, Health Policy Commission, Board of Higher Education, and the Massachusetts Port Authority board, to name a few.

"The idea being that we, the state officials, have direct control and authority over those boards and commissions where the appointments are made by state officials like the governor, attorney general, secretary of state, treasurer, House speaker, or Senate president," Lewis told the News Service. "We want our state government to lead by example so hopefully passing this bill and getting to gender and racial parity will lead to further efforts also in the municipal sector as well as in the private sector."
---
Finally, some good news.
Albania makes history with its first female dominated government. 12 women in the 17 member cabinet. 👏🏼👏🏼👏🏼 #Albania pic.twitter.com/DnHtWjyTLd

— Asieh Namdar (@asiehnamdar) September 18, 2021
There was exciting news from Albania this week where women now make up the majority of the cabinet according to this story in DW:
The Albanian parliament on Friday approved a Cabinet dominated by women, following a 20-hour parliamentary debate.

The country's parliament voted 77-53 for the new Cabinet under Prime Minister Edi Rama.

Of the 17 Cabinet seats, 12 will be held by women.

Moving up global rankings

The newly reelected premier said his new government "will enter history as the Cabinet with the highest number of women."

Albania now ranks fifth globally in women's representation in Cabinet, according to the latest UN figures.

The 57-year-old politician has assigned women to top positions throughout his career.

Gender discrimination 'far from over'

Ahead of the vote, Rama said discrimination against women was still prevalent in Albanian society.

"The battle against gender discrimination and domestic violence remains very open and far from being won," he said.
---
Elections were held in Canada this week—while it's too soon to know the exact number of women who will hold seats in parliament it's clear from articles like this that the balance of power did not shift significantly despite Trudeau's efforts to win a majority:
One day after an election Prime Minister Justin Trudeau called a "pivotal moment" in his country's history, Canada seems to have pivoted right back where it started.

Mr. Trudeau eked out a slim victory on Monday after voters turned out in record-low numbers, but his Liberal Party's share of power in Parliament remains virtually the same as it was during the last session of Parliament. So does every other party's.

That helps explain why some Canadians are calling it the election to nowhere.

And the winner may turn out to be the loser. Critics say the vote may have undermined Mr. Trudeau's credibility and reinforced the notion among many Canadians that he is a political opportunist.
---
The Head of the Council of Europe Office in Ukraine, Steen Nørlov, discussed the impact of gender quotas on women's political representation in Ukraine at a gathering held this week according to this post on the Council of Europe website:

In recent years, the level of women's political representation in Ukraine has been improved, particularly, due to gender quotas introduced in the election legislation. This was emphasized by the Head of the Council of Europe Office in Ukraine Steen Nørlov during a special interview within the framework of the V Ukrainian Women's Congress, held in Kyiv on 15-16 September 2021.

"We see a greater representation of women — it moved from 15-18% to more than 30% at the regional and local levels — and that is the direct consequence of the change of the Electoral code", said the Head of the Council of Europe Office in Ukraine.

"As you know, women in Ukraine are the majority of the population, so obviously there should be more women in the Verkhovna Rada. We think that there is room for this — all experience from Europe and other countries shows that in order to promote this participation we need more legislative efforts — in other words more quotas — to break the curve", said the Head of the Council of Europe Office in Ukraine.
---
Parliamentary elections will be held in Iraq on October 10th and an impressive 30 percent of the candidates running for office are women according to this story in Texas News Today:
A strong combination of anxiety and traditional prejudice against more liberal female politicians led Awatev Rashid to run for parliament when he returned to Iraq in 2014 after spending years abroad. I stopped doing it.

Seven years later, as Iraq's instability eased, Rashid decided to challenge the October 10 parliamentary elections, even if the abuse and intimidation of female parliamentarians continued.

Currently, she is one of 951 women, accounting for nearly 30% of the total number of candidates, and is running for election in the country's 329-seat National Assembly.

Passing the new Domestic Violence Act and representing women in government agencies is one of the goals of some female parliamentary candidates.

Rashid scrolled through his smartphone to see a photo of the torn campaign banner, with tears crossing the image of her face exactly.

"Of the 38 banners I posted in my city of Basra, 28 were damaged and 4 disappeared," she said.

In 2000, Rashid fled the Saddam Hussein administration to Canada, where she first launched a campaign for women's social and political empowerment. It led to a career path that continued after she returned to Iraq.

But at the time, "the parties did not easily accept women like me with a gender perspective," she said, adding that her family was also worried about Iraq's political violence.

Iraq introduced measures to protect female candidates this year, but discrimination remains significant. Instead of notifying the police first, they can report the violence directly to the judicial investigator. The Interior Ministry has a dedicated hotline for receiving complaints from female candidates.
---
A new group—the Ranked Choice Voting Coalition—launched in California this week with a lot of energy for reform. Shawn Griffiths from the Independent Voting Network wrote about the new effort:
Could ranked choice voting soon come to the nation's most populous state? That is the goal of a new coalition that officially launched on Tuesday, September 21.

The California RCV Coalition introduced itself to the public during a public Zoom event at a point when ranked choice voting (RCV) is having a moment. RCV is the fastest spreading voting reform in the country, and coalition members hope California will build on both the popularity and success of reform efforts.

"There has been a lot of momentum in the state," said Tom Charron, who represented the group in a recent interview for IVN. "We've been seeing the results of ranked choice voting, and the positive effects it has had on local elections, but what there hasn't been is the momentum at a statewide level."

Charron said the goal of the coalition is two fold: (1) Over the long-run, achieve statewide RCV adoption, and (2) — In the short term — offer support to local RCV campaigns to spread the use of the alternative voting method in the state.

Coalition members understand that getting RCV passed at the statewide level is going to be a long game. It is the largest state in the country, and garnering the support and resources to launch such an endeavor, Charron says, will take time. The strategy to make this happen will also require input from coalition members, supporters, and volunteers.

Voters in the Golden State are not completely unfamiliar with RCV, so the coalition will have some foundation from which to work. RCV is already used in a handful of municipalities, including San Francisco and Oakland. Albany, Eureka, and Palm Desert are slated to implement its use in 2022.
---
There is an exciting push for ranked-choice voting in Washington, D.C., led by council members and community organizations! Sign up here for a virtual training on October 20 on how you can support the VOICE Act legislation. The D.C. Line reported on the introduction of the VOICE Act in July of 2021:
Councilmember Christina Henderson along with Councilmembers Charles Allen, Brianne K. Nadeau, Brooke Pinto, Mary M. Cheh, Elissa Silverman and Janeese Lewis George introduced the Voter Ownership, Integrity, Choice, and Equity (VOICE) Amendment Act of 2021. This legislation would introduce ranked choice voting to the District of Columbia for our 2024 elections, with an accompanying public education campaign about the transition.

"Ranked choice voting is a system that will allow voters to rank up to five candidates in order of their preference. Data shows RCV better supports women, people of color, and first-time candidates when running for office," said Councilmember Christina Henderson. "With the unofficial results of New York City's primary election — the largest jurisdiction to use RCV — voters elected the second Black Mayor in the city's history, the first ever majority female City Council, and an overwhelming number of voters ranked three or more candidates. As DC's elections become more competitive, it's time to consider whether a new process for selecting our elected officials is needed."

The VOICE Amendment Act would enable voters to rank up to five candidates for a particular office in order of their preference. If a candidate receives more than half of the first-choice votes, that candidate wins – just like any other election. However, if there is no majority winner after counting first choices, the race is decided by an instant runoff.
---
Register here for an event hosted by the Barbara Lee Family Foundation on strategies for women incumbents:
Earlier this year, the Barbara Lee Family Foundation released STAYING POWER: Strategies for Women Incumbents, groundbreaking quantitative and qualitative research on how women who are in executive office can most effectively communicate with voters in the current political climate. This research reveals the specific challenges women face while seeking reelection, including voters' stubborn default position of perceiving executive-level leaders as male, and it identifies tactics to overcome those challenges.

Previous Barbara Lee Family Foundation research established that voters recognize the different and higher standards women face when running for office, and showed that voters are aware of the role sexism plays in political campaigns. STAYING POWER now illuminates how voters perceive women leaders who are seeking subsequent terms in office, and how voters judge messages about women's records as elected officials. With more women holding elected office than ever, these findings are critical to understanding how gender influences leaders' political trajectories.

This webinar is in partnership with Christine Matthews of Bellwether Research and Celinda Lake of Lake Research Partners, and hosted by Amanda Hunter from Barbara Lee Family Foundation.
---
I am excited that my dear friend Sharon Nelson has launched the Ruth Hassell-Thompson Institute for Civic Engagement and that the amazing Lisa Powell Graham is the lead instructor. My husband Rob Richie and I will be speaking about the power of ranked-choice voting this Saturday—to learn more and register click here!
---
I think you will love the new book Good Girls Don't Make History by Elizabeth Kiehner who writes:
History has rarely been told from a woman's point of view. Take a roller coaster ride with three generations of unstoppable women who fought relentlessly for the simple right to vote. Meet contemporary families, classmates and roommates who experience and discuss challenges facing democracy in America today. Good Girls Don't Make History reminds us that every single vote counts, and encourages the next generation of civic and political leaders.
Order your own copy to read and share!
---
I adore the moonflower vine in my yard – it blooms at dusk for just a few precious weeks & always reminds me of the poem my dear grandmother loved to recite by Fannie Stearns Davis:
I will go up the mountain after the Moon:
She is caught in a dead fir-tree.
Like a great pale apple of silver and pearl,
Like a great pale apple is she.

I will leap and will clasp her in quick cold hands
And carry her home in my sack.
I will set her down safe on the oaken bench
That stands at the chimney-back.
And then I will sit by the fire all night,
And sit by the fire all day.
I will gnaw at the Moon to my heart's delight,
Till I gnaw her slowly away.

And while I grow mad with the Moon's cold taste,
The World may beat on my door,
Crying "Come out!" and crying "Make haste!
And give us the Moon once more!"
But I will not answer them ever at all;
I will laugh, as I count and hide
The great black beautiful seeds of the Moon
In a flower-pot deep and wide.
Then I will lie down and go fast asleep,
Drunken with flame and aswoon.
But the seeds will sprout, and the seeds will leap:
The subtle swift seeds of the Moon.

And some day, all of the world that beats
And cries at my door, shall see
A thousand moon-leaves sprout from my thatch
On a marvellous white Moon-tree!
Then each shall have moons to his heart's desire:
Apples of silver and pearl:
Apples of orange and copper fire,
Setting his five wits aswirl.
And then they will thank me, who mock me now:
"Wanting the Moon is he!"
Oh, I'm off to the mountain after the Moon,
Ere she falls from the dead fir-tree!
---
Check out this week's suggested reading from the team at RepresentWomen:
If you found this article helpful, please consider supporting our independent reporting and truth-telling for as little as $5 per month.
Up next: