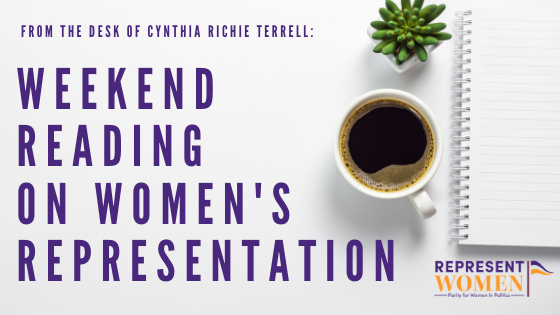 Weekend Reading on Women's Representation is a compilation of stories about women's representation in politics, on boards, in sports and entertainment, in judicial offices and in the private sector in the U.S. and around the world—with a little gardening and goodwill mixed in for refreshment!
---
On November 10, 1916, Jeannette Rankin, a Republican from Montana, became the first woman elected to the United States Congress. Rankin was elected from a multi-seat district but served just one term because Democrats switched to single-winner districts while she was in office—making it all but impossible for her to win reelection in 1918.
Rankin, a devoted suffragist and pacifist, ran again and served a second term from 1941-1943:
On July 13, 1916, Rankin, fresh off the suffrage victory, declared her candidacy as a Republican for one of Montana's two At-Large House seats. By 1916 women in states across the American West had won the right to vote, and Rankin was one of many women running for office that year. Much of the country's attention focused on Kansas, where close to 300 women were running for office at every level of government.8 In fact, few people outside of Montana even knew of Rankin's candidacy. The Anaconda Copper Company, the largest employer in Montana, owned most of the newspapers in the state and deliberately ignored Rankin's campaign.
Rankin, however, proved doubters wrong. Her platform supported a number of prominent issues during the Progressive Era—including nationwide suffrage, child welfare legislation, and the prohibition of alcohol.10 With wide name recognition, financial support from her brother Wellington, and unparalleled experience organizing supporters and getting out the vote, she won the Republican primary in August by more than 7,000 votes.11

Rankin's campaign style relied on the retail politics she had learned as a suffrage activist, meeting with individual voters and speaking to small groups across the state. Her campaign focused on domestic issues, and Rankin—a longtime pacifist—never backed down from her opposition to American intervention in the Great War, the devastating contest that had been raging in Europe since 1914.12 After one of Montana's two Democratic House incumbents announced he would not seek re-election, Rankin strategically courted Republican men and Democratic women in the general election.
---
My grandfather was traveling in France in his role as head of the American Friends Service Committee in 1919 when his brother—my great uncle—visited. Note the use of Quaker "thee and thy" in the letter above—a legacy of an era when "you" and "your" was used only for elites. That now, of course, sounds anachronistic.
I love imagining the two brothers attending the lecture by Jeannette Rankin—in which she mentions the "desirability of women's votes" and the benefits of proportional voting systems for people of color! And to have been in the same room with Jane Addams too… it must have been quite an evening!
---
There was a an interesting piece in Social Work Helper by Laurel Elder about the partisan divide among women in the elected office that has been growing since the early 1990s—until that time Democratic and Republican women got elected to Congress at roughly the same rate:
The modest success of Republican women in 2020 is in part due to women in the Republican Party—especially Representative Elise Stefanik—defying Republican traditions to call out the lack of women in the party as a problem and specifically recruit and fund women candidates, starting early in the 2020 election cycle. Republicans also benefited from having a more diverse group of women candidates.

Republican women of color in Congress increased from one in the 116th Congress to five in the 117th Congress. If Republicans continue with such efforts, they may continue the gains made in 2020. However, the huge prior advantage of Democratic women over Republican women coupled with high re-election rates will make the closing the partisan gap a steep challenge.

It remains unclear whether Republican Party leaders are interested or able to make sustained efforts to recruit more women candidates, especially those of color. The Republican Party has pushed one of its women members, Liz Cheney, out of a leadership position and failed to elect the widow of a deceased Republican member to an open seat in Texas. Indeed, the regional, racial, and ideological forces behind the partisan gap for candidates and office holders portend a further widening, not narrowing, of the partisan gap among women in elective office—unless Republican leaders across the board to take strong, proactive steps are taken to counteract those forces.
---
RepresentWomen team members Paige Chan and Kaycie Goral wrote a good summary of election highlights for women in Ms.:
Michelle Wu (D) became the first woman, the first Asian American woman and the first person of color elected as mayor of Boston. This election significantly departed from the city's usual political environment, with no incumbent seeking reelection, and created a fruitful scenario for multiple women of color to run for the mayor seat. In this year's primary for the open seat race, all major candidates (Andrea Campbell, John Barros, Kim Janey, Wu and Annissa Essaibi-George) were people of color, and four out of five were women.In 2021, 32 cities held 71 races that were determined by ranked-choice voting, excluding the NYC primary races. Most of them were held on Tuesday. As RCV is adopted in cities across the country, it's important to see the system's impact on women running for office. 

In these races, one-third of the candidates were women. That one-third of women won in 85 percent of the cities and made up 45 percent of all RCV winners.

*18 women won as incumbents, 18 won in open-seat races, and eight won as challengers.

*Women saw victories in cities that have long used RCV, such as Cambridge, Mass., where it has been used since 1941—and in cities using it for the first time, such as South Salt Lake, Utah.

*In Minneapolis, similar to in NYC, although a woman did not win for mayor, the second and third finishers were women. They were the only two women candidates in the field of 18.
---
Julianne McShane wrote in The Lily about some of the women candidates who were elected to the NYC Council earlier this month and 21 in 21 that helped to recruit and support many of the candidates:
Melissa Mark-Viverito's (D) 2006 election to the New York City Council to represent the neighborhoods of northern Manhattan and the South Bronx was historic: She was the first Puerto Rican woman and Latina to represent her district, and she was elected to the 51-member council along with 17 other women across the city, who constituted what was — until Tuesday — the highest-ever number of women in the legislative body, according to a 2017 New York Times editorial.

But by the time Mark-Viverito left the council 2017, there were only 13 women left, according to a report published that year by the council's Women's Caucus. That put New York City among the top three cities in the country, along with Houston and Los Angeles, with the least representation of women in its council.
---
I am pictured here with Jessica Haller, CEO of 21 in 21, and ranked-choice voting champ Andrew Yang at a FairVote event in NYC on Monday.
Mark-Viverito, fellow former council member Elizabeth Crowley (D), and current council member Margaret Chin (D) knew something needed to change. So they co-founded 21 in '21, a nonpartisan organization whose goal was to help elect at least 21 women to the council by 2021. Ahead of this year's primaries, the organization endorsed 74 candidates, all but one of whom were Democrats, reflecting the party's dominance in the city's politics, according to executive director Jessica Haller.

On Tuesday, the 21 in '21 team got even more than they hoped for: Thirty-one women were elected to the New York City Council, 25 of whom the group endorsed. The 31 women will form the council's first-ever women majority when they are sworn in January. Only five of the newly elected women were incumbents, and two of the women elected were Republicans. Currently, only 14 women are in the council.
---
I am excited to have authored this important piece in TIME Magazine with Jonathan Haidt: https://t.co/POdzLiW4yN

— Katherine Gehl (@katherinegehl) November 1, 2021
A piece by Katherine Gehl and Jonathan Haidt in Time Magazine this week makes the case for "[canceling] party primaries," calling them "the single greatest reason Congress can't deliver consensus solutions to our most pressing national challenges."
General elections, a hallmark of healthy, competitive democracies, should be as determinative as they are sacred. And while the health of New York City is critical, Congress, which has the same "primary problem," is the most pressing concern.

Thankfully, there is a much better way to elect leaders: It's called Final-Five Voting, and it was described by one of us (Gehl) as part of a 2017 Harvard Business School report on political competition, with co-author Michael Porter. It's also happening; one of the most important Senate races in the country next year will follow the methodology (more on that later.)

Final-Five Voting (FFV) is the combination of two simple changes: First, replace separate party primaries with a single primary offering one slate of candidates (all Republicans, Democrats, Independents and third parties on the same ballot) in which every registered voter is eligible to participate. The top five finishers from that open primary advance to the general election. Second, do what New York City should have done: use ranked-choice voting in the general election that follows the single open primary to determine the majority winner. Ranked-choice—also known as instant-runoff voting—is perfectly suited to a five-way general election because while five candidates delivers the benefits of dynamic competition, those benefits would be diminished if one of the five candidates were to win with a narrow plurality. Instant-runoff voting narrows the field to the final two before the winner emerges with a true majority.

Had New York City implemented Final-Five Voting, Adams' mayorship would not be a fait accompli four months before the election.

But of even greater import, by running a single open primary that sends multiple candidates—regardless of party—to the general, the votes and ideas of the currently disenfranchised Big Apple Republicans and Independents would begin to matter, even while Democrat voters would likely continue to dominate. Instead, by keeping the party primary intact, it's just more of the same election theater: fewer than 1 million Democrats—less than the number of active registered voters in some individual boroughs—have chosen the leader for the 8.3 million citizens. …

FFV changes the dynamics of elections, and in so doing it changes the incentives and behaviors of politicians before and after they are elected. It is a system that prioritizes healthy competition—with its incentives for innovation, results, and accountability. 
---
The Center for Responsive Politics and the Center for American Women and Politics shared new data and a report this week on the role that women play as donors in state legislative races—here is an excerpt from the conclusion:
Democratic women candidates fare well overall in the money race, though the structure of their campaign receipts may indicate that they have a more difficult fundraising path. Meanwhile, Republican women are not as competitive with respect to fundraising as Democratic women. These challenges may help explain why women are much better represented as Democratic than Republican state legislators.Men out-gave women as a share of contributors and in terms of total money contributed. But in some respects – particularly women who contribute to Democratic women candidates – women donors are at parity. This means that, to the extent that giving yields more voice in American politics, Democratic women candidates are more likely than other candidates to hear from women voters. However, women are still significantly underrepresented as donors to Republican campaigns, even in races that feature at least one woman candidate. 
---
Finally, Geena Davis writes about her work to address gender bias by ensuring gender equity on screen—especially for children's programming:
Media images are a powerful force in shaping perceptions of our value to society. When you see someone like yourself on screen, doing interesting and important things, you get the message: "There's someone like me. I must matter".

The stark gender inequality in media aimed at young children is significant, whether digital, television, movies or gaming, and wields enormous influence on kids who are developing a sense of their role and purpose in our society. And since children watch the same content repeatedly, negative stereotypes get imprinted again and again.

If the content we're making for them has a profound lack of unique and diverse female characters, boys and girls are unconsciously taking in the message that girls and women are not as valuable to our society as men and boys. This may inform their views throughout their lives.

My theory of change is this: one of the easiest ways to immediately influence the stubborn issue of gender inequality, in all sectors of our society, is to change what they see on-screen first. If it happens on-screen, it will happen in real life: life will imitate art.
That's all for this week my friends,
Cynthia
P.S. I loved the purple and gold flowers—suffrage colors—at the FairVote event this week in NYC! 
Up next: