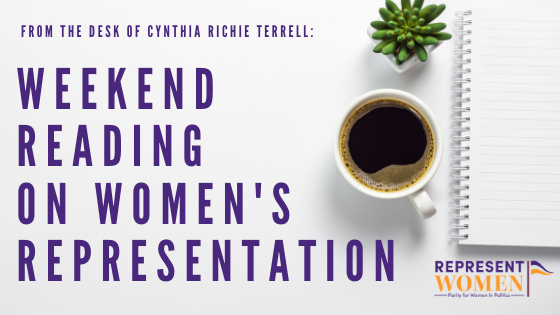 Weekend Reading on Women's Representation is a compilation of stories about women's representation in politics, on boards, in sports and entertainment, in judicial offices and in the private sector in the U.S. and around the world—with a little gardening and goodwill mixed in for refreshment!
---
A TIME magazine essay by Jennifer Weiss-Wolf highlights the overlap between feminism and democracy.
In 1971, Rep. Bella Abzug proposed that Aug. 26, the anniversary of the ratification of the 19th Amendment, be formally recognized as Women's Equality Day. Abzug, Gloria Steinem, Shirley Chisholm and Fannie Lou Hamer also formed the National Women's Political Caucus (NWPC). RepresentWomen shares a belief in the imperative of gender equality with the NWPC and the founders of Women's Equality Day.
Still, women are significantly underrepresented in most states. While women's political power has grown, systemic barriers persist, hindering progress on feminist goals. The overturning of Roe v. Wade and the struggle for the Equal Rights Amendment demonstrate the ongoing battles for women's rights.
According to our 2023 Gender Parity Index (GPI), only two states have achieved gender balance in elected office. The U.S. as a whole is about halfway to parity. Our research confirms that jurisdictions with greater percentages of women in office have led to feminist issues becoming a priority.
Winning the Match, Losing the Game: The Women's World Cup Becomes a Battleground for Gender Equality
SPAIN ARE WORLD CHAMPIONS!!! 🇪🇸#BeyondGreatness | #FIFAWWC pic.twitter.com/x4liWtvgpN

— FIFA Women's World Cup (@FIFAWWC) August 20, 2023
Aishwarya Ravi's piece in Lens by Monash University gives expert commentary on feminism and the FIFA 2023 Women's World Cup in Australia. The event showcased both the triumphs and ongoing challenges facing women in sports, like systemic issues related to gender inequality. A particularly glaring incident involved Luis Rubiales, President of the Royal Spanish Football Federation, whose inappropriate touching and kissing sparked international outrage and calls for his resignation, overshadowing Spain's historic victory and casting a spotlight on the systemic issues and misogyny that remain pervasive in the world of sports.
Although RepresentWomen's research evaluates gender parity in elected office, the issues that emerged from the Women's World Cup parallel the barriers women face in politics. Just as women athletes strive for equal treatment, representation, and resources, women in politics face structural hurdles, such as electoral systems that perpetuate gender disparities, media biases, and unequal access to funding. Individual agency alone is insufficient for systemic change; institutional reforms are necessary. The World Cup serves as a vivid reminder that achieving equality requires dismantling systemic barriers that limit women's opportunities and recognition in multiple sectors.
The significance of this case [Rubiales' behavior] extends beyond the incident itself. It highlights the damaging handling that tarnishes the sport's reputation, revealing systemic issues. Instead of reveling in the women's football achievements, a familiar story unfolds – the need to rally and defend players and the sport itself.

A century of misogyny once again overshadows the joy of the game, the national team's pride, and remarkable performances on the pitch. It underlines the need to rebuild structures within football, and feminist research can help guide changes to be more equitable.

The tournament's visibility underscores the importance of equal opportunities in sports, encouraging discussions on gender representation media coverage, and fosters discussions regarding race, sexuality, and religion.
---
Women Continue to Face Barriers to Elected Office Internationally
In Akshi Chawla's terrific #WomenLead blog this week, she shared news on women's representation in international elections and women in office.
Notably, she spotlights two countries that rank above the United States among OECD countries, Colombia and New Zealand, along with an update from Hong Kong:
🇨🇴 Colombia: In October, regional elections will be held in Colombia with few women in the running for major positions, El Pais has reported. Currently, women occupy only 12 percent of mayoral positions and 18 percent of governorships. There are no women candidates for the mayor of Bogota (the capital city), considered the "second most powerful elective position in the country." Nor are there any female candidates in Barranquilla, another major city, while a handful of women are contesting the elections in other major centres…

🇳🇿New Zealand: The current Parliament of the Pacific nation is among the handful of those with gender parity. However, this might not remain true for long if election polls are to be believed. The country is set to hold fresh Parliamentary polls in October, and current opinion polls are predicting an advantage for the centre-right National Party, which does not have any internal quotas to achieve diversity…

Starry Lee, chair of the Democratic Alliance for the Betterment and Progress, Hong Kong's largest political party, is stepping down from her role, The South China Morning Post reported. In 2015, Lee became the first woman to lead the party and has served in the role ever since. She announced that she was now stepping down, saying that due to "limited time and limited work capability," continuing to lead might not be conducive for the party. 
---
Zimbabwe's Election Was a Fight Between Men. Women Are Sidelined in Politics, Despite Quotas
Chris Calimlim, editorial associate at The Conversation, is working on a three-year research project focusing on the representation of women in politics in Ghana, Kenya and Zimbabwe, as well as gendered electoral violence. This project explores barriers to women's participation in politics in Africa and pathways forward, initially researched in the book Gendered Institutions and Women's Political Representation in Africa.
"Zimbabwe's 2023 harmonised elections have largely been depicted as a battle between the two "Big Men" – President Emmerson Mnangagwa of the ruling Zanu-PF and Nelson Chamisa of the leading opposition party, the Citizens Coalition for Change (CCC). Significant media attention focused on the uneven playing field between the ruling party and the opposition. Another concern distinct to this election was the stark decline in the number of women candidates nominated by the main political parties for direct election.

Zimbabwe's constitution in 2013 introduced a gender quota to ensure the equitable representation of women in parliament. Zimbabwe's parliament is composed of a National Assembly (lower house) and a Senate (upper house). The quota requires that the lower house reserve 60 of its 270 seats (22%) for women representatives. The upper house is to appoint 60 of its 80 senators from a list that alternates between female and male candidates, called the "zebra-list".

However, women's representation in Zimbabwe's parliament has declined since 2013 in spite of the quota. In 2013, women made up 33% of the National Assembly and 48% of the Senate. Only 12% of these women were elected directly. In 2018, the numbers in the National Assembly and Senate fell to 31% and 44%, respectively.

The data above indicates a bias against woman candidates that permeates across political parties. Apart from the women nominated through the obligations of the quota, neither the CCC nor Zanu-PF fielded enough women to make gender parity a reality in the 2023 elections.

The active exclusion of women from politics is driven by gendered prejudices. These are informed by social, cultural, and religious beliefs rooted in patriarchal values that view women as inherently weak and untrustworthy. A negative perception is also linked to "quota women" as they were not elected by "the people." These women are often subjected to elite patriarchal bargaining. They primarily serve the needs of their party rather than representing Zimbabwean women.

The number of women elected indicates that, unlike in past elections, Zimbabweans seem more willing to vote for women representatives. Political parties should build on these small gains and nominate more women for elections. This will allow the country to move closer to the goals of gender parity, gender equality, and democratic plurality."
---
Politically Vulnerable Republican Women Support Legislation Expanding Birth Control to Avoid Abortion Backlash
Annie Karni wrote an excellent article for The New York Times about Republican women politicians' recent support of a new birth control bill. The American public has reacted differently to the Supreme Court's decision to overturn Roe. v. Wade and statewide rollbacks on women's reproductive healthcare rights.
Now, anti-abortion Republican women lawmakers like Representative Mariannette Miller-Meeks hope that supporting legislation that would expand access to birth control will provide them with political cover. While the proposed Orally Taken Contraception Act of 2023 is unlikely to become law, the verdict is still out on whether this move by House Republican women leaders will be enough to appease their pro-choice constituents. 
While many of these G.O.P. lawmakers have cast votes in the House this year to limit abortion access — maintaining a stance that some Republicans concede hurt their party in last year's midterm elections — Ms. Miller-Meeks and others spent part of the summer congressional recess talking up their support for birth control access, which is broadly popular across the country and across party lines.

Abortion rights advocates argue that the legislation is essentially meaningless and merely an effort by Republican lawmakers to mislead voters about their positions on women's health. But for the G.O.P. women who are backing it, the bill offers an elegant way to shift the conversation away from the divisive issue of abortion.

"The legislation is not a genuine attempt to expand birth control," said Karen Stone, the vice president of public policy at the Planned Parenthood Action Fund. "They're posturing to save face with voters, all while failing to support existing legislation that would actually help people access over-the-counter birth control."
---
Ranked-Choice Voting Comes to Boulder, Colo.
In an article for CPR News, Andrew Kenney reports on ranked-choice voting's introduction in Boulder, Colorado. In Boulder's mayoral election this November, voters will rank candidates in order of preference rather than casting a single vote. This system aims to help voters express their true preferences without fearing wasted votes. It changes the dynamics of the race by discouraging personal attacks and promoting issue-based campaigning.
RepresentWomen's research has explored the impact of ranked-choice voting on promoting gender equality and diverse representation in elected offices. Our reports have shown that ranked-choice voting can mitigate gender bias, encourage more women and underrepresented candidates to run for office, and lead to fairer outcomes by ensuring winners have broader electorate support.
At least three candidates will be on the ballot for mayor of Boulder this November. And for the first time, voters won't just have to choose just one of them.

The city is debuting a new "ranked choice" voting system. Instead of casting a single vote for a single candidate, voters will instead be asked to rank the candidates — first, second, and third choice.

Boulder voters approved the creation of the new system back in 2020, but it's being used for the first time this year. A new state law has made it easier for local governments to adopt ranked choice, and the Boulder race could be a test case.
---
Conversations About Ranked-Choice Voting and Women's Representation in Alaska
RepresentWomen materials—including the Alaska page in the Gender Parity Index report—at a meeting in Anchorage on strategies to increase women's representation and leadership.

I connected with the director of Get Out the Native Vote, Michelle Sparck, and Suzanne LaFrance, mayoral candidate, in Anchorage this week.

Rob Richie and I had a great meeting in Anchorage with Lindsay Kavanaugh, executive director of the Alaska Democratic Party.
---
Rank Your Favorite Taylor Swift Albums
Yesterday, Taylor Swift announced her Eras tour is heading to movie theaters across North America. Her tour, along with Beyonce's Renaissance tour and Greta Gerwig's Barbie, has been credited with boosting the U.S. economy. This is the clearest indication of the purchasing power of women in quite some time. Swift's filmed concert will bring large crowds back to the movie theaters this October. 
Rank which albums you're most excited to see her perform on the big screen!
---
"May Every Girl Know Her Place"
My sister-in-law, Marina Richie, introduced me to the poet Annis Cassells, whose poem "That Moment When We Call the Roll" is in her volume of poetry, What the Country Wrought:
Disenfranchised

and discounted,

women organized,

fought, forged ahead,

showed up.

Lucretia and Elizabeth crusaded

for abolition and women's rights

Susan campaigned for suffrage

Alice led protests

Ida B. wrote (and marched, anyway)

Phoebe penned a letter

to a Tennessee state senator:

"Dear Son…Hurry and vote

For suffrage…be a good boy."

And, red rose in his lapel,

he obeyed his mother,

cast the tiebreaker aker,

secured the right

to vote

for some women.

And after that

Shirley brought her own seat

to the table.

Bella introduced the first

gay rights bill in Congress

Barbara orated with eloquence

in Texas & the House

Hillary advised

a president or two

Ruth fought

for gender equality

Nancy struck her Speaker's gavel

Elizabeth persisted—nevertheless

Stacey rallied Georgia voters

Maxine reclaimed her time

Mazie served in both Houses

Kamala ran in Chuck Taylors—

and won.

Now, Karen leads Los Angeles

Gretchen governs Michigan

Katanji sits with the Supremes

A womanless history no more,

I am making a record of their names.

May every girl know her place.
---
Biden Challenges Congress to Take Action on the ERA
Roxy Szal, managing digital editor for Ms., wrote a fantastic article about President Biden's proclamation to ratify the Equal Rights Amendment (ERA). Biden emphasized the need to establish gender equality principles in the Constitution firmly, and the team at RepresentWomen agrees.
President Joe Biden issued a challenge to Congress on Saturday "to act swiftly to recognize ratification of the [Equal Rights Amendment]"—part of his official proclamation on Women's Equality Day, when the U.S. celebrates the formal adoption of the 19th Amendment, which enshrined women's right to vote into the Constitution in 1920.

"It is long past time to definitively enshrine the principle of gender equality in the Constitution," said Biden. "Together we can and must build a future where our daughters have all the same rights and opportunities as our sons, where all women and girls have a chance to realize their God-given potential, and where we can finally realize the full promise of America for all Americans."
On Aug. 28, 1992, I debated the ERA with Ralph Reed on CNN's Larry King Live after then-president of the Christian Coalition, Pat Robertson, raised false claims about the impact of the ERA.
Up next:
U.S. democracy is at a dangerous inflection point—from the demise of abortion rights, to a lack of pay equity and parental leave, to skyrocketing maternal mortality, and attacks on trans health. Left unchecked, these crises will lead to wider gaps in political participation and representation. For 50 years, Ms. has been forging feminist journalism—reporting, rebelling and truth-telling from the front-lines, championing the Equal Rights Amendment, and centering the stories of those most impacted. With all that's at stake for equality, we are redoubling our commitment for the next 50 years. In turn, we need your help, Support Ms. today with a donation—any amount that is meaningful to you. For as little as $5 each month, you'll receive the print magazine along with our e-newsletters, action alerts, and invitations to Ms. Studios events and podcasts. We are grateful for your loyalty and ferocity.