"Made It: The Women Who Revolutionized Fashion," a new exhibition at the Peabody Essex Museum in Massachusetts, explores 250 years of fashion through 79 women designers—innovators, entrepreneurs and activists who fostered social and political change won more equity and freedom in the world.
If you're someone who thinks of fashion as frivolous, you may be overlooking the fact that it's a global industry with a net worth that hovers between $1.9 and $2.5 trillion and employs millions of people. Or perhaps you're just reacting to a sexist snare: When women show an interest in fashion, we may inadvertently signal a lack of interest in matters of consequence. 
A new exhibition opening Nov. 21 at the Peabody Essex Museum (PEM) in Salem, Mass., nixes such assumptions. "Made It: The Women Who Revolutionized Fashion" explores 250 years of fashion through 79 female designers—innovators, entrepreneurs and activists who fostered social and political change as women won more equity and freedom in the world. 
Petra Slinkard, PEM's curator of fashion, instigated the exhibition after learning about "Femmes Fatales: Strong Women of Fashion," a 2018 exhibition at the Kunstmuseum, The Hague, Netherlands. Slinkard had been itching to draw attention to female designers whose contributions aren't widely known. When the Kunstmuseum agreed to collaborate on "Made It" as a traveling exhibition, she was thrilled that the 2020 opening nearly coincided with the 100th anniversary of the 19th Amendment's ratification. At the PEM, Slinkard and her colleagues have expanded the original exhibition by layering in additional international and American designers.
Tracking feminist progress isn't the primary goal of "Made It," but it turns out that fashion's female firebrands shed a distinct light on feminism.
"To walk through 'Made It' is to witness our global impact and our experience as women—which you'll see reflected not only in the garments, but in quotes by designers and women like Amelia Bloomer, Lucy Stone and Ida B. Wells-Barnett," Slinkard told Ms.
Our slow, plodding struggle for equality is underscored in the exhibit by five 18th century garments that show women's first efforts to claim turf.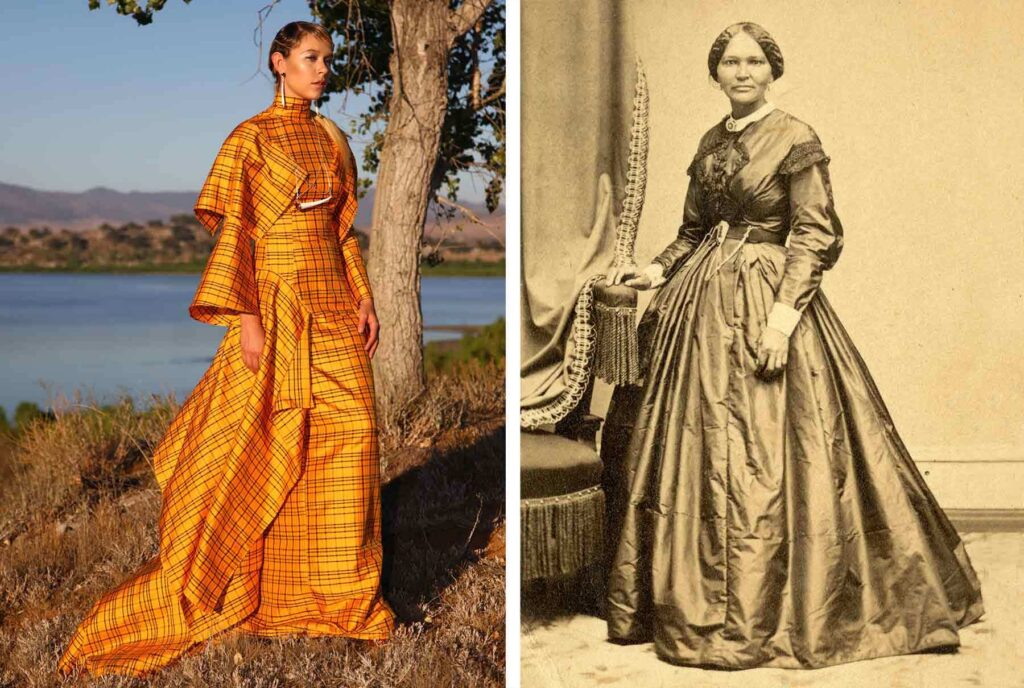 "Not only are women commanding a presence in their fashion; they're literally taking up more space in the footprint of their clothing," Slinkard said of the era. "It represents a time when women are making strides professionally for the first time in a really powerful way and evolving into what we know today as the fashion industry."
The exhibit's opening night offers a virtual tour and a chance to meet the team behind the project. You'll see 107 ensembles drawn from collections owned by the Kunstmuseum, PEM, MFA Boston and the Chicago History Museum as well as private collectors and lenders such as the house of Christian Dior, Katherine Hamnett and Natalie Chanin for Alabama Chanin.
Here's how women designers—past and present—carry the torch of feminism. 
The Gender Paradox
While aimed at women and braced by our talent and spending, the fashion business has always been dominated by men. Recent surveys show that only 12 to 14 percent of major fashion brands have a female executive at the top. 
Until 2017, Dior, the 70-year-old fashion house known for heralding a feminine aesthetic, hadn't ever had a female creative director. From the outset, Maria Grazia Chiuri has used her position as Dior's artistic director to express feminist perspectives emerging from the #MeToo and #TimesUp movements. 
"I've realized that fashion is a very powerful medium," said Chiuri, whose first collection at Dior put the world on notice that she will leverage her influence to provoke conversations about how women think and feel. One of the harbingers was a T-shirt from Dior's spring '17 collection, with a message borrowed from a TED talk and paper by Nigerian author Chimamanda Ngozi Adichie: "WE SHOULD ALL BE FEMINISTS."
---
If you found this article helpful, please consider supporting our independent reporting and truth-telling for as little as $5 per month.
---
Activists and Insurgents in Guilds and Labor Unions
During the 18th century, European men worked hard at keeping women "in their place." The fashion industry was a hierarchy that prized the work of tailors—a position reserved for men—over mere seamstresses, the women who cut, draped and folded fabric before stitching simple garments together.
As you may have guessed, tailors earned more—ostensibly because they handled more intricate designs and luxurious fabrics. Lest you think of those as minor distinctions, consider this: Before any new item of clothing could be made, professional guilds decided which gender had the liberty to make it. "Made It" displays garments from that period, including the mantua, a dress that women were allowed to make. 
The first noticeable sign of women resisting male suppression in the fashion industry happened in 1675, when some French women formed their own professional guilds. Thereafter, women defended their livelihoods and safety in a succession of labor disputes—including America's first major strike in 1824, the year 102 female textile workers raised a stink about plans to extend their workday while paying many of them less. 
Sexist Culture Builds Walls; Women Designers Scale and Demolish Them
Designer Frankie Welch, a favorite of Betty Ford's, wanted to study architecture, but she was excluded from her first choice based on gender. Instead, she opted for home economics before becoming a designer of iconic clothing and accessories embellished by bipartisan political and historical themes. Welch's designs frequently display her Native American roots, incorporating such symbols as the Cherokee alphabet.
Anne Lowe left her Alabama home in 1917 to study fashion design in New York, but a segregated school kept the Black designer from studying alongside her peers. Nevertheless, Lowe graduated early and went on to design for families on the Social Register. Jacqueline Bouvier Kennedy's wedding dress was designed by Lowe. Ten days before the wedding, catastrophe struck: The bridal gown plus 10 others were destroyed when a pipe burst in her studio. All the dresses had to be quickly remade and delivered in time for the ceremony. Despite Kennedy's reputation as a fashion icon, Lowe has never received the kind of recognition you might expect.
French-born Pauline Trigère set tongues wagging in 1961 by employing a Black model, Beverly Valdes—a first for a major designer. The outspoken single mom started her business in New York in 1942, having left her Paris home five years earlier. She had two small children, and her husband didn't want her to work.
"He didn't like the competition," Trigère once said. "That's why I'm not married to him anymore."
Her progressive stance on racism generated backlash from department stores—but Trigère stood her ground. 
Challenging the Status Quo on Major Issues of the Day
Not only have fashion designers given women the freedom to present our selves to the world in manifold ways throughout history; they've set an example of activism for all.
To wit:
Norma Kamali parlays fashion fame to emphasize health, wellness, diversity and gender-fluid clothes. 
Vivienne Westwood commandeers the runway to send strong messages about consumerism and climate change.
Natalie Chanin started a sustainability revolution by launching her American-made brand in Alabama, where local seamstresses make garments from recycled fabrics, priced to reflect the true cost of ethical fashion. 
Katharine Hamnett's overtly political T-shirts declare the designer's voting preferences and reflect the Buddhist foundation beneath her fashion brand: Make a living in a way that does no harm to people and the natural world. 
Becca McCharen-Tran's Chromat sportswear line is worn by racially-diverse, non-binary models who channel acceptance for people of all races, shapes, sizes and sexual orientations.
Experiencing "Made It"
The Peabody Essex Museum is open Thursdays and Sundays, 10 a.m. to 5 p.m. with extended hours on Friday and Saturday from 10 a.m. to 8 p.m.
"Made It" opens November 21 and runs through March 14, 2021. Remote visitors are welcome to a virtual conversation with Chromat founder Becca McCharen-Trans on December 17 at 6 p.m. and a virtual Makers Market inspired by the exhibit on December 8 at 10 a.m. Watch the calendar for more virtual events in 2021.
And whether you're a feminist scholar or a student of fashion, you may want to explore the exhibit's companion book, "The Women Who Revolutionized Fashion: 250 Years of Design," a comprehensive look at the lasting influence of female designers. 
You may also like:
---