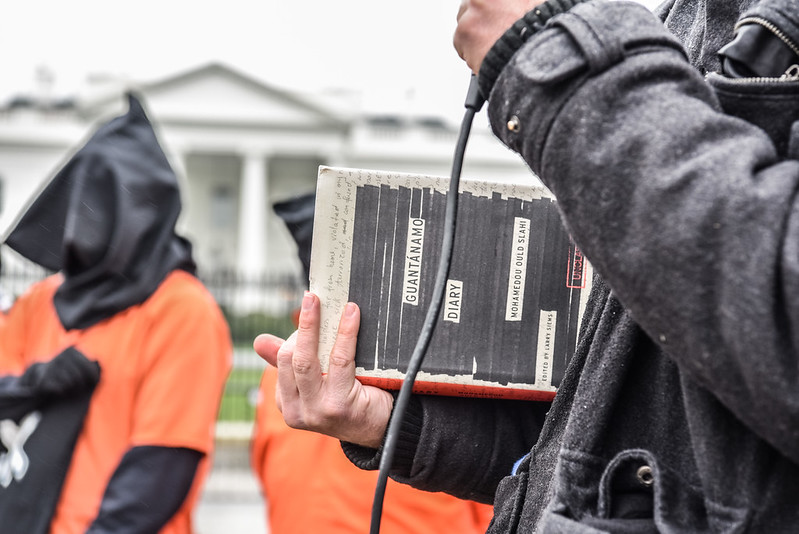 It's been 20 years since the first detainees arrived at Guantanamo Bay. In October 2016, one of the earliest prisoners at the detention center, Mohamedou Ould Salahi, was released after 14 years of unlawful detainment—a hell the 39 remaining detainees at Guantanamo are still hoping to escape. Directed by Kevin Macdonald, the film The Mauritanian depicts the true story of Ould Slahi and sheds light on the abuse Guantanamo prisoners have been sentenced to over the last two decades. Perhaps most importantly, though, it highlights why President Joe Biden must indefinitely close the notoriously violent prison.
The September 11 attacks were most Americans' first experiences with terrorism. The airplane hijackings and subsequent crashes in New York, Washington, D.C., and Pennsylvania claimed the lives of almost 3,000 people, and left the country feeling shocked, vulnerable and in a majority of cases, infuriated.
As images of the attacks and rescue attempts flooded news reports, it became clear the actions of 19 Islamic extremist and Al Qaeda members would impact the lives of Muslims all over the world, immediately and harshly.
Five days after the attacks, President George W. Bush announced a "war on terrorism," initiating some of the longest and most expensive conflicts in U.S. history: the Iraq and Afghanistan wars. U.S. intelligence-gathering capabilities were also heavily expanded, both domestically and internationally, and were used to track and capture hundreds of suspected terrorists.
Since January 2002, the U.S. has imprisoned 780 of these suspects, all Muslim, at Guantanamo Bay—a military prison located in Cuba but occupied by the U.S since 1898. At the height of the "war on terrorism," Guantanamo held approximately 675 men.
Adapted from the bestselling memoir Guantanamo Diary, The Mauritanian reveals how America's intense need for retribution in the aftermath of 9/11 resulted in the imprisonment and torture of hundreds of Muslim men at Guantanamo Bay.
The film tells the true story of Mohamedou Ould Slahi, a Mauritanian Muslim detained at Guantanamo for fourteen years, despite never being charged with a crime. Suspected of recruiting hijackers for the 9/11 attacks, Slahi was brought to the prison in 2002, where he eventually endured 70 consecutive days of "enhanced interrogations techniques"—including beatings, water boarding and sleep deprivation.
Jodie Foster stars as Nancy Hollander, the American attorney who volunteers to represent Slahi; Shailene Woodley as Teri Duncan, Hollander's assistant; and Benedict Cumberbatch as Lt. Colonel Stuart Couch, the lead military lawyer assigned to prosecute Slahi.
The real star of the film, however, is Tahar Rahim. Where the other actors sometimes fail to humanize their characters, Rahim gives an emotional performance that helps convey the gravity of Slahi's experiences at Guantanamo. His gentle but sincere portrayal of Slahi allows audiences to both sympathize with him and resent his continued abuse—especially as it's slowly revealed he is innocent.
At the climax of the film, Hollander and Couch read letters detailing Slahi's abuse and through flashbacks the audience gets its first glimpse of the mental, physical and sexual abuse techniques used by the U.S. government during their "war on terrorism." Slahi is forced to listen to loud heavy metal music while chained to a wall in what is known as a "stress position." He is threatened with his mother's imprisonment and rape. He himself is sexually assaulted, tortured with water, viscously beaten, sleep deprived and starved.
After 70 days of torture, Slahi finally relents to his abusers and makes a false confession. He is immediately labeled a high-level terrorist and placed in isolation as his case is prepared in the military commission system.
But, as the film reveals, Slahi was never charged with a crime, and it is only after Hollander became his attorney in 2005—almost two years after his confession—that his case undergoes review. It took an additional four years to receive a hearing but a federal judge declared his imprisonment unlawful in 2010.
Unfortunately, still considered a high-level terrorist, Slahi's release was immediately overturned by the Obama administration. Imprisoned for additional six years, Slahi was finally released in 2016, when it was declared for a second time that he was not a "significant threat to the U.S."
But Mohamedou Ould Slahi is just one of 780 Muslim detainees that have been held at Guantanamo since 9/11, and his experiences with torture and unlawful detainment are not isolated. Since 2002, hundreds of men have been abducted by or sold to U.S. forces and most have been subjected to severe forms of abuse. Methods such as rectal feeding, stress positions, mock executions and religious abuse were all common and authorized by the Bush administration.
As reports continue to be released detailing the human rights abuses that took place at the prison, it's apparent why the U.S. government decided Guantanamo was the right place to wage their "war on terrorism"—it's outside of the U.S. mainland and therefore does not have to adhere to U.S. laws. This has allowed them to operate outside of the Geneva Convention and to violate the legal rights of all detainees being held there, including habeas corpus, which states that all imprisoned persons must have charges brought against them in a court of law.
Of the 780 detainees sent there, only eight have been convicted by military commissions, and three of those convictions have been overturned. Out of the remaining 39 prisoners at Guantanamo Bay, three are facing proposed charges, seven have active charges, and two have been convicted. Twenty-seven have never been charged with a crime and do not yet have release dates.
President Joe Biden—vice president at the time the Obama administration overturned Slahi's release—has said he plans to indefinitely close Guantanamo Bay before leaving the White House and his administration has launched a review into the prison. Hoping to avoid similar criticism Obama received from Congress, Biden has been much quieter about his plans to release the remaining prisoners.
On July 29, the Biden administration transferred its first detainee out of the prison. Even still, the Pentagon is developing a new military courtroom at the facility.
"This is about more than just the 40 people still held at Guantaanamo," said Daphne Eviatar, director of the Security with Human Rights Program at Amnesty International USA. "It is also about the crimes under international law committed over the past 19 years and the continuing lack of accountability for them.
"It is about the future, too, as we move towards the 20th anniversary of the 9/11 attacks and strive for enduring justice."
Up next: