Throughout Women's History Month (and beyond!), feminist experts in politics, public service and more are coming together to share their lived experiences and help propel women's rights forward.
This article will be updated daily throughout Women's History Month as new virtual events become available. Last update: March 30, 10:15 a.m. PT.
---
Every March, we join together to reflect on the centuries of sacrifice and courage that have fueled feminist progress. But this year more than ever, we at Ms. believe that the best way to honor feminists of the past is to work towards greater equality for future generations.
Though many of us are still physically isolated due to the COVID-19 pandemic, virtual events are keeping us connected all month long. Through panel conversations, film screenings, online art exhibits and more, it's easier than ever to interact with like-minded speakers from all corners of the world—including activists, poet laureates, ambassadors and artists.
We'll be celebrating feminist milestones: The recent nomination of a woman who could be the first ever Black woman Supreme Court justice, and after years of legal battles and activism, the U.S. Women's National Soccer Team has reached a $24 million settlement with the U.S. Soccer Federation over their equal pay lawsuit. But at the same time, we must continue to pursue legislative reform and accountability at all levels. Experts in politics, public service and more are coming together to share their lived experiences and help propel women's rights forward—so Ms. is here to keep you in the loop.
We'll be updating this calendar throughout Women's History Month (and a little beyond!) with empowering panels, workshops and screenings everyone is welcome to attend!
Hosting an event you'd like us to include? Email details to socialmedia@msmagazine.com to be included in our Women's History Month virtual event calendar!
---
Asynchronous Events
Help close the gender gap on Wikipedia!
Celebrate International Women's Day with This World-Spanning Sundance Watchlist—stream films by women for free!
The 2022 Women's Voices Now Film Festival: The Rights and Roles of Women—buy tickets to stream films and attend the awards ceremony here.
Virtual Events
March 6–12, 2022
RepresentWomen's Democracy Solutions Summit | March 8–10 from 3–5 p.m. ET
RepresentWomen's Democracy Solutions Summit brings together experts and leaders in election administration, voting rights and democracy reform who are working on innovative solutions that upgrade and strengthen our democracy. Women experts will discuss a range of critical issues related to fair access, fair elections and fair representation. Experts will focus on viable, scalable and transformative solutions to build a 21st Century Democracy that reflects today's needs and values.
---
Five Women: The US Supreme Court in Recent History. | March 8, 2022, 9:30 a.m. PST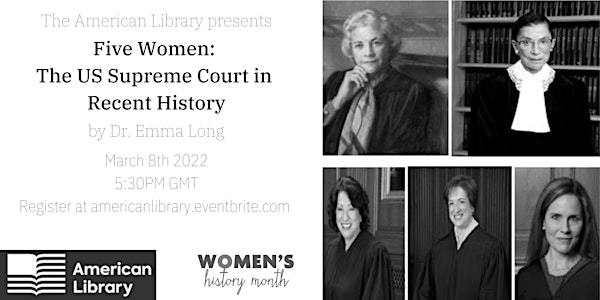 In honor of Women's History Month and International Women's Day, the library has invited Dr. Emma Long to share the history and impact of women on the United States Supreme Court.
As President Joe Biden considers Black female candidates to replace retiring Supreme Court Justice Stephen Breyer, in this talk we consider the first five female Justices. Sandra Day O'Connor. Ruth Bader Ginsburg. Sonia Sotomayor. Elena Kagan. Amy Coney Barrett. Each appointed at a different time, in a different context, and with different politics. We'll look at each of these women and consider their impact on the Supreme Court itself, while exploring the role and power of the Court more generally, and the impact of the increasingly political appointment process for the future of the Court.
Dr. Long is an associate professor in American history and politics at the University of East Anglia.
---
A Gendered Approach to Countering Climate Change and State Fragility | March 8, 2022, 1:00 – 2:00 p.m. EST
Climate change is destabilizing communities around the world, worsening conditions like water and food insecurity, and creating economic hardship, humanitarian crises and political fragility—all of which can weaken social cohesion, deepen gender inequality, and provoke conflict. Women are on the frontlines of the climate crisis and have a crucial role to play in addressing these challenges. This session will feature women leaders from across the Global South who will share their experiences building climate resilience in fragile contexts and highlight best practices to support inclusive efforts.
---
Women, Peace & Security | March 9, 2022, 1 p.m. ET
Can the security of women predict the security of states and the likelihood of conflict and war? Yes, indeed. The prevalence of institutionalized gender-based violence and other deterrents to women's well-being and their overall status in society correspond significantly to state and global stability. Ms. Hudson's presentation will clarify this relationship and address the many implications of the overwhelming data supporting the link.
Her remarks will be of tremendous interest to anyone interested in the dynamics of international security, foreign policy and the status of women. The insights will apply across a broad swath of issues of pressing interest to Americans around the globe (and to the citizens of every country in which we reside).
---
Visions of Feminist AI from an Anthropological Perspective | March 9, 2022, 10 – 11:30 a.m. EST
Why is this current moment in the history of tools (AI technologies) so important for women's rights, for feminist movements around the world, and for anthropologists – whose work aims to "make the world a safer place for human difference"?
This global event aims to connect the vision of gender justice movements, feminist economists, social & climate justice activists, anthropologists and interdisciplinary researchers with data scientists and machine learning experts who envision an inclusive and thriving future – to leverage this critical moment in history to bring new systems, models and feminist perspectives to policymakers at the solution table.
---
Black Feminist Futures Series: Planting for the Future | March 9, 2022, 9:00–10:30 a.m. PST
Join us for Planting for the Future, a virtual conversation on Black women's participation in Afrofuturism through literature, film, art, fashion, and community organizing. The program features Dr. Andrea Hairston (author of Master of Poisons), Sheree Renee Thomas (author of Nine Bar Blues), Tananarive Due (author of The Between: A Novel), and Tanaya Denise Fields (founder of Black Feminist Project & Black Joy Farm, and author of "Dirty Business: The Messy Affair of Rejecting Shame" in the book You Are Your Best Thing). The program will be moderated by Dr. Chesya Burke (author of Let's Play White).
---
Let's talk about reproductive justice | March 9th, 2022, 3 p.m. EST
Please join us for an engaging and timely conversation between Ipas President and CEO Anu Kumar and Fatima Goss Graves, President and CEO of the National Women's Law Center. Graves is a staunch advocate for women and girls, co-founder of TIME'S UP Legal Defense Fund, and recognized print and on-air legal expert. Both women will bring their passion for reproductive justice to this chat, and will touch on the state of reproductive health, rights, and justice in the US; the nomination of Judge Ketanji Brown Jackson to the US Supreme Court and what that means; and how countries around the world are advancing reproductive freedom while the US backslides.
---
Work/Cited Episode 14: Sex, Lies, and Suffrage History | March 9, 2022, 1–2 p.m. ET
Work/Cited is a program series that showcases the latest scholarship supported by the rich collections of The New York Public Library with a behind-the-scenes look at how the finished product was inspired, researched, and created.
In this episode, NYPL's Cara Dellatte will be speaking with award-winning historian, speaker, and writer Kimberly A. Hamlin about her recent book, Free Thinker: Sex, Suffrage, and the Extraordinary Life of Helen Hamilton Gardener. Drawing from the Library's Paul Kester papers, Kimberly's book reveals the fascinating story of the "fallen woman" who reinvented herself and became the "most potent factor" in Congressional passage of the 19th Amendment.
---
Ending Gender-Based Violence in the World of Work: new insights and tools from C190 | March 9, 2022, 11:30 a.m.–1 p.m. EST
---
CETA and the Feminist Art Movement | March 9, 2022, 4:00 p.m. PST
From 1974 to 1981, more than 10,000 artists, actors, writers and musicians were employed under the federally funded Comprehensive Employment and Training Act (CETA). An additional 10,x000 arts support jobs (museum curators, program directors, docents and guards; theatre technicians, lighting and costume designers; arts administrators and office staff) were funded.
CETA especially benefited women and artists of color. Judy Baca's Great Wall of Los Angeles was enabled with CETA grants. In the middle-to-late 70s, CETA paid staff salaries at LA's Woman's Building and the Women's Studio Workshop. at Women Artist News and HERESIES, and at alternative art spaces like ARC, N.A.M.E., Hallwalls and LACE.
This panel will discuss how this little known government program and its support of women artists helped give rise to the feminist art movement.
---
Black & Woman | March 10, 2022, 4–5 p.m. ET
Join NYPL Staff in a community literary series to discuss different aspects of Black identity. Black people fit into a multitude of categories and labels and this series is meant to create a dialog of understanding. Black people are not just Black, but 'Black&' something else.
Our topic will discuss what it means to move in the world as Black and a Woman Attendees will read article snippets about the Black Woman experience and have an open dialog. The goal is to leave with a better understanding of the intersectionality of Black and Woman identities and resources for further education.
---
Inspiration and Exploration: STEM Career Expo | March 12, 2022, 12-1:30 p.m. PT
This virtual event will connect students with extraordinary women in the fields of Environmental Science, Computer Science, and Healthcare, as well as organizations currently offering opportunities for teens! Register here and join us on Saturday, March 12 at noon Pacific, let us help you find your inspiration and explore opportunities available to you. This event was designed for young women and non-binary students, but all are welcome.
---
March 13–19, 2022
Memories and Stories of RBG on What Would Have Been her 89th Birthday (with Nina Totenberg and Nadine Epstein) | March 15 at 7:00 p.m., ET / 4:00 p.m., PT
Ruth Bader Ginsburg's birthday was March 15th. To remember her, NPR legal affairs correspondent Nina Totenberg, author of the forthcoming book Dinners with Ruth: A Memoir on the Power of Friendships, and Moment editor-in-chief Nadine Epstein, author of RBG's Brave & Brilliant Women: 33 Jewish Women to Inspire Everyone, will share their memories of the late Supreme Court Justice and discuss her legacy.
---
Rise in Anti-Asian Violence | March 16, 2022, 3:00 p.m. ET
Rise CEO and founder Amanda Nguyen discusses the increase in anti-Asian hate crimes since the coronavirus pandemic and her organization's work to raise greater awareness.
---
Savings & Investments for Women | March 16, 2022, 12–1:30 p.m. ET
Women face different considerations when thinking about saving and investing. Learn what these considerations are and how to address them so that you can save for retirement and build a portfolio.
Join Suzanne McGovern from the Office of Investor Education and Advocacy of the U.S. Securities and Exchange Commission and Maggie Boys, Communications Associate from WISER ( Women's Institute for a Secure Retirement) for a discussion of the unique financial challenges that women face and an introduction to some tools to help women on their financial journey.
---
Climate Justice and SRHR: the Criticality of Women's Leadership | March 17, 2022, 9:00 – 10:30 a.m. EDT
The climate crisis directly and disproportionately impacts women and girls' lives and well-being and deepens gender inequality. This impact can be felt acutely as regards SRHR. Addressing the interconnections between gender equality, the environment and sustainable development is crucial for SRHR and elevating the voices of women is central. Through a diverse panel of speakers from UN organizations, civil society and governments, this convening organized by UNFPA and the SRHR and Climate Justice Coalition will explore the ways in which these linkages bear out and the importance of promoting women's leadership at the intersection.
---
Women and Girls as Agents of Change in Climate-Related Conflict | March 18, 2022, 11:30AM – 12:45 p.m. EST
Women play a vital role in resolving climate-related conflict, with valuable expertise in natural resource management and climate resilience. On the sidelines of CSW66, join leading policymakers and grassroots women leaders working on the intersection of climate change, conflict resolution, and gender equality. Panelists will discuss strategies to more effectively address gendered security risks associated with climate change and inclusive approaches to promote peace through climate action.
Co-Hosted by the Permanent Mission of Ireland to the United Nations, the Permanent Mission of Fiji to the United Nations, and the Georgetown Institute for Women, Peace and Security.
Conversations in America: 2020 Vision – The Year We Saw Everything | March 19, 2022, 12:00 p.m. – 2:00 p.m. PDT
During the early days of the pandemic, as we were all in hiding, so many new and old issues came out of hiding or were made visible in new ways. We requested submissions in 2021 on all kinds of Discrimination; movements including BLM, TimesUp, and MeToo; and the many divisions in the country. This event is the result.
Included are short plays and films, monologues, songs, and more. For Women's History Month, the initial showing will be free on Zoom on Saturday, March 19, 2022 at 3pm EST (that time allows for participants from across the country and around the world to attend) – reservations required.
---
March 20–26, 2022
Democracy Without Sexual and Reproductive Rights is an Empty Promise | March 22, 2022 12:00 p.m. ET
The Global Justice Center and Fòs Feminista are hosting a side event on the margins of the 2021 Summit for Democracy. Our event will focus on the importance of reproductive rights to democracy, the relationship between authoritarianism and control of bodily autonomy, and the impact of US abortion policies that run counter to free speech and democracy globally, including policies like the Helms and Siljander amendments and the Global Gag Rule. The event will also discuss and propose ways for the United States to realize its commitment as a champion for sexual and reproductive health and rights at home and abroad.
Join us on December 8, 2021 at 12:30 p.m. EST for a discussion between leading experts on the role of reproductive rights in democracies, the relationship between authoritarian governments and control of bodily autonomy, the impact of US abortion restrictions around the world, and how the US can realize its commitment to sexual and reproductive health and rights at home and abroad.
---
The changing landscape of Agriculture in Africa | March 23, 2022, 11 a.m. ET
"According to surveys conducted by the World Bank, the share of households involved in agriculture across various regions of Africa has increased since the start of the pandemic. 60% of the world's uncultivated, arable land is in Africa, yet many African countries import food at high costs, depleting their forex reserves. How do we reverse this process to support local agriculture and boost employment? What role can African governments play to set targeted policy initiatives to ensure secure land, tax incentives, work permits, supply chains, and other mechanisms to enable a flourishing agricultural sector? What investment frameworks would help regional farms be more attractive to international private equity investment? This session explores opportunities, funding avenues, and best practices for shaping the future of the agricultural sector in Africa."
---
Girls' Education & Women's Leadership 101 with CAMFED | March 23, 2022, 10 a.m. PT
"We invite you to join us on March 23rd for a special virtual event with members of the CAMFED Association of young women leaders for girls' education and gender equality in Africa. Learn about how, when you educate a girl, everything changes. CAMFED 101 will explain how we convert our supporters' generosity into positive action and measurable impact."
---
Fresh Talk: Righting The Balance—Photographic Power | March 23, 2022, 2:30-4 p.m. ET
For nearly two centuries, women have been leaders, inventors and innovators within the field of photography. Inspired by NMWA's recent acquisition of vintage photographs by U.K.-based artists, this Fresh Talk presents a new view of photography through the lens of some of the U.K.'s most exciting photo scholars and curators. Each guest works passionately to recover and underscore the creative power of women and nonbinary artists working in this vital medium. Join us for a conversation with Dr. Del Barrett, chair and founder of Hundred Heroines; photographic artist and curator Bindi Vora; and Renée Mussai, senior curator and head of archive and research at Autograph, about how they are working toward gender parity in the art world.
---
Black Feminist Futures Series: Black Women Organizing for the Future | March 24, 2022, 9:00–10:30 a.m. PDT
Join us for Black Women Organizing for the Future, a virtual conversation on Black women's organizing through art, freedom dreaming, and collective politics to fundamentally transform the lives of all people, but especially the lives of Black women and MaGes (marginalized genders). The program features activist and artivists Ziggy, Dacia Polk, Schetaunna Powell, Zaika Dos Santos, and Queen Kukuyu, and will be moderated by LaWana Richmond​.
---
Providing Healing & Promoting Hope with Dr. Nikki Giovanni | March 24, 2022, 4:00–5:00 p.m. PDT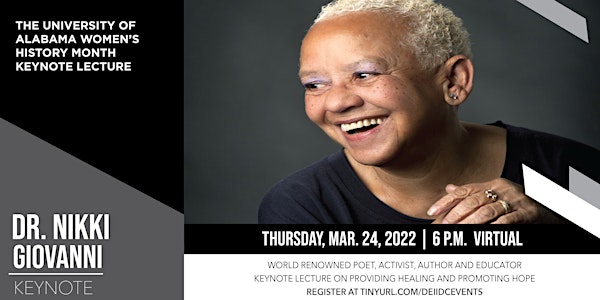 The Division of Diversity, Equity and Inclusion will host world known poet, educator and author, Dr. Nikki Giovanni, for the Women's History Month Keynote Lecture on the annual theme of providing healing and promoting hope. Dr. Giovanni is one of this country's most widely read poets and one of America's most renowned poets world-wide. Giovanni has received numerous awards in the course of her career, including seven Image Awards from the N.A.A.C.P., more than two-dozen honorary degrees, the first Rosa Parks Woman of Courage Award, the Langston Hughes Medal for Poetry, and the Carl Sandburg Literary Award; additionally, Oprah Winfrey recognized her in 2005 as one of twenty-five "Living Legends." She continues to teach, write, and publish books, the most recent of which is "A Good Cry." Her newest collection, "Make Me Rain," was released in October of 2020. This Women's History Month Lecture Keynote will take place on Thursday, March 24, 2022 at 6pm on Zoom.
---
March 27–April 2, 2022
Empowering Women-Owned Small Businesses | March 28, 2022, 1 – 2 p.m. ET
This program celebrates women-owned businesses! It will be run by Ms. Man-Li Lin, a representative of the Small Business Administration (SBA) New York District Office. She will chat with a successful woman entrepreneur who is currently taking one of the SBA's programs.
Also, in this webinar you will discover free programs and assistance for women-owned businesses, and find out about two important certifications for government contracting: the Women-Owned Small Business Certification and the Economic Disadvantaged, Women-Owned Small Business Certification. The Government is the largest contractor and if you'd like to sell to the government, once you have your certification you have a foot in the door.
---
Protecting Women Human Rights Defenders Online | March 29, 2022, 9:00 EDT
Human Rights Defenders, women defenders in particular, are under attack in many parts of the world, primarily due to their daily work in advocating for human rights. With the rise of the digital technologies, they are exposed to new online threats, such as online sexual and gender-based violence, smear campaigns, harassment and surveillance.
The event will feature representatives from the EU, the US and the OHCHR as well as prominent women human rights defenders. It will highlight threats faced by women defenders online, best practices, and recommendations for governments to counter these threats.
---
Ranked Choice Voting in NYC: Lessons Learned and Next Steps | March 30, 2022, 7:00 – 8:30 p.m. ET
Join RepresentWomen for a virtual discussion about how we can use the lessons of RCV in New York City in other parts of the country.
The 90-minute conversation will kick off with an introduction by Letitia "Tish" James, New York Attorney General.
Jessica Haller of 21 in '21 will then share about the years leading up to November 2021, and all the preparation work that created fertile soil for the success of this RCV election.
Then, Katharine Pichard-Erskine will moderate a discussion with Councilmembers Crystal Hudson, Carmen De La Rosa, Amanda Farías, and Nantasha Williams to hear more about the candidate experience. There will be time for audience Q&A.
---
Conversation with the U.S. Secretary of State's 2022 International Women of Courage Awardees | March 30, 2022 10:00AM – 11:00AM EDT
The U.S. Secretary of State's International Women of Courage Award recognizes women from around the globe who have demonstrated exceptional courage and leadership in advocating for peace, justice, human rights, gender equality, and women's empowerment, often at great personal risk and sacrifice.
GIWPS is honored to host a special conversation with three 2022 awardees focusing on their work defending human rights and advancing peace and security in the most challenging contexts. From Brazil, Burma, and Liberia, they will share their stories, strategies for effecting positive change, and recommendations to human rights defenders around the world and the international community looking to support their work.
---
Justice Ruth Bader Ginsburg "Great Americans" Medal Posthumous Presentation | March 30, 2022, 6:30 p.m. ET
The late Justice Ruth Bader Ginsburg, recognized for her groundbreaking commitment to gender equity and human rights, will posthumously receive the National Museum of American History's signature honor, the "Great Americans" medal. Her children, Jane C. Ginsburg and James S. Ginsburg will accept the medal on their mother's behalf. A significant selection of artifacts representing the justice's Supreme Court career will be donated by her family during the virtual ceremony.
---
Trans Day of Visibility Panel: The Intersectionality of Trans Justice and Reproductive Justice | March 31 from 7 – 8:30 pm EST
While advocates in Alabama brace for passage of a law banning gender-affirming care and deal with an onslaught of bills targeting transgender people nationwide, join an important panel discussion hosted by URGE: Unite for Reproductive & Gender Equity. Experts will explore the persistent problem of trans erasure in reproductive health care. 
---
Wikipedia Edit-a-thon: Increasing the Representation of Women in STEM | March 31, 2022, 1:00–3:30 p.m. ET
Did you know that only 19% of biographies on Wikipedia are about women and only 10% of Wikipedia's editors identify as women? In celebration of Smithsonian's Women's Futures Month, help improve the uneven representation of women in STEM and the quality and accuracy of Wikipedia entries during this Wikipedia edit-a-thon. At this edit-a-thon, attendees of all experience levels collaborate to learn how to edit Wikipedia together by updating articles related to women in STEM from the #IfThenSheCan – The Exhibit, a collection of 120 statues of women in STEM. Rese Cloyd, Director of the Center for Public Engagement with Science and Technology at AAAS, sets the stage by highlighting the importance of representation of women in STEM.
---
For the Young Feminists in Your Life
Virtual Women's History Bingo | March 8, 2022, 3:30 – 4:30 p.m. ET
Celebrate International Women's Day with us! Play bingo and meet women who changed the world. Is there a woman in your life who inspires you? Print out or play along from your digital bingo card as we meet some amazing women from history! Win a round (or take out a book about an influential woman) and next time you're at the library we'll send you home with a prize! Open to ages 6-12, accompanied by a caregiver. This is an online program- please register in advance.
---
Making Moves: Celebrating Black & Native Women and Girls in Skateboarding | March 11, 2022, 11:00- 11:30 a.m. EDT
Join the National Museum of African American History and Culture and the National Museum of the American Indian as they explore the innovative roles of Black and Native women and girls in the world of skateboarding. Then, children will design skateboard art to express their unique identity.
---
Virtual Storytime: Famous Women of History: Activists | March 11, 2022, 2 – 2:30 p.m. ET
Join the New York Public Library for a read aloud of books about inspirational women activists. For children ages 4-6.
---
Women's History Month : Brave Girls Storytime: Bad Hair Does Not Exist | March 16, 2022, 9:00 a.m. – 9:45 a.m. PDT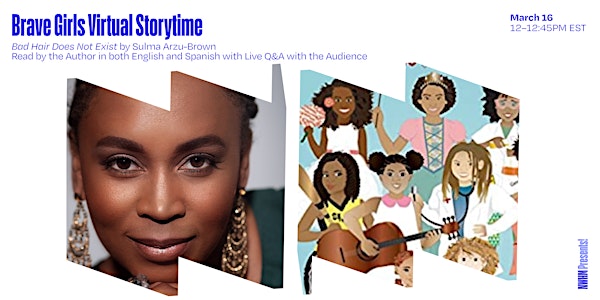 Join the National Women's History Museum and author Sulma Arzu-Brown as she reads her 2015 children's book Bad Hair Does Not Exist in both English AND Spanish on Brave Girls Virtual Storytime! Sulma will answer questions live from the audience afterwards.
---
Up, Up, and Away with the Stinson Sisters | March 16, 2022, 11:00- 11:30 a.m. EDT
Meet the Stinson Sisters! Join educators from the National Portrait Gallery and the National Air and Space Museum to find out about these pioneering pilots. Then, get your first flying lessons when you learn how to control an airplane, just like students at the Stinsons' aviation school.
---
Patterns and Lines: the Colorful World of Alma Thomas | March 21, 2022, 11:00- 11:45 a.m. EDT
Find inspiration right outside your window! Join the Hirshhorn Museum and Sculpture Garden and the National Postal Museum for a virtual family program about the transformative artist Alma Thomas (1891-1978). She is best known for her use of color and repetitive shapes that form patterns sometimes called "Alma's stripes." Together, we will learn about Thomas' life and work, and make our own art inspired by her process. We will be joined by author Jeanne Walker Harvey for a read-aloud of her new children's book on Alma Thomas, Ablaze with Color.
Up next: