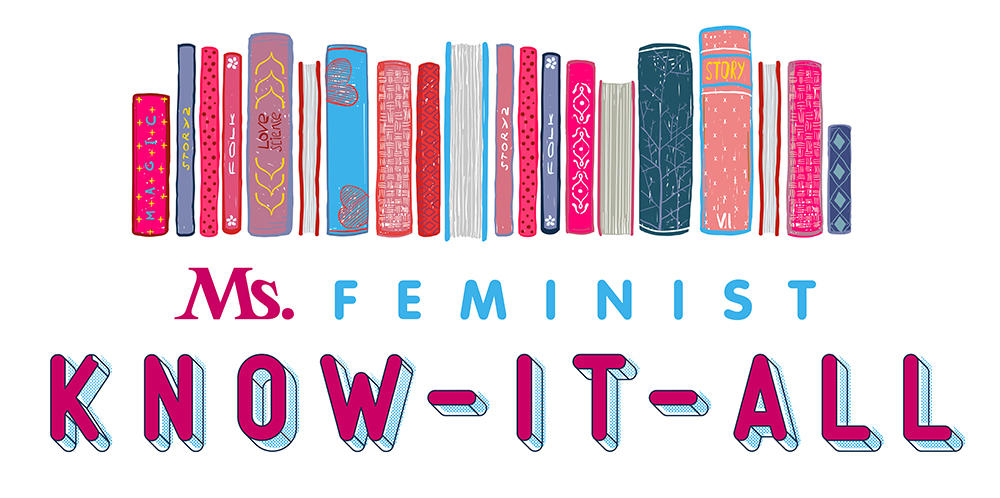 The Feminist Know-It-All: You know her. You can't stand her. Good thing she's not here! Instead, this column by gender and women's studies librarian Karla Strand will amplify stories of the creation, access, use and preservation of knowledge by women and girls around the world; share innovative projects and initiatives that focus on information, literacies, libraries and more; and, of course, talk about all of the books.
---
Each month, I provide Ms. readers with a list of new books being published by writers from historically excluded groups.
The aims of these lists are threefold:
I want to do my part in the disruption of what has been the acceptable "norm" in the book world for far too long—white, cis, heterosexual, male;
I want to amplify amazing works by writers who are women, Black, Indigenous, Latinx, APIA/AAPI, international, LGBIA+, TGNC, queer, disabled, fat, immigrant, Muslim, neurodivergent, sex-positive or of other historically marginalized identities—you know, the rest of us; and
I want to challenge and encourage you all to buy, borrow and read them!
It's the Spring Equinox as I write this, the sun is out and the temperature is rising. I feel spring coming and winter shedding its icy darkness for another year. I look forward to moving my reading outdoors, to feel the breeze and the soak in the sun. I always appreciate this time of transformation and renewal.
I hope where you are, the weather allows you to do all the things that bring you joy and rest. I wish you blessings for all the changes occurring in your own lives and the energy and resources you need to feel renewed and refreshed.
These 40 books are bound to help you transform, forget, recall, reflect, reimagine, rebound and recombobulate. Happy spring reading!
---
By Madhushree Ghosh (@WriteMadhushree). University of Iowa Press. 212 pages. Out April 4.
I'm thrilled that food memoirs are a thing and can't wait to dive into this South Asian delicacy.
---
By Treva B. Lindsey (@divafeminist). University of California Press. 342 pages. Out April 5.
The title says it all: It's urgent we reckon with violence against Black women and girls, past and present, and fight for a liberated future.
---
By R/B Mertz (@rbmertz). Unnamed Press. 374 pages. Out April 5.
Trans/nonbinary butch poet R/B Mertz challenges religion, conservatism and tradition in this powerful memoir.
---
Written by Chesil and translated by Takami Nieda (@tnieda). Soho Teen. 168 pages. Out April 5.
In English for the first time is the stunning debut novel by the award-winning Chesil, who writes of being Zainichi, an ethnic Korean born in Japan.
---
By Charlie Jane Anders (@charliejane). Tor Teen. 320 pages. Out April 5.
If you've not read Anders before, treat yourself to the super-fun "Unstoppable" series, of which this is book two.
---
By Chloé Cooper Jones (@ccooperjones). Avid Reader Press. 288 pages. Out April 5.
Jones has given us a remarkable, no-holds-barred debut memoir about motherhood, disability and visibility.
---
By Rhea Ewing (@finecomic). Liveright. 336 pages. Out April 5.
What began as comics based on interviews with people in the Midwest (including Madison, WI, which is where I met Rhea) has become a stunning graphic novel about gender expression from people all over the country.
---
By Jenny Tinghui Zhang (@sunspotletters). Flatiron Books. 336 pages. Out April 5.
This historical novel centers a young Chinese heroine trying to make her way in the West against the backdrop of the Chinese Exclusion Act.
---
By Noor Naga (@noor_naga). Graywolf Press. 192 pages. Out April 5.
The last part of this complex and wholly original three-part novel brings it to a whole other level. I loved it.
---
By Tara M. Stringfellow (@tarastringfellow). Dial Press. 272 pages. Out April 5.
This character-driven story of three generations of Southern Black women was called "a stellar debut" by beloved writer Jacqueline Woodson.
---
By Chantal V. Johnson (@chantalvjohnson). Little, Brown and Company. 320 pages. Out April 5.
Johnson's debut is a captivatingly raw, funny and relatable take on the survivor narrative.
---
By Lisa Bird-Wilson (Métis and nêhiyaw). Hogarth. 288 pages. Out April 5.
Telling the story of an Indigenous woman adopted by white parents, Bird-Wilson has filled a glaring gap in contemporary lit while proving to be a bold and necessary new voice.
---
By Aamina Ahmad (@aaminaahmad). Riverhead Books. 352 pages. Out April 5.
Dark and compelling, this debut novel is one of secrets, murder and loyalty. It's one that will stay with you.
---
By Dorothy Roberts (@dorothyeroberts). Basic Books. 384 pages. Out April 5.
Award-winning scholar Roberts provides an overdue and urgent examination of this country's racist child welfare system, which has its roots in colonialism, slavery and carcerality.
---
By Elizabeth Alexander (@professorea). Grand Central Publishing. 160 pages. Out April 5.
This is an essential read for our times by the only person who could've written it so exquisitely.
---
By Sara Nović (@novicsara). Random House. 400 pages. Out April 5.
Bestselling author Celeste Ng says True Biz is "Part tender coming-of-age story, part electrifying tale of political awakening, part heartfelt love letter to Deaf culture" and "wholly a wonder."
---
Written by Alia Trabucco Zerán and translated by Sophie Hughes. Coffee House Press. 240 pages. Out April 5.
Alia Trabucco Zerán intricately examines the circumstances under which four Chilean women committed murder and shines a light on the gendered aspects of such crimes.
---
By Emily X.R. Pan (@exrpan). Little, Brown BYR. 400 pages. Out April 12.
In her latest novel, Pan effortlessly weaves Chinese mythology and Romeo and Juliet into a fresh tapestry of love, secrets and grief.
---
Written by Alice Walker and edited by Valerie Boyd. Simon & Schuster. 560 pages. Out April 12.
The edited journals of Alice Walker. I've been anxiously awaiting this one!
---
By Dolen Perkins-Valdez (@dolen). Berkeley. 368 pages. Out April 12.
This is a searing and ultimately hopeful novel about (in)justice and the importance of learning from history.
---
By Okwiri Oduor. Scribner. 368 pages. Out April 12.
Kaleidoscopic in depth and breadth, this extraordinary debut is a magical and evocative story of mothers and daughters, longing and love.
---
By Melissa Chadburn (@melissachadburn). Farrar, Straus and Giroux. 352 pages. Out April 12.
Inspired by the author's Filipino heritage and its folklore, this unflinching debut explores two outcasts whose lives overlap in death.
---
By Mai Al-Nakib (@maialnakib). Mariner Books. 400 pages. Out April 12.
Mai Al-Nakib lyrically explores themes of homeland, tradition and agency as she relates the stories of generations of Arab women across Kuwait, the US, Iraq, India and Lebanon.
---
Written by Kyung-Sook Shin and translated by Anton Hur (@antonhur). The Feminist Press at CUNY. 218 pages. Out April 12.
In a cold and bustling 1990s Seoul, a young woman struggles to find both connection and autonomy in this exploration of (in)visibility, rejection, misogyny and identity.
---
By Claire Kohda. HarperVia. 240 pages. Out April 12.
Can't wait to sink my teeth into this fresh take on the vampire novel from a debut author on the rise.
---
By Dahlma Llanos-Figueroa (@writer1949). Amistad. 352 pages. Out April 12.
Poetically centering a young enslaved African woman in Puerto Rico, this is a devastating yet essential addition to literature on enslavement, imperialism and women's lives.
---
By Janelle Monáe (@janellemonae). Harper Voyager. 336 pages. Out April 19.
Um, it's Janelle Monáe's queer, wildly liberatory, Afrofuturist dream on paper. So yes, I wanna read it!
---
By Elizabeth Cummins Muñoz. Beacon Press. 264 pages. Out April 19.
This is a necessary and long-overdue examination of motherhood, immigration, class, "women's work" and who performs it – and the consequences of the lack of value we put upon them all.
---
By DeMisty D. Bellinger (@DeMistyB). Unnamed Press. Out April 19.
This engrossing and robust novel in three parts features three women in mid-century rural Kansas who fight for safety, agency and independence against formidable odds.
---
By Kate Loree (@opendeeplywithkateloree). She Writes Press. Out April 19.
As full-length books on consensual non-monogamy increase in number, this is one that stands out in its candor, care and practical insights for newbies and experienced non-monogamists alike.
---
By Danyel Smith (@danamo). Roc Lit 101. 320 pages. Out April 19.
From Phyllis Wheatley to Mahalia Jackson to Dionne Warwick, this captivating examination of Black women in music doesn't miss a beat. Endlessly readable, Shine Bright calls overdue attention to the groundbreaking women who made American music.
---
By Hil Malatino (@hilmalatino). University of Minnesota Press. 224 pages. Out April 19.
In the first of two books focused on trans well-being this month, Hil Malatino makes an imperative argument for the right of trans people to feel bad and use those feelings to continue fighting for joy and justice.
---
By Tajja Isen (@tajjaisen). Atria/One Signal. 240 pages. Out April 19.
Tajja Isen's debut collection is funny, poignant and super-smart in all the ways.
---
Written by Françoise Vergès (@phamthikang) and translated by Melissa Thackway. Pluto Press. 160 pages. Out April 20.
When Angela Davis refers to a book as "a robust, decolonial challenge to carceral feminism," I read it. And you should too.
---
By Katy Lees (@IAmKatyLees). Jessica Kingsley. 240 pages. Out April 21.
Here's the second of the two books focused on trans health this month, and it's an indispensable and empowering guide to dealing with transphobia, depression and anxiety, imposter syndrome, and more.
---
By Aria S. Halliday (@DrAriaHalliday). University of Illinois Press. 208 pages. Out April 26.
Important and accessible, Dr. Halliday's latest book expertly examines Black women as cultural producers and consumers and their subsequent, undeniable influence on popular culture.
---
By Jamie Chai Yun Liew (@thechaiyun). Arsenal Pulp Press. 336 pages. Out April 26.
This award-winning debut focuses on family secrets, motherhood, mental health and migration.
---
By Jorja Leap. Beacon Press. 288 pages. Out April 26.
Through case studies, interviews and oral histories, sociologist Jorja Leap shines a light on the challenges, violence and injustices faced by women after incarceration – and some initiatives that just might help end these traumatic cycles.
---
By Vaishnavi Patel (@vaishnawrites). Redhook. 496 pages. Out April 26.
This reimagination of the life of the queen in the Indian epic the Ramayana makes for a rich and engrossing debut.
---
By Michelle De Kretser. Catapult. 288 pages. Out April 26.
This singular novel in two parts (read one and then flip it over and read the other) centers on misogyny, ageism and racism in the near-past and near-future. It's witty, enticing and thought-provoking.
---
Up next: