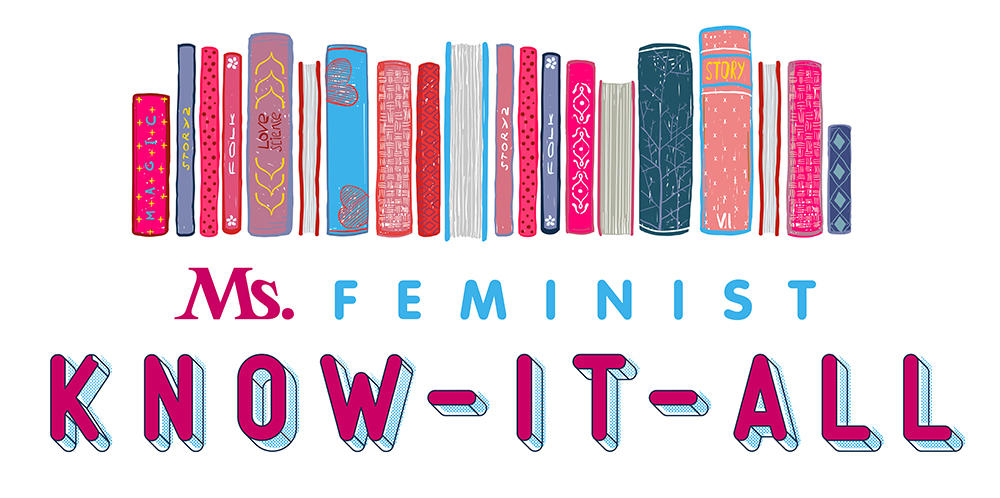 The Feminist Know-It-All: You know her. You can't stand her. Good thing she's not here! Instead, this column by gender and women's studies librarian Karla Strand will amplify stories of the creation, access, use and preservation of knowledge by women and girls around the world; share innovative projects and initiatives that focus on information, literacies, libraries and more; and, of course, talk about all of the books.
---
Each month, I provide Ms. readers with a list of new books being published by writers from historically excluded groups.
The aims of these lists are threefold:
I want to do my part in the disruption of what has been the acceptable "norm" in the book world for far too long—white, cis, heterosexual, male;
I want to amplify indie publishers and amazing works by writers who are women, Black, Indigenous, Latinx, APIA/AAPI, international, queer, trans, nonbinary, disabled, fat, immigrant, Muslim, neurodivergent, sex-positive or of other historically marginalized identities—you know, the rest of us; and
I want to challenge and encourage you all to buy, borrow and read them!
It's February and in Wisconsin it's grey, cold, snowy and dark.
But it's also sparkly, comforting, restful and reflective.
Between the weather, the world and the whims of the astrological waves, I can hardly put cohesive sentences together! But I've focused my attentions and written you a column of books that I hope will help you feel your way through the month as you dream of blossoms and sun, springtime and fun.
Enjoy these 33 February releases! 
---
By Nanjala Nyabola (@nanjalaone). Hurst. 224 pages. Out Feb. 1.
Among the first new books examining the global COVID pandemic, this collection of essays offers imperative reflections on Western responses that led to exacerbated inequities throughout the Global South in particular. 
---
By Gothataone Moeng (@onemoeng). Viking. 304 pages. Out Feb.7.
The stories in Moeng's debut collection are grounded in her experience of life in Botswana. Focused on everyday life and families there, the book incorporates both unique and universal themes of relationships, infidelity, loss, sexuality, community, opportunity and love.
---
By Francesca T. Royster. Abrams Press. 288 pages. Out Feb. 7.
The latest book by Francesca Royster will have you Feeling. The. Love. This insightful memoir celebrates the author's chosen family, which includes her white wife and their Black adopted daughter, and illustrates the ups and downs of adoption, parenthood and queer, interracial relationships. 
---
By Cara Page and Erica Woodland (@ebmore1). North Atlantic Books. 320 pages. Out Feb. 7.
Dorothy Roberts describes this as "an essential guide for all abolitionists," and I need no more convincing. Get it, read it, live it, pass it on.
---
By Lamya H (@lamyaisangry). The Dial Press. 304 Pages. Out Feb. 7.
This is an exciting and candid new memoir in essays from a queer hijabi Muslim immigrant who makes sense of her attraction to women through stories from the Quran. It's being heralded as a new queer classic.
---
By Sadeqa Johnson (@SadeqaSays). Simon & Schuster. 384 pages. Out Feb. 7.
If you've read Sadeqa Johnson's other books, you'll know her extraordinary talent for writing historical fiction that breaks the mold by challenging dominant narratives and encouraging readers to rethink their assumptions. Her latest offering is a powerfully moving story of womanhood, motherhood, race and redemption.
---
By Jessica Wilson (@JessicaWilsonRD). Hachette Go. 288 pages. Out Feb. 7.
When Roxane Gay deems a book "necessary", I take notice, as I did with Jessica Wilson's ode to Black women's bodies, health and wellness. A Black, queer dietitian and expert in disordered eating, Wilson invites readers to reflect, rethink, reclaim, resist and reimagine living a life of pure joy.
---
By Charmaine Craig. Grove Press. 208 pages. Out Feb. 7.
Written by the outrageously talented Charmaine Craig, My Nemesis tells the stories of two women, their marriages and their deceptions. Brilliantly speaking to themes of gender, friendship, loyalty, perception and identity, this one will have you thinking.  
---
Written by Mariana Enriquez. Translated by Megan McDowell. Hogarth. 608 pages. Out Feb. 7.
This is the first novel written by Argentine author Mariana Enriquez to be translated into English, and it is getting all the accolades. It's also a dark, dystopian, supernatural, queer, occult horror, so sign me up!
---
Edited by Aracelis Girmay (@aracelisxgirmay). Haymarket Books. 320 pages. Out Feb. 7.
An anthology of true beauty and depth, So We Can Know explores the pregnancy, abortion, miscarriage and birth experiences of writers of color. Girmay has brilliantly assembled a moving volume of poems, essays and other contributions by Elizabeth Alexander, Cheryl Boyce-Taylor and more.    
---
By Margaret Verble (Cherokee). Mariner Books. 256 pages. Out Feb. 7.
With this latest novel, Pulitzer Prize finalist Margaret Verble examines friendship, family ties and the violence of colonialism in this harrowing story of a Cherokee child stolen from her family and sent to a boarding school in the 1950s.
---
By Isabel Waidner (@isabelwaidner). Graywolf Press. 192 pages. Out Feb. 7. 
The U.S. debut of the Goldsmiths Prize winning author Isabel Waidner, this surreal satire is focused on a nonbinary migrant who seeks justice after being attacked and arrested. It is strange, powerful, witty, kaleidoscopic and well, a bit deranged in all honesty… in only the best of ways.  
---
By Cherie Dimaline (Georgian Bay Métis) (@cherie.dimaline). William Morrow. 400 pages. Out Feb. 7.
Luckily for me, Cherie Dimaline—one of my favorite writers—has been exceptionally busy of late! Not only has she written this magical story centering witchy women everywhere, but she's also got a haunting YA novel coming on April 4 (Funeral Songs for Dying Girls, Tundra Books) and she's sharing a candid personal essay on Feb. 16 (An Anthology of Monsters: How Story Saves Us from Our Anxiety, University of Alberta Press). Just read 'em all; I'm going to!
---
By Barbara Brandon-Croft. Drawn & Quarterly. 184 pages. Out Feb. 7.
In 1989, Barbara Brandon-Croft was the first Black woman cartoonist to enter national syndication with her comic strip Where I'm Coming From. This beautiful book celebrates Brandon-Croft and her trailblazing work.
---
By Jennifer Maritza McCauley. Counterpoint. 272 pages. Out Feb. 7.
Centering on Black American and Afro-Puerto Rican perspectives, these stories will beguile and intrigue. They are equally tender and sharp, gentle and defiant, delicate and resilient.
Edited by Erin Sharkey (@erinjaws). Milkweed Editions. 312 pages. Out Feb. 14.
This brilliant collection includes contributions from Erin Sharkey, Carolyn Finney, Lauret Savoy, Alexis Pauline Gumbs and others, writing about nature, land, wilderness and wildness.  
---
By Silvia Rodriguez Vega (@SilviaSiSePuede). NYU Press. 232 pages. Out Feb. 14. 
This singular volume is at once heartbreaking and hopeful as it tells the stories of immigrant children through their own works of art. Silvia Rodriguez Vega has spent a decade with children in Arizona and California and has found that the experience of making art about their experiences helps them to express their feelings, process their pain and become active participants in their healing journeys.
---
By Camonghne Felix (@camonghne). One World. 240 pages. Out Feb. 14.
After a terrible heartbreak, Camonghne Felix did some deep soul searching, reflecting on her past, her traumas and her dyscalculia diagnosis in order to make sense of it. The outcome is this extraordinary volume reckoning with intimacy, healing, perception, love and loss. 
---
By Rebecca M. Webster (Oneida). University of Wisconsin Press. 208 pages. Out Feb. 14.
While focused on the history and treaties of the Oneida Nation in what is now known as Wisconsin, this singular volume illustrates the conflicts most Indigenous nations have had with the governments of this country. Webster offers clear and formidable arguments for the inherent rights of all Native nations to life, self-governance, safety and sovereignty.
---
By adrienne maree brown (@adriennemaree). AK Press. 216 pages. Out Feb. 14.
Part of the powerful and compelling Black Dawn series, this is book two of the dystopian Grievers trilogy by the incomparable adrienne maree brown. In it, Dune realizes that in pandemic-devasted Detroit, survival means community, collectivity and connection. 
---
By Asale Angel-Ajani (@asaleangelajani). MCD. 320 pages. Out Feb. 21.
Angel-Ajani's extraordinary debut explores the bitter and precarious relationship between a Black, biracial teen and her Russian mother. Their challenging circumstances exacerbated by poverty, violence and hostile desert surroundings, the pair try to survive, both as individuals and as a family. 
---
Written by Astrid Roemer. Translated by Lucy Scott. Two Lines Press. 284 pages. Out Feb. 21. 
Available for the first time in English is this classic of queer Black literature by the first Surinamese winner of the Dutch Literature Prize, Astrid Roemer. It tells the heartwrenching yet sensual and empowering story of a woman who flees her abusive husband to live a life of her own making.  
---
By S.J. Klapecki (@sjklapecwriting). AK Press. 224 pages. Out Feb. 21. 
With this, the third book in AK Press's Black Dawn series (see also: Maroons, above), S.J. Klapecki has written the queer, scifi, anticapitalist revolution book we've been waiting for. Spacey, idealistic, dystopian and empowering, read it in one sitting on a cold winter's night.    
---
By Gulchehra Hoja (@gulchehrahoja). Hachette Books. 320 pages. Out Feb. 21.
Last February, I mentioned the first memoir written by a Uyghur woman about her experiences in Chinese "reeducation" camps and I am excited to see another brave Uyghur woman sharing her story. Gulchehra Hoja is a journalist who put everything on the line to not only write about the beauty of her culture and land, but also to expose the horrific treatment of her people – and her family – at the hands of the Chinese state.
---
By Sarah Hernandez (Sicangu Lakota) (@Sarah1Hernandez). University of Arizona Press. 232 pages. Out Feb. 21.
Women are the traditional knowledge keepers and culture bearers of Oceti Sakowin peoples, as Sarah Hernandez explores in this critical work. Colonization has devastated their literary and cultural records but Oceti Sakowin writers have been working hard to decolonize and recover their traditions. 
---
By Shannon Chakraborty (@SAChakraBooks). Harper Voyager. 496 pages. Out Feb. 28.
Amina thought she had hung up her scabbard for good until she was offered a fortune to save the kidnapped daughter of a former crewman. If you're looking for a fantastic new series and appreciate adventure, magic, mysteries and treasures with a badass pirate at the helm, Shannon Chakraborty's got you covered. 
---
By Jennifer L. Freeman Marshall. University of Illinois Press. 272 pages. Out Feb. 28.
This is a fascinating examination into the work of Zora Neale Hurston as an anthropologist, which has been all but forgotten, especially in comparison to her work as a writer and cultural icon. 
---
By Diane Marie Brown (@writerdichick). Graydon House. 368 pages. Out Feb. 28.
Centering on four generations of women, this family drama has all the secrets, magic, twists and mysteries that you could want. Handling generational trauma in a tender and compassionate way, Brown delivers a debut you won't want to put down.
---
By Leah Penniman (@LeahPenniman). Amistad. 352 pages. Out Feb. 28.
The latest book by Soul Fire Farm co-founder Leah Penniman honors Black relationships to the land and environment, while reminding readers of the humility, regard and respect we must have for the Earth in order to save it. This anthology includes contributions from adrienne maree brown, Alice Walker, and many more.
---
By Jermaine Fowler (@JermaineDFowler). Row House Publishing. 416 pages. Out Feb. 28.
You've listened to the podcast (you have, right?), now pick up the book that reframes and reinvigorates Black history and humanity in ways the current dominant narratives ignore or just plain get wrong. Through dynamic and enriching storytelling, Fowler brings history to life in new and compelling ways.
---
By Cristina Rivera Garza (@criveragarza). Hogarth. 320 pages. Out Feb. 28.
On July 16, 1990, Cristina Rivera Garza's sister, Liliana, was murdered by her abusive ex-boyfriend. Twenty-nine years later, Cristina searches for answers to the unresolved crime that haunts her and her family. This is a mystery, a journey, a love story, a crime story, a biography and hopeful treatise on healing all wrapped into one stunning work.
---
By Angela Saini (@AngelaDSaini). Beacon Press. 256 pages. Out Feb. 28.
Do we really need another book about the patriarchy? Um, does patriarchy still exist?! Yes! Especially when the book exposes the fragility and precarity of the patriarchy, we definitely need it. Saini's latest challenges previous narratives and adds to the hope we need right now.  
---
By Trang Thanh Tran (@nvtran). Bloomsbury YA. 352 pages. Out Feb. 28.
Part family drama, part coming of age, part queer discovery, and all haunted house, this spooky YA debut has it all. Offering a fresh perspective on the gothic genre, Trang Thanh Tran brings Vietnamese culture, French colonialism, race and family estrangement together to create a riveting thriller. 
---
Up next:
U.S. democracy is at a dangerous inflection point—from the demise of abortion rights, to a lack of pay equity and parental leave, to skyrocketing maternal mortality, and attacks on trans health. Left unchecked, these crises will lead to wider gaps in political participation and representation. For 50 years, Ms. has been forging feminist journalism—reporting, rebelling and truth-telling from the front-lines, championing the Equal Rights Amendment, and centering the stories of those most impacted. With all that's at stake for equality, we are redoubling our commitment for the next 50 years. In turn, we need your help, Support Ms. today with a donation—any amount that is meaningful to you. For as little as $5 each month, you'll receive the print magazine along with our e-newsletters, action alerts, and invitations to Ms. Studios events and podcasts. We are grateful for your loyalty and ferocity.