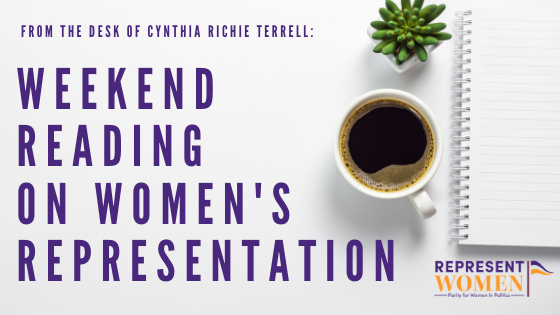 Weekend Reading on Women's Representation is a compilation of stories about women's representation in politics, on boards, in sports and entertainment, in judicial offices and in the private sector in the U.S. and around the world—with a little gardening and goodwill mixed in for refreshment!
---
As threats to women rise in the country, RepresentWomen examines the progress and setbacks women in public office face around the globe.
Women Now Represented in Every Parliament but Underrepresentation Persists
According to an article from the United Nations, women are now represented in every parliament in the world. Still, data from the Inter-Parliamentary Union indicate that progress toward gender balance in governments has slowed globally:
The findings are based on data from the 47 countries that held elections last year.

These polls saw women take an average of 25.8 per cent of the seats available, representing a 2.3 percentage point increase, since elections were last held.

Despite this positive data, IPU noted that it is nonetheless the smallest increase in women's participation in six years. The 0.4 per cent rise means that the global share of women in parliamentary office, stood at 26.5 per cent, as the New Year dawned.

The other bad news is that at this rate, it will take another 80 years to reach gender parity in parliament, said Martin Chungong, IPU Secretary General:

"Currently, one of the foremost obstacles, is the climate of sexism, harassment, violence against women that we are witnessing across the world", he said.

"It is a phenomenon that is pervasive across the world and it is not endemic to any particular region. And we can estimate that this is having a toll on the participation of women in political life."
---
Gender Balance Reached in New Zealand Cabinet
Women in New Zealand hold 50 percent of seats in parliament—due in part to the use of proportional voting—and now New Zealand has its first gender-balanced cabinet following the appointment of Willow-Jean Prime to be minister of conservation, according to this article from Women's Agenda:
For the first time in history, New Zealand has reached an equal number of men and women in its cabinet.

It comes after Prime Minister Chris Hipkins announced on Monday that Willow-Jean Prime would enter cabinet as conservation minister.

With Prime in the country's cabinet, there's now a total of 10 women and 10 men. Her promotion also brings Māori representation in the cabinet to a record of six ministers.

"It is a great privilege to be promoted to cabinet," Prime said, adding that it's "also very special to be part of history".

"I look forward to being a very active contributor around the cabinet table' as Prime Minister Chris Hipkins said in his Post-Cab Press Conference," Prime said, joking that this made her laugh "because he and others have probably noted my passion and enthusiasm".

Speaking to the importance of having a gender-equal cabinet that reflects the New Zealand population, Hipkins said, "I think it's a good milestone to achieve. We achieved 50/50 representation in parliament in this parliamentary term, I think that's a very welcome thing, and now we have that around the Cabinet table as well."
---
Abortion Restrictions Escalate
One extreme Texas Judge decided Mifepristone isn't safe for women.

Seriously?

Fact: Scientists and doctors reviewed it for four years and it has been legal and safe for over two decades.

This opinion sets a dangerous precedent for our whole healthcare system.

— Amy Klobuchar (@amyklobuchar) April 8, 2023
A drug that's been used for over 20 years, mifepristone has long been deemed safe by doctors and scientists.
Last Friday, Matthew Kacsmaryk, a Trump-appointed federal judge in Texas, ordered a hold on the long-standing approval of mifepristone. An hour later, Judge Thomas O. Rice, an Obama-picked judge in Washington state issued a competing ruling, issuing an injunction blocking the FDA from "altering the status quo and rights as it relates to the availability of mifepristone." 
This week brought even more competing rulings, as Carrie Baker wrote for Ms.:
Judge Thomas O. Rice of the U.S. District Court for the Eastern District of Washington issued an order Thursday afternoon, requiring the FDA to maintain full access to mifepristone in 17 states plus Washington, D.C.—a response to a lawsuit filed by attorneys general of those jurisdictions. 

The federal order out of Washington state said that the FDA must follow his order, "irrespective" of the Fifth Circuit appeals court—a reference to a separate ruling issued on Wednesday on mifepristone that limits its use up to just seven weeks of pregnancy, which reproductive advocates warn would significantly impair access to abortion.
These competing court orders likely mean the issue will rise to the Supreme Court.
Restricting access to the drug could be life-threatening. This Washington Post story details "two friends [who] were denied care after Florida banned abortion. One almost died."
A 2022 study on the impact of Texas's six-week abortion ban found that 57 percent of pre-viability PPROM patients in Texas who were not given the option to end their pregnancies experienced "a serious maternal morbidity," such as infection or hemorrhage,compared with 33 percent of PPROM patients who chose to terminate in states without abortion bans. According to 2018 ACOG guidance, "isolated maternal deaths due to infection" have been reported in early PPROM cases.
---
The Gender Gap in Politics—and She Should Run's Solution
In an article from MSNBC, Lauren Boone writes about our fantastic partner organization She Should Run and their new study released in late March, which shows how women across all ideologies are motivated by several issues impacting their community.
She Should Run is a nonpartisan and nonprofit organization working to dramatically increase the number of women considering a run for public office. You can read their full "Group Chat Issues" report here.
There's a record number of women serving in governorships and in the U.S. House. And there's been a steady rise of women serving in public office.

Still, politics is largely a man's game.

Women still make up just over a quarter of the 118th Congress. And while women have proven time and time again that they can run and win, there's an ambition gap that's holding them back.

The good news is that more women than ever before are motivated to run for political office. According to a new study from the non-partisan, non-profit organization She Should Run, which aims to get more women to run for public office, nearly a quarter of the women, or 22.4 percent, are interested in seeking elected office…

"By reaching and motivating this untapped talent, the goal of reaching equal representation in government can be accomplished," Erin Loos Cutraro, founder and CEO of She Should Run, said about the study.
---
Stacey Abrams Appointed to Howard University's Faculty
Last week, former Georgia gubernatorial candidate Stacey Abrams was appointed as the Ronald W. Walters endowed chair for race and Black politics at Howard University. Susan Svrluga reported in The Washington Post on this exciting new role for Abrams:
"We are entering an inflection point in American politics where the conversation of race and Black politics will be a central facet," Abrams said, "and having the chance to help guide part of the conversation for young people who are studying at Howard University is an exceptional opportunity…"

"The work she has been doing on voter registration and voting irregularities, especially in Georgia but across the country, speaks to a lot of what Ronald Walters embodied. This appointment is extremely important for our students," he said, adding that he hopes it will help them create solutions to those problems…

But Howard is located in a powerful hub of influence in many fields, she said. "Washington, D.C. is an essential part of how we protect democracy, how we think about social policy, how we challenge norms," Abrams said. "And Howard University is a crucible for how we can engage all of those pieces. And so when they approached me, I was excited."

Abrams will be using the endowed chair for a variety of things, Frederick said, "everything from teaching students to holding workshops and symposia … and also collaborate with other faculty members as we conduct research about these critical issues as well."
---
New Documentary Made by Mona Das Explores BIPOC Women in Politics
Former Washington state Senator Mona Das sat down with New Day Northwest this week to discuss her upcoming documentary exploring BIPOC women in politics. She shared her personal experience as a BIPOC woman in public office and her deep understanding: "If we're not at the table, we're on the menu." Former Senator Das also discussed the reality that women face barriers to run, win, serve, and lead in elected office, and she focused on fundraising.
RepresentWomen's research shows that women must raise more money than their male counterparts to succeed. On top of that, our research shows that women rely more on small donors, which puts them at a strategic disadvantage—raising $500,000 from three large donors is a lot easier than spending the time, energy, and resources required to raise that much with $20 contributions. 
The pipeline of women candidates also hits a major clog when it comes up against our winner-take-all electoral system. Thanks to our partners and allies on the ground, former Senator Das' home state of Washington is on its way to advancing ranked-choice voting across the state. Ranked-choice voting removes significant barriers to representation by reducing the violence and negativity of campaigns, altogether eliminating "spoiler candidates," reducing the cost to run, and empowering voters to vote their actual preferences rather than engage in strategic voting.
Learn more from our Washington-based friends at FairVote Washington and Fix Democracy First.
---
Spring Has Arrived—in my Garden!
It's been a busy time in the garden. I have often been reminded that planting bulbs and seeds require knowing what they need to flourish and faith that the plants will grow—even if it takes a long time. The parallels to building women's political power are endless!
Here are some recent photos:
---
Finally, celebrating the new RepresentWomen offices in downtown Silver Spring, Md., with allies, supporters, board members, staff and donors was great!
Ann Marie Staudenmaier, Nicole Bailey (RepresentWomen's development director), Ann Kempski, Ann Greiner, and Mehrnaz Teymourian (RW board member) are pictured with me in the new office.

Sheila Krumholz (Open Secrets), Vasundhara Kamath (Running Start), Erica Teti-Zilinskas (She Should Run), Brianna Carmen (Emerge), & Debilyn Molineaux (Bridge Alliance) pictured here with RepresentWomen communications director Laura Carns.
Up next:
U.S. democracy is at a dangerous inflection point—from the demise of abortion rights, to a lack of pay equity and parental leave, to skyrocketing maternal mortality, and attacks on trans health. Left unchecked, these crises will lead to wider gaps in political participation and representation. For 50 years, Ms. has been forging feminist journalism—reporting, rebelling and truth-telling from the front-lines, championing the Equal Rights Amendment, and centering the stories of those most impacted. With all that's at stake for equality, we are redoubling our commitment for the next 50 years. In turn, we need your help, Support Ms. today with a donation—any amount that is meaningful to you. For as little as $5 each month, you'll receive the print magazine along with our e-newsletters, action alerts, and invitations to Ms. Studios events and podcasts. We are grateful for your loyalty and ferocity.