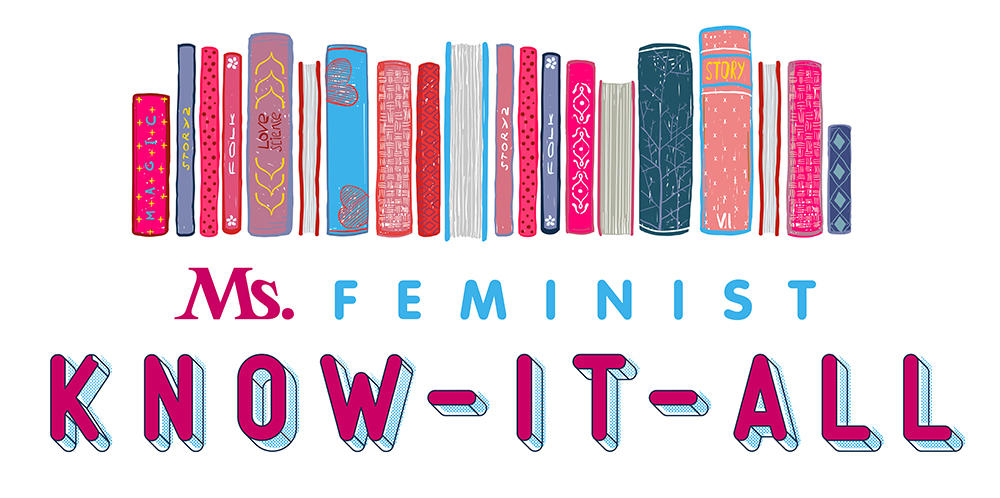 The Feminist Know-It-All: You know her. You can't stand her. Good thing she's not here! Instead, this column by gender and women's studies librarian Karla Strand will amplify stories of the creation, access, use and preservation of knowledge by women and girls around the world; share innovative projects and initiatives that focus on information, literacies, libraries and more; and, of course, talk about all of the books.
---
Each month, I provide Ms. readers with a list of new books being published by writers from historically excluded groups.
The aims of these lists are threefold:
I want to do my part in the disruption of what has been the acceptable "norm" in the book world for far too long—white, cis, heterosexual, male;
I want to amplify indie publishers and amazing works by writers who are women, Black, Indigenous, Latinx, APIA/AAPI, international, queer, trans, nonbinary, disabled, fat, immigrant, Muslim, neurodivergent, sex-positive or of other historically marginalized identities—you know, the rest of us; and
I want to challenge and encourage you all to buy, borrow and read them!
It's almost here!
The spectacular 50 Years of Ms.: The Best of the Pathfinding Magazine that Ignited a Revolution is almost here. This celebration of the groundbreaking feminist magazine will go on sale Sept. 19 from Knopf; pre-order yours and get it sent to your door. It is seriously magnificent.
Love the magazine? Buy the book!
Oh, and check out these 30 other fantastic books releasing this month!
---
Edited by Stephanie Andrea Allen (@stephanie.andrea.allen) and Lauren Cherelle (@LaurenCre8s). BLF Press. Out Sept. 5.
Spanning genres and backgrounds, the contributors to this collection all honor and highlight the beauty and joy of Black life and love. This volume is frank, fluid, lyrical, vibrant and vital. Includes pieces by Penny Mickelbury, Lauren Cherelle, Sylvain, Stephanie Andrea Allen and more.
*
By Myriam Gurba (@alt_myriam_gurba666). Avid Reader Press/Simon & Schuster. 352 pages. Out Sept. 5.
If this is your first exposure to Myriam Gurba, buckle up. Read the trigger warnings and take these essays slow if need be. Challenging and cathartic, Creep is a collection of power and place, kinship and kindness, violence and atrophy. It may hurt, but this one will heal you.
*
By Sheena Patel (@imightbesheenapatel). Graywolf Press. 216 pages. Out Sept. 5.
Fresh and original, Sheena Patel's debut centers any one of us who is obsessed with social media, fandom, self-esteem or self-loathing. It explores identity, class, patriarchy and pop culture, all within a framework of heart and humor, irony and iconoclasm.
*
By Yiyun Li. Farrar, Straus and Giroux. 256 pages. Out Sept. 5.
There is a cleverness and cohesion across the stories of Wednesday's Child—a partnership of opposites that all point in the same direction—which is unique and nuanced. In this original collection, Yiyun Li explores themes of loss, life, motherhood, mental health, immigration and identity.
*
By Marina Magloire. University of North Carolina Press. 218 pages. Out Sept. 5.
Marina Magloire has written this tremendous history of Black feminist thought based on the archives of writers such as Toni Cade Bambara, Lorraine Hansberry and Audre Lorde. Through this vital research, Magloire examines Black feminism through the lens of religion, spirituality and ancestor-focused community-making.
*
by Madeleine Nakamura (@mad_nakamura). Canis Major Books. 284 pages. Out Sept. 12.
This debut adult fantasy has everything I've been missing, all rolled into one: queerness, neurodivergence, magic, aromance, friendship, mystery, electricity and more. Ally with Adrien as he fights violence, chaos and his own demons to save his city and himself.
*
By Cookie Woolner (@cookiewoolner). University of North Carolina Press. 210 pages. Out Sept. 12.
For my history buffs, check out this impeccably researched and compellingly written examination of Black women who loved women during the 1920s and 1930s. From ordinary women to performers and writers like Bessie Smith and Alice Dunbar-Nelson, Black women created worlds in which to live, love and flourish.
*
By Halle Hill (@hallewrites). Hub City Press. 216 pages. Out Sept. 12.
Halle Hill's debut collection features 12 Appalachian women, some impatient and impressive, others immovable and impervious—but all imperfect. They are real and relatable, as is Hill's nuanced and engaging writing.
*
By Christine Lai (@christinelai44). Two Dollar Radio. Out Sept. 12.
In the wake of environmental destruction, Penelope is preparing to sell the house she and her partner have lived in for twenty years. While faced with a daunting past and looming future, she turns to art and beauty for home, hope and healing.
*
By Nghi Vo (@nghivowriting). Tordotcom. 128 pages. Out Sept. 12.
And here we are at book four of the masterful Singing Hills Cycle. This award-winning series is written by the incomparable and original Nghi Vo, one of the best storytellers writing today. It's feminist fantasy at its finest.
*
By Bettina L. Love (@BLoveSoulPower). St. Martin's Press. 352 pages. Out Sept. 12.
In a book billed as the "prequel" to Michelle Alexander's The New Jim Crow, Love explores the past 40 years of educational reform and those who were its target—read: Black and Brown children.
*
Written by Ntozake Shange. Edited by Imani Perry (@imaniperry). Legacy Lit. 496 pages. Out Sept. 12.
From a poem published in her high school newspaper to her groundbreaking choreopoems to moving critical essays—all previously unpublished—this volume showcases the genius of Shange: her breadth, depth, wisdom and love.
*
By Lynnée Denise (@lynneedenise). University of Texas Press. 240 pages. Out Aug. 12.
Willie Mae "Big Mama" Thornton was a Black, queer blues woman often recognized for her song, "Hound Dog," but she was so much more. In the latest volume of the Music Matters series, Lynnée Denise rediscovers and reclaims Thornton's life and legacy, a gift to us all.
Check out the other volumes in the series, which include a recent exploration of the recently departed Sinead O'Connor.
*
By Mary Slechta. Four Way Books. 191 pages. Out Sept. 15.
Winner of the 2021 Kimbilio National Fiction Prize, Mulberry Street Stories uses magical realism to highlight the lives of the residents of Mulberry Street in interconnected stories. The themes of this haunting and hypnotic collection include history, trauma, racism, resilience, connection and collectivity.
*
By Kat Calvin (@katcalvinla). Amistad. 176 pages. Out Sept. 19.
Kat Calvin is a force to be reckoned with. The founder of a national organization dedicated to getting people in the U.S. the identifications they need to vote, get housing and more, Calvin has written a powerful exploration into her own development as an activist and leader that will move others to follow her example and get to work.
*
By Mandy-Suzanne Wong (@mandysuzannew). Graywolf Press. 264 pages. Out Sept. 19.
Mandy-Suzanne Wong's latest novel is a complex examination of form, language, ideas, animacy and agency. Challenging yet gratifying, The Box switches narrators as the white paper box itself changes hands throughout the story, giving it life and meaning.
*
By Myisha Cherry (@myishacherry). Princeton University Press. 240 pages. Out Sept. 19.
Philosopher, professor and podcaster Myisha Cherry will make you stop and (re)examine what you think you know about forgiveness. It's what we all aim for, right? But how does forgiveness intersect with anger or with justice? Cherry explains how we can do forgiveness differently and, potentially, better.
*
By Katie Barnes (@katie_barnes3). St Martin's Press. 304 pages. Out Sept. 19.
We've all seen the recent attacks on trans and non-binary athletes, the reactive legislation and the misleading headlines. Now read the history and research behind the sensationalism in this thoughtful and multifaceted new book by longtime ESPN writer Katie Barnes.
*
By Shilpi Suneja (@shilpits). Milkweed Editions. 328 pages. Out Sept. 19.
Intense and evocative, this powerful debut historical saga recounts India's partition throughout time to explore the profound intergenerational impacts of the event in nuanced and beautiful storytelling.
*
By Alicia Roth Weigel (@xoxy_alicia). HarperOne. 256 pages. Out Sept. 19.
Powerhouse activist Alicia Roth Weigel, also the subject of a new documentary entitled Every Body, has written this reflective and timely collection of essays focused on intersex representation and justice, identity and authenticity.
*
By Fujiwara Maki. Translated by Ryan Holmberg (@mangaberg). Drawn & Quarterly. 284 pages. Out Sept. 19.
Fujiwara Maki (1941-1999) is often referred to as the celebrated mangaka Yoshiharu Tsuge's wife, but she was a fierce and talented artist in her own right. Her life with him, her motherhood and her daily life are candidly documented in this lovely edition of My Picture Diary.
*
By Octavia E. Butler. Melville House. 192 pages. Out Sept. 19.
The latest captivating volume in The Last Interview series is focused on the incomparable Octavia E. Butler (1947-2006). In ten interviews, three of which have never been published, Butler speaks candidly about her writing and the challenges of being a Black woman in science fiction.
*
By Oliver Radclyffe (@oliverradclyffe). Unbound Edition Press. 54 pages. Out Sept. 20.
In this short monograph, Oliver Radclyffe makes imperative and impassioned arguments for understanding the broad fluidity of sex and gender, especially in embodied and humanist terms as opposed to theoretical or ideological ones. Let this pointed and readable tome whet your appetite for Radclyffe's full-length memoir coming in 2024.
*
Written by Lesléa Newman (@lesleanewman). Illustrated by Brian Britigan (@brianbritigan). Abrams ComicArts. Out Sept. 26.
This year marks the 25th anniversary of Matthew Shepard's (1976-1998) brutal killing in Laramie, Wyoming, just for being gay. This beautiful volume is a tribute to Shepard and the legacy of LGBTQ+ advocacy his tragic killing inspired. Simple yet moving line drawings perfectly complement the text by oft-banned writer Lesléa Newman.
*
By Alicia Elliott (Mohawk) (@ellialic). Dutton. 368 pages. Out Sept. 26.
With her latest book, Alicia Elliott (Mohawk) explores Native identity, tradition, womanhood, motherhood and mental health in compelling, mysterious and magical storytelling. Expertly moving from humor to horror and back again, Elliott navigates heavy themes in thoughtful and original prose.
*
Two Lines Press. 166 pages. Out Sept. 26.
The latest volume in the brilliant Calico Series by Two Lines Press honors and highlights Caribbean identity, life and writing with these powerfully evocative pieces by women from Haiti, Martinique and Guadeloupe.
*
By Chloe Gong (@thechloegong). Margaret K. McElderry Books. 560 pages. Out Sept. 26.
This is the second book of the fantastic(al) Foul Lady Fortune duology in which an immortal assassin in 1930s Shanghai fights for love and country against all odds. It's thrilling, enthralling and enchanting all at once.
*
By C Pam Zhang (@cpamzhang). Riverhead Books. 240 pages. Out Sept. 26.
When an unnamed chef takes a job with surprisingly distinctive and delectable food, she sees the difference money and standing can make even in a dying world. Through lush and leisurely descriptions, Zhang explores pleasure, privilege and palette with care. This is one to savor.
*
By Thrity Umrigar (@ThrityUmrigar). Algonquin Books. 368 pages. Out Sept. 26.
An expert storyteller, Thirty Umrigar knows how to weave a tale of family secrets, relationships, tradition and acceptance. Layered and captivating, The Museum of Failures is just that story, in which a mother and son struggle to connect, understand and forgive.
*
By Vauhini Vara (@vauhinivara). WW Norton & Co. 208 pages. Out Sept. 26.
This collection of stories is everything. From girlhood to grief, it explores intimacy, relationships, loss, motherhood, aloneness and alienation. Vara's writing is emotional, arresting, chilling, surprising and effortlessly radiant.
Up next:
U.S. democracy is at a dangerous inflection point—from the demise of abortion rights, to a lack of pay equity and parental leave, to skyrocketing maternal mortality, and attacks on trans health. Left unchecked, these crises will lead to wider gaps in political participation and representation. For 50 years, Ms. has been forging feminist journalism—reporting, rebelling and truth-telling from the front-lines, championing the Equal Rights Amendment, and centering the stories of those most impacted. With all that's at stake for equality, we are redoubling our commitment for the next 50 years. In turn, we need your help, Support Ms. today with a donation—any amount that is meaningful to you. For as little as $5 each month, you'll receive the print magazine along with our e-newsletters, action alerts, and invitations to Ms. Studios events and podcasts. We are grateful for your loyalty and ferocity.