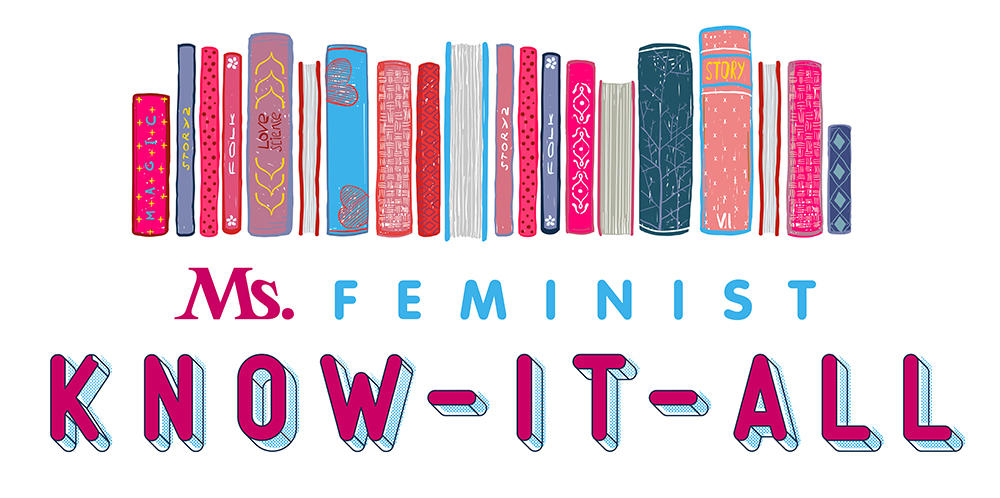 The Feminist Know-It-All: You know her. You can't stand her. Good thing she's not here! Instead, this column by gender and women's studies librarian Karla Strand will amplify stories of the creation, access, use and preservation of knowledge by women and girls around the world; share innovative projects and initiatives that focus on information, literacies, libraries and more; and, of course, talk about all of the books.
---
Each month, I provide Ms. readers with a list of new books being published by writers from historically excluded groups.
The aims of these lists are threefold:
I want to do my part in the disruption of what has been the acceptable "norm" in the book world for far too long—white, cis, heterosexual, male;
I want to amplify amazing works by writers who are women, Black, Indigenous, Latinx, APIA/AAPI, international, LGBIA+, TGNC, queer, disabled, fat, immigrant, Muslim, neurodivergent, sex-positive or of other historically marginalized identities—you know, the rest of us; and
I want to challenge and encourage you all to buy, borrow and read them!
Happy New Year! Here is your list of 25 new books you should check out this month. It's late so let's get right to it.
I hope you can find some nuggets of reading joy here and that they set your new year up right!
---
By Gina Apostol (@GinaApostol). Soho Press. 216 pages. Out now.
Winner of the Phillippine National Book Award and now available for the first time in the US, Bibliolepsy is an original and surprising take on the revolution of love and books that threatened to take down the Marcos dictatorship.
---
By Daphne Palasi Andreades (@DaphnePalasiA). Random House. 224 pages. Out now.
Andreades is especially adept at exploring the importance of friendship, freedom, balance and risk to young women of color blazing their own—and collective—trails. This is a book, and writer, whose time has come.
---
By Echo Brown (@helloechobrown). Christy Ottaviano Books. 336 pages. Out now.
In this magical realist memoir, Echo Brown tells her story of being a first-generation college attendee and dealing with mental illness, belonging, identity and friendship. Many readers will find familiarity—and comfort—in this one.
---
By Jean Chen Ho (@jeanho). Viking. 288 pages. Out now.
Refreshing and intimate, this debut collection of stories features the underrepresented voices of Taiwanese American best friends, Fiona and Jane, and the evolution of their lives and relationship over 20 years.
---
By Thrity Umrigar (@ThrityUmrigar). Algonquin Books. 336 pages. Out now.
In her latest novel, Thrity Umrigar challenges traditions, perceptions and ideals of love in a modern India that still holds fast to ancient systems.
---
By Akshaya Raman (@akshraman). Clarion Books. 384 pages. Out now.
With magic, secrets, diverse characters, romance and war, the first book of this debut YA fantasy duology will leave you excited for its sequel!
---
By Xochitl Gonzalez (@XochitltheG). Flatiron Books. 384 pages. Out now.
This debut has it all: wit, family drama, political power, secrets and betrayal. Amongst it all is a call for deep reflection on identity, home and love.
---
By Jessamine Chan (@jessaminechan). Simon & Schuster. 336 pages. Out now.
Intended as dark satire, this debut may feel all too possible in our current state where control over women's bodies is up for grabs and the surveillance state hits dangerously close to home.
---
By J. Elle (@AuthorJElle). Denene Millner Books. 416 pages. Out January 11.
This is the second book of the Wings of Ebony duology and it is just as thrilling, original and magical as the first.
---
By Alafair Burke (@alafairburke). Harper. 304 pages. Out January 11.
For our mystery, crime and suspense readers out there, bestselling author Alafair Burke is back with this twisting, surprising and satisfying new thrill-ride.
---
By Chantal James. Counterpoint. 240 pages. Out January 11.
This compelling and unique debut centers a young Black man contending with the destruction of Hurricane Katrina and the disembodied soul that has a hold on him.
---
By Taylor Harris (@thurris). Catapult. 272 pages. Out January 11.
This candid and sensitive debut lovingly describes the heartwrenching story of mothering a child who becomes inexplicably ill and the challenges of navigating racism, parenting traditions and science in seeking to make him well.
---
By Hanya Yanagihara (@hanyayanagihara). Doubleday. 720 pages. Out January 11.
This magnificent giant is not one to take on lightly. Read it slowly, sit with it and take in the mysteries and ideas with an open mind and heart.
---
By Nikki May (@nikkiomay). Custom House. 384 pages. Out January 11.
With apt comparisons to Sex and the City, this debut follows four Anglo-Nigerian women in their search for happiness, love, loyalty and friendship.
---
By Tara T. Green (@DrTTGreen). Bloomsbury Academic. 280 pages. Out January 13.
This is the first book-length biography of Alice Dunbar-Nelson, the trailblazing activist, writer, suffragist and educator, remarkably researched and written by University of North Carolina Professor Tara T. Green.
---
By Nnedi Okorafor (@nnedi). Viking Books for Young Readers. 416 pages. Out January 18.
The third book in Okorafor's masterful series is again a loving and powerful ode to Nigerian culture in a kaleidoscopic and magical frame.
---
By Weike Wang. Random House. 224 pages. Out January 18.
This is a timely book that's just right for our time. A successful doctor, Joan reckons with her Chinese background, notions of home and family, as well as the misogyny and xenophobia on the rise all around her.
---
By Laura Coates (@thelauracoates). Simon & Schuster. 272 pages. Out January 18.
Coates has written a searing and unsparing book masterfully examining the chasm between the ideals of law and the realities of its effects on communities of color across the U.S.
---
By Shauna Robinson (@shaunarobs). Sourcebooks Landmark. 336 pages. Out January 18.
If you are, or have ever been, a twenty-something searching for meaning, identity or your happy ending, you will love this book.
---
By Lizzie Damilola Blackburn (@DamilolaLizzie). Pamela Dorman Books. 384 pages. Out January 18.
This is a smart and refreshing take on the romcom, wherein the main character finds herself during the search for a husband. But does she find the husband? Read it to find out!
---
By Zora Neale Hurston. Amistad. 464 pages. Out January 18.
We are blessed to have this first comprehensive collection of Zora Neale Hurston's essays and articles, spanning 35 years, which illustrate the evolution of the time and the writer.
---
By Ricky Tucker. Beacon Press. 248 pages. Out January 25.
At its heart, ballroom is Black, Latinx, trans and subversive; it is also a celebration of life, freedom and queerness. This volume offers an extraordinary examination of the world of ball.
---
By DaMaris B. Hill (@damarishill). Bloomsbury. 176 pages. Out January 25.
DaMaris B. Hill follows up her critically acclaimed A Bound Woman is a Dangerous Thing with this moving narrative-in-verse ode to the innocence, wonder and complexities of Black girlhood.
---
By Imani Perry (@imaniperry). Ecco. 432 pages. Out January 25.
Part memoir, part history, part travelogue, this lush volume pays homage to the South, with its unique stories, multiple identities and imperfect evolutions.
---
By Isabel Allende (@isabelallende). Ballantine Books. 336 pages. Out January 25.
Spanning a century in the life of one woman, Violeta may be one of Isabel Allende's most moving works to date. Striking, passionate and epic, readers won't soon forget it.
---
If you found this article helpful, please consider supporting our independent reporting and truth-telling for as little as $5 per month.
Up next: