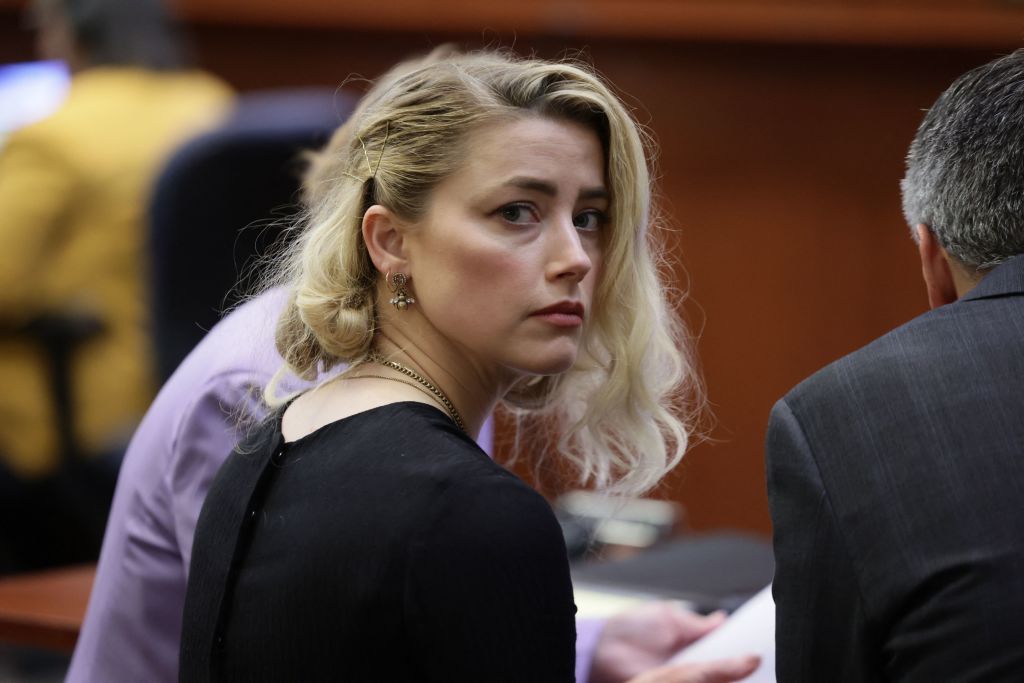 Over 130 signatories have signed onto an open letter of support for Amber Heard, who is at the center of a media firestorm after a legal back-and-forth this summer with ex-husband Johnny Depp. The letter also denounced online harassment, intimidation of women who report abuse, and overall "a monetized social media environment where a woman's allegations of domestic violence and sexual assault were mocked for entertainment."
Signatories of the letter include numerous major gender justice organizations, such as the National Women's Law Center, Ms., Feminist Majority, Esperanza United, Women's March Foundation, National Organization for Women, Equality Now, a host of domestic violence and sexual assault advocacy organizations, academics who work in the field, legal and other experts, notable feminists (including Ms. founding editor Gloria Steinem), and more.
For years, Heard has accused Depp of psychological and physical violence and abuse, often triggered by drinking and drug use. The legal battle reached a head this summer when the two met in court over Depp's lawsuit against Heard for defamation over a 2018 op-ed in the The Washington Post. In it, she urged support for the Violence Against Women Act and called for a change in how the U.S. treats survivors. Depp was not mentioned in the op-ed.
In the end, the Fairfax County, Va., jury returned a split verdict; Depp won his suit against Heard; she won a smaller, $2 million judgement on a counterclaim she filed. The decision is being appealed by both parties.
Study after study shows just 2-10 percent of rape and assault accusations are proven false. In fact, official figures suggest unreported instances of sexual violence far outweigh the number of men convicted on fake accusations.
"In the Depp v. Heard trial, behaviors that are common to survivors were relentlessly mocked and misunderstood," said Dr. Emma Katz, author of Coercive Control in Children's and Mothers' Lives. "These common survivor behaviors—including covering injuries with makeup and leaving your abuser then arranging to meet with them again—were widely condemned as signs of deception. Many survivors watched these public conversations unfold with dread, as the question, 'Will I be believed if I come forward?' seemed to be met with a resounding 'no.'"
Depp is back in the news this week: He appears as a model in Rihanna's Savage x Fenty Vol. 4 show, out on Wednesday. The invitation has raised concerns from feminists and other women's rights activists, many of whom find the choice troubling.
"There were those who believe his version of events and hate Heard with terrifying vitriol, and those who believe Depp was punishing his ex-wife with the full force of the American legal system because he could afford to," Vanity Fair's Kenzie Bryant wrote. "Whatever Rihanna believes, she cast him. … For now let us acknowledge this much: It is weird."
The full letter, released Wednesday, Nov. 16—the same day as the fashion show—is as follows:
An Open Letter in Support of Amber Heard

Five months ago, the verdict in the defamation trial between Johnny Depp and Amber Heard deeply concerned many professionals in the fields of intimate partner and sexual violence.

As many, including A.O. Scott for the the New York Times have noted, the vilification of Ms. Heard and ongoing online harassment of her and those who have voiced support for her have been unprecedented in both vitriol and scale.

Much of this harassment was fueled by disinformation, misogyny, biphobia, and a monetized social media environment where a woman's allegations of domestic violence and sexual assault were mocked for entertainment. The same disinformation and victim-blaming tropes are now being used against others who have alleged abuse.

In our opinion, the Depp v. Heard verdict and continued discourse around it indicate a fundamental misunderstanding of intimate partner and sexual violence and how survivors respond to it. The damaging consequences of the spread of this misinformation are incalculable. We have grave concerns about the rising misuse of defamation suits to threaten and silence survivors.

We condemn the public shaming of Amber Heard, and join in support of her. We support the ability of all to report intimate partner and sexual violence free of harassment and intimidation.
Up next:
U.S. democracy is at a dangerous inflection point—from the demise of abortion rights, to a lack of pay equity and parental leave, to skyrocketing maternal mortality, and attacks on trans health. Left unchecked, these crises will lead to wider gaps in political participation and representation. For 50 years, Ms. has been forging feminist journalism—reporting, rebelling and truth-telling from the front-lines, championing the Equal Rights Amendment, and centering the stories of those most impacted. With all that's at stake for equality, we are redoubling our commitment for the next 50 years. In turn, we need your help, Support Ms. today with a donation—any amount that is meaningful to you. For as little as $5 each month, you'll receive the print magazine along with our e-newsletters, action alerts, and invitations to Ms. Studios events and podcasts. We are grateful for your loyalty and ferocity.