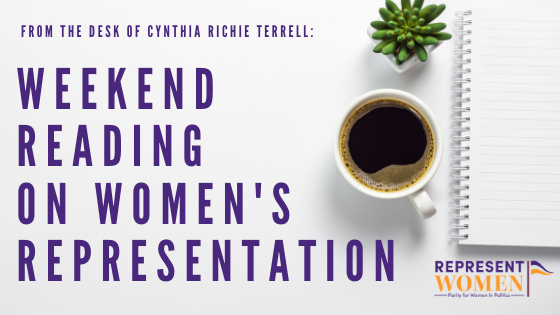 Weekend Reading on Women's Representation is a compilation of stories about women's representation in politics, on boards, in sports and entertainment, in judicial offices and in the private sector in the U.S. and around the world—with a little gardening and goodwill mixed in for refreshment!
---
It's hard to believe that we're almost at the end of 2022! Just because we're getting close to wrapping up for the holidays, though, doesn't mean news on women's representation stops.
Rest in Power, Dorothy Pitman Hughes
Feminist icon Dorothy Pitman Hughes died on Dec. 1. She was 84.
Hughes was most known for her community-level activism in New York in the early 1970s, and for being a critical voice for issues of race, class and motherhood in debates about feminism and equality.
One of Dorothy's first acts of feminist resistance was founding the West 80th Street Day Care Center in Manhattan in 1966. In his piece in the New York Times, Clay Risen reports:
Day care for working parents was a revolutionary idea in itself, but the center was much more than that — it soon expanded to offer job training, legal assistance and community organizing.

Among the first community centers in the city, it grew from Ms. Pitman Hughes's belief in a feminism rooted in the everyday struggle of working-class mothers and caregivers, and in the often overlooked experiences of women of color. And it emphasized radical community involvement: Parents ran the board of directors, and the needs of the community determined the center's priorities.

"She realized that child-care challenges were deeply entangled with issues of racial discrimination, poverty, drug use, substandard housing, welfare hotels, job training and even the Vietnam War," Laura L. Lovett, the author of "With Her Fist Raised: Dorothy Pitman Hughes and the Transformative Power of Black Community Activism" (2021), wrote in The Washington Post in 2021…

"She wasn't about following, or leading. She did what needed to be done," Ms. Steinem said in a phone interview. "She was a great street activist, literally demonstrating in the streets."

When speaking on her activism alongside Gloria Steinem, Ms. Pitman Hughes said,

"It's very hard for me to say that 'Good evening sisters and friends' as Gloria usually says, because usually I can't," Ms. Pitman Hughes said in a 1972 speech at the U.S. Naval Academy.

"In most of the audiences that we speak to," she added, "I don't see very many friends or sisters because white women have not yet learned or come to the conclusion to change for themselves how much they have been part of my oppression, as a Black woman, and only until that is changed can we have sisterhood."
Hughes was an invaluable part of the feminist movement and believer in the power of community-level work. She continued fighting especially for economic empowerment of Black women in New York until very recent years, and her loss will surely be felt. 
---
Dana Douglas Confirmed by U.S. Senate to 5th Circuit Court of Appeals
TOMORROW: Senate votes to advance nominations of Justice Tamika Montgomery-Reeves & Judge Dana Douglas.

Montgomery-Reeves (3rd Circuit) will be the first Black woman from Delaware to serve as Article III federal judge. Douglas will be the first woman of color on the 5th Circuit. pic.twitter.com/0OnkWT69X4

— The Leadership Conference (@civilrightsorg) December 8, 2022
On Tuesday, Dana Douglas became the first Black female judge to be confirmed by the U.S. Senate to the 5th Circuit Court of Appeals. 
The vote marked the third time in the past two weeks that the Democratic-led Senate confirmed a Black female judge to the federal appeals courts, where Black women have long been underrepresented.
Biden's nominees have been far more diverse than his predecessors'.
About 74 percent of the president's 95 confirmed nominees to federal courts are women, and about 46 percent are women of color, more than for any other president. Democrats have also confirmed 11 Black women to serve as appellate judges, more than doubling the previous total number of Black women to serve on the country's second-highest courts. Most notably, Biden appointed Justice Ketanji Brown Jackson, the first Black woman to join the U.S. Supreme Court.
---
West Sacramento, Calif., to Have a Women-Only Council
West Sacramento election results create the first an all-female WS City Council…one of only six in the state! Read the full story:https://t.co/rA1DzuVKSz pic.twitter.com/8KnIN3Zsrd

— West Sacramento (@cityofwestsac) December 1, 2022
For the first time in history, West Sacramento, California, swore in a women-only council. This makes West Sacramento one of six all-women councils in California.
"To be able to show that to my 9-year-old daughter, she is going to know, not only is it possible to be the president, not only is it possible to lead your local government, but I've seen it happen," she said.

Current council member Norma Alcala discussed how the council composition will help the city.

"It's really important to have a diverse council," Alcala said. "We have grandmothers, we have moms, we have people from very different backgrounds. … There's a lot of experiences that I believe are going to help shape this city."

According to the League of California Cities, this West Sacramento City Council is the only all-female council in the greater Sacramento region, and one of six women-only councils in the state.
The council includes three women (Quirina Orozsco, Norma Alcala and Verna Sulpizio Hull) and one mayor (Martha Guerrero), who is also a woman.
---
Will Georgia Get Rid of Runoffs?
If Georgia implemented ranked-choice voting, the state could have saved voters and taxpayers time, energy and money. Adopting RCV would have also increased turnout since voters wouldn't have to return to the polls for a runoff election.
Earlier this month, Georgia's secretary of state's chief operating officer, Gabriel Sterling, said, "There should be a conversation" regarding future runoff elections. The secretary of state himself has also said he hopes the legislature will take up the issue.
Georgia lawmakers said possible options include lowering the threshold for winning an election to a 45% plurality or using ranked choice ballots for voters, as some other states do, to designate additional choices beyond a first candidate, allowing for an instant runoff.

Under current Georgia law, if no candidate wins more than 50% of the vote in a primary or general election, the top two finishers advance to a runoff election.

In most states, the candidate who earns the greatest number of votes, even if that is far short of a majority, wins a party primary or general election. But most Southern states require runoffs in primaries, an outgrowth of a time when white supremacist Democrats were the overwhelming majority and sought to consolidate support behind one candidate to prevent splits in general elections that could threaten their rule.

Georgia went one step further in the 1960s and also required runoffs for general elections, a move the sponsor said was meant to bolster white rule.
To learn more about RCV, check out RepresentWomen's Ranked-Choice Voting Dashboard. 
---
South Korean Women Pushing Back Against Gender Ministry Abolishment
In South Korea, new president Yoon Suk-yeol is trying to end the Gender Equality Ministry—despite the ever-present need for better protection and representation for women. In this BBC article, women share their experiences of being discriminated, forced into gendered roles, and with the Gender Ministry:
"I have received more help from this ministry than my own family, which shares my blood," she says, holding out her hand to touch her counsellor Nam sitting beside her. "Closing it is a dangerous idea."

The government says the ministry's current services will continue, but be absorbed by other departments. In October the president said this would "protect women more", though his reasoning is unclear. The plans could still be thwarted by the liberal opposition party, which holds a majority in parliament. It has voiced concern about the impact the closure will have on the progress yet to be made for women – in the workplace and at home…

"I do think over the past ten years equality has improved, but this is a small city, and things are not changing here, the president is not looking deep enough", she said, worried the recent gains could be undone.
Up next:
U.S. democracy is at a dangerous inflection point—from the demise of abortion rights, to a lack of pay equity and parental leave, to skyrocketing maternal mortality, and attacks on trans health. Left unchecked, these crises will lead to wider gaps in political participation and representation. For 50 years, Ms. has been forging feminist journalism—reporting, rebelling and truth-telling from the front-lines, championing the Equal Rights Amendment, and centering the stories of those most impacted. With all that's at stake for equality, we are redoubling our commitment for the next 50 years. In turn, we need your help, Support Ms. today with a donation—any amount that is meaningful to you. For as little as $5 each month, you'll receive the print magazine along with our e-newsletters, action alerts, and invitations to Ms. Studios events and podcasts. We are grateful for your loyalty and ferocity.