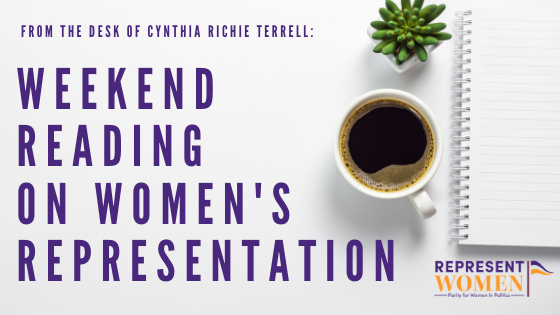 Weekend Reading on Women's Representation is a compilation of stories about women's representation in politics, on boards, in sports and entertainment, in judicial offices and in the private sector in the U.S. and around the world—with a little gardening and goodwill mixed in for refreshment!
---
Happy May! This week, RepresentWomen covers stories of women's wins and setbacks in politics and leadership.
South Carolina Spotlight: Christale Spain Is the First Black Woman to Lead State Party 
South Carolina – we did it! I am honored to be the first Black woman to ever chair our party. We made history, and our work is just getting started. pic.twitter.com/R7M0icIEr0

— Christale Spain for SCDP Chair (@spain4scdp) April 29, 2023
On Saturday, the South Carolina Democratic Party convention elected Christale Spain, a longtime party member, to chair South Carolina's Democratic Party. She is the first Black woman to lead the organization; she called her victory historic for both the party and for women and promised to enact year-round voter engagement and mobilization efforts as the 2024 cycle approaches.
With her election, and thanks to the party's recent revamp of its primary schedule, four of the five states in which Democrats will vote first next year — Georgia, Michigan, Nevada, and South Carolina — now have Black women chairing their state parties.

As the next chair, Ms. Spain will be responsible for preparing the state party for its moment in prime time: voting first in the 2024 Democratic presidential primary election. She will also have to rebuild a party in turmoil. Democrats lost several safe State House and Senate seats and had low voter turnout during the 2022 midterms, a year that was otherwise considered positive for the party nationally. Ms. Spain's leadership will offer Palmetto State Democrats a chance to make up those losses and get ready for the national stage.

[Ms. Spain] won with the support of nearly 700 of the party's roughly 1,000 state delegates in a standing vote. Before delegates for [competitor] Mr. Upson could stand up to vote for him, he conceded to Ms. Spain in a short speech calling for party unity.
---
Washington State Could Have a Woman Governor
This week, Washington Governor Jay Inslee announced he would not seek reelection next year. Melissa Santos from AXIOS Seattle highlighted the potential candidates to replace Gov. Inslee.
If Hilary Franz were to win the gubernatorial election, a woman would need to replace her as commissioner of public lands for representation to increase for statewide elected offices. Though Washington was one of the highest-ranking states in our 2022 Gender Parity Index, whoever becomes the new governor should commit to appointing a gender-balanced cabinet.
RepresentWomen has not only researched the importance of gender-balanced cabinets but also created a Best Practices guide to help promote gender-balanced appointments!
Hilary Franz, the state's commissioner of public lands, is considered Ferguson's biggest potential challenge in the race to succeed Inslee, now that King County Executive Dow Constantine has decided not to run.

"I am considering it and will make my decision in the coming days," Franz said in a statement to Axios Monday.

Franz, who leads the state Department of Natural Resources, has focusedon issues such as improving the management of the state's forests and better equipping the state to fight wildfires, which have covered communities in smoke and threatened people's homes in recent years.

She's also shown her quirky side on social media, including by dancing with Smokey the Bear to send a message about preventing forest fires and recording a Carpool Karaoke-style video to promote how people could take Zipcars to state parks. (A rendition of Miley Cyrus' "Wrecking Ball" was involved.)
---
'Suffocating Intimidation': Female Politicians in Sierra Leone on Sexism and Abuse
Our team at RepresentWomen has been in many conversations with partners and allies lately around the fact that getting women in office in the US is only half the battle – ensuring women are safe and supported so they can stay in office is the other critical piece. We are also proud to be part of the Apolitical Foundation's Global Political Leadership Incubator Network, where we hear elected women and civil society leaders worldwide discuss the barriers women face. 
This week, The Guardian's Isabel Choat shared a piece in which women politicians in Sierra Leone talked about the violence and intimidation that they brave on a regular basis. Choat writes:
Cole and Aki-Sawyerr point out the irony of finding themselves targeted with false allegations while MPs debated the gender equality and women's empowerment bill. "They do a lot of whitewashing. This gender bill is totally at odds with the way women are treated. We can't be seen, we can't be heard. The intimidation is suffocating," says Aki-Sawyerr…

Even if the minimum 30% target is achieved in both elected and appointed positions, women say the country has a long way to go in addressing sexist attitudes, especially towards women in power.

Cole and Aki-Sawyerr have paid a high price for speaking out. The Unity party has been barred from the elections for not following protocol in polls – an allegation that Cole disputes. "I've been blacklisted," she says. "The last time I was at a meeting, the deputy minister of justice looked at me and asked 'Why is she still here?' They thought they had got rid of me."

…

Catherine Zainab Tarawally, an opposition MP from the north, says she is often told to "get back in the kitchen". "Sierra Leone is a patriarchal and chauvinistic society. Women make up 52% of the country but we are still fighting to grasp what is ours."

Tarawally, advisor to the female caucus and chair of the gender affairs committee, says she survived her first term in parliament by giving as good as she gets.

"They call me the iron lady – if I want something, I fight for it," says the MP, one of only seven women among 59 APC parliamentarians. Successfully lobbying for tougher sentencing for serious sexual offenders in the 2019 Sexual Offences Act and the 2020 Cyber Security and Cyber Crimes Act are among her proudest achievements.

Another MP, Emilia Lolloh Tongi, became the first woman to stand as an independent in the 2018 election…Tongi was warned that politics was "bloody and violent" and during her campaign, her house was attacked and she was threatened daily by supporters of rival candidates. But when she beat the two main parties to win her seat the abuse turned to admiration – especially after her rousing maiden speech.

"They portray politics as something bloody because they don't want us to be there. I thought politics was extraordinarily difficult, but it has been a great discovery."
---
Women Take the Lead on Addressing Housing Crisis
At RepresentWomen, we focus a lot of our attention on the representation of women in elected office. But we all know that there are important decisions are being made at every level and every branch of government. 
Forbes reports that, for the first time, the four agencies most responsible for ensuring Americans have access to affordable housing are all led by women. The U.S. Department of Housing and Urban Development (HUD) is led by Marcia L. Fudge; Sandra L. Thompson is in charge at the Federal Housing Finance Agency (FHFA); Alanna McCargo heads the Government National Mortgage Association (Ginnie Mae); and Julia Gordon is the commissioner of the Federal Housing Administration (FHA).
Together, they are charged with making housing more affordable and accessible at a time when the $45.3 trillion U.S. housing market is under acute stress….

Fudge, who formerly chaired the Congressional Black Caucus, has made it a priority to expand down payment assistance, increase housing options and draw attention to discriminatory practices. She feels strengthened by the support of her colleagues in our agencies.

"I think it can't be understated, when you think about the fact that we control trillions of dollars, that we are probably one of the most important groups of people in housing today," she says. "And this kind of authority has been given to four women who I believe are very competent and capable of making sure that we can move the markets forward, that we can protect the public trust and we can do the job that takes care of people that we all know is a part of our mission."
---
Women CEOs Finally Outnumber CEOs Named John
There are finally more women CEOs than CEOs named John or Jon among S&P 500 companies, per a new analysis from Bloomberg. While this is great progress, men still vastly outnumber women in CEO positions. Women CEOs make up a mere 8.7 percent of all the CEOs at major companies. 
Why it matters: It's a progress of a sort for women in corporate America.

Zoom in: Today there are 41 women leading S&P 500 companies — a new record, by the way — and 23 CEOs named John or Jon.

Of note: Johns make up 3.27% of the U.S. population; women comprise more than 50%, as the New York Times pointed out back in 2018.

Catch up fast: Women first outnumbered Johns in 2018, but by the following year there was a new name-nemesis: women tied with CEOs named James, Bloomberg reports.

It was only in the past year, after 10 new female CEOs joined the S&P 500, that women truly tore off the yoke of John. In an exciting twist, there are currently three CEOs named Jennifer.

Yes, but: When economist Justin Wolfers first noted that Johns outnumbered women CEOs back in 2015, he compiled what he called the Glass Ceiling index — looking at the ratio of men named James, Robert, John, or William to all women CEOs.

By that metric, women are still behind. There are 60 James/Robert/John CEOs compared to 41 women, by Bloomberg's count. (That's not even counting William.)

The indicator isn't just about gender either, but also the dominance of "traditional" European and American names, Wolfers told Axios Wednesday. "This is not an index that points to ethnic diversity."

The bottom line: Outnumbering Johns is nice, but men overall still have a huge lead here. Women only hold 8.2% of CEO roles at large companies.
---
Is Kelly Brough Denver's Next Mayor?
I had the opportunity to meet Denver mayoral candidate Kelly Brough this week! It was wonderful to meet a candidate who cares so deeply about women's issues, such as reproductive justice and family success.
---
P.S. I would love to hear your feedback on the Weekend Reading! Please consider filling out this short survey.
Up next:
U.S. democracy is at a dangerous inflection point—from the demise of abortion rights, to a lack of pay equity and parental leave, to skyrocketing maternal mortality, and attacks on trans health. Left unchecked, these crises will lead to wider gaps in political participation and representation. For 50 years, Ms. has been forging feminist journalism—reporting, rebelling and truth-telling from the front-lines, championing the Equal Rights Amendment, and centering the stories of those most impacted. With all that's at stake for equality, we are redoubling our commitment for the next 50 years. In turn, we need your help, Support Ms. today with a donation—any amount that is meaningful to you. For as little as $5 each month, you'll receive the print magazine along with our e-newsletters, action alerts, and invitations to Ms. Studios events and podcasts. We are grateful for your loyalty and ferocity.