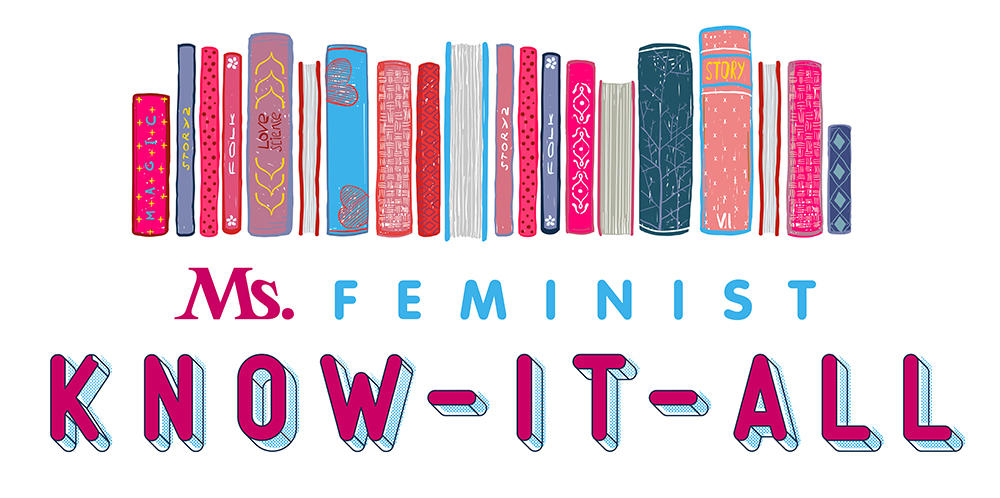 The Feminist Know-It-All: You know her. You can't stand her. Good thing she's not here! Instead, this column by gender and women's studies librarian Karla Strand will amplify stories of the creation, access, use and preservation of knowledge by women and girls around the world; share innovative projects and initiatives that focus on information, literacies, libraries and more; and, of course, talk about all of the books.
---
Each month, I provide Ms. readers with a list of new books being published by writers from historically excluded groups.
The aims of these lists are threefold:
I want to do my part in the disruption of what has been the acceptable "norm" in the book world for far too long—white, cis, heterosexual, male;
I want to amplify indie publishers and amazing works by writers who are women, Black, Indigenous, Latinx, APIA/AAPI, international, queer, trans, nonbinary, disabled, fat, immigrant, Muslim, neurodivergent, sex-positive or of other historically marginalized identities—you know, the rest of us; and
I want to challenge and encourage you all to buy, borrow and read them!
The last few weeks have been challenging, to say the least. From threats to DEI programming to dangerous air quality to affirmative action being overturned, a lot of us are feeling overwhelmed, scared and exhausted.
At times like these, I look to the dedicated people doing the imperative work every day to address these issues. I take a deep breath and surround myself with positive, active messages of hope and hard work. It's one of the reasons I appreciate Ms. so much! The articles always have a call to action so I feel a bit more in control and part of the solutions. 
When I'm feeling like I need a break or am allowing myself some rest, I take a look at Ms., meditate, garden or pick up a good book. Thankfully, there is no shortage of books to inform and inspire you, soothe and relieve you. The 31 books on this month's list are a great place to find one!  
And don't forget that you can now pre-order 50 Years of Ms.: The Best of the Pathfinding Magazine that Ignited a Revolution! This celebration of the groundbreaking feminist magazine will go on sale Sept. 19 from Knopf, but pre-order yours and get it sent to your door. Love the magazine? Buy the book!
---
By Nora Neus (@NoraNeus). Beacon Press. 192 pages. Out now.
In the aftermath of the white nationalist riots of Aug. 11-12, 2017, journalist and former Charlottesville resident Nora Neus collected interviews and oral histories from many of the leaders, students and community members who fought back. The result is an imperative account of the events, the effects and the lessons learned.
*
Written by Sindiwe Magona. Compiled by Renée Schatteman. Wits University Press. 328 pages. Out now.
Beloved South African writer Sindiwe Magona is well-known for her strong convictions, dedicated actions and powerful writing, all which she uses in service of women, those living in poverty, survivors of HIV/AIDS, and other marginalized people of her country. This collection of essays is engaging, inspiring and insightful.
*
By Brandon J. Wolf (@bjoewolf). Little A. 222 pages. Out now.
Activist Brandon J. Wolf survived the 2016 Pulse nightclub terror attack in Orlando. In honor of his Pulse family, he has written this fortifying debut to inspire hope and action for gun control as well as safety and justice for the queer community.
*
By Denise Da Costa (@DeniseDaCostaAuthor). Dundurn Press. 344 pages. Out now.
This poetically written and layered debut features a woman who looks back on her challenging teen years from an adult's perspective. She finds that her memories may have been idealized, but the lessons will last her a lifetime.
*
Edited by Jericho Brown (@jerichobrown). Amistad. 352 pages. Out now.
Curated by Black writers, this collection is inspiring, authentic, informative and illuminating. With new and previously published contributions by Tayari Jones, Jacqueline Woodson, Nikki Giovanni, Crystal Wilkinson, Jamaica Kincaid and 25 more, How We Do It will be indispensable for all writers.
*
By Zelda Lockhart (@zelda.lockhart). Amistad. 272 pages. Out now. 
Zelda Lockhart has written a magnificent saga of heartbreak, intergenerational trauma and redemption. Brave and brilliant, this story will leave an indelible mark on its readers.
*
By Micha Frazer-Carroll (@micha_frazer). Pluto Press. 192 pages. Out July 5.
In her first book, journalist Micha Frazer-Carroll takes on the politics of mental health with accessibility, compassion and curiosity. She calls for critical, progressive thinking and radical change to systems that have been tools of oppression for far too long.
*
By EbonyJanice Moore (@ebonyjanice). Row House Publishing. 160 pages. Out July 11.
This is an ode to Black women and girls everywhere. It is a recipe for wellness, a manifesta of the importance for Black women and girls to care for themselves, to release the chains of shame and to use radical imagination and dreams to resist the oppression and violence of white supremacy. Moore's dedication to liberation is palpable and this book is fire.
*
By Ayesha Manazir Siddiqi (@tweetingayesha). Gillian Flynn Books. 288 pages. Out July 11.
A mystery-thriller-satire with social justice messaging? Yes, please! Ayesha Manazir Siddiqi's compelling debut takes on racism, classism, capitalism and colonialism, all in a creepy, entertaining and engrossing tale of the price we'll pay to get ahead.
*
By Yasmine El Rashidi (@yasminerashidi). Columbia Global Reports. 111 pages. Out July 11.
Yasmine El Rashidi has written an original and incisive account of "Arab Spring," its unrealized dreams and the hope embedded in the younger generation of Egyptians who use TikTok and hip hop to express their dissatisfaction, their dreams and their resistance.  
*
By Aomawa Shields. Viking. 352 pages. Out July 11.
In this triumphant debut memoir, Aomawa Shields shares her stories of agency, choice, challenges and success as a Black woman in STEM. Through it all, her wonder of life—in this world and others—was her North Star, guiding her to blaze a trail for other women in science and beyond.
*
By Essence McDowell and Mariame Kaba. Haymarket Books. 120 pages. Out July 11.
This is an updated and expanded edition of the part-biography, part-travel guide that explores and celebrates the Black women who made Chicago what it is today. It's indispensable for learning the city's untold histories; every city should have one!
*
Written by Saito Nazuna. Translated by Alexa Frank. Drawn and Quarterly. 384 pages. Out July 11.
In her forties when she began, Saito Nazuna was something of a late bloomer when it came to comics creation. This stunning volume collects a variety of her work from throughout her career, which focuses on life in postwar Japan, family, aging and death.
*
by Rachel Eliza Griffiths (@rachelelizagriffiths). Random House. 336 pages. Out July 11.
It is clear from her debut novel that Rachel Eliza Griffiths is an award-winning poet. Through gorgeous and gripping prose, Griffiths portrays the power of family, love and grace in the face of the violent and terrifying manifestation of Jim Crow in the North.
*
By Vanessa Riley (@VanessaRiley). William Morrow. 448 pages. Out July 11.
By now, Vanessa Riley has proven herself a Queen of Historical Fiction, and Queen of Exiles is further verification. Absorbing and dynamic, the book features Haiti's Queen Marie-Louise Coidavid, who escapes a coup and lives in exile in Europe, in a show of resilience, power, pride and strength.
*
By Kemi Ashing-Giwa. Gallery/Saga. 384 pages. Out July 11.
This fantastic and fantastical debut space opera does what many before it haven't been able to: It tackles serious issues of colonialism, class, war and freedom while being compulsively readable without missing a beat.  
*
Written by Erika Kobayashi (@flowertv). Translated by Brian Bergstrom (@asa_no_burei). Astra House. 240 pages. Out July 11.
I loved Erica Kobayashi's Trinity Trinity Trinity, so I was excited about her collection of strange and reflective connected stories about nuclear power and its effect on Japanese people and society, especially its women. It's strange, jarring, sharp and scintillating.
*
By Nikki M. Taylor. Cambridge University Press. 250 pages. Out July 13.
Howard University history professor Nikki Taylor has written an extraordinary, and necessarily gruesome, account of the ways in which enslaved women resisted the violence and oppression they encountered daily. By challenging existing narratives, Taylor sheds new light on the lengths some went to for safety, dignity, revenge and justice. 
*
By bell hooks. Melville House. 160 pages. Out July 18.
If you miss bell hooks as I do, be sure to read this volume of seven interviews, which includes her last. With a thoughtful introduction by Mikki Kendall, it will remind you why she was loved, honored, challenged and respected.
*
By Allison Yarrow (@AliYarrow). Seal Press. 304 pages. Out July 18. 
This. If you care about mothers, motherhood, mothering, childbirth, pregnancy, reproductive justice or healthcare, you'll want to read this book. It's this month's #RequiredReading. 
*
By Yume Kitasei (@YumeKitasei). Flatiron Books. 416 pages. Out July 18.
This is the gripping, apocalyptic, populate-another-planet-in-space sci-fi debut of my dreams. Complete with sabotage, secrets, explosions, flashbacks, existential dread and, ultimately, hope, this is a winner.
*
By Shahd Alshammari (@ShahdAlshammari). The Feminist Press at CUNY. 176 pages. Out July 18. 
Woven from her journals, Shahid Alshammari has created a candid and heartfelt memoir of chronic illness, culture, embodiment, fear and hope. Alshammari is a wonderful storyteller and represents a world of women whose voices often remain unheard.
*
By Chloe Gong (@thechloegong). Gallery / Saga Press. 384 pages. Out July 18.
It's Chloe Gong, need I say more? Okay, well if so, it's Chloe Gong's adult fantasy series debut! It's got magic, mayhem, drama and adventure, not to mention a star-crossed love affair. If that doesn't pique your interest, I don't know what will!
*
By Sara Hashem (@SHashemWrites). Orbit. 528 pages. Out July 18.
The first book in a new epic romantasy series, The Jasad Heir will have you on the edge of your seat and eager for the sequel. Evocative and layered, this Egyptian-inspired debut features a formidable heroine, a kaleidoscopic backdrop, a slow-burn romance and endless intrigue.
*
By Silvia Moreno-Garcia (@silviamg.author). Del Rey. 336 pages. Out July 18.
Silvia Moreno-Garcia proves, once again, that she is one of the most talented writers publishing today. This thrill ride will take you to 1990s Mexico City where two friends help a legendary horror filmmaker break the curse of the film he never finished.
*
By Joshunda Sanders (@JoshundaSanders). Park Row. 368 pages. Out July 18.
In her splendid debut novel, Joshunda Sanders focuses on the story of the women who served in the all-Black battalion of the Women's Army Corps during World War Two. Beautifully written and based on a true story, this one will stay with you.
*
Written by Maru Ayase. Translated by Haydn Trowell. Counterpoint. 208 pages. Out July 25.
The first of Maru Ayase's novels to be translated into English, The Forest Brims Over is a fantastical fairy tale featuring a woman tired of being her writer husband's muse. Maru Ayase takes on gender roles and women's agency in surreal and magical prose.
*
By Scarlett St. Clair (Muscogee Nation) (@authorscarlettstclair). Bloom Books. 592 pages. Out July 25.
If you read this column regularly, you may know that I am a bit of a fangirl for Scarlett St. Clair. The final installment of the Hades Saga is here, so get yourself caught up with (and in!) this enticing, dark and sexy series on a hot, stormy summer night.
*
By Wendy Chin-Tanner (@wendychintanner). Flatiron Books. 336 pages. Out July 25.
When Victor Chin is 15 years old in 1950s New York City, he is diagnosed with Hansen's disease, more commonly known as leprosy. He is sent away to quarantine in a federal institution in Carville, Louisiana, where he experiences love and loss, the challenges of family left behind, the healing power of music and true freedom for the first time.
*
By Deborah Bonello (@mexicoreporter). Beacon Press. 176 pages. Out July 25. 
We've read the stories of the men involved in drug cartels around the world and seen portrayals of women as girlfriends, wives and mistresses. Fascinating and well-researched, this new book by VICE journalist Deborah Bonello sheds light on the real complexities of women's roles throughout Latin America as organizers, strategists, transporters and killers.  
*
By Gabriela Romero Lacruz (@GRomeroLacruz). Orbit. 432 pages. Out July 25.
Sometimes you just need to be swept away by a great fantasy, especially one that includes ancient gods, dark creatures, magic and a treacherous quest. Based on the history and folklore of South America, this one also speaks to the legacies of colonialism and the dangers of the past. 
Up next:
U.S. democracy is at a dangerous inflection point—from the demise of abortion rights, to a lack of pay equity and parental leave, to skyrocketing maternal mortality, and attacks on trans health. Left unchecked, these crises will lead to wider gaps in political participation and representation. For 50 years, Ms. has been forging feminist journalism—reporting, rebelling and truth-telling from the front-lines, championing the Equal Rights Amendment, and centering the stories of those most impacted. With all that's at stake for equality, we are redoubling our commitment for the next 50 years. In turn, we need your help, Support Ms. today with a donation—any amount that is meaningful to you. For as little as $5 each month, you'll receive the print magazine along with our e-newsletters, action alerts, and invitations to Ms. Studios events and podcasts. We are grateful for your loyalty and ferocity.