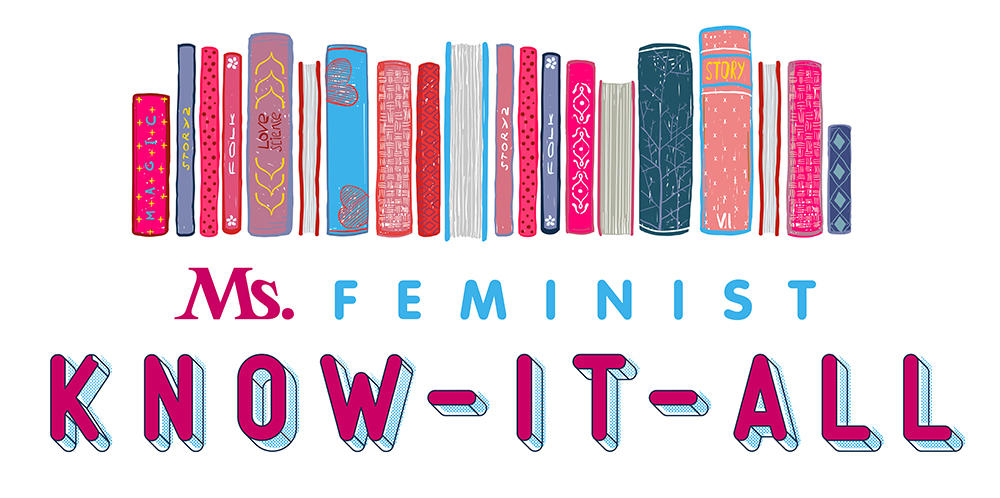 The Feminist Know-It-All: You know her. You can't stand her. Good thing she's not here! Instead, this column by gender and women's studies librarian Karla Strand will amplify stories of the creation, access, use and preservation of knowledge by women and girls around the world; share innovative projects and initiatives that focus on information, literacies, libraries and more; and, of course, talk about all of the books.
---
Each month, I provide Ms. readers with a list of new books being published by writers from historically excluded groups.
The aims of these lists are threefold:
I want to do my part in the disruption of what has been the acceptable "norm" in the book world for far too long—white, cis, heterosexual, male;
I want to amplify indie publishers and amazing works by writers who are women, Black, Indigenous, Latinx, APIA/AAPI, international, queer, trans, nonbinary, disabled, fat, immigrant, Muslim, neurodivergent, sex-positive or of other historically marginalized identities—you know, the rest of us; and
I want to challenge and encourage you all to buy, borrow and read them!
This November brings a brilliant selection of new book releases. From Native American Heritage Month to Trans Day of Remembrance, there are books for you to learn from, unwind with, and reflect upon.
Which of these 25 titles will you be reading this month?  
---
By Susan Kiyo Ito (@TheSusanIto). Mad Creek Books. 248 pages. Out Nov. 4.
In this reflective and courageous memoir, Susan Kiyo Ito writes with heart and candor about her experiences as a biracial (Japanese and white) adoptee to nisei (North American-born children of Japanese immigrants) parents. After reconnecting with her birth mother, Ito shares her struggles with expectations, legacy, autonomy and identity.
*
By Gulzar R. Charania. University of British Columbia Press. 318 pages. Out Nov. 5.
This enlightening and affirming text investigates the memories women of color have of racialized violence and how differing narratives and emotions about white supremacy should be seen and encouraged instead of dismissed. On page 6, Charania literally says it's "a book about race for the rest of us." It will provide deep relief and brilliant insights for many.
*
By Nadra Nittle (@NadraKareem). Fortress Press. 147 pages. Out Nov. 7.
Preceded by Toni Morrison's Spiritual Vision in 2021, this is Nadra Nittle's latest in a three-book series which will be followed in 2024 by James Baldwin's Spiritual Vision. Nittle shines a light on bell hooks' Buddhist Christianity, how it informed her feminism and the role love and spirituality play in healing, change and liberation.
*
By D.B. Maroon (@DBMaroon). Lawrence Hill Books. 248 pages. Out Nov. 7.
In Black Lives, American Love, anthropologist and cultural critic D.B. Maroon examines Black life and history through sharp and unsparing critiques of policing, violence, racism, gentrification, COVID-19, and much more. Interwoven with stories and memories from Maroon, these essays are candid, provocative and transformational.
*
Written by Jazmina Barrera (@jaztronomia). Translated by Christina MacSweeney. Two Lines Press. 224 pages. Out Nov. 7.
You may know Jazmina Barrera from her phenomenal memoir-essay, Linea Negra, and now she has written her debut novel which employs Christina MacSweeney's expert translation skills once again. Cross-Stitch is a story of friendship, coming of age, and loss with the feminist artistry of embroidery woven throughout.
*
Edited and translated by Christen A. Smith (@christenasmithphd), Bethânia N. F. Gomes and Archie Davies (@AOJDavies). Princeton University Press. 408 pages. Out Nov. 7.
For this groundbreaking volume, Bethânia N. F. Gomes teamed up with scholars Christen A. Smith and Archie Davies to collect, translate and share the work of her mother, the brilliant Black Brazilian poet, thinker, historian and political leader Beatriz Nascimento. Radical and influential, Nascimento's work is available here for the first time in English. It's this month's #RequiredReading.
*
By Michelle Porter (Métis). Algonquin Books. 336 pages. Out Nov. 7.
This singular and visionary debut spectacularly reimagines the epic family saga novel. Touching, evocative and kaleidoscopic, the storytelling spans five generations of Métis women and bison in this world and the next to explore colonialism, kinship, healing and belonging.
*
By E. J. Koh (@ThisIsEJKoh). Tin House Books. 240 pages. Out Nov. 7.
Intricately and gracefully rendered, The Liberators is a family saga of great depth spanning Korea to California across four generations. The award-winning E.J. Koh writes with the precision of a historian and the heart of a poet as she adeptly links country to family through trauma, joy, decisions and consequences.
*
By Tsitsi Mapepa. Catalyst Press. 274 pages. Out Nov. 7.
In her striking debut, Tsitsi Mapepa presents suburban Harare, Zimbabwe, and its residents in fresh and radiant prose. Among them is Zuva, a powerful matriarch to her four daughters and the communities she's called home. At once searing and elegant, Mapepa takes on violence and peace, strength and compassion, pain and beauty in one unforgettable book.
*
Written by Jami Nakamura Lin (@Jami_Lin). Illustrated by Cori Nakamura Lin (@Cori.Lin.Art). Mariner Books. 352 pages. Out Nov. 7.
Based on a traditional Japanese narrative structure, this riveting speculative memoir by Jami Nakamura Lin is accompanied by the luminous illustrations of her sister, Cori. Grappling with themes of family, neurodivergence, illness and identity, Nakamura Lin presents a nuanced, raw and poetic redefinition of memoir.
*
By Crystal Leigh Endsley (@DrCrystalLeigh). University of Texas Press. 280 pages. Out Nov. 7.
Powerhouse spoken word poet and scholar-activist Crystal Leigh Endsley is dedicated to empowering girls around the globe to speak their truths and create their most powerful lives. Through her theory of quantum justice, Endsley illustrates how girls can mobilize to collectively change the world.
*
By Jacquelyn Ogorchukwu Iyamah (@ogorchukwuu). Clarkson Potter. 192 pages. Out Nov. 7.
Jacquelyn Ogorchukwu Iyamah is the founder of Making the Body a Home, where she designs objects to stimulate liberation throughout the home. Now she's written this healing guide and workbook for supporting communities of color as they transmute racial violence into racial wellness.
*
By Linda LeGarde Grover (Bois Forte Band of Ojibwe). University of Minnesota Press. 128 pages. Out Nov. 7.
In this slim but atmospheric novel, Linda LeGarde Grover revisits the fictional Mozhay Point Ojibwe Reservation in Minnesota where Margie Robineau is fighting for land and truth in the midst of secrets and spirits. Grover writes with intentionality and grace as she examines ancestry, autonomy and survivance.
*
By Tracy K. Smith (@TracyKSmithPoet). Knopf. 288 pages. Out Nov. 7.
Infused with emotion, courage and hope, this stunning portrait of ancestry and history speaks to our current moment of racial strife and reckoning. This is a beautiful model for collective understanding and growth through the exploration of one's own past.
*
By Mattilda Bernstein Sycamore (@MBSycamore). Soft Skull. 304 pages. Out Nov. 7.
In this engrossing and compassionate memoir, Mattilda Bernstein Sycamore examines the intersections between family, trauma, art, class and memory as only she can. By combining candor and quips, history and currency, beauty and truth, Sycamore reflects on the complexities of life and creativity.
*
By Chin-Sun Lee (@scribblepost). The Unnamed Press. 245 pages. Out Nov. 7.
This remarkable debut by Chin-Sun Lee centers on three women in "upcountry" New York whose lives intertwine through unexpected and unsettling events. Speaking to economic injustice, infidelities, addiction and incarceration, religious extremism and more, this isn't the most uplifting book of the year, but it might be the most captivating.
*
By Fei-Fei Li (@DrFeiFei). Flatiron Books. 336 pages. Out Nov. 7.
We've heard a lot about artificial intelligence lately and now you can read about it from one of the handful of scientists at the forefront of the research for the last twenty years. Part history of AI, part memoir of immigration, this book provides a new and humanizing perspective on the technology and the curiosity that led to its advances.
*
By Naomi Braine. Verso. 240 pages. Out Nov. 14.
Sociologist Naomi Braine has written this urgent exploration of the growing transnational feminist movement working to bring self-managed abortion information, tools and support to people who need them. From the Global South to Europe and North America, activists are sharing tactics and building solidarity for reproductive justice.
*
By Angela Hume. AK Press. 432 pages. Out Nov. 14.
In Deep Care, historian Angela Hume explores the feminist "self-help" movement that began providing reproductive healthcare, including abortions, in the 1970s. Hume intricately connects the fight for autonomy to the misogyny, racism and poverty that fueled activists at that time – and that may once again in the post-Dobbs era.
*
By Casey Stockstill (@CaseyStockstill). NYU Press. 232 pages. Out Nov. 14.
This is a compelling study of two preschools in Madison, Wisconsin, one 95 percent white students and the other 95 percent students of color. Adeptly illustrating that the segregation of students reflects and reinforces structural inequalities of racial and class divides, sociologist Casey Stockstill provides antidotes to decrease these inequalities as we seek to expand access.
*
By Ani Gjika (@ani.gjika). Restless Books. 272 pages. Out Nov. 14.
In this lyrical and intimate memoir, Ani Gjika reflects on her Albanian upbringing, her family's immigration to the U.S. and her exploration of autonomy, identity, sexuality and selfhood. Bridging taboo and truth, patriarchy and power, this is a singular and powerful journey.
*
Edited by Jillian Ford and Nathalia E. Jaramillo. University of Illinois Press. 224 pages. Out Nov. 21.
Focusing on womanist theory and worldviews, this anthology brings together engaging essays that investigate and challenge the impacts of colonization on Black women. Contributors from a wide variety of fields share their experiences, methods and insights of working to disrupt the harmful effects of colonial pedagogies and epistemologies.
*
By Dale Walls (@DaleWallsAuthor). Levine Querido. 272 pages. Out Nov. 21.
I'll admit that the cover of this debut YA was what first attracted me to it, but the story itself is just as bold, colorful and sweet. Centered on three high school friends in the South concerned with college, family, love and achieving their dreams, this is a refreshingly rendered portrayal of queer coming of age.
*
Edited by Freda Ahenakew (Cree) and H.C. Wolfart. University of Regina Press. 418 pages. Out Nov. 25.
In ôkominawak otâcimowiniwâwa / Our Grandmothers' Lives, the memories, experiences and knowledge of seven Cree women are presented in their original Cree and in English translation. First recorded in the 1980s, the women share their lives, culture, traditions and history over the last century.
*
By Karina Shor (@chick_flick_unlimited). Street Noise Books. 272 pages. Out Nov. 28.
Karina Shor's debut graphic memoir is at once terrifying and empowering. From sexual assault to drug use and beyond, Silence, Full Stop is a searingly illustrated story of Shor's harrowing coming-of-age journey as an innocent, an immigrant and an outsider.
*
Up next:
U.S. democracy is at a dangerous inflection point—from the demise of abortion rights, to a lack of pay equity and parental leave, to skyrocketing maternal mortality, and attacks on trans health. Left unchecked, these crises will lead to wider gaps in political participation and representation. For 50 years, Ms. has been forging feminist journalism—reporting, rebelling and truth-telling from the front-lines, championing the Equal Rights Amendment, and centering the stories of those most impacted. With all that's at stake for equality, we are redoubling our commitment for the next 50 years. In turn, we need your help, Support Ms. today with a donation—any amount that is meaningful to you. For as little as $5 each month, you'll receive the print magazine along with our e-newsletters, action alerts, and invitations to Ms. Studios events and podcasts. We are grateful for your loyalty and ferocity.