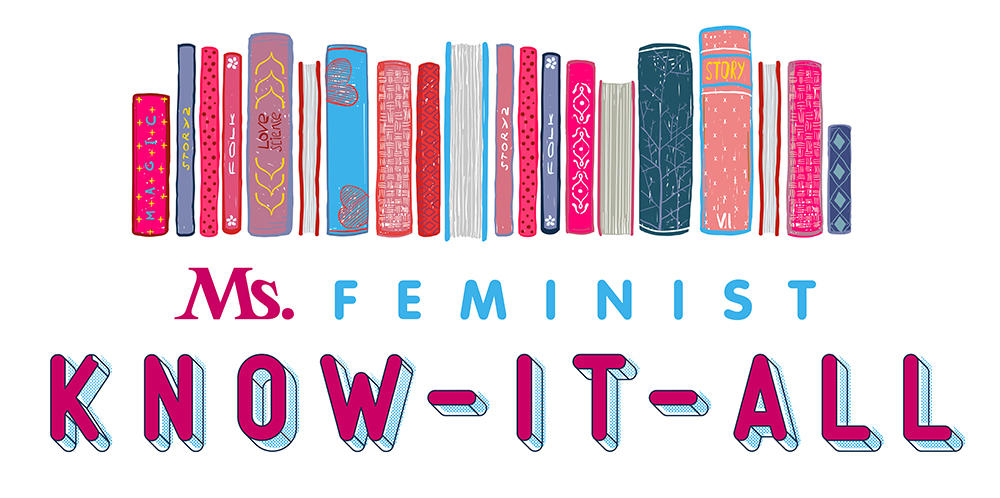 The Feminist Know-It-All: You know her. You can't stand her. Good thing she's not here! Instead, this column by gender and women's studies librarian Karla Strand will amplify stories of the creation, access, use and preservation of knowledge by women and girls around the world; share innovative projects and initiatives that focus on information, literacies, libraries and more; and, of course, talk about all of the books.
---
Each month, I provide Ms. readers with a list of new books being published by writers from historically excluded groups.
The aims of these lists are threefold:
I want to do my part in the disruption of what has been the acceptable "norm" in the book world for far too long—white, cis, heterosexual, male;
I want to amplify indie publishers and amazing works by writers who are women, Black, Indigenous, Latinx, APIA/AAPI, international, queer, trans, nonbinary, disabled, fat, immigrant, Muslim, neurodivergent, sex-positive or of other historically marginalized identities—you know, the rest of us; and
I want to challenge and encourage you all to buy, borrow and read them!
The Supreme Court draft opinion on Roe v. Wade was leaked this week. We've known about the possibility of this happening but it still feels surreal, desperate and infuriating.
It's times like this that I question my own (in)action on issues that really matter. I reflect on my own complacency and the meaning of the actions I do take; like providing this list each month. I struggle with feeling like I don't do enough.
I think it's a both/and. While I (we all) could and must do more—and I am attending my state's abortion rights meeting today to see where I can be of service—I also see the continued value in books and reading, so I will also continue to put what I can into these lists.
So, whether you read for knowledge or leisure, books are so important. May is a big month for new releases by women and writers of historically excluded communities; I've highlighted 60 of them here, but there are many more. I hope you'll find some here that will help you reflect and act in whatever ways you can.
In solidarity.
---
By Adiba Nelson (@adibanelson). Blackstone Publishing. 240 pages. Out now.
Just in time for Mother's Day is Adiba Nelson's candid, heartfelt and laugh-out-loud memoir-guidebook about the hardships of parenting a high medical needs child and the untradeable gifts that accompany it.
---
Written by Mieko Kawakami and translated by Sam Bett and David Boyd. Europa Editions. 224 pages. Out now.
As one of the most insightful and important writers of our time, Mieko Kawakami delivers another extraordinary exploration of relationships, work and the intimate connections that (may) make it all worthwhile.
---
By Devi S. Laskar (@devislaskar). Mariner Books. 192 pages. Out now.
Through tragedy, two lives are woven together in this luminous coming-of-age novel that centers family, friendship, grief and identity.
---
By Judy Tzu-Chun Wu and Gwendolyn Mink (@wendymink). NYU Press. 456 pages. Out now.
This is the first biography about Patsy Takemoto Mink, the first woman of color in Congress and champion of Title IX legislation. It is beautifully written by historian Judy Tzu-Chun Wu and Patsy's daughter and political scientist, Gwendolyn Mink.
---
By Isabel Cañas (@isabelcanas_). Berkeley. 352 pages. Out now.
Set in the aftermath of the Mexican War of Independence, this haunted and haunting novel is just the terrifying gothic debut you want to read tonight.
---
By Vauhini Vara (@vauhinivara). W.W. Norton & Co. 384 pages. Out now.
Vara has gifted us a disarming and engaging debut about a techno-capitalist climate-changed world run by corporations and the woman trying to save it.
---
Written by Jazmina Barrera (@jaztronomia) and translated by Christina MacSweeney. Two Lines Press. 184 pages. Out now.
With Linea Nigra, Jazmina Barrera has gifted us a powerful and masterful memoir-manifesta on motherhood in all its glory, ugliness, joy, fear, urgency, beauty and love.
---
By Alyssa Songsiridej (@anarasong). Bloomsbury Publishing. 256 pages. Out now.
This debut has been called "sexy", "sensual" and "so incredibly hot." It's a sweetly shocking novel exploring identity, love, lust, friendship, art, pain and possession.
---
By Jacinda Townsend (@jacindaaumaroc). Graywolf Press. 230 pages. Out now.
Uniquely unforgettable, this novel tells the story of an American woman in Morocco, a formerly trafficked young mother and her child.
---
By Martha Bátiz (@mbatiz). Astoria. 300 pages. Out now.
This incisive and evocative collection of stories feature strong and resilient women faced with violence, disappearance and tragedies that all too often remain unseen.
---
By Rachel M. Harper (@rachel_m_harper). Counterpoint. 432 pages. Out now.
In this singular and compelling story of family secrets, Jenry goes off to college and in search of family ties—but what he finds may be more than he bargained for.
---
By Abi Ishola-Ayodeji (@aishola). HarperVia. 384 pages. Out now.
Insecure and uncertain, Patience Adewale is on a desperate search for her banished mother in 1990s Nigeria. As more challenging circumstances unfold, Patience is tested in this suspenseful and compelling story.
---
By Emma Grove. Drawn & Quarterly. 920 pages. Out now.
Don't let the size of this one deter you! This beautifully drawn and intimately written graphic memoir recounts Emma's search for identity, expression, hope and courage.
---
By Lori Fox (@Fox_E_Lori). Arsenal Pulp Press. 224 pages. Out now.
This bold, uncompromising and inspiring debut collection of essays explores the themes of our time: gender, capitalism, power, violence, class, environment and more.
---
By Michelle Hart (@mhmhart42). Riverhead Books. 224 pages. Out now.
In her remarkable debut, Michelle Hart tells an intimate story of a young woman who has an affair with an older, married woman and must reckon with the lasting consequences of long-term solitude and secrecy.
---
By Pyae Moe Thet War (@pyaestries). Catapult. 224 pages. Out now.
Brilliantly filling a gap in lit from Myanmar, this debut essay collection covers feminism, race, tradition, colonization and more.
---
By Ruth Wilson Gilmore (@rwgilmoregirls). Verso. 480 pages. Out May 10.
This is an essential collection of writings from one of the most important thinkers on abolition, geography and racism of our time. Also check out Change Everything: Racial Capitalism and the Case for Abolition, due out from Haymarket Books in October.
---
Written by Camila Villada (@camilaomara) and translated by Kit Maude. Other Press. 208 pages. Out May 10.
Camila Villada has managed to write a story about a chosen family of trans sex workers that is gritty, sweet, devastating and hopeful all at once.
---
By Kelly Lytle Hernández (@klytlehernandez). W. W. Norton & Company. 384 pages. Out May 10.
Kelly Lytle Hernández's latest book brilliantly tells the little-known story of Mexican rebels and resisters who forever changed the course of history by starting a revolution at the borderlands.
---
Written by Jokha Alharthi (@jokha_alharthi) and translated by Marilyn Booth. Catapult. 224 pages. Out May 10.
From the first Omani woman to have a novel translated into English, this remarkable novel centers the evolution of one woman's agency, power and relationships.
---
By Natalia Sylvester (@NataliaSylv). Clarion Books. 352 pages. Out May 10.
Centering a Peruvian-American girl with hip dysplasia, this charming and dynamic story grapples with themes of immigration, expectations, disabilities, embodiment and acceptance.
---
By Angela Garbes (@agarbes). Harper Wave. 256 pages. Out May 10.
Essential Labor is an essential read for anyone interested in centering caregiving and motherhood as powerful (and yes, essential) means of social change.
---
By Vanessa Hua (@vanessa_hua). Ballantine Books. 368 pages. Out May 10.
Hua's latest provides a unique perspective on China's Cultural Revolution by centering a young revolutionary who becomes the confidant and lover of Mao Zedong.
---
By Samira Ahmed (@sam_aye_ahm). Little, Brown Books for Young Readers. 416 pages. Out May 10.
Samira Ahmed is back with another arresting and unsparing YA novel focused on violence, hate and hope.
---
By Alice Hattrick (@alicehattrick). Feminist Press. 352 pages. Out May 10.
This urgent debut is an intimate and razor sharp exploration into illness, embodiment, visibility, suffering and the (in)validity of personal experiences and knowledges.
---
By Jorge Arteaga and Emily May. Abrams Image. 208 pages. Out May 10.
If you're looking for the go-to guide on bystander intervention, look no further. The good people at Right to Be (formerly Hollaback!) have written this clear and convincing book just for you.
---
Written by María Sánchez (@mariamercromina) and translated by Curtis Bauer (@cwbauer). Trinity University Press. 192 pages. Out May 10.
María Sánchez has written a vital, riveting and rich memoir-manifesta honoring women who live in rural areas, work the land and care for the earth, the animals and the resources.
---
By A. J. Verdelle. Amistad. 368 pages. Out May 10.
Part memoir, part literary biography, this insightful and engaging volume recounts the friendship of the author and Chloe A. Wofford, also know as Toni Morrison.
---
By Nghi Vo (@nghivowriting). Tordotcom. 288 pages. Out May 10.
If you haven't read Nghi Vo in the past, I encourage you to start with her latest seductively speculative standalone. Be sure to also check out the Singing Hills Cycle, the third installment of which, Into the Riverlands, is due out in October.
---
By Reema Patel (@reemajpatel). Ballantine Books. 336 pages. Out May 10.
This compelling debut follows 23-year-old Rakhi who is determined to make her way in Mumbai against difficult odds of poverty, violence and power.
---
By Jen Ferguson (@jennyleeSD). Heartdrum. 384 pages. Out May 10.
In this resonant and layered YA novel, Lou is a Métis girl in Canada who must deal with her family's precarious business, her ex, a complicated friendship and now her father, newly released from prison.
---
By Hugh Ryan (@Hugh_Ryan). Bold Type Books. 368 pages. Out May 10.
This is the fascinating and infuriating history of the Women's House of Detention that stood in Greenwich Village for almost 50 years, caging thousands of women, trans men and gender-nonconforming people.
---
By Julia Margaret Zulver (@JZulver). Rutgers University Press. 194 pages. Out May 13.
This fascinating and imperative volume examines feminist mobilization and collective resistance catalyzed by danger, loss and risk in Colombia.
---
Edited by Billie Allan (Anishinaabe) and Rhonda Hackett. Fernwood Publishing. 208 pages. Out May 15.
As "diversity", "equity" and "inclusion" work in institutions increases in performance, this imperative collection explains why connecting this work to historical and contemporary settler colonialism is necessary for any meaningful change to last.
---
By Deanna Reder (Cree-Métis). Wilfrid Laurier University Press. 200 pages. Out May 17.
In this important and singular volume, Reder explores Western notions of autobiography and the Indigenous tradition of life writing in order to reframe existing understandings of Indigenous storytelling and ways of knowing.
---
By Abbigail Nguyen Rosewood. Texas Tech University Press. 216 pages. You May 17.
Rosewood's latest novel is a nuanced and penetrating look at creation, love and obsession that changes over time and varies by individual.
---
By Putsata Reang. MCD. 400 pages. Out May 17.
In her heartfelt and evocative memoir, Reang grapples with familial relationships, displacement and historical legacies of trauma as a queer Cambodian refugee.
---
By Naheed Phiroze Patel (@NaheedPhiroze). The Unnamed Press. Out May 17.
In this immersive debut, Naheed Phiroze Patel considers how class, gender and cultural norms serve to limit and define one woman's life in contemporary India.
---
By Cleyvis Natera (@cleyvisnatera). Ballantine Books. 336 pages. Out May 17.
Bestselling author Robert Jones, Jr. calls this debut "a loud triumph that caresses like a whisper." I can't wait to give it a listen.
---
By Rumi Hara (@rumi.hara). Drawn & Quarterly. 180 pages. Out May 17.
For those who enjoyed Nori, you'll be as excited as I was to read Rumi Hara's latest graphic novel. Don't miss the delightful absurdity and absolute truth of these stories.
---
By Paige Clark. Two Dollar Radio. 242 pages. Out May 17.
Clark's fresh debut collection of 18 stories is focused on themes of family, loss, trauma, longing, resilience, climate and gender in prose that is witty, disarming and completely engrossing.
---
By Chelsea Abdullah (@chelsabdullah). Orbit. 480 pages. Out May 17.
The first book in a dreamy new trilogy inspired by One Thousand and One Nights follows a misfit duo on a quest for an ancient lamp. This is clever and compelling storytelling.
---
By Shannen Dee Williams (@blknunhistorian). Duke University Press Books. 424 pages. Out May 17.
In this first book-length history of Black Catholic nuns, Shannen Dee Williams illustrates their importance in secular freedom movements and in fighting white supremacy within the church and without.
---
By Tsering Yangzom Lama (@tseringylama). Bloomsbury Publishing. 368 pages. Out May 17.
This is a moving debut centering the little-known experiences of Tibetan exiles, told through the lives of four people over 50 years.
---
By Sabba Khan (@sabbakhan_). Street Noise Books. 288 pages. Out May 17.
In her captivatingly lovely debut graphic novel, Sabba Khan explores contemporary British Asian family life as well as generational legacies, race, class and gender issues.
---
By Amy Feltman (@amyfeltmanwrites). Grand Central Publishing. 320 pages. Out May 24.
Original and layered, this evocatively modern story centers a nonbinary teen, their neurodivergent father and the woman who abandoned them both, who unexpectedly returns out of the blue.
---
By Gabrielle Lucille Fuentes. BOA Editions. 224 pages. Out May 24.
The stories and characters in this lyrical collection are individually magical but also intimately connected by themes of belonging, exile and loss.
---
By Becky Manawatu (Ngāi Tahu). Scribe US. 336 pages. Out May 24.
This debut is at once tough and tender, and Manawatu's moody prose speaks volumes about the violent legacies of trauma.
---
By Candice Iloh (@candiceiloh). Dutton Books for Young Readers. 224 pages. Out May 24.
After she and her father have moved (and moved on) without her mother, Yaminah is revisited by memories of her family and home that she must reckon with to heal.
---
By Marie Myung-Ok Lee (@mariemyungoklee). Simon & Schuster. 448 pages. Out May 24.
Marie Myung-Ok Lee has written an epic tale of one man's journey from growing up in Korea, through war and into a seemingly uneventful American Dream… until a letter arrives that may expose a secret and dismantle the dream.
---
By Wendy L. Rouse (@wendylrouse). NYU Press. 248 pages. Out May 24.
With this volume, Rouse has provided a valuable—and previously unrecognized—exploration into the experiences and contributions of white and Black queer individuals to the suffrage movement.
---
Written by Li Kotomi and translated by Arthur Reiji Morris. World Editions. 192 pages. Out May 24.
Dubbed "the most important queer voice of East Asia's millennial generation", Li Kotomi has written a debut about Cho Norie, a Taiwanese 27-year-old who moves to Japan to work, move past a violent attack and find hope in escape.
---
By Akwaeke Emezi (@azemezi). Atria Books. 288 pages. Out May 24.
Akwaeke Emezi is one of my favorite writers and this novel turns the typical love story on its head. Also check out Emezi's latest YA novel, Bitter, and their debut poetry collection, Content Warning: Everything.
---
By Lorgia García Peña (@lorgia_pena). Haymarket Books. 120 pages. Out May 31.
Surely of interest to my readers in higher ed, Lorgia García Peña brilliantly explores the often harrowing, isolating and extractive experiences women of color have in academia.
---
By Scarlett St. Clair (Muscogee) (@authorscarlettstclair). Bloom Books. 464 pages. Out May 31.
This is the second book of St. Clair's imaginative retelling of Hades and Persephone and it's just as addictive, sultry and sparkling as the first.
---
By Cory McCarthy (@cory__mccarthy). Dutton BYR. 336 pages. Out May 31.
Cory McCarthy has written a triumphant trans coming of age novel with depth, nuance, heart and humor.
---
By Namina Forna (@naminaforna). Delacorte Press. 464 pages. Out May 31.
I've eagerly waited for this fantastic, feminist, epic sequel to The Gilded Ones!
---
By Lydia Conklin (@lydiaconklin). Catapult. 256 pages. Out May 31.
If you dig queer stories, these are the queerest of the queer! Full of joy, nerve and verve, this debut collection is a stunner.
---
By Paisley Currah (@paisleycurrah). NYU Press. 256 pages. Out May 31.
This volume will change the way we think, talk about and work for (trans)gender policy and justice.
---
By Isabel Ibañez (@IsabelWriter09). Wednesday Books. 368 pages. Out May 31.
Inspired by medieval Spain, this kaleidoscopic epic YA fantasy has it all and more: adventure, romance, magic… and dragons!
Sign and share Ms.'s relaunched "We Have Had Abortions" petition—whether you yourself have had an abortion, or simply stand in solidarity with those who have—to let the Supreme Court, Congress and the White House know: We will not give up the right to safe, legal, accessible abortion.
Up next: